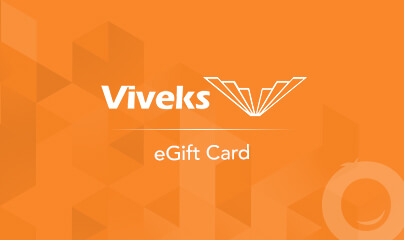 Viveks Gift Card
3 Gifting Options
1 Active Offer
Ongoing Gift Card Offers
Purchase giftcard using PayPal & get 50% cashback (Maximum cash back Rs. 300) by PayPal. Limited time offer for new users. Cashback will be credited within 5 days of transaction. T&C
Looking for something that shows your love and affection for you near and dear ones? Well then, make sure that they also realise how much you care for their needs and comforts. Why not give them something invaluable like the opportunity to make their own choices regarding their gifts? Give them Viveks Gift Cards! With indisputable quality, assorted range and hassle-free customer service. There are numerous products to choose from divided into numerous variety and segregated into divisions. Check out GrabOn for the best offers and deals on Viveks.
Viveks Gift Voucher
type
value
you pay
savings
₹500

₹500

--

buy now
₹1000

₹1000

--

buy now
₹2000

₹2000

--

buy now
About Brand
FAQs
terms & conditions
More About Viveks
Viveks is a well-known brand when it comes to consumer electronics and home appliances. Originally founded in India in the year 1965, Viveks started out as by selling small electronic equipment.Back then, consumer durable electronics were considered to be a luxury product, Viveks started their own in-house monthly installments that were aimed at reaching out to the families. The vision of viveks has ever been to offer the best of products to its people, at the same time, ensuring excellent customer service. In time there were multiple Viveks stores across India that catered to the greater mass. Take a glimpse of the Viveks website to know more about them.
The Store Collections
When on a hunt to purchase electronics or home appliances, Viveks might just be your right decision. Why? Well they have everything covered.
Home Appliances: Air Conditioners and Coolers, Dishwashers, Refrigerators, Washing Machines.
Electronics: TVs, Home theatres, Speakers, Stabilizers.
Kitchen and home: Bakeware, Crockery, Pans, Cookers, Bath Ware.
Other appliances: Microwave ovens, Mixers, Chimney, Water Heaters, Gas Stoves, and more.
Now, with such endless store collections and countless options, you sure wouldn't want to purchase elsewhere. Viveks has covered almost all the famous electronic brands. Another advantage of shopping here is that you get to compare products across the stores while you read the reviews. You also have 24 x 7 customer support services which can be of use if you have any queries.
Viveks Gift Cards: Helping You Gift Better
Purchasing home appliances and electronics can sure cost a lot. So if you happen to have a close bud who's been wanting to invest in an appliance, get them a vivek gift voucher. With the gift voucher one can use it to purchase any product at the Viveks store. Or maybe even use it with other viveks offers. Go ahead and get a vivek e gift card for your friend and give them the freedom to buy anything.
How to get/buy Viveks gift cards
Visit the GrabOn gift cards page.
Type in 'Viveks' in the search bar.
Select the denomination
Add to cart and place order
How to use Viveks gift cards?
Visit the Viveks store
Redeem it against your purchase
Read the Terms and Conditions in the FAQ section
How to use Viveks e gift voucher?
Go to the Viveks store
Redeem it against your purchase
For detailed information refer to the FAQ section
To Save More On Your Purchase
One can always use some coupons when it comes to your electronic purchase. Who doesn't love saving? To make that possible GrabOn has some of the best offers in town. Get to use these incredible deals on your purchase to avail crazy concessions. Not only do you save more, you can also get a chance to buy more. Great, right? Well, that's not it, they also have some discounts on their gift cards, be sure to check this space to grab them. Happy shopping and gifting!
+ read more
Viveks Gift Card FAQs
What does the Viveks Gift Card do?
When you hear the name Viveks, it's all about electronics and appliances. A Viveks Gift Card allows you to purchase products from the Viveks store, be it any kind of home gear you are looking for.
How do I buy Viveks Gift Card?
To purchase your Viveks gift card:
Select the type of gift card fit for the occasion.
Choose the denomination amount.
Enter the recipient details and write a customized message (if you want to)
Proceed and select payment option. Pay and complete your transaction.
You will receive a confirmation mail on your registered mail ID.
Till when is my Viveks Gift Card valid?
Please refer to the terms and conditions to know the validity of your gift card
What are the types of Viveks Gift Card available?
There is just one type of Viveks Gift Card available. The e-Gift Card. These Gift cards can be bought for special occasions. Viveks offers customized gift cards for every occasion.
How will I receive my Gift Card(s) after purchase?
You'll receive your Viveks gift card in your email within 24 hours from the time we receive your payment. The e-Gift Card will be sent to the recipient email address provided by you.
How can I redeem my Viveks Gift Card?
You can redeem your gift card by using it on the Viveks website/ store. To use your gift card, simply apply the gift card code and the corresponding PIN during your checkout payment process. Your card can be redeemed against any purchase made on the Viveks website.
Can I use my gift card on the Viveks mobile app?
Yes, you can use the gift card on the app as the merchant does provide services over their mobile app.
Can I use multiple Gift Card during one purchase?
No. You can only use one gift card during one transaction.
What happens if the transaction amount is lower than the balance in my Gift Card?
If the order total is less than your gift card value, then the balance will be credited back to your gift card. This can be used for the next purchase.
If I cancel my purchase or booking what happens to the Gift Card that I have used?
In such an event, you will receive back the value of the returned item. The balance will be credited back to your gift card.
Upon applying my Gift Card the transaction failed. But the amount has been deducted. What do I do?
In such a case reach out to us as soon as possible and we will look into the matter and revert accordingly.
What are the customer support details?
Drop us a mail at giftcards@grabon.in and our team will get back to you.
+ read more
This e-Gift Voucher cannot be clubbed with any other offer.
Two e-Gift Vouchers cannot be clubbed against one purchase.
This e-Gift voucher is valid for 6 months from the date of issue.
This e-Gift voucher is not redeemable for cash or credit.
This e-Gift voucher is redeemable for merchandise at all Viveks Stores across India (Excluding recharge of DTH top up & Mobile Phone).
This e-Gift voucher can not be redeemed in part.
It must be redeemed in full in single transaction.
This e-Gift voucher is non-re-loadable.
This e-Gift Voucher cannot be clubbed with any other offer.
Two e-Gift Vouchers cannot be clubbed against one purchase.
+ read more