Summary of Godaddy Coupons, Offers & Promo Codes For Jan 2021
| Godaddy Promo Codes | Godaddy Offer Details |
| --- | --- |
| Godaddy .Com Domain | at Rs 499 |
| Godaddy .in Domain Registration | at Rs 149 |
| Godaddy Hosting Plans | 50% OFF |
| Godaddy Hosting + FREE | Get 1 Month FREE |
| Godaddy Domain Name Search | Starting at Rs 299 |
Save more with GrabOn GoDaddy India Promo Code
It can help you save on your domain purchases and hosting plans. The following GoDaddy offers are valid on Domain Registration, Web Hosting, Digital Certificates, Website Builder & Email Marketing Tool.
Get online today and save up to 68%.
Hosting plus Free Domain at Rs 99 per month.
Up to 33% OFF on different plans.
To get your domain & hosting at the most affordable price then you must use given GrabOn promo codes. This page also has a range of promotional offers to save big on new domains. You are also likely to get exclusive offers on their services like renewal coupons with which you can renew your domain either automatically or manually. With hosting offers, you can get your very own domain name with which people across the globe can find your website, web design, and online storage. There are great discounts on both new and existing customers.
About GoDaddy
GoDaddy is one of the largest domain name registrars in the world. Trusted by millions of people worldwide for hosting and website designing, They present in over 56 local markets including India, USA, Singapore, etc. and in 26 different languages. So be it in India or any other country and place in the world, you can depend on it for all kinds of web hosting requirements and domain name registration. This largest technology provider currently serves over 13 million customers worldwide while managing over 59 million domain names. They offer productivity tools that let customers manage their businesses in no time while building a significant online presence.
What Are The GoDaddy Services In Place?
Apart from creating domains and helping with domain renewals, they also bring you a wide range of services. The other services they provide are website creation, hosting & designing, e-commerce for small businesses, security, marketing services, bookkeeping & productivity tools. Another significant advantage of this platform is that you can easily check the availability of the domain name you are looking to register for yourself.They also offer unique extensions starting from .com, .in, .guru, .org to .net and much more.You can get all these tools and services to improve your business at great prices.
Looking forward to starting your business online? Want to grow your online business? You can make use of the awesome coupons and discounts offered by HostGator and Hostinger. Just like GoDaddy, these domain registrars and web hosting websites help you to kickstart a new website, enhance your reach and assist you in email hosting, that too at an affordable price.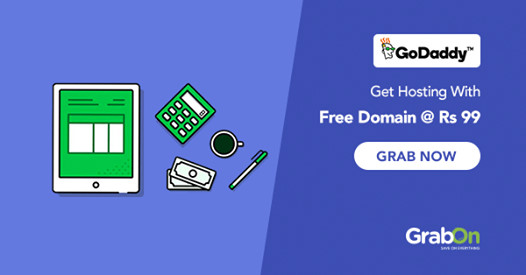 What are Best Offers I Can Avail In GoDaddy?
GoDaddy offers incredible deals for existing and new users. Be it for domain registration, picking hosting plans, or getting an SSL certificate, they have got you covered. The best offer that you can bag is a unique combo offer. This includes hosting and free domain at Rs 99 per month. Apart from that you also get 55% OFF on Web Hosting, .in Domain, SSL Certificates & New VPS hosting as part of the End Of Year Sale.
Godaddy Black Friday Offers
Black Friday is here and so is the chance to grab the best discounts on Godaddy. Godaddy is celebrated by providing Black Friday offers every year where it gives up to 90% discount on domain and hosting. Keep on checking the Godaddy website or visit the Black Friday offers page n GrabOn to find out the latest discounts as they come. This Black Friday Sale is going to be huge with plenty of offers for a new website hosting and renewal packages as well. Godaddy has 20 million users and probably the biggest name in hosting companies. So you can't go wrong with choosing Godaddy as our hosting partner. There is no better time to do so but during Back Friday Sale 2021 from Godaddy.
Why Choose Godaddy?
Because you get the latest and unique designs to build your website. You can use them to improve the traffic flow to your website using an attractive design. You can also get their help in building your community.
They allow you to choose from various themes for developing a website based on your business. Get your hands on this offer today and make your brand stand out.
You may also like other trending and hot deals from this company such as - Office 365, great discounts on Premium SSL Certificates, Domain-based email, new domain extensions, Linux hosting, a full-fledged and managed WordPress and new .com domains.
Their Email Marketing allows small businesses to connect with customers through simple, beautiful and effective email marketing for feedbacks and marketing.
Organizing finances is an important task while handling business. Online Bookkeeping lets you organize all your finances just right.
Be it the VPS hosting plan or the deluxe hosting plan, you sure are the get the best of services here at affordable prices.
Get all these features at super cool prices, thanks to GoDaddy.
What Are GoDaddy Renewal Plans?
They offer an auto-renewal option if you want to continue on that plan you can. If not, there are other plans you can try out, for which you will have to manually select.
Click this icon in the upper-right corner
Click Account Settings
Now Click on Renewals and Billing
Select the domain(s) you want to renew, and then click Renew Now
Select the renewal length and complete your purchase
Why Choose GrabOn For Godaddy Coupon Codes?
When you get the latest and best coupons in town why look elsewhere? GrabOn has crazy offers and deals to offer you. Stay tuned and keep visiting this space for new coupons and offers coming your way.
How Do I Use A GoDaddy Promo Code In India?
Log in to your account and Select the product you want to purchase.
Click on "Add to cart."
Click on "Continue to Cart."
Proceed with clicking on "Continue with these options"
Now click on "Have a promo code?" then type the promo code and apply.
You are done!
Shopping Tips
Buying a domain name of your choice along with additional web hosting services can often cost a bomb. To help you save maximum on domain registrations, it's advisable to check the best offers on web hosting services on GrabOn and save your pockets from burning. In addition to this, you can leverage the annual Balck Friday discounts while buying a domain to build a website.
Shipping Policy
Since the nature of business is online and web-based products, there's no shipping that's involved to deliver the products. You can pick the domain name and register the same buying paying the registration fee online. An active support team is always there to help you with assistance on best plans, deals, and offers.
Refund Policy
After purchasing a service, users can request to stop the service and get a refund for the particular service. However, the users can only claim for a refund from the following month in case the service has already been used or claim a full refund if the service is unused.
FAQ
How to Buy Hosting in Godaddy ?
Own Hosting in the next 5 minutes by following the steps:
Get to the website first and select the hosting category.
Offers multiple ranges of hostings according to your requirement.
Select the hosting you want to purchase.
And Also select the plan of your choice Starter, Economy, Deluxe, and Ultimate.
Now choose the term length starting from 1 month to 36 months.
You can also add Website Backup, Essential Website Security, SSL Certificate if required.
That's it done! Pay the amount and the hosting is now yours.
How Can I Get a Cheap Domain Name?
Sign-up and Select the Domain name you want to purchase.
If the Domain is available you're lucky to have it.
If not you can choose the alternatives given below and add it to the cart.
Now to save on your purchase visit GrabOn and search for GoDaddy Coupon codes.
Copy the code available and paste at the checkout page to avail of the discount.
You're ready to rock now with your new domain.
Can I buy a domain from GoDaddy and Host elsewhere?
Yes! You can buy both domain and hosting from different websites. If you find the best deal in one or two websites then you can join both the domain and host. While purchasing a domain the provider will always give you a control panel to link your where you want to Host your website. But it is always easy to buy both at one place and It is a perfect go!
Latest News
Do you own a small business in India? GoDaddy has got your back - They are providing training for free to help owners of new and small businesses learn skills required to sustain in an online business scenario. They have recently launched its online training portal Godaddy Academy and the free courses are a part of it.
GoDaddy is offering website hosting at Rs. 99 to small business amid lockdown - They come up with new initiatives to help small businesses and entrepreneurs amid the ongoing COVID-19 lockdown. It has launched an online educational platform called GoDaddy Academy which offers free of cost business and technology upskill courses. These courses will help small businesses to learn the latest digital skills and earn sustainable income online. It is also offering a WordPress-commerce hosting for just Rs. 99 for three months. This initiative will help small businesses run their business online. By providing free educational tools and updates from WHO on the virus, the company is ensuring to work for the betterment of the people of the nation and help them to stay safe in such a difficult phase.
Online Domain Registrar GoDaddy Acquired Content Services Based 'Over' - They recently acquired a content services based startup Over to expand beyond websites and domain registrations. To help the customers have a holistic approach while creating a website, online domain registrar GoDaddy acquired Over to provide the customers with top-notch social media content service. Over will help the brand in expanding farther into the field of digital media content and more.