Education Coupons, Offers and Promo Codes For January 2021 - GrabOn
| Education Category Sites | Education Coupons & Offers |
| --- | --- |
| Udemy | Get 100% Free Online Courses |
| Testbook | Get 12 Free Courses Online |
| Coding Blocks | All Courses - Flat 60% OFF |
| Edureka | Online Courses - Flat 30% OFF |
| Coursera | Get 100% Free Courses Online |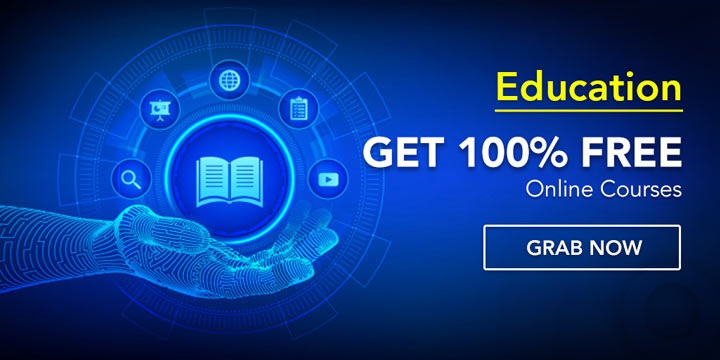 Online Education Scenario
The education scenario has changed drastically. From Textbook to 'TestBook' and whiteboard to screen-shares, the ways of imparting knowledge have advanced. Acquiring a new skill is just a few simple clicks away. With the advent of plenty of educational websites, there is a lot that you can learn. Right from computer programming to art and crafts, there are dedicated courses for everything. You just need to find the right platform and start learning.
Benefits of online learning
Who doesn't like to gain knowledge? And when it can be done right from your living room, that's a dream come true for knowledge seekers. Here are some more benefits why should you consider taking an online course.
Saves time
Easily accessible
One-on-one feedback
Self practice tutorials
Retaking a lesson
On-the-go quizzes
Knowledge assessment
Instant feedback
Certification
Upskill yourself with smart e-learning tools
Busy during the weekdays and unsure about what to do during the weekends? Use your time wisely and sign up for a course on Coursera, edX, Coding blocks, Gradeup, etc. A lot of courses are available for free that you can begin with. Moreover, you can also complete your degree online or just prepare for it by learning from top experts from around the world through videos and lectures.
Explore hundreds of courses on websites like Skillshare, Udemy, Byjus, etc. and become a pro in what you love to do. The science of how things work is essential to master any concept. Experienced online trainers teach your courses from the basics and will provide you with working knowledge on the subject. So, you can master computer programming, illustration, photography, painting, a new language and more with ease.
Computer programming: Although the advancements in computer coding have been monumental, its learning procedures are vastly simplified. Huge books and classes with 5000 students are now just brought down to a few games and tricks. You can learn to code literally any day from awesome websites that provide complete resources for all languages that you need. Learn C, C++, Java, PHP, HTML, MySQL, Python, Coldfusion from the comfort of your home and open your doors for a real career.
Government exams preparation: Government jobs is one of the most sought after career choices for the youth of India. Earlier people had to travel to different cities and get coached for exams like banking, SSC, CGL, police, IAS, IPS, Railway, etc. but now with plenty of online resources, you can read from study material, order books, or listen to video lectures. Many websites also impart one on one training. Practice for your desired groups exam and secure for yourself a good rank.
Education for kids
If you thought online education was only for adults, think again. Now your kids can learn online too, and especially, have fun while they do so. Remember the kids' laptops that got a boom in the 2000s. Now you can turn your normal laptop to a kid-friendly laptop. Just visit amazing websites where there are tools to help your child develop logic, reasoning, spatial thinking, and more in the form of games, riddles, puzzles, and tasks. In the end, they not only have a great time but also gain knowledge of the subject. It will impart in them the necessary skills at the time in the right way and will prepare them for the jobs of tomorrow, making them highly skilled and able professionals when they step out in the real world. You can also monitor the progress of your kids by preparing study maps, milestones, and more with the online tools. E-learning will keep your kids engaged and keep the white noise away from their lives.
How to save on Online Education
Although many online programs help you save as compared to traditional courses, you can save even more by following some smart ways.
Login to GrabOn.in and select from plenty of coupons on e-learning to save on courses, get free courses, and enjoy special offers.
You can save on individual courses if you enroll in a subscription service with an educational website. As a subscriber, you will get access to many more online courses that you complete in a certain duration of time
You can also look for courses and compare between different websites to find out the best place to learn the skill.
Top online education websites
Skillshare
Coursera
edX
Unacademy
Cosmo learning
Futures Channel
Codeacademy
Lynda
Treehouse
Many of these websites offer you a free trial before you begin. If you are going for a subscription service, you can choose from monthly, quarterly, and annual packs. Some courses start for as little as Rs. 399 but you can also bag extra 10% to 95% discounts by using GrabOn coupons.