Latest MakeMyTrip Coupons, Offers & Promo Codes For January 2021
| Discount | Makemytrip Coupons Codes | Category |
| --- | --- | --- |
| Rs 1000 OFF + Extra Rs 800 Supercash | Domestic Flights | All Uses/Mobikwik |
| Up To Rs 1200 OFF | First Flight Booking | New Users |
| Up To Rs 1450 Cashback | ICICI Banks Cards | Valid Only On Monday |
| Up To 50% OFF | Promo Code For Hotels | All Users |
| Up To Rs 1000 OFF | CITI Bank Cards | Valid Only On Tuesday |
| Up To Rs 1250 OFF | HSBC Cards | Valid Only On Sunday |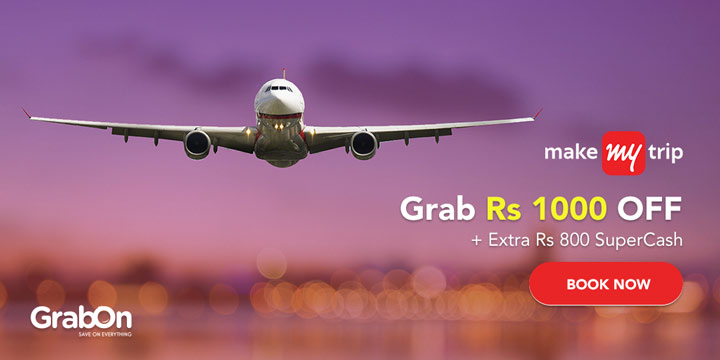 What Are The Available MakeMyTrip Coupons?
Indigo and Spicejet Domestic flight fares starting at Rs. 888 only.
Enjoy up to 50% off on hotel bookings in Dubai.
Exciting and big discounts of up to 50% off on domestic hotel bookings.
Get Rs. 250 off in the form of SBI bank offers on domestic flight bookings.
Cashback worth Rs. 15000 on international flights and save up to 50% off on hotel bookings using HDFC card offers.
MakeMyTrip Review
MakeMyTrip is one of the most popular online travel companies in India. It has become a household name for booking international or domestic flights. Not only airline tickets, but the brand also provides train, bus, and hotel booking opportunities. Their full-fledged platform provides cheap tickets, amazing deals, and affordable holiday packages to all users. The customers can use the website or mobile app to book flights, international hotels, buses, holiday vacations, cabs, homestays,gift cards etc.
5 Flight Bookings Tips for Makemytrip.com
Here are a few hacks that can help you book affordable and cheap plane tickets:
Book in advance - If you book flight tickets closer to your departure date, the prices will be sky-high. It holds good for booking accommodations for holidays as well. Ideally, if you book 30 days before your due date, you can expect much lower prices.
Consider off-season travel - If possible, try to book tickets during the non-holiday season as the prices are ramped up during the festive period.
Apply coupons to avail discounts - Don't forget to apply appropriate vouchers or activate deals before you check out. Lots of airlines provide great cashback offers on flight bookings these days. Signup for the newsletters or subscribe to frequent flyer programs to get exclusive redeemable reward points.
Always book round trips - Booking a round-trip ticket will generally cost you much lesser than a one-way one.
Pro Tip
It is common knowledge that non-refundable flight tickets are far cheaper than refundable ones. Just make sure you are particular about your departure date. Opt for late-night flights instead of morning and evening slots to save more on airline fare. You could opt for flying with non-luxury airlines which are cost-effective.
Best of Domestic & International Airlines
Get the best deals on domestic and international airlines. When it comes to domestic flight services and airlines, it has everything from the luxurious to the comfortably affordable offerings. The Airline companies that provide domestic flights, day in and day out include -
| | | | |
| --- | --- | --- | --- |
| Air Asia | Air India | Go Air | Indian Airlines |
| IndiGo | SpiceJet | TruJet | Vistara |
Among the international fleet of planes available, most are Boeing and Airbuses. The primary airline services available for international travel are -
Emirates
British Airways
Air France
Gulf Air
Qatar Airways
Singapore Airlines
Malaysia Airlines
Lufthansa
Thai Airways
KLM
Etihad
Air Arabia
Delta Airlines
International Holidays and Hotels
Some of the international destinations where the online travel website has a significant presence are -
Australia
Canada
Indonesia
Oman
Saudi Arabia
Singapore
Thailand
UAE
UK
USA
myBiz for SME Travel
Business travel is made very simple to manage and cheaper than market price with myBiz. Let us have a look at some of the top benefits -
Transparency: The reports are can be downloaded from the website and the prices they charge are real-time and dynamic.
Convenient: 24by7 support and help desk, acccess to the bokking across devices anytime anywhere.
Choice: Lot of choice when it comes to hotel booking, destinations, prices, cans, flights etc.
Savings: Modifications are free, best prices for tickets and hotel bookings, free on-board meals and guarantee GST Invoice are some of the top ways to save.
MakeMyTrip - IRCTC
Everyone across India has heard of MakeMyTrip, and they usually relate it with airline tickets or hotels. But now, it has introduced a train ticket booking too. You can now book your train tickets on the go. Use the website or app, choose your city, where you want to go, the time, and which class you want to travel to. Now, enter your IRCTC username. It is to ensure your booking doesn't fail after payment.
You can also check your PNR Status with ease. Input your PNR number in the given section to get the status. It has also introduced a new revolutionary feature, which lets you see live train status. It enables you to see every single detail about your train, from its arrival to departure time. Further, you would know which platform it's going to reach, how long it will stop at the station, and more.
This MakeMyTrip-IRCTC partnership is excellent because you, the users, can avail of great offers that no other train ticket portal provides. All of these, you can find right here at GrabOn.
Frequently Asked Questions
What Is Makemytrip Wallet?
MakeMyTrip wallet enables you to make quick bookings without using your credit or debit card. This wallet will house the refund amount from canceled trips, MyCash earned through MMTBlack milestones. MyCash or the amount received through cancelations doesn't have an expiry date, but the amount collected through MMTBlack milestones will expire after three months. If you are using an MMT-ICICI co-branded card, then the amount accumulated will expire in 12 months.
How can I Use Makemytrip Wallet Bonus?
MakeMyTrip wallet bonus or the reward bonus provided by the brand as a promotional offer. It can be used to make bookings for flights, buses, hotels, and holiday packages. There are specific criteria for using the wallet bonus amount while booking flights, hotels, and holidays.
For domestic flights, Rs 500 (at least 2% of the booking amount), Rs. 1250 (at least 5% of the booking amount), for domestic hotels the appropriate amount is Rs 4000 (at least 7% of the total booking).
The criteria for wallet bonuses include Rs. 2000 for Flights+Hotels (at least 2% of the booking amount). The other criteria are Rs 2000 for online holiday booking (at least 2% of the booking amount).
The amount applicable for bus and cabs booking is Rs 40 (at least 10% of the total reservation) and Rs 150 (at least 7.5% of the total booking amount). You can opt to use the wallet bonus while you're on the checkout page of making the booking.
Where can I use MakeMyTrip Wallet Money?
On various occasions, you earn cash backs, discounts, bonuses, etc., from MakeMyTrip. All these earnings get deposited inside your MMT wallet, which you can redeem while making a booking on flights, hotels, holidays, trains, buses, or cabs through the MMT online website or app. You have to select the MMT wallet as your payment method when making your booking, and the wallet money will be utilised instead of cash. If your wallet amount is insufficient, you can pay the extra amount using your bank cards or net banking. Moreover, you can use My Cash to avail of discounts on Urbanclap, Zomato, Gaana, BookMyShow, and other partner websites.
How Do I Book A Flight On MakeMyTrip?
All you need to do is punch in the departure and the arrival destination cities. After that, you have to choose the number of passengers traveling (adults and or kids), the class you will be availing of (economy, premium economy, or business). Then you need to select the departure and return dates (in case of a round trip). Click on the search button, and the best results will be displayed. You can choose the flights according to the price and the suitable timing, after which you can proceed to payment and check out.
Booking an international flight is similar to booking a domestic flight. You have to choose the arrival and departure destinations and the departure (one-way flights), and the return date (for round trips). Enter the number of passengers traveling and the class (economy, economy premium, business, and first-class), following which you can click on the search button. After choosing a flight from the displayed list, go ahead and book the trip by filling in the necessary fields, which in most cases are just the passport credentials and the VISA details.
Can I cancel a flight and get a refund on MakeMyTrip?
Yes! You can cancel your flight tickets in case you decide not to fly. Just login to your MMT account and go to your bookings section. Find the booking that you want to cancel and click on 'Cancel flights'. MakeMyTrip charges Rs 250 as a cancellation charge in addition to the airline's penalty. You can also see the exact amount that you get as a refund if you cancel. After you review the charges, go ahead and cancel the booking. The refund amount will be transferred to the payment method that you had used to make the booking. If your flight departs in the next 3 hours, you will need to cancel the ticket by calling the airlines. In this case, you should inform MMT about the cancellation by logging into the MakeMyTrip's support portal. Once MakeMyTrip receives the confirmation, the amount will be refunded to your account within the next 3 to 14 days.
What Is The MakeMyTrip Flight Cancellation and Refund Policy?
If you want a refund on a canceled booking, then you need to inform MakeMyTrip. Log in here and mention about the said cancellation under the special claims section. In case you have a ticket, which isn't utilized or you've experienced a flight not operational situation, submit the request under the special claims section.
MakeMyTrip will initiate the refund to the user's account. However, the online travel booking company might charge Rs 250 as a cancellation fee.
How Can I Pay For My Flight Or Hotel Booking At MakeMyTrip?
Users can pay for their bus, train, flight, and holiday package booking through bank credit and debit cards as well as mobile wallets. While paying through these modes, the users can avail of amazing cashback offers. Netbanking is also a valid payment option. Bank & card payments accepted at the website are -
SBI
Yes Bank
ICICI Bank
HDFC Bank
Axis Bank
IndusInd
Kotak
PNB
Dena
Deutsche
HSBC
Mobile wallets that be used to pay for the booking amount are -
Mobikwik Wallet
Paypal
ZestMoney
PhonePe
Freecharge
Airtel Money & Payments Bank
PayZapp
How to use MMT Coupons?
Online coupons can help you save money on your next holiday or a business trip booked on Make My Trip. First, to use the coupons on a booking, select the best coupon from www.grabon.in/makemytrip-coupons. You can read more details about the offer before using it. Once you feel that it is the best deal for you, click on the 'Show Coupon Code' button. This will redirect you to MakeMyTrip's website. Do not click refresh or back buttons while this happens. Then go ahead and make the booking as you need. The coupon will be applied during the checkout, and you will get to save instantly. You can notice Grabon written in the URL. This means that your coupon is active and will be applied to the booking. You can also copy the code manually mentioned from GrabOn's website. Paste this code during checkout in the "coupon code" box to avail the discount applicable.
What is the MMT Referral Code?
MT referral code helps you get signup credits when you use it while creating a new account. You can take a referral code from any of your friends who use MakeMyTrip services. As a new user, you will get Rs. 300 instantly in your MMT wallet. When you make your first booking, the friend whose referral code you used will get credits of Rs. 300 in their account. It's a win-win for all!
Can I use multiple MakeMyTrip coupons at the same time?
There are plenty of coupons available to get exciting discounts and cashback. You can use one coupon for each transaction. However, if you have more than one coupon, use them separately by dividing your order into multiple orders and make the extra savings on bookings.
How can I get free MMT cash?
MMT cash is the amount present in your MMT wallet. This cash can be collected on different occasions. Some ways to get free money are:
At the time of signup, you can get MMT cash of Rs. 300 by using a referral code from another user. You need to ask for such code before you create your account.
You will get complementary MMT cash when you spend a minimum of Rs. 20000. Depending on your spending, you can earn up to Rs. 15000 MMT cash without having to do anything.
Look for cashback offers on MakeMyTrip or coupon websites and earn MMT cash through different offers.
Latest News
MakeMyTrip's initiative for COVID travelling can just be what travellers needed
Worried that you could not travel during COVID? MakeMyTrip's Special Bubble package is here to change it for you. You can COVID tests, sanitised cabs, safe stays, and more with the special holiday packages. So if you want to travel this season, you can get started. The packages are already on with Goa being the first city.
MMT says vacation stays will change in 2021
MakeMyTrip predicts how Indians will travel in 2021 under the influence of the global pandemic. MakeMyTrip says that people will prefer premium stay locations including villas, homestays, vacation rentals as opposed to the traditional hotel booking system.
MakeMyTrip On Social Media
The brand is very active on both channels. You can reach them on -