Latest MakeMyTrip Coupons, Offers & Promo Codes For March 2021
| Discount | Makemytrip Coupon Codes | Validity |
| --- | --- | --- |
| Rs 1000 OFF + Extra Rs 800 Supercash | Domestic Flights | All Uses/Mobikwik |
| Up To Rs 1500 OFF | First Flight Booking | New Users |
| Up To Rs 1450 Cashback | ICICI Banks Cards | Valid Only On Monday |
| Up To 50% OFF | Promo Code For Hotels | All Users |
| Up To Rs 1000 OFF | CITI Bank Cards | Valid Only On Tuesday |
| Up To Rs 1250 OFF | HSBC Cards | Valid Only On Sunday |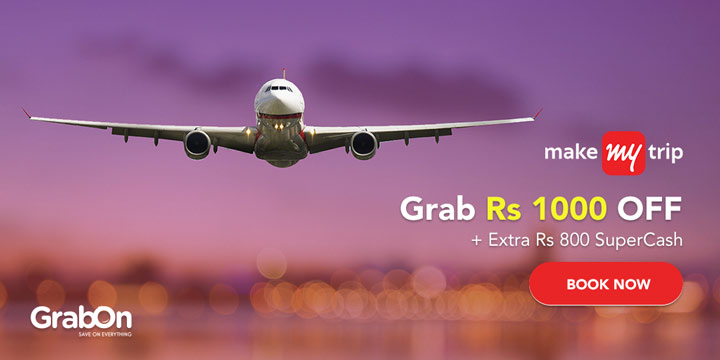 What Are The Available MakeMyTrip Coupons?
Indigo and SpiceJet Domestic flight fares starting at Rs. 888 only.
Enjoy up to 50% off on hotel bookings in Dubai.
Exciting and big discounts of up to 50% off on domestic hotel bookings.
Get Rs. 250 off in the form of SBI bank offers on domestic flight bookings.
Cashback worth Rs. 15000 on international flights and save up to 50% off on hotel bookings using HDFC card offers.
MakeMyTrip Review
MakeMyTrip is one of the most popular online travel companies in India. It has become a household name for booking international or domestic flights. Not only airline tickets, but the brand also provides train, bus, and hotel booking opportunities. Their full-fledged platform provides cheap tickets, amazing deals, and affordable holiday packages to all users. The customers can use the website or mobile app to book flights, international hotels, buses, holiday vacations, cabs, homestays, gift cards, etc.
At the same time, there are a range of exciting offers on trains, airways, accommodation and even holiday packages. You can save up to 50% on select hotels when you book on MMT. Simply use applicable coupons and reduce the final cost.
Plan Your Holiday with MakeMyTrip
Ready to plan your next big holiday? Just book a Holiday package from MakeMyTrip and get going. Whether you are going to your favourite international holiday destination or the homegrown holiday hubs, Make My Trip's packages will help you with all of it. The website is offering special packages for couples, families, and corporates, which you must check out ASAP!
International Holidays and Hotels
Some of the international destinations where the online travel website has a significant presence are:
Australia
Canada
Indonesia
Oman
Saudi Arabia
Singapore
Thailand
UAE
UK
USA
MakeMyTrip Train Makes Rail Booking Simple
There is no better option than MakeMyTrip Rail to book your train berths. Train-booking on the MMT website is fun and hassle-free. The options like 'View Route' and 'Nearby Dates' on the railway page will make sure you plan a perfect holiday. AT the same tine, simply use the Make My Trip train ticket offers and cut down the ticket cost. GrabOn updates these e-coupons every day so you enjoy awesome trips at low prices.
You can also check your PNR Status with ease. Input your PNR number in the given section to get the status. It has also introduced a new revolutionary feature, which lets you see live train status. It enables you to see every single detail about your train, from its arrival to departure time. Further, you would know which platform it's going to reach, how long it will stop at the station, and more.
This MakeMyTrip-IRCTC partnership is excellent because you, the users, can avail of great offers that no other train ticket portal provides. All of these, you can find right here at GrabOn.
The Best of Make My Trip Flights
Before trains, before buses, MakeMyTrip won India's heart with its Flights option. If you book flights, you'd want the best partner which you can rely on. MMT provides a top-notch service with an excellent customer care, ease of booking, and a comfortable flight experience.
Book Domestic Flights with MMT
Be it a regular flight from Delhi to Bangalore or a more occasional one from Jammu to Leh, MakeMyTrip gives you the best offers on domestic flights. Whether you're travelling economy or first class, a good discount can always make your trip sweeter. Especially if you're travelling with a group. So, remember to avail MMT's domestic flight offers today! The coupon codes you're looking for are right at the top of this page. We've compiled the cheap domestic flights and the biggest instant discounts from their page here. All you have to do is select the coupon where you can save the most on domestic flight before you make a booking.
The Airline companies that provide domestic flights, day in and day out include -
| | | | |
| --- | --- | --- | --- |
| Air Asia | Air India | GoAir | Indian Airlines |
| IndiGo | SpiceJet | TruJet | Vistara |
MakeMyTrip International Flights
While booking international flights with Make My Trip, check the airfare calendar for the next 12 months. You can then plan your trip when the fares are lowest. Amazing way to save, huh? Plus, the MMT's international flights discount coupons can help you save more! That's a steal deal right there!
MakeMyTrip's promo codes for international flights are some of the most used coupon codes in India. They let you make a huge cut in the ticket prices and save money for the return trip. The website also partners with several banks (like ICICI, HDFC, Citibank, SBI, etc.) to offer instant 10% to 15% discounts on a regular basis.
Among the international fleet of planes available, most are Boeing and Airbuses. The primary airline services available for international travel are:
Emirates
British Airways
Air France
Gulf Air
Qatar Airways
Singapore Airlines
Malaysia Airlines
Lufthansa
Thai Airways
KLM
Etihad
Air Arabia
Delta Airlines
MakeMyTrip Bus
MakeMyTrip's bus booking portal is cheap and super convenient. Nor does it break your back to get refunds in case the bus gets cancelled. MMT has special promo codes for bus booking. You can also compare it with cabs and book your complete local travel on the same website. Car booking, buses, trains, flights, hotels, and holiday trips – MMT serves as half a dozen travel websites in one! Students can bag a special discount. All first time users are also presented with awesome new user discounts on bus. The special offers with selected banks will help you save more on bus booking at MMT. So, go ahead- search, explore, and compare!
Get The Best Hotel Booking Deals at MMT
Hotel booking on MakeMyTrip is a good idea for various reasons. First of these is safety. Thanks to their MySafety initiative, you can be assured of safe and hygienic stays every time you travel. Upon booking hotels listed under MySafety, you will get the three-way benefits of sanitized environment, trained staff, and safe practices. And if you happen to lose your heart over a slightly overbudgeting hotel, then we have a solution for that too. You can use Make My Trip's exclusive hotel coupons on GrabOn and get the best of both worlds! So next time you plan to book a budget hotel in Goa, or a luxury one in Dubai, use hotel offers to save on all of them.
Extra Savings With Make My Trip Bank Offers
You can unlock some incredible offers if you use one of MMT's partner banks. Here's how:
ICICI Offers: If you own an ICICI MakeMyTrip credit card, then you're in for a lot of benefits. You can enjoy benefits worth up to Rs.70,000, including complementary holiday vouchers (worth Rs.2,000 for Platinum cardholders and Rs.2,500 for Signature cardholders), as well as MyCash.
HDFC Offers: On paying with your HDFC bank credit card, you can unlock some incredible offers. You can get flat 12% off on domestic flights and up to Rs.10,000 off on international ones!
SBI Offers: If you have an SBI credit card, then we have good news for you. You can grab up to Rs.1,000 off on domestic flights while paying with your SBI card.
Kotak Offers: You can get discounts up to Rs.5,000 on flights booked with MMT. You can also avail flat 32% off on domestic hotels and flat 20% off on international hotels (base price).
Citibank Offers: 10% instant discount on a minimum ticket value of Rs.5,000 is what your bank is offering you every Tuesday. Hurry! The offer is valid on Citi credit cards, debit cards, as well as EMI transactions.
Awesome Discounts Everyday of the Week!
Planning a trip is no easy business. From the travel to the stay, it's all filled with expenses. That is why, we will help you save most at every step along the way. If you want ecoupons for MMT hotel booking, then they are all right here. As for flights, you can use the MMTWED offer to get Rs.1299 cashback upon booking on Wednesdays. For booking on Tuesdays, you can get a cashback of Rs.1200 with the MMT Trippy Tuesday offer. For Mondays, there is FLYMON, an exclusive ICICI bank offer that gets you a cashback of Rs.1250. MakeMyTrip runs different cashback programs from Monday to Friday on flights, which will be just great for you.
Travel Booking Tips:
Book a round trip instead of two separate trips. This will earn you more discounts.
Plan near holidays like New Year's or Diwali to get more offers. MakeMyTrip usually releases festive offers about a week in advance.
Look for cashback offers on MakeMyTrip or coupon websites and earn MMT wallet cash through different offers. Use this cash while booking in order to save your money.
myBiz for SME Travel
myBiz is Make My Trip's corporate program that helps businesses make their travel easier and cheaper. With myBiz, you and your employees get benefits like free modifications, free on-board meals, best rate guarantee for hotels, and a corporate login platform where you can manage all trips and expenses at one place. This b2b model by MakeMyTrip is meant to help corporates to save on travel budget, and employees to have a convenient and easy trip.
Frequently Asked Questions
How can I cancel my train ticket on MakeMyTrip?
For railway reservation cancellation, go to MMT's website and cancel the ticket before the chart is prepared. The train chart is usually prepared 4 hours before the departure. So, make sure that you've cancelled before that.
If, after chart preparation, your ticket is still waitlisted, then it will be automatically cancelled, and the refund will be credited to your original mode of payment.
In case of voluntary cancellation before the chart is prepared, please check the cancellation charges on MakeMyTrip's website.
Can I cancel a flight and get a refund on MakeMyTrip?
Yes! You can cancel your flight tickets in case you decide not to fly. Just login to your MMT account and go to your bookings section. Find the booking that you want to cancel and click on 'Cancel flights'. MakeMyTrip charges Rs 250 as a cancellation charge in addition to the airline's penalty. You can also see the exact amount that you get as a refund if you cancel. After you review the charges, go ahead and cancel the booking. The refund amount will be transferred to the payment method that you had used to make the booking. If your flight departs in the next 3 hours, you will need to cancel the ticket by calling the airlines. In this case, you should inform MMT about the cancellation by logging into the MakeMyTrip's support portal. Once MakeMyTrip receives the confirmation, the amount will be refunded to your account within the next 3 to 14 days.
What Is The MakeMyTrip Flight Cancellation and Refund Policy?
If you want a refund on a canceled booking, then you need to inform MakeMyTrip. Log in here and mention about the said cancellation under the special claims section.MakeMyTrip will initiate the refund to the user's account. However, the online travel booking company might charge Rs 250 as a cancellation fee.
How to use MMT Coupons?
Online coupons can help you save money on your next holiday or a business trip booked on Make My Trip. First, to use the coupons on a booking, select the best coupon from www.grabon.in/makemytrip-coupons. You can read more details about the offer before using it. Copy the code manually mentioned in the GrabOn's website. Then go ahead and make the booking as you need. Paste this code during checkout in the coupon code box to avail the applicable discount. And you will get to save instantly.
How do I know if an MMT offer is applied?
Some discounts do not need any coupon code. They are simply applied on your booking. In order to use it, you must find an offer that suits you. Once you feel that it is the best deal for you, click on the 'Get Deal' button. This will redirect you to MakeMyTrip's website. Do not click refresh or the back button while this happens. In such bookings, you can notice GrabOn written in the URL. This means that your coupon is active and the discount will be applied to the booking.
Can I use multiple MakeMyTrip coupons at the same time?
There are plenty of coupons available to get exciting discounts and cashback. You can use one coupon for each transaction. However, if you have more than one coupon, use them separately by dividing your order into multiple orders and make the extra savings on bookings.
What Is Makemytrip Wallet?
MakeMyTrip wallet enables you to make quick bookings without using your credit or debit card. This wallet will house the refund amount from canceled trips, MyCash earned through MMTBlack milestones. MyCash or the amount received through cancellations doesn't have an expiry date, but the amount collected through MMTBlack milestones will expire after three months. If you are using an MMT-ICICI co-branded card, then the amount accumulated will expire in 12 months.
How can I Use Makemytrip Wallet Bonus?
MakeMyTrip wallet bonus or the reward bonus provided by the brand as a promotional offer. It can be used to make bookings for flights, buses, hotels, and holiday packages. There are specific criteria for using the wallet bonus amount while booking flights, hotels, and holidays.
For domestic flights, Rs 500 (at least 2% of the booking amount), Rs. 1250 (at least 5% of the booking amount), for domestic hotels the appropriate amount is Rs 4000 (at least 7% of the total booking).
The criteria for wallet bonuses include Rs. 2000 for Flights+Hotels (at least 2% of the booking amount). The other criteria are Rs 2000 for online holiday booking (at least 2% of the booking amount).
The amount applicable for bus and cabs booking is Rs 40 (at least 10% of the total reservation) and Rs 150 (at least 7.5% of the total booking amount). You can opt to use the wallet bonus while you're on the checkout page of making the booking.
Where can I use MakeMyTrip Wallet Money?
On various occasions, you earn cash backs, discounts, bonuses, etc., from MakeMyTrip. All these earnings get deposited inside your MMT wallet, which you can redeem while making a booking on flights, hotels, holidays, trains, buses, or cabs through the MMT online website or app. You have to select the MMT wallet as your payment method when making your booking, and the wallet money will be utilised instead of cash.
What is the MMT Referral Code?
MMT referral code helps you get signup credits when you use it while creating a new account. You can take a referral code from any of your friends who use MakeMyTrip services. As a new user, you will get Rs. 300 instantly in your MMT wallet. When you make your first booking, the friend whose referral code you used will get credits of Rs. 300 in their account. It's a win-win for all!
List your properties for tourists
There's a joint venture between GoIbibo - MakeMytrip, and a few other companies where property owners can list their villas, bungalows and more online. You can signup for free and confirm bookings for your property online. This is a great way to get your properties seen among tourists and also make money with the initiative.
MakeMyTrip On Social Media
The brand is very active on both channels. You can reach them on -