Latest Lab Tests Offers, Coupons & Promo Code for 16 January 2021
| Lab Tests Offers | Available On Website |
| --- | --- |
| Flat 40% + 10% Cashback On Health Tests | 1mg |
| Up to 50% Off On Lab Tests At Home | Mfine |
| Up to 20% Off On Lab Tests | Medlife |
| Up to 50% Off + Additional 10% Off On Tests | DocsApp |
| Up to 75% Off On Diagnostic Tests | PharmEasy |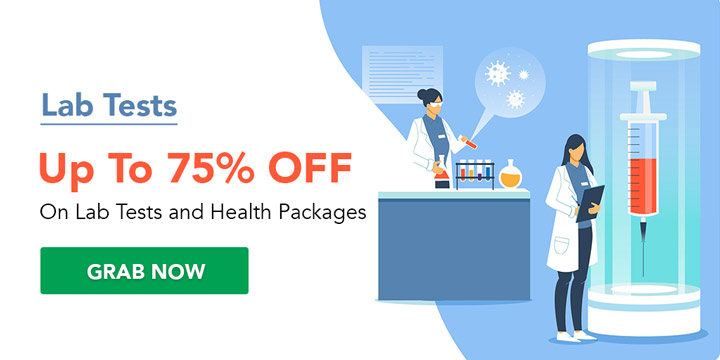 Know More Details About Lab Tests
Healthcare solutions have made life easy for everyone. And to add to the list of services, lab tests that happen at home is a boon for patients everywhere. Many times lab technicians attend you at home and take blood samples, urine samples and carry those to a diagnostic center to get the test done. Some tests that are required to be done then and there like blood tests, blood pressure and more are directly completed at your home. This saves you the money, time and and effort of driving up to testing centers. And most importantly you do not want to take that trouble when you are ill. What better than professionals performing all the lab tests while you enjoy the comfort of your home.
Many healthcare websites make it very easy for you to book a test. Simply visit sites like 1MG, ThyroCare, Docs App, Mfine, Lets Doc, Zyolo, Call Health or similar ones to book a lab test in simple steps. Mostly you would find the homepage of all these websites having a section for lab tests. Once you do simply click on it and select the test that you need to be done. Pick a time slot and date and confirm your booking. Before confirmation, you may also have to pay for the appointment.
Secure Online Payment
Most of the websites accept all major methods of payment like visa and master (credit/ debit) cards, net banking or wallets like Paytm, PhonePe, Freecharge, Mobikwik etc.
How to make a payment with a card?
Enter your card details like the card number, CVV code and the expiry date printed on the card.
After you verify the amount that you are paying for, hit submit.
The screen will show you a message asking you to wait while the transaction is being complete. Do not refresh or hit the back button at this time.
In a few seconds, your payment will be complete and you will receive a confirmation message on your mobile from the back.
Later you can relax and wait for the service to happen. There are many rewards and benefits while using bank cards. You can get extra discounts or even special prices on specific bank cards. Read the offers section on the payment page to find out how much you can save. Similarly, you can visit GrabOn and check the coupons on the service you have chosen and save a lot of money.
Payment with wallets
Simply connect your mobile wallet like PhonePe or Paytm with the online website. Once you are done, scan the barcode on the website through your phone. The app will open up on your phone from where you can pay the required amount. Wallets can also get you cashback that you can use other times.
Can you cancel a lab test booking?
In most of cases, you can cancel the appointment with a few simple clicks. Just visit the orders section and select cancel appointments for the one you don't need anymore. You can also make changes to the booking slot and date if you are unable to make it at that time. Or please call the contact numbers of the website you made the booking with to make any changes to your appointments.
Here are some important contact numbers that you may need.
1mg - 0124-4166666
Docs App - 011 4084 4505
PharmEasy - 076661 00300
Zyolo - 1800 208 5454
Lets Doc - +91-9632635677
Netmeds - 072007 12345
Tips to a conduct a good lab test
Keep the place ready by cleaning the room and also set a chair for the expert to sit on.
Offer the expert a glass of water in a clean container.
Ask the expert for an acknowledgement receipt of the test and check when should the results be out.
Know where to track the status of the test and view the reports.
Be relaxed and do not stress about the results while you wait.