Latest Eyewear Coupons, Offers & Promo Codes For Mar 2021
| Category | Eyewear Offers & Coupons | Website |
| --- | --- | --- |
| Sunglasses | Up To 60% OFF | Amazon |
| Sunglasses | Up To 60% OFF | Myntra |
| Phone/Computer Glasses | Flat Rs 500 OFF | Lenskart |
| Eyeglasses & Sunglasses | Flat 50% OFF | Coolwinks |
| Eyewear | Flat 100% Cashback | Coolwinks |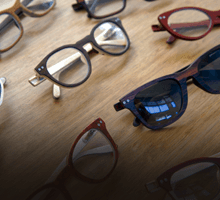 All About Eyewear
You don't have to feel shy if you wear glasses and your friends don't. Flaunt your eyesight with cool and trendy eyewear. You can find glasses online in white, metal ones and almost all the colors and materials you would like. Get your eyesight checked by a doctor, and then order the eyewear online. You can upload the prescription that your doctor has given to you and get the eyewear as per the exact precision. You can also have 0 number of glasses in many cases if you like to have eyewear as part of your outfits. And if you feel that you are spending a lot of time in front of the computer screen, order computer glasses. These glasses have a protective coating that protects your eyes from prolonged exposure to the rays coming out from computer screens. They are also anti-reflective and have an anti-glare treatment that protects you from eye strain.
Save on Eyewear with GrabOn
When you finally need to get the eyewear, you don't need to worry about how expensive it is. Because you are sure to get some discounts when you use the right GrabOn coupons, you will get instant discounts directly in your cart when you use a deal. Check out popular brands like Lenskart, Cool Winks, Provogue, Eyewearlabs, and more. Moreover, you can save on running and swimming glasses from Decathlon with some amazing deals. There is a cool range of sunglasses that are available at discounts from big brands. Select the one which you like and use a GrabOn coupon to get the benefits. There also gift cards on glasses from Lenskart that you can choose from.
How to order Eyewear online?
If you are planning to order eyewear online, you will find that it is not only an easy process but also comes in handy a lot of times. You can choose between the following two ways to buy eyewear online:
When you have a prescription: You will get the option to upload the prescription on the website. Later an agent will get in touch to talk more about the requirement if needed. Once your order is confirmed, you will be sent the details about the delivery days in the order confirmation.
When you don't have a prescription: In this case, you can browse through the stylish sunglasses and place the order for the one you like. Your order will be sent to you within 5 to 7 days. The delivery days changes from website to website. Another thing that changes is the return and exchange policy. So check out the policies that will help you to exchange the product or get a refund later on.
Save as per your payment mode on glasses
Google Pay has some exclusive discounts on the purchase of glasses. Similarly, when you use Airtel payments, you can get a flat 5% cashback from Cool Winks. Whenever you are about to check out the order, look if you can get special discounts. Mostly, banks like HDFC, Axis, and other bank cards will also give you further discounts.