Latest Mcdonalds Coupons, Promo Codes & Free Voucher Codes For Oct 2020 - GrabOn
| McDonalds Coupons Category | McDonalds Offers & Promo Codes | Validity |
| --- | --- | --- |
| McDonalds Offer | Free Chicken/Veggie Burger | Orders Above Rs 350 |
| McD Free Voucher Code | Get Free Burger | Orders Above Rs 499 |
| McDonalds Paytm Coupon | Rs 100 Cashback | Paytm UPI |
| McDonalds Amazon Pay Offer | Upto Rs 100 Cashback | All Users |
| McSaver Breakfast Combo Offer | Only @ Rs 99 | All Users |
| McDelivery Coupon | FREE Medium Burger Meal | All Users |
Save On McDonalds
The joy any Indian gets when they get discounts on the discounted price is unexpressed. McDonald's may be cheap and pocket-friendly, but we make sure you get more for your money's worth. Check out GrabOn for the best deals you will ever find before you hog on to your heart's content. Yes, do not forget to use the McDonalds coupons!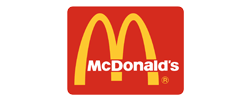 How to use McDonalds discount codes?
Go to GrabOn.in type in McDonalds in the search bar and press enter.
A list of offers will be displayed.
Click on 'Show Coupon Code' or 'Activate Offer' next to the deal you want to use.
Copy the Code and visit Mc Donalds website/ Mcdelivery app.
Select your choice of burgers, wraps, snacks, cool drinks, apply the discount code or Mc donalds coupons at checkout page while placing the order.
This is how you can avail McDonald's vouchers.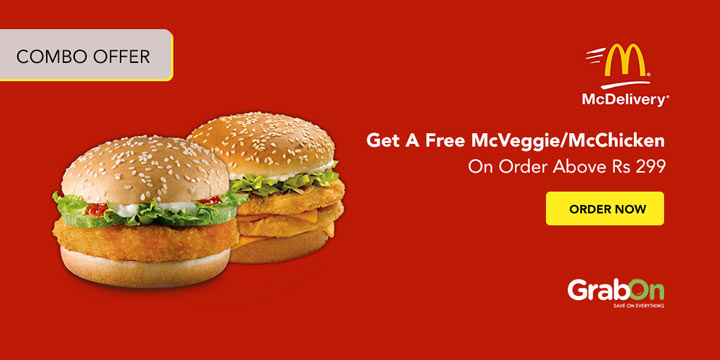 About McDonald
Think Hamburger, think McDonald's! McD has pioneered to the top to become the world's largest hamburger selling restaurant in the world. They have left their mark in 118 countries and fill the tummies of an astonishing 68 million customers (approx.) every single day. McD has slowly turned from just being a restaurant to being a brand name. With 1.5 million people, McDonald's have become the second-largest private employer behind Walmart. Such is the growth it has witnessed over the last two decades. Use the mcdonald's coupons to make the most of the orders you place at their online stores.
Listed The Trending McDonalds Coupons Codes For October 2020
| McDonalds Coupons | Discounts |
| --- | --- |
| GB350 | Get a Burger of your Choice Free (Excluding Premium Burgers) |
| GB549 | 2 McChicken/McVeggie Burgers Free On Purchase Above Rs 549 |
| GB499 | Get Free McChicken / McVeggie Burger on orders of Rs 499 |
| GB799 | Free Medium Meal on Orders Above Rs 799 |
| GOFREE | Up to 50% OFF + Free Delivery For All Orders |
Burger Exploration Over the years
McD has introduced new and exciting concepts so that all their customers find happiness in whatever they eat. From spicy burgers to mild ones, you will love them all. Children too cannot stop going to this place. McD has found the perfect way to woo toddlers to come into their restaurant! What better way than giving away free toys with every meal they buy. Brilliant idea! Isn't it? And a couple with such exciting offers are the McDonald offers. So, why not use these to save some money on your orders?
Pocket-Friendly
No more spending money to eat unhygienic roadside food to save your money because hey! McDonald's offers amazingly cheap food at an even more fantastic price. Their " Happy price menu" is for all those people who intend to save their money and still fill their appetite. They never fail to deliver a grin to its customers along with their food. So, go on use McDonald promo code listed here on this page to avail of a great offer from the brand.
Foodie In Diversity
Not a big fan of hamburgers, but love to hog on wraps and love having milkshakes? Your wish is their command. McDonald's offers you the best in desserts and wraps you will ever find. Every customer's wish is granted, and every taste bud is satisfied here. Trying hard to find a reason not to visit this place or place a McDonald's online order? All the best! You'll need it.
McCafé – Brewing Up Amazing Coffee
If you're under the assumption that McDonald's serves only burgers, wraps, cold drinks and desserts, you're mistaken. McDonalds serves a plethora of beverages under the McCafé banner. From cappuccino to latte, macchiato, espresso to Maha-Smoothies made with real fruits, McCafé has it all. You can also share your drink with friends and family with the help of the Share Shake offer. So, what are you waiting for? Place an order today using the McDonalds coupons 2020 and save a lots.
Best Offers for all Locations at Grabon
We have the best Macd Coupons and offers for all top locations in India. Some of them are mentioned below -
Mumbai
Pune
Bengaluru
Ahmedabad
Hyderabad
Chennai
New Delhi
Surat
Navi Mumbai
Kolkata
Thane
Vadodara
Indore
Chandigarh
Patna
How About Some Free Stuff?
Well, we are not here to convince you to place food orders at this store, but we will tell you how you can grab free McVeggie or McChicken. Avail such vast range offers plus some extra food using McD coupons and online promo offers. Read on to know more about their offers.
Enjoy Monday To Sunday McDonalds Offers
Now, get rid of your Monday blues with a happy meal, maharaja mac or a generous offering of Choco Chip McFlurry. Are you expecting a long Tuesday at work? Here's something to start the day on a positive note – crispy hash browns, buttered hot pancakes, McEgg burgers, and a whole different range of McMuffins the likes of egg and cheese, sausage and egg and sausage McMuffin. Don't have to worry about splurging with McDonalds breakfast coupon and offer. Wednesdays are here and midweek crisis catching up to you? Shrug it off with the delectable menu and wash it off with coke mcfloat or a nice cup of black tea. Get the best deals with McDonalds coupon codes. Be it a Thursday, Friday or the weekends, i.e., Saturday or Sunday, enjoy a nice meal at McDonalds.
McDonald's has the best burgers, there's no denying that. But for the days when you have pizza cravings, or your hunger pangs ask for Sarso ka Saag and Makke di roti, Swiggy has you covered. With tie-ups with all your local restaurants and cafés, swiggy lets you order directly from them, at anytime, anywhere. Zomato too is a great food-delivery platform. Here you can do much more than just order food. You can book a table, discover new dining places, and check out food & restaurant reviews.
Latest News
McDonald's offers 'Free Fries on Fry Day'
McDonald's will offer a free treat of medium-size fries on all orders placed on Fridays. The offer will last until June 28th, and will only be valid on one order, per customer. To avail the offer, customers simply have to make a minimum purchase of one dollar from the McDonald's app.
On Happy Meal's 40th Birthday, McDonald's bring out iconic toys
McDonald's is set to make you nostalgic with by bringing all the iconic toys to the Happy Meal Combo this November. On the 40th Birthday of Happy Meal, the brand will include the most iconic toys over the last 4 decades. According to the senior VP of Global Marketing, Colin Mitchell, this surprise will "help families in creating real bonding over iconic toys".