Latest OTT Coupons, Offers, & Promo Codes For January 2021
| Merchant | Category | Offer |
| --- | --- | --- |
| AltBalaji | Annual Subscription | Flat 15% OFF |
| Disney+ Hostar | All Sports + Exclusive Hotstar Specials & Movies | Up To 58% OFF |
| Amazon Prime Video | Free Subscription Offer | 30 Days Free Trial |
| ZEE5 | All Access Premium Pack | Flat 20% OFF On |
| Sony LIV | Annual Subscription | Starting At Rs 999 + Flat 5% OFF |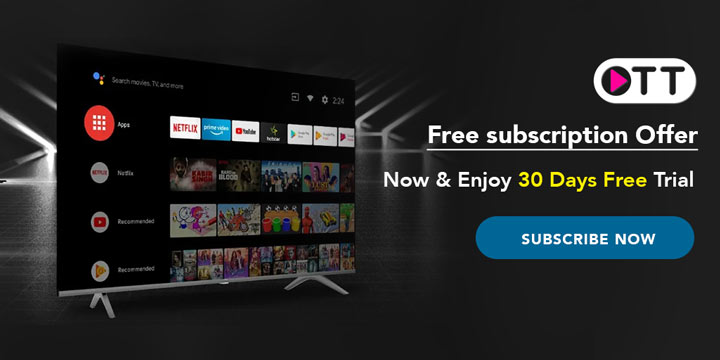 Know More About OTT - The New Revolution
OTTs have been the newest wave in entertainment. With more people staying home and the habits of entertainment changing, OTTs are being used more than ever before. Instead of scheduling your time around shows on TV, you can now watch them whenever you feel like. That's one less thing to worry about. No more recordings or getting frustrated if your sibling wouldn't let you watch what you want. You got OTTs at your rescue.
OTTs stands for Over The Top services. The first OTT platform in India was BigFlix which was launched in 2008 by Reliance Entertainment. This was however limited to a movie on-demand service that worked on a subscription basis. Later with the launch of NexGTV 2 years later, OTTs were brought to the mobile screens where subscribers can not only view LIVE TV but also watch on-demand content, This is when IPL matches started streaming on mobile phones. Similarly other OTT media services like SonyLiv, DittoTV were under the making, They were finally launched in 2013 and that's when the OTT services started gaining momentum in India. Since then there has been no looking back.
How to choose the OTT for you?
The first step is to decide which OTT you want to subscribe to. English lovers can choose Netflix, Amazon Prime as these are the platforms where you find hundreds of English shows, originals, and almost every movie you want. The latest movies also release on Netflix directly without being premiered in theaters. This big step is seen in the OTT content industry in 2020.
OTTS for Regional Content
The three main OTT platforms that stream regional content are Sunnxt, Aha, and Hoichoi. Out of theme Hoichoi was the first one to create shows and movies in Bengali and presented the audience with dubbed content from English, Hindi, and Arabic. With a whopping viewership of 180 million people, Hoichoi not only is a major player in the Indian video streaming industry but also enjoys the love of people in Bangladesh and the UAE. Other OTTs that you can choose for Indian languages are Sunnxt that showcases content in South Indian languages like Tamil, Telugu, Malayalam and Kannada, and Aha which is exclusively for Telugu content.
Some of the popular OTTs in India today for which you can get Coupons
These are not arranged in any particular order. But you are sure to get loads of entertainment on any that you choose out of them.
How to start watching content on an OTT?
One you've finalized the OTT platform, simply visit the website online and check out the shows. Then click on the subscribe button on the home page or in the top bar on the screen. This will take you to the enrollment page where you will have to select your package and make the payment. As soon as you do, you will get access to hundreds of shows and movies on that OTT for free.
What if you need to cancel a subscription?
You can cancel a subscription anytime from any OTT platform. But almost all OTTs work on a duration basis. If you've chosen a one-year subscription, you will have to pay for it in advance. Thus, you can cancel it anytime before the one year ends. However, you won't get the remaining amount as a refund. But your subscription will stop and you won't be charged automatically from next year. You can however enjoy the services until the end of the validity period.
How to save while watching on an OTT platform
Visit GrabOn and look for coupons. Apply the best coupons during checkout and save on the subscription.
Share subscription with a friend. Many platforms allow sharing of the service without having to pay extra. This also depends on the package you choose and the price of the same may vary as per the number of people who are allowed to use the service at one time.
Enjoy a free trial for one month with most service providers. Subscribe only if you like it and would want to continue.