How To Claim Gift Card
Choose from our wide variety of Gift Cards.

Select your desired amount of that Gift Card denomination

Select your desired amount of that Gift Card denomination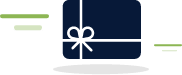 Currently Gift Card Services Are On Hold!
Go Home
Fast E-Gift Card Delivery

The e-Gift Cards are delivered to your inbox instantly, courtesy our in-house email delivery system.

Safe & Secure

We make sure your eGift Card purchase is safe and secure. We at GrabOn use SSL protocol to secure the transactions.

Help & Support

Got a query? We got you covered! Feel free to reach out to us and we will be happy to help.
Contact Us
GIFT CARDS & Vouchers
Why Gift Cards Are The Perfect Gifting Option!

Whether it is one of the several festivals, birthdays or anniversaries, getting gifts are harder than they seem. Finding a gift isn't enough, you have to pick one that is useful and valuable to the recipient. The easiest solution would be letting the person choose his or her own gift. While this might seem rude, there is a work around - Gift Cards! The Gift Card provides the recipient the chance to choose their own gift without coming across as cold or distant. So, the recipient is happy with the gift and you don't have to rack your brains.

You may ask what are the kinds of gift cards available online? This is one of the most frequently asked questions for people new to e-gift vouchers. Well, just like a gift store, a gift cards platform has plenty of options. You can choose from a variety of categories be it entertainment, travel, groceries and household supplies, furniture, electrical appliances, electronic gadgets, fashion accessories and more. You can find gift cards for all of these verticals in India. The next time you are visiting your friends birthday party, colleague's anniversary or a wedding reception, give them the ultimate gift - the freedom to choose their own gift. Your loved ones, family members, friends and colleagues would appreciate the online gift vouchers that you get them.

The next question that you might have is - So, where do I get these Gift Cards? You're at the right place! GrabOn provides you a platform with curated top, branded e-Gift Cards and Gift Vouchers available online. You don't have to go around looking for Gift Cards everywhere, all you need to do is check out the stores on GrabOn Gift Cards platform. Choose from the listed brand and then purchase the gift card denomination that you want.
If Your Loved One Has A Passion, There's A Gift Card For It

Gone are the days when we would spend hours(or not) in buying gifts, gift wrapping them, and then stand awkwardly in front of the person we are gifting the 'gift' to only for them to exchange it, if the tag is still on or to regift it to someone else.What do you do then? Gifting generic gifts like chocolates or dry fruits has become so old and is so not personal. It's the gift card era, so let's embrace it to the fullest. Okay, gift cards don't scream personal but think about it. You are gifting them money to buy whatever they want. Who wouldn't love a gift like that? I certainly would.
Gaana And Saavn For The Music Junkie

If you have a music junkie in your list. Go for a Gaana or a Saavn gift card, with a personalized note on the gift card, you can give it for any occasion or if it's an apology gift, just like that when you want to shower your love on them. With featured playlists to top artists, let them have their own car or workout playlists. Give them a chance to dance on 'Fancy' by Iggy Azalea. Random dance moves count as a workout right?
Cafe Coffee Day And Dineout Gift Cards For The Foodie

For the 'foodie' friend. Cafe Coffee Day or Dineout gift cards are an ideal gift to give them. Café Coffee Day is one of the most popular food and beverage destinations in India. Giving a CCD gift card, Cafe Moments, would be an ideal gift. Dineout, on the other hand, is equally good as a gift as they can use it at 2000+ restaurants across 8 cities.
BookMyShow And PVR Cinemas Gift Cards For The Movie Buff

Do you have a friend who keeps referencing movies or uses dialogues as his/her catchphrase? Well, then you have got yourself a movie maniac. This person can be found reading up about the cast and crew of movies when he/she is not watching one. Get your movie buff friend something they need and deserve - a PVR or BookMyShow Gift Card. They will definitely be excited and maybe a little bit surprised with the gift. Chances are they might ask you to accompany them to the latest movie, so win-win for you!
Housewarming Gifts Made Easy

One of your friend is shifting base and you have to get a housewarming gift for him/her. Say, no more. We got you covered! Choose from Pepperfry, Urban Ladder or Home Center Gift Cards to help with the furniture needs. Apart from furniture, you can also help with a little bit of grocery or household supplies with BigBasket Gift Vouchers or a Hypercity e-Gift Card.
Got A Fashionista Friend?

Give them gift cards by Pantaloons, Shoppers Stop, and Lifestyle. Because no matter how hard we try, the gifts we give them are going to be repurposed. So it's best to give them gift cards and let them buy what they want. Myntra or Flipkart gift cards can be given to ones that love online shopping, Nykaa to the one that loves makeup, and everyone has a friend that loves makeup. Have a funky friend? Give them a Chumbak gift card. They'll absolutely love it.
Make My Trip, Yatra Or A Cleartrip Gift Card For The One On The Move

We all have a friend who absolutely loves to travel. One who spends more time at vacations than working. Well, this one is for the one who is always on the move. Get the travel addict MakeMyTrip and Cleartrip online Gift Card, so that the travel expense are taken care of. The next time they're out for a trip to the mountains, beaches or hill stations, they can avail big discounts on flight, bus & train bookings along with hotel accomodations. If this is not God's work, what is? Plus think of all the amazing souvenirs they are going to get you on their way back. I am traveling with enough money said no one ever. Help them save money and have more cash on them by saving up on travel expenses.