Verified Hosting Coupons, Offers and Promo Codes | Jan 2021
| Category | Hosting Offers & Coupon Codes | Website |
| --- | --- | --- |
| Hosting + Free Domain | Get at Rs 99 | Godaddy |
| Shared Hosting | Flat 50% Off | Hostgator |
| WordPress Hosting | Avail at $1 | Godaddy |
| Dedicated Servers | Flat 25% Off | Reseller Club |
| Exclusive Web Hosting Offer | Get 77% Off + Free SSL | Hostinger |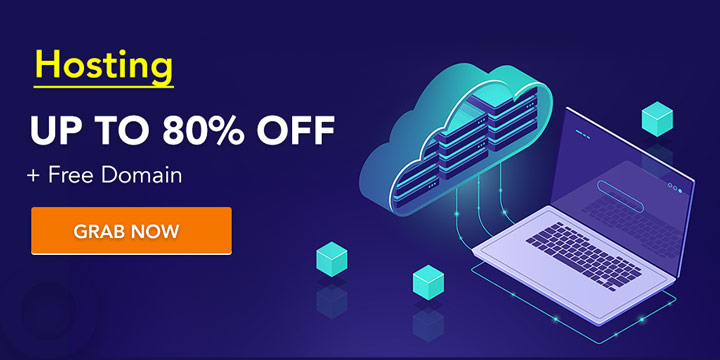 What Is Web Hosting?
If you have created a webpage or a website that you want others to see, it needs to be hosted on a server. Web hosting is a service that helps individuals and businesses alike to make their website easily available on the internet for users to browse. But just how exactly do the web hosting services work? First, you have to come up with a unique domain name and then set up a domain server. Once you have your domain name and your domain name server setup, then comes hosting. As soon as your website is hosted on the internet it is made available to everyone who has a working internet connection.
Users are free to go through your website and check everything you have made accessible. One thing you have to remember while website hosting by a service provider is that, it is essential that you have a domain. Because that is how users access your website, by entering the domain name in the search bar. Your company's domain name is the identity of your company. It is what users will remember the next time they need to come to your website. At the same time it should convey the message clearly and also has to be unique. No domain names can exist at the same time on the internet.
Where to buy Web Hosting?
Then comes hosting. Directly hosting your php site to a server is not a very difficult task but if you are not tech savvy, you might find it very frustrating. There are many help options on hosting companies that you can use. You can also take help from companies that can do it for you. Many companies become resellers of major hosting service providers like HostGator that can also get you some discounts on your first domain name and hosting year. You could check out some of the top web hosting coupons from Godaddy. The services work by storing all your files on web servers that have a high-speed internet connection and when someone enters your domain name, they readily make available and transfer all the information on those files to anyone who wants to access your page.
Web hosting is also available for free, you don't have to shell out money. If you are at the beginning stages or are just curious, you can always pick one of the free web hosting services and then slowly build on that. Moreover, many companies provide hosting services specially for students. So if you or your ward has just started learning coding, you have many options to host their website or app on a trustworthy platform.
What Are The Types Of Web Hosting?
The most popular type of web hosting is shared web hosting. In this, your website host is being shared by another website along with other websites. The biggest advantage or benefit of this type of web hosting is the shared cost of the server. Since it is being shared by a bunch more websites and people, you don't have to alone pay for it as it is equally divided among everyone who is using the server for hosting their website. Businesses usually start out with shared web hosting as it is cheap and efficient and does all the work at a minimal cost. Another type is Cloud-Based Web Hosting. It is a relatively new hosting technology. Cloud hosting, there are a lot of individual users that come together to make one giant server. This works great for websites that have large amounts of traffic. Basically, with this one, you can add more and more.
Cloud is for the ones who are a little ahead in the hosting game. Especially when your company is growing at a fast pace and is getting a decent amount of traffic. The next one is the Virtual Private Server. This type of hosting is like a virtual machine that takes care of every individual's hosting needs as though it is their very own personal computer. VPS hosting provides its user with all the same functionalities as that of an actual computer. Then there is a Dedicated Web Server. Hosting services for this include renting out a physical server from a hosting company that caters to all your hosting needs and you have full control over it.
This the top-level web hosting, meaning users prefer this type of web hosting when their business has reached a good place and they have growing traffic. It has more significance than shared or free web hosting. When we talk about web building platform, WordPress hosting is something a lot of people opt for as it increasingly gaining popularity. The service provider will keep your website away from security threats.
What Are The Different Companies That Provide Web Hosting?
If you are wondering if there are free hosting websites, yes there are always free alternatives to BigRock and all the other web hosting platforms. GoDaddy hosting is another server that provides web hosting at three prices. Economy, Deluxe, and Ultimate. The monthly hosting plan for GoDaddy India is as low as Rs. 99. It is the cheapest web hosting in India. Some other service providers include BigRock hosting that has a 30-day money-back guarantee. Do spend some time and you would get the best hosting deal at Bigrock or checkout Bigrock coupons.
So, if you aren't happy with their service you have that option to look forward to. They have unlimited space, unlimited bandwidth, and unlimited emails. Hostgator has 24x7 tech support, a 45-day money-back guarantee, and 99.9% uptime. There are a lot of global options but web hosting in India has given a path to a lot of Indian web hosts as well. And if you are starting out with web hosting, GoDaddy is a good option and we even have coupons for it.
Saving tips on Web Hosting
Never pay the full amount required for hosting. You can directly enjoy free hosting for the first year when you go through authorised Hosting resellers. Or make use of coupons available on GrabOn that you can use to save on hosting packages. You are also entitled to 30-40% off on your hosting or can get a domain for free. There are more exciting deals to checkout on this page. So, go for it!