Flipkart Big Billion Days Sale Offers Save Up to 90% on Shopping
| Product Category | Big Billion Day Offer | Validity |
| --- | --- | --- |
| Mobiles | Up to 70% Off | 29th Sep - 4th October |
| Fashion | Up to 90% Off | 29th Sep - 4th October |
| TV's & Appliances | Up to 80% Off | 29th Sep - 4th October |
| Home & Furniture | Up To 75% Off | 29th Sep - 4th October |
| Beauty, Sports & Toys | Up to 90% Off | 29th Sep - 4th October |
| Smart Devices & More | Up to 80% Off | 29th Sep - 4th October |
| Electronic Accessories | Up to 85% Off | 29th Sep - 4th October |
This Flipkart Big Billion Day Sale Save More With GrabOn
Lowest prices are offered by Flipkart, and it's easy for you to get carried away and feel content with your savings. With GrabOn's coupons and offers, you could add to your savings and subtract from your spending with just a click. Go through the offers, pick the one that suits you the best with especially great offers for first-time users, and shop to your heart's content without stressing out your brain. Shop away at Flipkart these five days and don't forget to use the Flipkart coupons from GrabOn.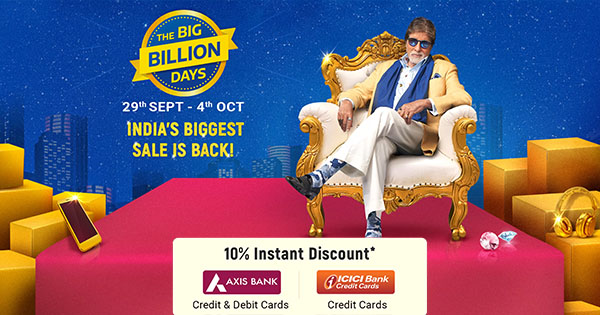 About Flipkart Big Billion Day Sale
There's sale and then there is the big billion day sale. During the Flipkart big billion day sale, a whole range of products from each store category go on sale on specified dates. This sale lasts for five days and covers most in-store products. Now, Flipkart is on a mission to curb prices once again with their Big Billion Days 2019. So, why is this big billion-day sale special? Because there are unprecedented offers and substantial price drops in almost every category of product in their store. So if you are looking to upgrade your wardrobe, laptop, etc., this is the right time to do so. Check out the Flipkart big billion day offers list and wait for your product to go on sale.
Mark The Flipkart Big Billion Day Sale 2019 - Dates On Your Calendar
The most awaited five days is coming up soon. Get your hands on the best Flipkart Big Billion Days Offers 2019 from the 29th of September, 2019 to the 4th of October, 2019. The Flipkart big billion day offers are worth grabbing. Mark your dates. Don't miss out on the best offers on mobiles, electronics, home appliances, fashion, books, etc.
The Big Billion Day Sale Products
With the big billion day sale around the corner, most of us would want to know which products are on sale. This Sale's offers list is practically never-ending. So the most we could provide you with is a sneak peek into a list of a few of the products Flipkart trends:
1. The Flipkart big billion days mobile offers
When: 29th September 2019 - 4th October 2019
With special offers on all android mobiles, this is the perfect destination to shop for your new mobile. The Flipkart big billion day offers on phones covers almost every brand that is in town. Be it authorized Realme, Honor, Mi, iPhone X, 6 plus, 7, etc., Samsung mobiles, Lenovo K3 note, mobile phones under 10000, mobiles phones with 4G, RedMi 4a, Nokia 6, Jio phones, OnePlus models and any other new technology will be available right here.
2. Fashion
When: 29th September - 4th October
Tried your hand at Amazon, Snapdeal, Shopclues, Jabong, Myntra and everything else but not fully satisfied with your options? Are you looking for more shopping sites for clothes in India? Flipkart's wide range of dresses, watches, shoes, accessories, for men, women, and kids show you what the true meaning and definition of fashion and styles is. Witness the ultimate sale on the latest brands this big billion day.
3. Electronics
When: 29th September - 4th October
The best time to invest in electronics is during the sale season. Not only do you get to save big on your purchase, but you also get great deal packages. So what's in store this big billion-days sale? Wide range of refrigerators with double doors, single door, whirlpool, Philips, LG or Samsung; Air Conditioners ( AC ) 1.5 ton, split, window, Headphone, Laptops, USBs, Speakers, Sound Systems, Desktops, Bluetooth Speakers, Microwaves,Cameras, Televisions (TV), Geysers, Power-banks, Panasonic, Nova,Philips trimmer qt4011, qt4005. qt4000, and any other appliance you would need for your home at price lists cheaper than ever before.
4. Furniture
When: 29th September - 4th October
Buying furniture online is full of advantages. Shopping sites like BigBazaar, Snapdeal and more importantly, Flipkart selling wooden and modern furniture. Browse through wooden furniture catalog that comes with massive discounts, and so now you can buy cheap furniture online in India. Browse through study tables, sofas, wall shelves, decorative items, beds, TV units, and cabinets and much more and get the perfect studio look.
Psst, to all the Flipkart plus members out there, you get exclusive early access on the 28th and 29th of September. Don't miss out. Shop away.
Don't Miss Out On The Flipkart Big Billion Day Sale Bank, Wallet And Other Offers
HDFC: If you are an HDFC bank customer, be sure to use the credit or debit card offers along with your purchase.
No cost EMI ( credit cards): Get to use the no-cost EMI offer and shop your favourite products. With this, you can pay in easy installments with zero down payment.
Debit card EMI offer: Grab the best of EMI offers with leading banks this sale season.
The Bajaj Finserv EMI cards: All the Bajaj Finserv customers are in for a treat, you can avail this EMI exclusive offer for your purchases.
Incredible cashback on PhonePe: Got an account on PhonePe, put it to good use this Flipkart sale day.
Rewards for the Mastercard users: Isn't it wonderful when the Visa cards get brushed aside, and the MasterCard get all the attention. Mastercards aren't that bad after all, you can use them to earn the rewards points during this Flipkart sale.
The Flipkart Story
While the story of its inception is quite humble, two IIT graduates came together to develop an online shopping site. Ever since its birth, Flipkart has indeed come a long way. Today their network stands strong and has over thousands of merchant tie-ups. Today, Flipkart is known to have revolutionized Online shopping in India and shattered all prejudices against it with its impeccable delivery timing, order tracking ability, great 24x7 customer care, exchange and return opportunities and the broadest range of products available on the internet. With it's hand in categories ranging from Electronics, Appliances, Fashion, Home & Furniture, Books, Gaming & accessories, Car & Bike accessories, Sports equipment and many more, from brands that are well established like Apple, Adidas and Chemistry to new and upcoming brands such as Posterboy, Muggies magic and Huppme, Flipkart has indeed earned a trusted spot in the online retail market.