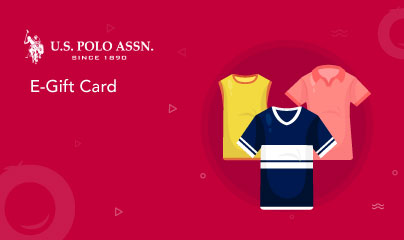 US Polo Gift Card
4 Gifting Options
1 Active Offer
i
US Polo Gift Cards Info
Ongoing Gift Card Offers
Purchase giftcard using PayPal & get 50% cashback (Maximum cash back Rs. 300) by PayPal. Limited time offer for new users. Cashback will be credited within 5 days of transaction. T&C
US Polo Assn is one of the biggest multinational companies in the world. Present in over 135 countries in the world, they are one of the most easily recognizable names in the fashion. Carrying forward the Classic American Style, the brand captures the authenticity of the sport of Polo. The company goes way back in 1981 and since then they have been on an upward trend, presenting their customers with the very best of fashion. Be it men, women, or kids- they have something in store for everyone. Right from dresses, shirts, t-shirts, trousers, jeans, skirts, baby clothes- they house everything in their collections. And now, with the help of GrabOn, you can now buy US Polo gift voucher online and gift it to your friends or family on any special occasion. So, hurry up and get them a US Polo gift card today!
US Polo Gift Voucher
type
value
you pay
savings
₹250

₹250

--

buy now
₹500

₹500

--

buy now
₹1000

₹1000

--

buy now
₹2000

₹2000

--

buy now
About Brand
FAQs
terms & conditions
About US Polo Assn
US Polo Assn. is the official brand of the US Polo Association, which is the official and governing body of the sport of Polo in the United States of America. They sell a wide range of clothing and accessories, and their products are available in over 135 countries. One of the most popular brands (their brand logo is equally famous), now they have grown into one of the largest franchise in the world. Carrying forward, what is now known as, the Classic American Style, the brand captures the authenticity of the sport.
In the last 20 years, the brand has grown from 12 licensees to over 70 licensing partners around the globe. Although the company was initially launched in the United States, the brand of U.S.Polo Assn. quickly spread into Mexico, Central, and South America. The company's international market was developed soon after, first in Japan, China, Taiwan, then into Europe, the Middle-East and India. In these last five years, the brand has experienced 22% annual sales growth. Most of its apparels are classic and they all display the following attributes- athletic, genuine, confident, and approachable.
Product Offerings By US Polo
One of the best clothing companies in the world, US Polo Assn has ensured that they are easily recognizable. Constantly delivering on high-quality products, most of their products demonstrate the following- casual styling, authenticity and affordable price. Their customers realize that US Polo hardly compromise on their brand quality and ethics. For this very reason, there has been an upsurge in their sales. They constantly update their wardrobe and their styles, thus giving you the very best and latest of fashion.
In men's wear, washed polos and sweaters are vastly popular across all the generations. It creates an atmosphere of comfortable style. It creates a look that is smart, comfortable and represents the game of Polo. Some of the most popular kinds of clothing for men include- Polo Shirts, T-Shirts, Shirts, Jeans, Trousers, Shorts and other numerous outerwears. They also have accessories like caps belts and wallets as well. If you are looking for different kinds of shoes for different kinds of occasion, they have that as well. Find different shoes like Formal wear, Casual wear, Winter wear, and Activewear.
In women's wear, polo dresses are the highlight of the US Polo Assn. brand's collections. Get the best of fashion with a wide range of collection in Tops & T-Shirts, Shirts, Jeans & Trousers, Dresses, Outerwear, Sweaters etc. The women's section is updated every season with the best of fashion and with global collections.
If you are looking for kids wear, you can get amazing t-shirts & polo shirts, shirts or dresses. For boys, you can find a whole range of clothes. Let that little fellow look like a gentleman right from his current age with the best collections in T-Shirts, Polo Shirts, Shirts, Jeans, Trousers, and Outerwear. For girls, get the most beautiful clothing line. Find the best tops & t-shirts, dresses, jeans, jeggings, joggers, shorts, skirts, sweater, hoodies, jackets etc.
With so much in fashion in store for you and your entire family, you don't have anything to worry about buying any kind of clothes in the near future. Just go to US Polo website and buy to your heart's content. So, what are you still waiting for! Get everything under one umbrella and change your wardrobe style with the latest things forever!
Get US Polo Gift Cards & Vouchers Today!
Gift cards are a wonderful way to express your love for someone. US Polo Assn Gift Cards are even special, considering all the advantages they have. Do you hate it when your favorite cousin's wedding clashes with your office meeting? Not only are you going to miss his/her wedding but also lose the opportunity to gift them what they always wanted. Worry no more! Get them a US Polo Assn e-Gift card and get it delivered to them within minutes, along with a personal message or a photo. You can also buy US Polo Assn gift cards and send it over by mail. It usually takes 1-2 business days with a bit of additional shipping costs. You can get these US Polo Assn Gift vouchers under various denominations. The minimum is Rs. 350 and the maximum is Rs. 50,000.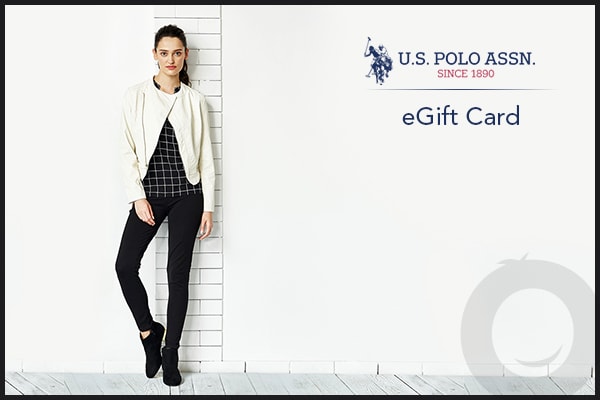 Advantages of US Polo Assn Gift Cards
Get it instantly
No validity period constraint
No purchasing fee except the amount range.
Redeem online
Get it offline or online.
What to gift someone can be a huge confusion. US Polo Assn gift vouchers take care of your tensions. You are getting them one of the best brands, and the best part is that they also get to choose what they want. The choice of clothing, color, fabric quality and style- all depends on them. It is a gift with zero imposition or force. You gift them a US Polo e-gift and they get to choose. They can even browse through the US Polo store catalog and look for the type of clothing they want to buy, depending on the collection and availability. You can also buy the clothes online or go to a US Polo store and get the latest fashion for them. So, go ahead and claim that you are Santa Claus and start gifting people way before Christmas!
Best Deals And Offers Only On GrabOn
Get the best gift for your friends, family and loved and dear ones by gifting them something they are going to cherish for a while: US Polo E-Gift Vouchers. You can gift these cards to anyone on any occasion. Be it an anniversary, birthdays, Valentine's Day, Father's Day, Mother's Day, festivals or any other special occasion- if it is worth celebrating, it is worth gifting. Commemorate any special day with US Polo gift cards online. And get the best deals on the Gift Cards through GrabOn. Check them out now for the most profitable deal out there. So, what are you still waiting for? Hurry up and get a gift card today!
+ read more
All About US Polo Assn Gift Card FAQs
What is the purpose of the US Polo Assn Gift Card?
The US Polo Assn gift card works as a prepaid wallet/ debit card with which customers can purchase items of their choice from the store.
Items One Can Purchase At US Polo Assn:
Clothing
Footwear
Accessories
US Polo Assn gift voucher can be given away to near and dear ones.
Basic Information About Redeeming Gift Cards
1. What is the procedure to avail US Polo Assn E-Gift Cards?
Proceed to https://www.grabon.in/giftcards/us-polo-gift-vouchers/
Choose the gift card denomination you wish and click on "Buy Now".
Fill in information about the intended gift card recipient.
Compose a custom message (optional).
SMS Verification before payment gateway.
Pay using credit/ debit cards, wallets or net banking.
The intended recipient will receive their US Polo Assn gift card in their email inbox after a successful transaction.
2. How do I redeem my US Polo Assn e-gift card?
Add your desired list of products to your shopping cart at the US Polo Assn website.
During check out, select gift card as your payment option.
Insert your US Polo Assn gift card no. (16 digits) and the 6 digit PIN number consecutively at the payment gateway.
3. Are multiple gift cards allowed to be redeemed on a single transaction?
Unfortunately, US Polo Assn allows only one gift card to be redeemed per transaction.
4. Are the US Polo gift vouchers redeemable on the merchant's official mobile app?
Yes. Since the US Polo Assn has its very own mobile application, it does accept gift card based payments out there.
General Transaction Related Queries For US Polo Assn Gift Cards
1. What happens if I cancel my purchase but my amount gets deducted?
Contact our dedicated customer support regarding the other forms of repayment in such a situation.
2. What do I do if the transaction fails but the amount gets deducted?
In such a case, get in touch with our team as soon as possible and we will look into the matter and revert accordingly.
Customer support details
Drop us a mail at giftcards@grabon.in and our team will get back to you.
+ read more
On ordering with us, you will receive an ARVIND E-Gift Card.
This e-gift card is freely transferable and redeemable for any product/merchandise at any participating store of Arvind Brands in India, including Arrow, Izod, Elle, Flying Machine, US Polo Assn., Gap and Aeropostle stores
This E- Gift Card can be redeemed only once.
This Gift card/ E- Gift Card can be redeemed only at selected outlets.
Please present the print out of this e-gift card to the customer relationship officer prior to billing or when you want to redeem the card.
Payment through e-gift card is not valid during sales and promotions at local stores.
The e-gift card balance is redeemable for merchandise only and will not be redeemed for cash.
In case the value of the merchandise exceeds the value of the e-gift card, the difference must be paid by cash, credit card or debit card.
This e-gift card will not be replaced or refunded if lost. This e-gift card can neither be redeemed for cash or credit nor would any unutilized balance be refunded.
+ read more