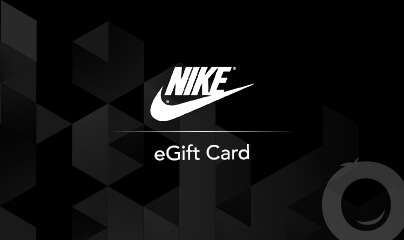 Nike Gift Card
2 Gifting Options
1 Active Offer
Ongoing Gift Card Offers
Purchase giftcard using PayPal & get 50% cashback (Maximum cash back Rs. 100) by PayPal. Limited time offer for new users. Cashback will be credited within 5 days of transaction. T&C
Gifting the 'Just Do It' spirit. Special occasions demand something special. Be it festivals, birthdays, marriages or any other special day, if you are looking for a gift, why not give them something exclusive and cool, like a Nike gift card?! If you are planning to gift from Nike, you have already made the perfect choice.
However, if you are still confused from Nike's all-star collection of amazing merchandises, you can always get a gift card and let them decide what they really need for themselves. And thanks to GrabOn, getting gift cards is a piece of cake. Go on a gifting spree and award everyone with a token of happiness!
Nike Gift Voucher
type
value
you pay
savings
₹1000

₹1000

--

buy now
₹2000

₹2000

--

buy now
About Brand
FAQs
terms & conditions
About Nike
Previously known as Blue Ribbon Sports, Nike is an American company present throughout the world and deals with design, development, manufacturing, and worldwide marketing and sales of footwear, apparel, equipment, accessories, and services. Named after the Greek Goddess of victory, it is the world's largest supplier of athletic shoes and apparel. Famous for its "Just Do It" logo, Nike has many famous athletic footwears under its production, including Air Jordan, Predator, Mercurial, T90 etc.
Why Should I Buy A Gift Card From Nike?
Nike has everything you need when it comes to apparels and sportswear. From athletic footwear to jackets, vests, shirt, sports bras, pants, football boots, flip flops, shoes or backpacks, Nike has it all covered. It is a brand that touches one and all so that you can choose from their stylish t-shirts and casual shoes for men. Some of the most high-profile sportsmen use Nike, so their standards are not even a question. Go ahead and buy a gift card from Nike without any worry. There is no way you can go wrong with it. Choose what you want today!
Flexible Options
GrabOn's Nike gift cards start from a minimum of Rs.1000 to a maximum of Rs. 10000. Choose a gift card of your choice and get as many as you want! Be it your employees, colleagues, friends or family, give everyone a smile on their face with GrabOn! You can not only send them a gift card via email but also take a print of it and give them a hard copy! So, what are you still waiting for! Get your gift card today and make someone's day special! And browse through other options on GrabOn and get access to thousands of coupons and gift cards on our website!
+ read more
1. What is a Nike Gift Card?
A Nike gift card lets you give someone the gift of the best products from their stores. With the physical and e-gift card in the mix, you can give the gift card to anyone for any occasion, be it a birthday, anniversary, festival, or just about anything else.
2. How do I buy a Nike Gift Card?
To purchase a gift card follow these steps:
Go to: https://www.grabon.in/giftcards/nike-gift-vouchers/
Click on the Gift Card option and choose from the list.
Choose the amount you want to refill on your gift card.
Make the payment. You can pay via credit card/ debit card/ Net-banking.
3. How long will it take for me to get my gift card? What is the validity of this gift card?
You'll receive your gift card in your email within 24 hours from the time we receive your payment. For queries related to the validity of the card, please refer to the terms and conditions.
4. How do I use my gift card?
To redeem your gift card, follow the below steps:
Select items for purchase. Click on the 'Proceed To Pay' option on the checkout page.
In the choose payment method page select the gift card option.
Enter your 16-digit gift card number and the 6-digit PIN number provided on your gift card.
If your order total exceeds the gift card value, you will be asked to select an additional payment method.
And, if the order total is less than your gift card value, then the balance will be credited back to your gift card. This can be used for future purchases. Please note that you can only use one gift card per purchase.
5. If I cancel my purchase or booking what happens to the gift card that I have used?
In case of a cancellation, please get in touch with our customer support regarding the available options of repayment.
6. My gift card transaction has failed but the amount has been deducted. What do I do?
In such a case reach out to us as soon as possible and we will look into the matter and revert accordingly.
7. What are the customer support details?
Drop us a mail at giftcards@grabon.in and our team will get back to you.
+ read more
This Gift/eGift Card is powered by Qwikcilver
The Gift/eGift Cards shall be redeemable on the Client's Outlets against purchase of products
The Gift/eGift Cards have an expiry period and shall be valid for a period of 12 months from the date of activation.
Gift/eGift Cards cannot be exchanged for Cash and/or Cheque.
Partial redemption of the Gift Card is allowed and the balance will remain in Gift Card.
In case of eGift Cards only one time redemption is allowed
In case of a damaged Gift Card, a new Gift Card will be issued by Issuer to the end customer.
If the Gift Card is stolen or lost, neither will a new Gift Card be issued nor will the money be reimbursed in any manner.
+ read more