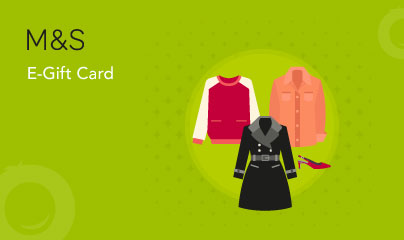 Marks And Spencer Gift Card
4 Gifting Options
1 Active Offer
i
Marks & Spencers Gift Cards Info
Ongoing Gift Card Offers
Purchase giftcard using PayPal & get 50% cashback (Maximum cash back Rs. 100) by PayPal. Limited time offer for new users. Cashback will be credited within 5 days of transaction. T&C
We all love shopping in general, at least the most of us do. But when it comes to giving someone a gift, it is a battle a lot of people are just not prepared to fight. That's about to change though. Marks and Spencer, the UK based, the international franchise of fashion, home, and other needs is definitely helping in the process. Whether someone wants a new footwear or they want a bed lamp for their bedroom, all of their needs can be met here. Give someone a Marks and Spencer E-Gift Card and see them make the most of it.
Marks And Spencer Voucher
type
value
you pay
savings
₹500

₹500

--

buy now
₹1000

₹1000

--

buy now
₹2000

₹2000

--

buy now
₹5000

₹5000

--

buy now
About Brand
FAQs
terms & conditions
Marks and Spencer: Based On True Events
Did you know Marks and Spencer dates back to 1884? Yes, it started off as a small stall set up by its owner at Leeds Kirkgate Market by Michael Marks. A good 10 years later, he was joined by Thomas Spencer and thus, Marks and Spencer, as we know it, came into existence. The company has come a long way from a tiny stall to major international franchise. Their collections are popular among the masses. After becoming a public company, they started introducing more and more sections. With food department being introduced in 1931. Marks and Spencers has experienced a lot of highs and lows. While we have mostly known the company at its best. There were times when it has suffered huge losses resulting in the shutting down of a lot of the outlets worldwide. But it managed to work its way through it and has started to expand again and has made a full recovery. To date, it is a go-to brand for innerwear for many people all around the world.
Take A Look At Their Collection
So what does the brand that is more than a century and a couple of decades old has for us? So much more than one can imagine. They have a curated collection that goes by the name- As seen in the press. The best part about it is the fact that it is updated every day so you won't fall behind in terms of keeping up with the latest trends. If fashion is your thing, you'll totally love the styles you see here. So keep a close eye on what to buy and once you've laid eyes on what you want, use a Marks and Spencer Gift Card if you have one and own it. They have constant sales to keep an eye on that as well. Whether you want clothes for yourself or home decor products for the house, there is a good choice of options for every need of yours. If you take a good look at their various collections. You'll be sorted for every occasion for a considerable amount of time.
They Have Pretty Much Everything In Store For You
In the fashion department, they cater to all the needs of men, women, and kids. Clothing, footwear, and accessories for everyone and all the occasions. Whether you are looking for something casual or office wear or wondering what to wear to the gym they have it all. Want to spend the day at the beach and can't decide to wear? Head over to the store use one of the Marks and Spencer Gift Cards and get some of the nicest beachwear. From jackets to shorts, from dresses to skirts or chinos they have everything. They have lingerie section for the ones that are going for the inner beauty. There's something for the pregnant ladies as well, an entire section full of maternity clothes. That's no the only fit type they are targeting, you can look for clothes specifically made for the plus sizes or the other crowd- the petite ones. Do you have a wedding coming up? Look at how they have categorized their clothes for the bride and the groom, even the others. Not just clothes, all the possible weddings gifts that the happy couple will love. The shopping by occasion option gives you more tailored results which make searching for what you want a lot easier. And if holidays are around the corner, a lot of people would love for the holiday wear, Buy Marks and Spencer Gift Cards and give it to all your friends and families to pick out what they want to buy, you are sorted with your gifts and they are happy with what they'll buy with it. They have thermals for you along with the good collection of jackets and sweaters to get through the cold winter months where the temperatures keep dipping.
One Gift, Many Reasons
The thing about Marks and Spencer Gift Vouchers is that, it can be given on many occasions- it can be given to someone who just turned a year older, maybe more numbers got added to someone's marriage, or to wish someone well for an upcoming major life-changing event say- graduation, marriage, retirements, them moving to a new place, maybe someone got a new job. They make the best housewarming gifts, thank you gifts, I am sorry gifts, engagement gifts, baby shower gifts. The reasons can be endless. Sometimes, it's hard to avoid gifts and sometimes you tend to break your head wondering what can be given to someone and even after spending hours or even days thinking you can't zero in on what to give, that's when a Marks and Spencer eGift Card becomes your savior. No one's going to hate a gift card, I can assure you that. Who wouldn't want that? Having the option of choosing your own gift, meaning getting what you want without paying anything for it. That's a deal everyone would like to get into, right?
Fashion, Yes! But What About Home And Furniture?
Marks and Spencer doesn't only cater to your fashion needs, it does much more than that. If you are looking to make changes around the house, then you are at the right place. From bathrooms, bedrooms, dining rooms to hallways, kitchen, living rooms they have a good stock of everything for you to make your house more pretty. Whether you want to buy mirrors or candles, you can decorate your house with anything and everything that they have to offer and I am sure you are bound to like their collection. And if you are just getting into cooking or moved into a more spacier kitchen and now want more of the cutleries and cook and bakewares, you can totally make that happen. So yes, buy Marks and Spencer E-Gift Vouchers and give it to people for different occasions and be sorted with your gift giving dilemmas, and if you ever receive one you know exactly what to do with it.
+ read more
Marks and Spencer Gift Card FAQs
1. What does the Marks and Spencer Gift Card do?
A Marks and Spencer gift card lets the gift card recipient buy the best of fashion and home decor. The beauty of it is that you can give the gift card to anyone for any occasion, be it a birthday, anniversary, festival, even if it is all business. They are also good as corporate gifts. The Marks and Spencer gift cards are available in 4 denominations.
2. How do I buy a Marks and Spencer Gift Card?
To purchase a Marks and Spencer gift card follow the below steps:
Go to: https://www.grabon.in/MarksandSpencer-gift-cards/
Choose the Gift Card from the list.
Choose the required denomination for your gift card. Available denominations are Rs 250, Rs 500, and Rs 1,000.
Make the payment. You can pay via credit card/ debit card/ Net-banking.
Till when is my Marks and Spencer Gift Card valid?
Please refer to the terms and conditions to know the validity of your gift card.
3. What types of Marks and Spencer Gift Cards are available?
At present there are only e-gift cards. The physical gift cards are in the making and will soon be available to you.
4. How will I receive my Marks and Spencer Gift Card(s) after purchase?
You'll receive your Marks and Spencer gift card in your email within 24 hours from the time we receive your payment.
5. How can I redeem my Marks and Spencer Gift Card?
To redeem your gift card, follow the below steps:
Select items for purchase. Click on the 'Proceed To Pay' option on the checkout page.
In the choose payment method page select the 'Marks and Spencer Gift Card' option.
Enter your 16 digit gift card number and the 6 digit PIN number provided on your gift card.
6. If your order total exceeds the gift card value, you will be asked to select an additional payment method.
And, if the order total is less than your gift card value, then the balance will be credited back to your gift card. This can be used for the next purchase.
7. Can I use my gift card on the Marks and Spencer mobile app?
Yes, you can use the Marks and Spencer gift card on the app as there's an official Marks and Spencer app.
8. Can I use multiple Marks and Spencer Gift Cards during one purchase?
No, you can only use one gift card per purchase at the any of the Marks and Spencer outlets or on the app/website.
9. What happens if the transaction amount is lower than the balance in my Marks and Spencer Gift Card?
Since you can use the gift card only once the rest of the gift card balance will be void.
10. If I cancel my purchase or booking what happens to the Marks and Spencer Gift Card that I have used?
In case of a cancellation, please get in touch with our customer support regarding the available options of repayment.
11. Upon applying my Marks and Spencer Gift Card the transaction failed. But the amount has been deducted. What do I do?
In such a case reach out to us as soon as possible and we will look into the matter and revert accordingly.
12. What are the customer support details?
Drop us a mail at giftcards@grabon.in or call us at 7997692233 and our team will get back to you.
+ read more
This E- Gift Card is redeemable for merchandise at Marks & Spencer stores across India.
E- Gift card is not a cash card. This E- Gift card is not redeemable for cash and credit. Marks & Spencer Reliance India (p) Ltd will not replace/reimburse the value of your card if lost, stolen, damage or expired.
This E- Gift Card will expire in 180 days from the date of Issue.
This E- Gift Card can be used only once.
All returns/refund are subject to Marks & Spencer exchange and return policy.
Marks & Spencer Reliance India Pvt. Ltd reserves the right to amend the terms and conditions of Gift Card at any time and to take appropriate action, including the cancellation of the card, at its discretion, it deem such as action necessary. This does not affect your legal standing.
E-Gift Cards are normally delivered instantly. But sometimes due to system issues, the delivery can be delayed up-to 24 hours.
No returns and no refunds on gift cards, E- gift cards and gift vouchers shipped by woohoo.in. Please check the refund policy at http://www.woohoo.in/faq for further details.
Note: A convenience fee might apply on the purchase at the payment gateway.
+ read more