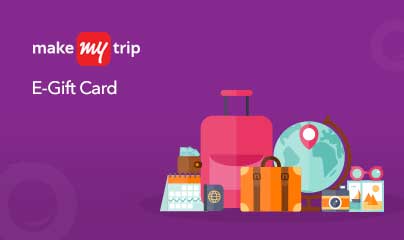 MakeMyTrip Gift Card
4 Gifting Options
1 Active Offer
i
MakeMyTrip Gift Cards Info
Ongoing Gift Card Offers
Purchase giftcard using PayPal & get 50% cashback (Maximum cash back Rs. 100) by PayPal. Limited time offer for new users. Cashback will be credited within 5 days of transaction. T&C
Cannot wait for another trip with your best friend or your family for their special occasions? Well, here is something that you can gift them - Gift Card by MakeMyTrip! Surprise your loved and dear ones with these Gift Cards, they can redeem it on flight, bus, train or hotel bookings or even homestays! There couldn't be a better gift for someone who loves to explore new places, for people who live to travel, who are wanderers and adventurers and for people who would stop at nothing. Get the most amazing vouchers, offers, deals and discounts for the Gift Cards and Vouchers by MakeMyTrip through GrabOn and save on the best deals out there.
MakeMyTrip Gift Voucher
type
value
you pay
savings
₹1000

₹1000

--

buy now
₹2500

₹2500

--

buy now
₹5000

₹5000

--

buy now
₹10000

₹10000

--

buy now
About Brand
FAQs
terms & conditions
For The Ones Who Travel A Lot
Do you live for exploring new places and discovering new cultures or do you know someone who loves traveling? If yes, then makemytrip gift card is what they need! Travel is a very important part of everyone's life. It teaches us some very important lessons which books can't. It is often said that one who doesn't travel much, doesn't learn much. But there is a huge roadblock that prevents a lot of people from traveling and that is the pricing. The travel expenses and hotel accomodations can be very frightening. And not to mention the off-season surges and festive season rush. Well, now there is something that you can do about it. Invest in makemytrip gift voucher and help yourself or your friend, save big the next time you book flight, bus or train tickets and stays. Just choose from the mmt gift card denomination that you want and click on buy now. After purchase, you can use this gift card while you are booking tickets. Now, you can travel to your heart's content or help a friend, colleague or family member in his next vacation planning. Where is your heart set? On the calm and serene beaches of Goa or the chilly hill tops of Ooty? Maybe a trip to Rameshwaram or a solo journey to icy landscapes of Leh and Ladakh. Be it a trek to Triund or an adventure journey to Chandratal Lake, decide on your next big adventure with friends, family and loved ones with MakeMyTrip e-Gift Cards from GrabOn.
All About MakeMyTrip And How They Operate
Founded by Deep Kalra, an IIM alumnus, Make My Trip is an Indian online travel company that provides travel services including domestic and international flight tickets, rail tickets, bus tickets, holiday packages, hotel reservations etc. Conceived in 2000, to cater to the overseas Indian community, it began its Indian operations only in September 2005. Going public in 2010, makemytrip has earned a position in the market place not many can compete with. Today, the company operates through 51 retail stores across 47 cities in India, along with offices in New York City. With multiple travel related apps for all types of cell phones, and impressive acquisitions like Luxury Tours and Travel PVT, MakeMyTrip is the country's leading travel and logistics company. Through partnerships with ITC Group, ETB Group, MakemyTrip is also digging its roots deeper in the Travel Industry and has been changing the way India travels since the day it launched. Make my trip now offers gift cards to the customers which they can use to save on their travel expenses or gift it to their loved ones during festivals and other occasions.
Perfect Gift For The Travel Hungry
Picture yourself on a hammock, with a chilled drink in your hand, and backdrop of the sun setting on the beach. Beautiful, isn't it? What are you waiting for? Apply for leaves, mark the calendar and plan your travel accordingly. Take a breather from the hectic routine and head to the mountains or the valleys. Whether you are a trekking junkie, mountain climber, party animal, beach lover, art enthusiast or just someone who could use a break from the everyday monotony, mmt e gift card is perfect for you. Travel to far away places and put all the pressure behind you. There couldn't be a better gift for someone who loves to travel than having another opportunity to explore more places. If you have someone important in your life who loves to travel, believe us, there can never be a better thing to gift him or her other than a mmt gift voucher. They can redeem their gift vouchers on their next travel booking. Your traveler buddy will definitely love your sweet and considerate gift. Get used to being the boss of gift giving, because from now on, you shall be know as that!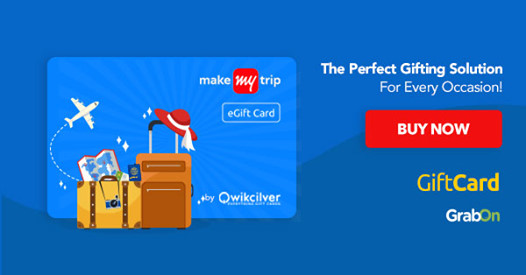 From Booking Tickets To Hotel Accommodations & Everything In Between
The first thing that anyone considers when they think about holidays are the ticket prices, both for travel and hotel accommodation. The prices are more often than not the hurdle that prevent people from going on holidays and vacations. The makemytrip gift card makes it easy for you to visit new places and travel to amazing destinations without burning a hole in your wallet. There are so many things you can do with Makemytrip Vouchers. You can book flights, buses, trains, hotels, holidays, or a flight + hotel combo, homestays and activities that will help you plan your vacation better! With Makemytrip Gift Cards, you can redeem the denomination on any booking. It is the best gift to give someone who is looking forward to a good vacation. A friend planning a low budget trip to Goa with friends or a newly-wed couple planning a luxurious honeymoon to Paris, a Gift Card from Make My Trip can be redeemed by all. Find all your travel needs brought together under one platform with MakeMytrip and save on each part of your vacation. Whatever be the occasion, surprise your friends and family with the Makemytrip Gift Voucher and Gift Cards.
Best Deals And Discounts With GrabOn
Apart from Makemytrip Gift Cards and Vouchers, you can avail the latest and the hottest handpicked deals from Makemytrip only on GrabOn. Flights, buses, hotel and accommodations, MakeMyTrip offers a lot of services to its customers and you can avail big discounts on all of these services. You don't need to go looking around for the latest offers and deals anywhere else. We have got everything covered here at GrabOn. Whatever you need, be it the latest offers and promo codes. Subscribe to GrabOn to receive alerts about the latest sale events and keep up with the latest price drops on travel packages. Discover new, exciting and verified coupon codes for travel. Save on your business trips, college reunions, annual travel home or any sort of travel expenses in general. Take a truly stress-free vacation while we take care of the expenses and help you save big on your travel expenditure. Enjoy your dream vacation with MakeMyTrip and Happy gifting with GrabOn Make My Trip Gift Vouchers. Avail the mmt gift card offer and save more on your purchase.
+ read more
MakeMyTrip Gift Card FAQs
1. What does the MakeMyTrip Gift Card do?
Gifting is a wonderful experience. With MakeMyTrip Gift Cards, you can gift your close ones or family a travel gift card and fund them for their trip. They get to decide where and when to travel. A perfect gift for travel enthusiasts. Because there is no gift better than a beautiful experience. You can select or enter your desired denominations.
2. How do I buy MakeMyTrip Gift Card?
To purchase a MakeMyTrip gift card follow the below steps:
To purchase your MakeMyTrip gift card. Please visit this link: https://www.grabon.in/makemytrip-gift-cards/
Select the card you want for the desired occasion.
Enter the denomination amount.
Enter the recipient details.
Write a customized message (if you want) and preview the voucher.
Proceed and select payment option. Pay and complete your transaction.
You will receive a confirmation mail for your e-Gift Card on the mail ID provided. The physical card will be delivered through courier.
3. Till when is my MakeMyTrip Gift Card valid?
Please refer to the terms and conditions to know the validity of your gift card
4. What are the types of MakeMytrip Gift Card available?
There are two types of gift cards available. e-Gift Card and Physical Gift Cards. Gift cards can be bought for special occasions, be it for family gathering, corporate occasion or group dining events. MakeMytrip offers customized gift cards for every occasion. They also offer Holidays gift card and hotels gift card ( valid only on holiday packages and hotels).
5. How will I receive my Gift Card(s) after purchase?
You'll receive your MakeMytrip gift card in your email within 24 hours from the time we receive your payment. The e-Gift Card will be sent to the recipient email address provided by you and if you have opted for a physical gift card, then it will reach the recipient's address as mentioned by you.
6. How can I redeem my MakeMyTrip Gift Card?
You can redeem your gift card by using it on the MakeMyTrip website. To use your gift card, simply apply the gift card code and the corresponding PIN during your checkout payment process. Your card can be redeemed against any purchase made on the MakeMyTrip website. However for redeeming the gift card offline call our customer support for further details.
7. Can I use my gift card on the MakeMyTrip mobile app?
Yes, you can use the gift card on the app as the merchant does provide services over their mobile app.
8. Can I use multiple Gift Card during one purchase?
Yes. You can use multiple gift cards in one transaction. But maximum of three gift cards can be redeemed during one transaction.
9. What happens if the transaction amount is lower than the balance in my Gift Card?
If the order total is less than your gift card value, the specified total cart amount will only be deducted. The remaining amount can be used for your next purchase.
10. If I cancel my purchase or booking what happens to the Gift Card that I have used?
In such an event, you will receive back the value of the returned item. The balance will be credited back to your gift card.
11. Upon applying my Gift Card the transaction failed. But the amount has been deducted. What do I do?
In such a case the deducted amount will be automatically refunded within 24 hours.
12. What are the customer support details?
Drop us a mail at giftcards@grabon.in or call us at 7997692233 and our team will get back to you.
+ read more
The Gift card is valid for purchases made from Makemytrip only and is valid for a period of 12 Months from the date of Purchase.

For Flights, Hotels & Holidays:

Can be redeemed online at www.makemytrip.com or on MakeMyTrip Android & IOS app. Please follow the steps listed below:

Select your Flight/ Hotel and fill required details till you reach the payment page.

On Website, click on "More options" and Select "Gift Card" as your Payment Mode. On Android and IOS app, choose Gift Card as the payment option

Enter your Gift Card/ Card No. (16 Digit) and 6 Digit Pin No.

Click on "Make Payment" and Pay the Balance amount (if any) using other Payment Modes Listed.

Flights & Hotels are not redeemable offline.

For redeeming Holidays offline through our Holiday Experts :

Please call on the understated number to redeem the card.

Domestic Holiday packages: 9599595601

International Holiday packages: 9599595618

Alternatively you can also write on gifts@makemytrip.com

You can also visit the MakeMyTrip Branches to redeem.

This Gift card is not valid on Bus, Rail and Car bookings.
Gift cards are valid on bookings made through MMT Mobile App.
In case of transaction failures after Gift Card is applied, amount would be automatically refunded to the same cards within 24 hours.
This Gift card/voucher cannot be clubbed with any other ongoing offer discount/cash back/promotion run by Makemytrip.com on app or website.
This Gift card is valid for partial redemption. Balance would remain in the Gift Card till the validity period and can be reused for multiple transactions.
Multiple Gift Cards (up to 3) can be combined and used on 1 transaction.
Products and services are subject to availability.
The Gift card cannot be cancelled or exchanged for cash.
The Gift card validity cannot be extended under any circumstances.
Gift Card code/Physical copy or both to be provided at the time of booking along with an ID proof for the offline redemption.
MakeMyTrip is not responsible if the Gift card is lost, stolen or used without permission.
In case of cancellation of bookings made using the gift card within the validity period, the amount will be reversed to the same card as used at the time of booking.
Users are required to save the gift card number and PIN to utilize this refunded amount as we will not be able to reset the PIN or reissue a new gift card number.
In case of cancellations where the gift card validity has expired, no refund will be processed for the amount paid by the gift card.
MakeMyTrip is the final authority on the interpretation of these rules
MakeMyTrip reserves the right to deny accepting any Gift card if it suspects that there is duplicity of cards.
In no event the liability of MakeMyTrip for any claims shall exceed the value of the card.
In the event of any dispute, parties agree to exclusive jurisdiction of courts of New Delhi.
This is for individual use only, Travel agents found using the card would lead to cancellation of booking and no refund would be made.
Note: A convenience fee might apply on the purchase at the payment gateway.
+ read more