MakeMyTrip Gift Cards- For Many Occasions!
MakeMyTrip (MMT) is an Indian online travel company that provides travel services including domestic and international flight tickets, holiday packages, hotel reservations, etc. They operate through 51 retail stores across 47 cities in India, along with offices in New York. With multiple travel-related apps for all types of cell phones and impressive acquisitions like Luxury Tours and Travel PVT, MakeMyTrip is the country's leading travel and logistics company.
MakeMyTrip now offers Gift Cards to the customers which they can use to save on their travel expenses or gift it to their loved ones during festivals and other occasions. Be it a wedding gift, special occasions, auspicious events or recognition, an MMT e-gift voucher can open many doors to wonderlands!
Perfect Gift For The Travel Hungry
Picture yourself on a hammock, with a chilled drink in your hand, and backdrop of the sun setting on the beach. Beautiful, isn't it? What are you waiting for? Apply for leaves, mark the calendar and plan your travel accordingly. Whether you are a trekking junkie, mountain climber, party animal, beach lover, art enthusiast or just someone who could use a break from the everyday monotony, e-gift card is perfect for you. Travel to faraway places and put all the pressure behind you.
There couldn't be a better gift for someone who loves to travel than having another opportunity to explore more places. If you have someone important in your life who loves to travel, believe us, there can never be a better thing to gift him or her other than an MMT gift voucher. They can redeem their gift vouchers on their next travel booking. Your traveler buddy will definitely love your sweet and considerate gift. Get used to being the boss of gift-giving, because from now on, you shall be known like that!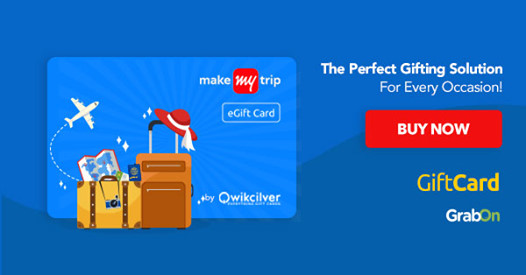 The Perfect Gift Voucher To End All Traveling Woes
The first thing that anyone considers when they think about holidays are the ticket prices, both for travel and hotel accommodation. The prices are more often than not the hurdle that prevent people from going on holidays and vacations. The MakeMyTrip gift card makes it easy for you to visit new places and travel to amazing destinations without burning a hole in your wallet. There are so many things you can do with Makemytrip Vouchers. You can book:
Flights
Hotels
Flight + Hotel combo
With Makemytrip Gift Cards, you can redeem the denomination on any booking. It is the best gift to give someone who is looking forward to a good vacation. A friend planning a low budget trip to Goa with friends or a newly-wed couple planning a luxurious honeymoon to Paris, an e-gift card from MMT can be redeemed by all. Find all your travel needs brought together under one platform and save on each part of your vacation. Whatever be the occasion, surprise your friends and family with the Makemytrip Gift Voucher and Gift Cards.
Travel The World This Diwali!
Looking for an end-of-year getaway this festive season? Well, book your flights and hotels from India's #1 website! And if you want someone close to go ahead and take that much-deserved break, get them a Make My Trip Gift Card from GrabOn! These gift cards cover the specific amount and ensure that they have to pay the minimum (or none!). Lighten up someone's life this Diwali and help someone make new memories!
Best Deals And Discounts With GrabOn
Apart from Makemytrip Gift Cards and Vouchers, you can avail the latest and the hottest handpicked deals from Makemytrip only on GrabOn. Flights, buses, hotel and accommodations, MakeMyTrip offers a lot of services to its customers and you can avail big discounts on all of these services. Discover new, exciting and verified coupon codes for travel. Save on your business trips, college reunions, annual travel home or any sort of travel expenses in general. Take a truly stress-free vacation while we take care of the expenses and help you save big on your travel expenditure. Enjoy your dream vacation with MakeMyTrip and Happy gifting with GrabOn Make My Trip Gift Vouchers. Avail the mmt gift card offer and save more on your purchase.