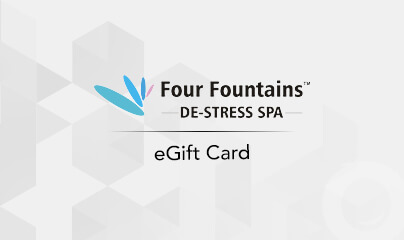 FourFountains Spa Gift Card
3 Gifting Options
1 Active Offer
i
Four Fountain Spa Gift Cards Info
Ongoing Gift Card Offers
Purchase giftcard using PayPal & get 50% cashback (Maximum cash back Rs. 300) by PayPal. Limited time offer for new users. Cashback will be credited within 5 days of transaction. T&C
A spa session is something we all could look forward to or is something that we all could need. To relax and de-stress is what most of us might need when on a hectic schedule. So if you are heading to get to relax those muscles and get a massage, why not take your friend along? Nobody said a company wouldn't harm. And if you were planning to get them something, you could get them a gift card from fourfountain. Check out incredible offers from GrabOn to save more.
FourFountains Spa Gift Voucher
type
value
you pay
savings
₹500

₹500

--

buy now
₹1000

₹1000

--

buy now
₹1500

₹1500

--

buy now
About Brand
FAQs
terms & conditions
About FourFountains Spa
Having traveled a lot, the founders of FourFountain Spa understand the need to destress on/after a business trip. They discovered that the best way to de-stress was to attend a Spa therapy session. But, Alas! Spa therapies are heavy on the pocket. As long as the expense was covered by the company it felt alright. But that shouldn't stop one from getting to indulge in the Spa sessions. Four Fountains De stress Spa understands all that and hence provide service at a much reasonable price. Well versed with the health benefits that the Spa session has, Four Fountain Spa has gone ahead and made it possible for the larger crowd to be able to access this. Started with two Spa outlets in the year 2007, now FourFountains Spa has close to 28 branches across India. So if you really want to relax, drop by the Spa center and go on a de-stressing journey.
The Best Spa Therapies And Nothing Less
Now that you are planning to get a spa session done, instead of indulging in regular therapies, why not pick from the best offerings? So, what are the various in-house spa treatments? You can choose from a wide range of Spa packages like Thai massage, Swedish massage, Ayurvedic massage, and Aromatherapy massage. They also have a home spa, facials, body wraps, and more. Whatever be your pick, you can always book your session in advance online.
FourFountains Gift Cards
The gift of a spa therapy session is one of the best things you could give your loved one. For the time when they need to relax and just de-stress, this is your go-to option. So, when a special occasion comes up or if you just want your dear one to have a good time the coming weekend, get them a FourFountain Spa gift card.
How to get/buy FourFountains Spa gift cards?
Visit the GrabOn gift cards page.
Type in 'FourFountains Spa' in the search bar.
Select the denomination
Add to cart and place order
How to use FourFountains Spa gift cards?
Visit the FourFountains Spa
Redeem it against your purchase
Read the Terms and Conditions in the FAQ section
How to use FourFountains Spa e gift voucher?
Go to the FourFountains Spa
Redeem it against your purchase
For detailed information refer to the FAQ section
Saving On Your Spa Sessions
Now you can save more on your Spa session with GrabOn offers. Not only do you get additional discounts from FourFountains Spa you also get extra concessions on their gift cards too. So the next time you want to save up a bit more, come and visit this page for latest offers coming your way.
+ read more
FourFountains Spa Gift Card FAQs
How do I buy FourFountains Spa Gift Card?
To purchase your FourFountains Spa gift card:
Select the type of gift card fit for the occasion.
Choose the denomination amount.
Enter the recipient details and write a customized message (if you want to)
Proceed and select payment option. Pay and complete your transaction.
You will receive a confirmation mail on your registered mail ID.
Till when is my FourFountains Spa Gift Card valid?
Please refer to the terms and conditions to know the validity of your gift card
What are the types of FourFountains Spa Gift Card available?
There is just one type of FourFountains Spa Gift Card available. The e-Gift Card. These Gift cards can be bought for special occasions. FourFountains Spa offers customized gift cards for every occasion.
How will I receive my Gift Card(s) after purchase?
You'll receive your FourFountains Spa gift card in your email within 24 hours from the time we receive your payment. The e-Gift Card will be sent to the recipient email address provided by you.
How can I redeem my FourFountains Spa Gift Card?
You can redeem your gift card by using it on the FourFountains website/ store. To use your gift card, simply apply the gift card code and the corresponding PIN during your checkout payment process. Your card can be redeemed against any purchase made on the FourFountains website.
Can I use my gift card on the FourFountains mobile app?
Yes, you can use the gift card on the app as the merchant does provide services over their mobile app.
Can I use multiple Gift Card during one purchase?
No. You can only use one gift card during one transaction.
What happens if the transaction amount is lower than the balance in my Gift Card?
If the order total is less than your gift card value, then the balance will be credited back to your gift card. This can be used for the next purchase.
If I cancel my purchase or booking what happens to the Gift Card that I have used?
In such an event, you will receive back the value of the returned item. The balance will be credited back to your gift card.
Upon applying my Gift Card the transaction failed. But the amount has been deducted. What do I do?
In such a case reach out to us as soon as possible and we will look into the matter and revert accordingly.
What are the customer support details?
Drop us a mail at giftcards@grabon.in and our team will get back to you.
+ read more
Prior appointment is necessary.
Spa rules and regulations apply.
This E-Gift Voucher Cannot be redeemed for cash.
No cash shall be refunded nor credit note issued for part utilization.
No duplicate E-Gift Voucher shall be issued for lost, misplaced or stolen vouchers.
This E-Gift voucher will be valid for 6 months from the date of issue.
Validity cannot be extended under any circumstances.
+ read more