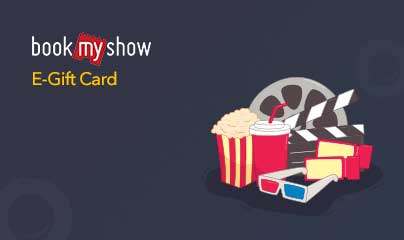 Bookmyshow Gift Card
3 Gifting Options
1 Active Offer
i
Bookmyshow Gift Cards Info
Ongoing Gift Card Offers
Purchase giftcard using PayPal & get 50% cashback (Maximum cash back Rs. 100) by PayPal. Limited time offer for new users. Cashback will be credited within 5 days of transaction. T&C
Gift Cards are the best options when it comes to showing your love for someone who lives afar. And even if not due to the distance, Gift Cards show that you respect their choices and are willing to give your special someone something that can totally make their day. And to be true, time is the best gift you can give someone; time is deemed to be the best gift after all, isn't it? Why not gift them a great time with Book My Show Gift Card? Your special people are going to have the time of their life watching the best movies, attending the best events in the city. You've got to try them out now!
Bookmyshow Gift Voucher
type
value
you pay
savings
₹100

₹100

--

buy now
₹250

₹250

--

buy now
₹500

₹500

--

buy now
About Brand
FAQs
terms & conditions
Watch The Latest Movies At Ease!
Book My Show gift cards are not just one of the usual unthoughtful gifts, you are giving someone two of the following things-a) A chance to spend quality time with their loved ones and b) To watch a good movie while having a good time with someone you genuinely want to hang out be it family, friends or a partner. In a way, by giving a Bookmyshow gift voucher you are really giving them a break from the boring routine life, a moment to pause and enjoy themselves, a moment to just sit back and relax. Watching movies not only reduces stress but also lightens your mood; everyone should make a deal with themselves that once a month or so they should keep some time apart to go and enjoy the movies, even explore different genres if they can and marvel at the cinematography, directions, and good music.
In Cinemas Near You
What all the cinemas have their tie-up with BookMyShow? Most of them from PVR cinemas to INOX, from IMAX to the local screens of individual cities all have their tie-ups with. If you have your favorite movie hitting the cinemas soon? Don't want to risk being stuck with bad seats. Book your tickets using a BookMyShow gift card and choose the seats of your preference and also don't miss the tiny bit after the interval buying food. Order food while booking your seats and sit back and relax even catch up on the intervals, munching on the caramel or the cheese popcorn and sipping your favorite cold drink and how long has it been since you actually watch the Vicco ad or the graphic quit smoking ads? Nostalgic much?
Designed For All The Movie Buffs
If you are wondering what to give someone, then buy BookMyShow Gift Cards and gift them to your loved ones, especially if they're into movies and love spending time in front of the silver screen. Everyone likes having a good time at the movies, who wouldn't love watching their favorite stars dazzle on the big screen? You have numerous options when buying gifts cards such as their BookMyShow gift card for birthdays, other categories also include apology cards and best wishes. If there's an occasion, the best thing to gift a movie maniac is the BookMyShow Gift Card; they will love you for it! Whether we are talking about Hollywood hits or Bollywood dhamakas or maybe something of local flavor, the movie buff is always up for a movie break. And what would this movie buff want more than the option to run off to any movie at a whim and that too for free? What's even better for them is the fact that they don't have to wait in long lines for their ticket or fear missing the starting of the movie waiting at the kiosks to get a printout, with the app now sending the confirmation message on your phone and the QR code on your WhatsApp from the BookMyShow business account. You can just show the code at the entrance and walk in hassle-free.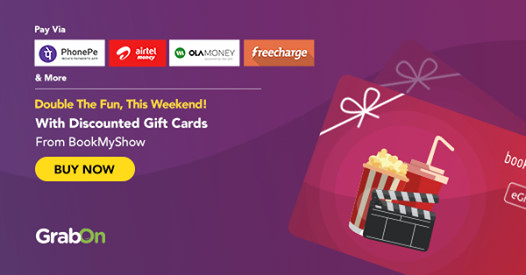 Express Your Love With Gift Cards
BookMyShow offers you movie vouchers online. Now, you can choose from a variety of them to give to someone you adore. Why bother to buy your friend, family member or colleague a store bought gift which you are not completely sure will be useful? Get them a BookMyShow e- gift voucher instead and you'll never have to think again if it will be put to use. Express your love in the form of a book my show gift card instead. Let your loved ones explore the unending choices of movies, events, parties etc., let them be master of their own gift and pick exactly what they want to watch or experience and be grateful to you for the lovely experience! You can give one of these BookMyShow Gift Vouchers for variety of reasons, whether it is someone's birthday or getting a new job, whether it is to show some gratitude to someone who has done something for you or just to say that you value them and want to show your love for them, See one card, many occasions, choose your reason and give away your love for them.
Gift Cards For Events, Concerts, And More!
It's not just about the movies, if the big screen is not the gift receiver's thing then, BookMyShow also provides a number of Gift Cards for various events that happen in the different cities, be it a popular comedian's show like Kenny Sebastian or Zakir Khan or be it the Arijit Singh's India Tour passes or even Comic-Con, they even sell passes for the different sports events that keep happening too. For anybody looking to step out and appreciate art like comedy shows, musical concerts or theatrical tours, or dressing up in their favorite superheroes or other characters, catch what's coming to your city and be ready to experience the art of your choice with BookMyShow gift card offers. You can find the coolest stuff on their website/app and Gift Cards for them as well. Show your love with the best gifting options from BookMyShow. Since both theatre and stand up comedy is gaining popularity, they have a separate section for the theatre buffs and the comedians that includes theatres and open spaces where these events are regularly being conducted to give the budding artists a platform to portray their talents and for the theatre and Stand-up enthusiasts an opportunity to see fresh talent.
Deals And Discounts
Have a friend's birthday coming up? You now know the perfect gift for her! Thanks to GrabOn. As it brings you the best offers, deals, and discount from BookMyShow! Grab the best of the offers based on your needs and requirements, catch awesome movies and fantastic events with your loved ones or gift the BookMyShow gift card to someone so they can do the same. Don't forget to remind your loved ones to check the GrabOn offers page while gifting them the Bookmyshow gift voucher, so they can buy more and save in the process too!
+ read more
BookMyShow Gift Card FAQs
1. What does the BookMyShow Gift Card do?
There is one thing common to everyone: everyone cherishes a good time. And there can be nothing better than giving them an opportunity to possibly have the time of their life. BookMyShow is a platform which provides you with a plethora of options to go out and have fun including booking movie tickets, events and shows. You can never go wrong with a BookMyShow Gift Card. Gift an experience to your loved ones like never before! Whatever be the occasion, a BookMyShow Gift Card is just right to delight someone. From birthdays, anniversaries, festivals to special occasions, there is a wide selection of quirky and cool gift cards you can choose from.
2. What types of BookMyShow Gift Cards are available?
There are two variants of the BookMyShow Gift Card available: Physical Gift Card and e-Gift Card. The Physical Gift Card if bought is mailed to you, the recipient's shipping address while the e-Gift Card is emailed to your registered e-mail address. Both the variants are available for every occasions ranging from wedding, to anniversaries, birthdays and more. Check out the denominations available and place your order accordingly.
3. How do I buy BookMyShow Gift Cards?
Gift your loved ones a range of experiences from movies to events, plays, concerts and sports with a BookMyShow gift card. All you need to do is a pick a store near you and you are sorted. BookMyShow Gift Cards are now available at thousands of stores at all major towns across India. You can get the physical BookMyShow Gift Card directly from the stores like Reliance Digital, Croma, Jio Digital Life, EZone; you can even order them online through Snapdeal and Amazon. You can buy the e-Gift Cards by simply choosing one of your accord from the huge variety on: https://www.grabon.in/bookmyshow-gift-cards/ You can click on "Buy" button and fill in the formalities and you are done. You will receive the Gift Card on your registered email ID.
4. How do I activate the BookMyShow Gift Card?
You can activate the card by clicking on the link which you have received via email. If by any chance you have received more than one code through your mail, you can activate all of the codes by clicking on the link once. The activation of card will not happen by contacting BookMyShow support team. The link in the recipient's email is required to activate the gift card. BookMyShow gift cards purchased can also be activated through SMS. Please refer to the terms and conditions before making a purchase.
5. What is the Validity of BookMyShow Gift Cards?
Please refer to the terms and conditions in order to know the validity of the Gift Card that you have purchased.
6. How will I receive my BookMyShow Gift Card(s) after purchase
You'll receive your Pepperfry e-Gift Card in your email within 24 hours from the time we receive your payment. You can get your physical Gift Cards shipped to your address.
7. How do I Redeem my BookMyShow Gift Card?
You can redeem your BookMyShow Gift Cards by following these simple steps:
Visit www.bookmyshow.com OR use the BookMyShow mobile app./
Select from movies, plays, concerts, experiences or sports events available on Bookmyshow and then choose the date, time, venue & book your seats.
Enter the code mentioned in the Gift Card during payment on the checkout page.If the total amount of the purchase is more than the available amount in your Gift Card, the you can pay the balance using he payment using other methods.
Available denominations are Rs 100, Rs 250, Rs 500, Rs 1000, Rs 2500, Rs 5000
You should carry the confirmation SMS or the email that you have received (after payment) to retrieve the physical ticket.That's all, enjoy the show!
8. Can the BookMyShow Gift Cards be used on the Mobile Application as well?
Yes, all the gift cards are redeemable on the BookMyShow mobile application as well.
9. Can I use BookMyShow multiple Gift Card during one purchase?
BookMyShow allows you to use multiple Gift Cards during a single transaction. The BookMyShow Gift Card can be used any number of times during the validity period till the balance is exhausted.
10. How do I buy a BookMyShow Gift Card?
To purchase a BookMyShow Gift card follow the below steps:
Go to: https://www.grabon.in/gift-cards/
Choose the Gift Card.
Select the required denomination for your gift card.
Make the payment. You can pay via credit card/ debit card/ Net-banking.
11. Upon applying my Gift Card the transaction failed. But the amount has been deducted. What do I do?
In such a case reach out to us as soon as possible and we will look into the matter and revert accordingly.
12. What are the customer support details?
Drop us a mail at giftcards@grabon.in or call us at 7997692233 and our team will get back to you.
+ read more
Gift Voucher can be redeemed ONLY on bookmyshow website & mobile app. They cannot be redeemed directly at the cinema/venue box-office.
Gift Voucher can be redeemed on purchase of eticket(s) for Movies/Plays/Concerts/Sports Or Merchandise (if any) available on bookmyshow.
Multiple Gift Vouchers can be used in a single transaction or Gift Voucher can be combined with any other payment type on bookmyshow.
Gift Voucher can be used multiple times until the last rupee loaded on it gets exhausted within the validity period.
If lost misused, the Gift Voucher(s) cannot be replaced.
Void if resold, cannot be exchanged for point(s) or cash and cannot be re-validated once past expiry date.
In addition to these Terms and Conditions, BookMyShow Gift Voucher & their use on our website are also subject to BookMyShow's general Terms of Use & BookMyShow's decision will be final in case of any dispute.
Valid for 6 Months
Note: A convenience fee might apply on the purchase at the payment gateway.
+ read more