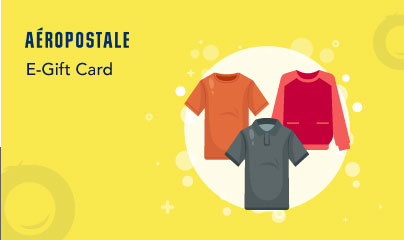 i
Aeropostale Gift Cards Info
Aeropostale is the pioneer of fashion for the young and free. An American brand, it churns out fresh collections of basic fashion like jeans, accessories, t-shirts, skirts, active wear, dresses, winter wear, shirts, jackets, overall, sunglasses, bags, etc. Which is why an Aeropostale Gift Card can never be the wrong gift - to anybody! Looking for the perfect farewell gift for her or him?Give them the freedom to pick just what they want and help them shop for their new life in the USA with an Aeropostale E-gift voucher. Choose the exact value of your gift card, enter the lucky recepient's name, and pay! That simple. The perfect fashion pit stop for young adults and kids is all yours to shop at!
Aeropostale Gift Voucher
type
value
you pay
savings
₹250

₹250

--

buy now
₹500

₹500

--

buy now
₹1000

₹1000

--

buy now
₹2000

₹2000

--

buy now
About Brand
FAQs
terms & conditions
About Aeropostale
Aeropostale, fondly called Aero, is an American Trendy retail chain selling casual wear & accessories for young adults and children. With multiple brands functioning under the label like Bethany Mota, Free State, Hobie, Invite Only, Junie & Jade, Live Love Dream, Lorimer, Map to Mars, The Bikini Lab, Tokyo Darling, United XXVI, Brooklyn Calling, Free State, etc. Each with its own line of design and personality, Aeropostale delivers the best of fashion basic, prides itself on the quality of the product it puts out and yet maintains the most reasonable market prices. Today, through licensing partnerships, over 350 Aéropostale stores are operated internationally, making it a favorite brand in across the globe while providing customers with a focused selection of fashion basics in an innovative and exciting store environment. Aéropostale has always represented a sense of adventure, achievement, and dedication.
Products Available At Aeropostale
Aeropostale Girls - Along with a vibrant range of designs in each of the product categories, Aeropostale also has an extensive range of product categories within fashion basic to boast of. Within Aeropostale Girls, you could choose from Tees and graphic tees for the go, Tanks, camis, and polos to keep you cool in the hot summer weather. When winter is coming, turn to Aeropostale for Long sleeve hoodies, sweaters and sweatshirts to add to your winter wardrobe, and much more. Getting dolled up for a night out? Pick up flirty skirts and hot dresses to get you party ready. Explore the multiple colors and patterns of rompers and jackets for the all grown up look. Planning to stick to those fitness resolutions this year? You don't have to do it rags, look fabulous through your journey of fitness with Leggings and Active joggers, or the range of swimwear, in complete comfort. And no matter what weather, or location, when you're done picking out the perfect clothes, and still think somethings missing, head straight to Aeropostale accessories to explore various options in rings, chains, sunglasses, socks, watches, hair accessories, backpacks, belts and more. Add just the right accessories that will make the attire truly yours. Don't forget to explore an equally wide range of collection for Aeropostale Men.
Aeropostale Jeans - The super popular jeans need an entire floor for itself. Ranging from Low Rise Jeggings, High Rise Ankle Jeggings, High Rise Jeggings, Cropped Jeggings, Super High Rise Jeggings, Skinny, Boot-cut, Boyfriend, Cheeky, Overalls, Flex Effects, Ripped, Repaired and Destroyed, this store has a selection of denim in every kind known to humankind. So next time you plan to stack up on the jeans, you know just where to go shopping with your Aeropostale e-gift card.
Aeropostale Gift Cards
With the ultimate American brand that offers such a wide range of products for everybody, now, who wouldn't love a chance to shop here? Nobody! That's who! Which is why, the next time you're looking all over your city or the internet to find the right gift for your friends, colleagues, family members, or special somebodies, there is one solution to all your problems with just one click. Don't stress out trying to shop for people, no matter how well you know them. Give them the choice instead and let them pick exactly what they'd want with a gift card. An Aeropostale E gift voucher allows you to shop from any of their product ranges from shoes to clothing. And they are guaranteed to find what they are looking for and probably more.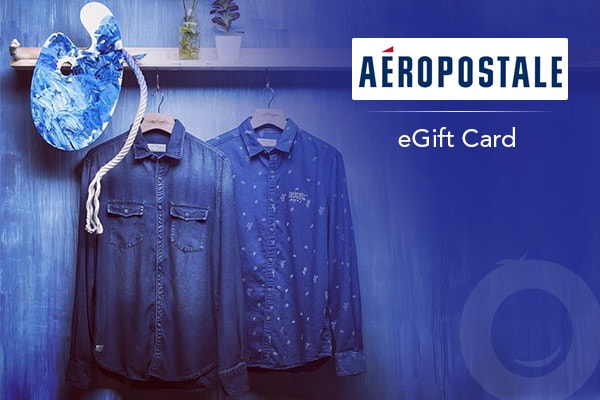 Know somebody, near and dear, moving to the United States or Canada? Going to miss them and trying to find just the thing that will tell them that, a perfect going away present? And even if you did say find this perfect gift, would your friend be able to carry it all the way around the globe with her? Probably not. Don't add to their luggage, buy them an Aeropostale E-gift card instead! With this functional yet unique gift, the receiver gets to shop for just what they need, according to the season, thanks to you! You're helping them stack up on their winter wardrobe when it begins to snow, staying connected, continents apart.
Aeropostale Gift Voucher - Terms and Conditions:
Aeropostale eGift Cards are redeemable for merchandise at any Aeropostale storeor online at aeropostale.com
No fees of any kind will be imposed on purchasers or recipients of eGift Cards.
Lost or Stolen Gift Cards
i) If you suspect that someone has copied or stolen your eGift Card, contact Customer Support immediately.
ii) eGift Cards will not be replaced if lost or stolen without the purchaser's confirmation email as proof of purchase.
iii) eGift Cards have cash value and should be safeguarded accordingly.
Limitations
i) You may not use an eGift Card to purchase other eGift Cards.
ii) eGift Cards cannot be reloaded, resold, transferred for value, or redeemed for cash, except to the extent required by law.
iii) Void if reloaded, resold, transferred for value, or redeemed for cash.
iv) Unused e-Gift Cards may not be transferred.
Easy, Quick & Safe Purchase Of Gift Cards With GrabOn
Aeropostale gift cards are very simple to buy! With a very few basic steps, you're in and out before you know it. Pick the value of the gift card, pick a recipient, and pay! That simple. Refusing to compromise on safety, GrabOn ensures all your payments are safe with the help of SSL. So, whether you've been planning this moment for a month, or just remembered you forgot to buy a gift in the last minute, Aeropostale Egift vouchers make for the perfect gift for you to buy, and for them to shop with!
+ read more
All About Aeropostale Gift Card FAQs
1. Why should I buy an Aeropostale Gift Card?
An Aeropostale gift card lets you give someone the gift of fashion. Not just clothing, you can also buy accessories and footwear, using the Aeropostale gift card. Be it a birthday, anniversary, festival, or anything else, we will give you a reason to celebrate! They are good as corporate gifts as well.
2. How do I buy an Aeropostale Gift Card?
To purchase your Aeropostale Gift Card:
Go to: https://www.grabon.in/giftcards/aeropostale-gift-vouchers/
Choose your type of Gift Card as per the occasion.
Enter the details of the recipient (or if it is for you) and the gift card amount.
Proceed to the transaction page and complete your order.
That's all, folks! Nothing more to do!
3. What types of Aeropostale Gift Card are available?
At present, there are only e-gift cards. The physical gift cards are in the making and will soon be available to you. We will let you know soon!
4. How will I receive my Gift Card(s) after purchase? Is there a validity for these gift cards?
You will receive your Aeropostale gift card in your email within 24 hours from the time we receive your payment. To know about its validity, please refer to our Terms and Conditions.
5. How can I redeem my Aeropostale Gift Card?
You can redeem your gift card by purchasing products from the Aeropostale store. To use your gift card, all you need to do is just use the Gift Card at the checkout page and enter the code on the gift card box. That's all!
6. In case of cancellation of my order or a failed transaction where my amount got deducted, what do I do with my gift card amount that got credited?
In case of a cancellation, please get in touch with our customer support regarding the available options of repayment. You can contact us at giftcards@grabon.in.
+ read more
On ordering with us, you will receive an ARVIND E-Gift Card.
This e-gift card is freely transferable and redeemable for any product/merchandise at any participating store of Arvind Brands in India, including Arrow, Izod, Elle, Flying Machine, US Polo Assn., Gap and Aeropostle stores
This E- Gift Card can be redeemed only once.
This Gift card/ E- Gift Card can be redeemed only at selected outlets.
Please present the print out of this e-gift card to the customer relationship officer prior to billing or when you want to redeem the card.
Payment through e-gift card is not valid during sales and promotions at local stores.
The e-gift card balance is redeemable for merchandise only and will not be redeemed for cash.
In case the value of the merchandise exceeds the value of the e-gift card, the difference must be paid by cash, credit card or debit card.
This e-gift card will not be replaced or refunded if lost. This e-gift card can neither be redeemed for cash or credit nor would any unutilized balance be refunded.
+ read more