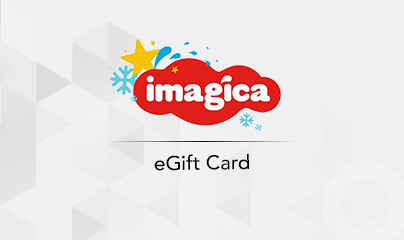 i
Adlabs Imagica Gift Cards Info
Amusement parks are the most looked forward to places during summer vacations. Nobody ever said no to going there, at least most of us didn't. For all those who still love going there Grabon has a surprise for you, we have the Imagica gift cards for you. Get these gift cards, maybe for yourself or your friend or maybe for both of you. While you are at don't forget to get more offers from GrabOn at Imagica.
Adlabs imagica Gift Voucher
type
value
you pay
savings
₹1000

₹1000

--

buy now
₹1500

₹1500

--

buy now
₹2000

₹2000

--

buy now
About Brand
FAQs
terms & conditions
About Adlabs Imagica
The Adlabs Imagica is an international theme and water park located near Pune. The place is a weekend getaway for the Mumbaikar and punewale. The place has well-themed attractions, props, facades, interactive installments, and whatever that is needed to stir the emotion of escapism. Imagica now also houses a snow park and a luxury hotel. The place is most preferred for school picnics, corporate visits, themed wedding destination, to being visited by the majority of people during the holiday season. This destination is filled with entertainment, adventure, fun, shopping, dining, accommodation, and many more interesting things. Check out the website to see what all you can be part of.
Experiencing Imagica In And Out
So, what does Imagica have in store for you? From thrilling slides fun for the group mat racers, gravity defying solo loops, to restaurants serving food and drinks, this park is a favorite place to hang out during the day and also is one of the good places to stay back for a live DJ party over the weekends. From spectacular rides to adrenaline pumping roller coasters, this place is sure to give you a breath for adventure. Explore the Imagica website to plan better and decide on what rides you can take.
Gift Cards For Your Close Ones
For all your adventure loving friends, an Imagica gift card could be the perfect gift. They can use this gift voucher to purchase tickets or merchandise at Imagica. This could possibly be one of the best gifts you can give your close bud. Let them have a wonderful experience at Imagica this season. Grab a gift card soon.
How to get/buy Imagica gift cards?
Visit the GrabOn gift cards page.
Type in 'Imagica' in the search bar.
Select the gift card denomination
Add to cart and place order
How to use Imagica gift cards?
Visit the Imagica store
Redeem it against your purchase
Read the Terms and Conditions in the FAQ section
How to use Imagica e gift vouchers?
Go to the Imagica store
Redeem it against your purchase
For detailed information refer to the FAQ section
Save On More
Amusement parks can sure require you to shell out more. Be it the tickets, the food, exclusive rides, and what not. One could always save a bit. To help with that GrabOn has some of the best deals in town for you, listed right here. Not only do you get Imagica offers but you also get discounts on the Imagica gift cards. Great, right? There's more, here you can find the latest offers which keep getting updated from time to time.
+ read more
All About Adlabs Imagica Gift Card FAQs
What can I do with an Imagica Gift Card do?
An Imagica Gift Card allows you to purchase tickets or use it at Imagica.
Gift Card Queries and Redemption Details
1. How do I get a Adlabs imagica gift card or voucher for my friend?
Visit https://www.grabon.in/giftcards/adlabs-imagica-gift-vouchers/
From a list of available Gift Card denominations, select the one you want.
Click on 'Buy Now'
Select the recipient and enter their details
You can enter a personal message
Verify through SMS
Finally, proceed to Checkout and make the payment. You can pay via credit card/ debit card/ Net- banking.
The Adlabs imagica gift card will be sent to the respected recipient once your payment transaction is complete.
2. What can I do with my Adlabs imagica e-gift voucher?
One can buy tickets to:
Imagica Water Park
Imagica Theme Park
Snow Park
Imagica Packages
Offline Bookings & More
3. What are the types of gift cards available?
Gift cards for special occasions and corporate gift cards.
4. What is the validity of my Adlabs Imagiva Gift Card or Voucher?
It is 12 months, do check the Terms and Conditions.
5. Can I use multiple Gift Card during one purchase?
No. You can use only one gift card in one transaction.
Imagica Gift Card Purchase/ Transaction Related Queries
1. What happens if the transaction amount is lower than the balance in my Gift Card?
If the order total is less than your gift card value, the specified total cart amount will only be deducted. The remaining amount can be used for your next purchase.
2. Can I use my Adlabs Imagica gift card on other online stores?
No.
Customer support details
Drop us a mail at giftcards@grabon.in and our team will get back to you.
+ read more
This EGV may only be redeemed for park tickets at Adlabs Imagica.
This EGV can be redeemed at Adlabs Imagica store. Cashier will put EGV in their Pine Labs POS machine.
This EGV can not be redeemed on Adlabs imagica website.
This EGV is for one time use only.
This EGV is non- refundable,non-saleable and non-transferable.
The customer will have to pay the remaining ticket amount if the ticket price exceeds the denomination of the actual ticket price.
If the value of the EGV exceeds the ticket price,the balance amount is non-refundable.
Adlabs Imagica will not replace/reimburse the value of your EGV if lost,stolen, damaged or expired.
Adlabs Imagica reserves the right to amend the terms and conditions of the EGV at any time and to take appropriate action, including the cancellation of the voucher,at its discretion, if it deems such action necessary.
Adlabs Imagica reserves the rights to withdraw/discontinue this offer/Promotion/contest at any point without any prior intimation.
The management has put all efforts to keep all rides and attractions operational: however it is possible that some of the rides or attractions may not be fully operational at all times due to technical/repairs & maintenance/electricity or power failure.
This EGV is valid for 3 months from the date of issue.
+ read more