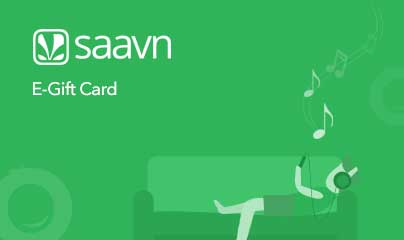 Saavn E-Gift Card
1 Gifting Option
1 Active Offer
Ongoing Gift Card Offers
Purchase giftcard using PayPal & get 50% cashback (Maximum cash back Rs. 200) by PayPal. Limited time offer for new users. Cashback will be credited within 5 days of transaction. T&C
Looking for a new earworm? Then Saavn should be your go to place! Visit Saavn for an endless list of songs from different genres sorted into different categories. Discover songs and play music according to your mood. Songs always help you calm down by soothing your soul and mind. Saavn is the new way to keep track of what's hot and what's trending. So here is something for people who have people that love music: Gift Cards to unlimited music subscriptions! Here are the best deals on Saavn Gift Cards through GrabOn; check them out now!
Saavn Pro Gift Card
type
value
you pay
savings
₹999

₹999

--

buy now
About Brand
FAQs
terms & conditions
The Best Music Library and Subscription
Enjoy ad-free access to India's largest collection of songs. Also, download and stream unlimited songs on your Android and iOS devices in HD quality with Saavn plus! Get your favourite music and discover great music all at your fingertips! You can gift someone the amazing Gift Card of subscription to Save plus and make their days wonderful! Good music is equal to great times.
What Would You Be Gifting?
With Saavn Gift Cards that offer subscriptions to Saavn Plus for the duration of one month, two month or six months, offers unlimited range of songs to choose from. You can also avail unlimited downloads via this subscription and stream songs in high definition! The best of all, the Gift Card gives way to an ad free experience to listening your favourite songs on the go. Could anything be better?
Best Deals and Discounts through GrabOn
Get the best gift for your friends, family and loved and dear ones by gifting them something they are going to cherish for a while: Saavn Plus Subscription Gift Cards starting from mere 99 bucks only! Get the best deals on the Gift Cards through GrabOn. Check them out now for the most profitable deal out there.
+ read more
What does the Saavn Gift Card do?

A Saavn gift card lets the user enjoy Saavn Pro that gives them access to unlimited songs and the option of listening to them offline. With the Saavn Pro version you can also avoid the unwanted apps that disrupt the listening flow of your favorite music. You can access Saavn on 5 different devices and also get access to exclusive content.

How do I buy a Saavn Gift Card?

To purchase a Saavn gift card follow the below steps:

Go to:https://www.grabon.in/saavn-gift-cards/
Choose Saavn from the list
Choose the required denomination for your gift card. Available denomination is Rs 999.
Make the payment. You can pay via credit card/ debit card/ Net-banking.

Till when is my Saavn Gift Card valid?

Please refer to the terms and conditions to know the validity of your gift card.

What types of Saavn Gift Cards are available?

At present there are only e-gift cards. The physical gift cards are in the making and will soon be available to you.

How will I receive my Saavn Gift Card(s) after purchase?

You'll receive your Saavn gift card in your email within 24 hours from the time we receive your payment.

How can I redeem my Saavn Gift Card?

Enter your Saavn gift card number while making the payment of your order to redeem your gift card.

Can I use my gift card on the Saavn mobile app?

Yes, you can use the Saavn gift card on the app as well as on the website provided that you are logged in.

Can I use multiple Saavn Gift Cards during one purchase?

Yes, you can use multiple Saavn gift cards, the balance amount will be added to the your pro account and will be deducted accordingly. But this changes from merchant to merchant.

What happens if the transaction amount is lower than the balance in my Saavn Gift Card?

If the transaction amount is lower than the balance in your Saavn Gift Card then the remaining amount will be added to your Saavn Pro account and get deducted accordingly.

If I cancel my purchase or booking what happens to the Saavn Gift Card that I have used?

Check with our customer support regarding the available options of repayment in such a situation.

Upon applying my Saavn Gift Card the transaction failed. But the amount has been deducted. What do I do?

In such a case reach out to us as soon as possible and we will look into the matter and revert accordingly.

What are the customer support details?

Drop us a mail at giftcards@grabon.in or call us at 7997692233 and our team will get back to you.
+ read more
These terms and conditions apply to Saavn Pro Cards powered by QwikCilver Solutions Pvt. Ltd.
This E- Gift Card can be redeemed only once.
By purchasing or using a Saavn Pro Card, you are agreeing to and accept these terms and conditions and the detailed terms and conditions available on saavn/terms.
The Saavn Pro Card is valid only for a period of 365 days.
With this Saavn Pro Card users can activate a 12 month subscription to Saavn Pro feature on Saavn.
The Gift Card can be redeemed on Saavn App and saavn.com/redeem
To redeem the code you will be required to register as a Saavn user and you must be at least 18 years old.
It is a single use card and the code on the Card can only be used in a single transaction to acquire Saavn Pro services as described at saavn/terms within the territory of India. Except as otherwise required by applicable law, this card and PIN cannot be redeemed for cash or credit (including any unused balance) and cannot be returned or resold.
Saavn Pro Coupon Code can be redeemed before making the payment for the Card.
E-Gift Cards are normally delivered instantly. But sometimes due to system issues, the delivery can be delayed up-to 24 hours.
No returns and no refunds on gift cards, E- gift cards and gift vouchers shipped by woohoo.in. Please check the refund policy at http://www.woohoo.in/faq for further details.
+ read more