Verified BigBasket Coupons, Offers & Promo Codes For Mar 2021
| BigBasket Coupon Codes | BigBasket Offer Details |
| --- | --- |
| BigBasket Visa Card Offer | Extra Rs 200 OFF on Rs 800 |
| BigBasket Master Card Offer | Flat Rs 200 OFF on Rs 1000 |
| BigBasket Rupay Card Offer | Flat Rs 200 OFF on Rs 800 |
| BigBasket Simpl Wallet Offer | Get Rs 75 Cashback |
| BigBasket Indus Bank Offer | Flat 20% OFF |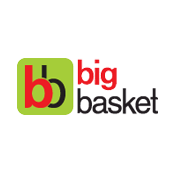 Avail Latest BigBasket Offers only At GrabOn.in
The brand's primary goal is to make grocery shopping as simple as possible! Buy all the groceries from home at the lowest prices using amazing discounts. Find all the latest discounts only on GrabOn. Please copy the code and use it during checkout to get discounts. You can also activate the best deals by clicking on 'Get Deal'. The deal will be automatically activated, and you can continue shopping. We take all of the trending deals and latest coupons and provide them to you .
About BigBasket
It is the first online grocery store in India. It was founded in 2011 and has its headquarters in Bangalore. Brand is present in all major Indian cities. It has plans to expand into other smaller towns. BigBasket has more than 18,000 products from 1000+ brands. It has everything from fresh fruits and vegetables to rice, dal, cosmetics, stationery products, and branded food items. It even provides coupons that help you save. The company delivers your order right to your doorsteps. Choose from handpicked products by professionals and pay via cash or card. It has even partnered with BCPL to sell industrial chemicals to its customers in Kolkata.
How can I get 200 off on first order with BigBasket?
Shopping at BigBasket can entitle you to many discounts and offers. New users can make the most of these discounts to save on grocery and other items ordered from Big Basket. As a new user you can save Rs. 200 on your first order with a purchase of products worth Rs. 800. All you have to do is pay for the order using a Visa debit or credit card to enjoy the discounts. However please note that the offer cannot be availed on items like ghee, ataa, Amul products and items from the Speciality store. To get discounts on Speciality store products like cake, fish, flowers or sweets, use other offers from GrabOn and save on your bill.
Visa Card Offer
Use your visa card from any of the major banks like HDFC, IDBI, Axis and more to enjoy 20% off on your orders from Big Basket. At the time of checking out, you will see a list of applicable promo codes. Just select the Visa card offer and apply to your bill to enjoy the savings. You can also visit GrabOn and copy the coupon code for the Visa offer. This offer is applicable only on the first order and a maximum discount of Rs 200 can be earned.
Master Card Offer
Own a Master Card instead? Worry not as the offer on BigBasket products for Master users is exciting too. When you buy your essentials from the online store and pay with a Mastercard, you will get a discount of Rs. 200 on your first order. There is no maximum order value, but the least bill amount should be Rs. 800 to avail the discount. You can order items worth Rs. 1000 or more too and you will get wallet credits automatically that you can later use for purchases on the app, website, or the Mobile site.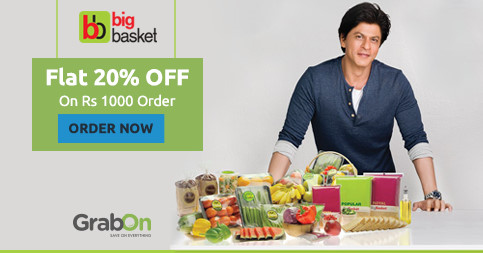 What is a BigBasket voucher?
With Big Basket, you can get E-gift vouchers that you can redeem on items you buy from the online grocery store. These vouchers can be gifted to a friend or family that they can then convert into a wallet amount and be used to pay for their orders.
How can I use my BigBasket voucher?
Once you receive an E-gift voucher, you can redeem in through the website or the mobile app. Simply visit your accounts section and select Gift cards. You need to enter the card number and pin and click on redeem. The amount will be converted into credits and deposited into your BigBasket wallet.
Then while you make any purchase on the store, you can select the BigBasket wallet as the payment method and pay for your order. You must know that all cashbacks and other credits from BigBasket get deposited in the wallet too. You can always check your wallet balance form the Wallet section on the home screen.
Where do I enter the coupon code in the big basket?
Exciting coupons on BigBasket get you may sayings when you order your essential items from the online store. While you are placing the order, you need to make sure you enter the promo code that can give you the best returns on the order. Browse through the list of offers on GrabOn to select the best one for you. Later, just copy the code and paste it in the promo code box that you see on the checkout screen of the BigBasket website. Your discount will be automatically applied and you can see your reduced cost then and there. Now, just make the payment and enjoy food and other groceries delivered to your home.
How do I get a free bbstar membership?
BbStar membership entitles you to get free shipping, cashbacks and priority for slot delivery. As a member you will get a cashback of Rs. 100 on 3 orders. These orders will have to be made in 3 separate months from starting the bbstar membership. As a result you can collect Rs. 300 in the form of cashbacks by simply enrolling into the bbstar service. As the membership would cost you Rs. 299 for 6 months, you have redeemed the entire amount in the first 3 months itself and can basically enjoy the membership for free for the next 3 months.BB users can enroll into this amazing service right from the homepage of the website or the mobile app.
How do you get a discount on BigBasket?
Make your online grocery shopping memorable. Order using the app or website to enjoy the new offers. First-time users can get 50% OFF on orders using Axis and ICICI cards. Use the BigBasket visa card offer while you are at it. It provides some amazing offers as well. And in case you think that online grocery shopping is expensive, you're mistaken. You can shop for a variety of items for lower prices using multiple offers and discounts. Save more every time you shop by using the promo codes.
How do I find my BigBasket referral code?
Refer and earn a program and get Rs 2000 cashback as a bonus in your wallet. You can redeem this amount whenever you want. Refer a friend using your unique code. You can find your BigBasket referral code by visiting bigbasket.com/member/referral. Ask your friend to register using your code and shop for Rs 500. After his/her order is delivered successfully, Rs 100 will be credited to your BB wallet. The maximum cashback that you can earn is Rs 100. You can refer up to 20 friends and earn Rs 2000 in cashback. After that, no more cashback will be credited in your wallet. The best way to receive this referral bonus is to pass your unique code to your friends and family. You can then ask them to register and order using your referral code. If you are living in a flat with your friends, you can circulate your unique referral code among them.
Enjoy Free Delivery With BigBasket!
You can enjoy free delivery with BigBasket for all orders above Rs. 600 with a BBStar membership. Moreover, for your first time offer, you won't be charged the shipping charges provided your order exceeds the minimum amount. Other than that, there are 3 delivery types.
Prefixed Slot - Morning and Evening slots available with their complete range of 20000 products.
Express - Delivers in 90 minutes, which is available with their range of daily essentials (about 1500 products).
Specialty Shops - Products picked from your neighborhood stores & dropped to the delivery address.
Shipping charges of these 3 delivery types
City
Order Type
Order Value
Charge
Chennai, Kolkata, Hyderabad
All - Express, Speciality stores & slotted delivery
< Rs 250
Rs 50
Rs 250 - Rs 999.99
Rs 30
More than Rs 1000
Free
Banglore, Mumbai, Pune, Delhi, Noida, Gurugram
Speciality Stores
< Rs 1000
Rs 40
More than Rs 1000
Free
Mumbai
Slotted Delivery
< Rs 250
Rs 50
Rs 250 - Rs 999.99
Rs 35
More than Rs 1000
Free
Mumbai
Express Delivery
< Rs 1000
Rs 35
More than Rs 1000
Free
Bangalore, Ahmedabad - Gandhinagar, Pune, Delhi,
Noida Gurugram
Express Delivery
< Rs 1000
Rs 30
More than Rs 1000
Free
Gandhinagar, Pune, Delhi, Noida Gurugram, Bangalore, Ahmedabad
Slotted Delivery
< Rs 250
Rs 50
Rs 250-Rs 999.99
Rs 30
More than Rs 1000
Free
Latest News
BigBasket collaborates with Impact Guru to provide free meals to needy families in the time of crises - BigBasket and ImpactGuru came along in light of the Coronavirus crises to do something special for the daily wagers who have been in very bad situation post-COVID-19 and the lockdown. The company looks to raise Rs. 3 lakhs from the campaign. The kitchen on KNV foundation will prepare the meals for families in Bengaluru, Hyderabad, Mumbai, Noida, and Chennai as part of their FeedmyCity campaign. FeedmyCity has gained support from many celebrities and sports personalities for their work during the global pandemic.
Companies joining hands during the pandemic - BigBasket has joined hands with Uber to deliver items of daily needs to consumers in Bengaluru, Hyderabad, Chandigarh, and Noida. Moreover, the drivers who supply products from one place to another will get to retain 100% of their earnings without letting go of any percentage to the firms. The other companies that Uber has partnered with for delivery in India are Flipkart and Spencers.
BigBasket Raises $50 Mn From Alibaba - The brand is raising money from CDC Group and has issued new debentures to Alibaba. One of the biggest issues the online grocery delivery company is facing is that of manpower and supply chain. It has received Rs. 379.87 Cr against 4,62,500 Series F CCD from the Chinese investor. The brand is facing huge competition from others like Grofers, Amazon, Flipkart, BharatPe, etc. even in the extended lockdown which is not till 3rd of May.
Related Stores
BigBasket has become a household brand today. All thanks to its huge food collection and quick service. At the same time, if you want to purchase a different range of items and save more, you can avail the coupons and offers for JioMart. Also, to buy fresh and quality meet at your doorsteps, you can make use of the crazy deals and discounts by Licious.