Verified Mamaearth Coupons, Offers & Promo Codes For Jan 2021
| Mamaearth Coupon Codes | Mamaearth Offer Details |
| --- | --- |
| All Users | Get Rs 100 OFF on Order of Rs 400 |
| All Products | Flat 20% OFF + Extra 5% OFF on Online Payment + 10% Cashback after Delivery |
| Visa Card Offer | Get 20% OFF + 10% Cashback |
| New User Offer | Flat 15% OFF |
| Anti Hairfall Kit | Rs 600 OFF |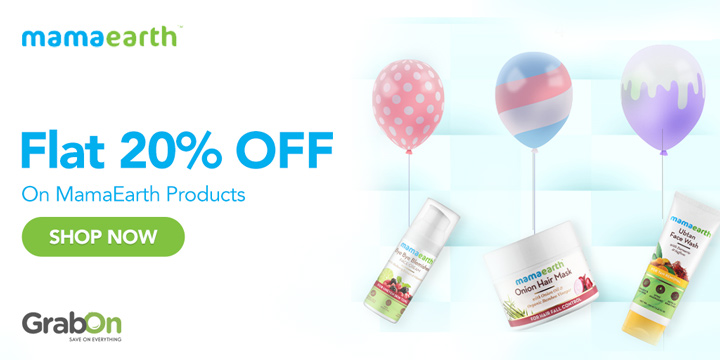 What Is MamaEarth And What Does It Offer?
Baby skin and hair care products have a lot of chemicals, whether in the form of preservatives or otherwise. Parabens, sulfates, and other artificial fragrances are very common in baby products, when in direct contact with human skin can cause a lot of complications especially on the sensitive skin of the babies. MamaEarth is a brand by a parent for the parents, that understands the issues parents face while choosing baby products and instead provides an alternative wherein you get nothing but the best products made with toxin-free natural ingredients which adhere to the international standards.
It was started by two concerned parents Varun and Ghazal Alagh. After their child was born, they were worried about the harmful chemicals, preservatives and other toxic materials that are listed among the ingredients. So, they decided to take care of this once and for all, by ensuring harmful chemical-free skin and hair care for babies and expecting parents. All of the ingredients that go into making these products are ISO, GMP, and NON-GMO compliant. With these amazing products ranging from baby skin and haircare to items for expecting parents and much more, They have already reached out to 150,000 people and the list keeps growing. Quite rightly so, They provides the perfect alternative to modern, chemical-laden skin and hair care products for babies.
Why Should You Choose MamaEarth?
MamaEarth is the first brand in Asia to get the MadeSafe certification which ensures that all the products manufactured by them are safe and free from toxins and other harmful chemicals. Their products undergo microbial and dermatological tests before being packaged. These tests are put in place to make sure that those are 100% safe to be used on babies' skin. Not only the testing but they also have a panel of mothers who test every product and provide honest feedback which helps improve the quality of the products churned out by MamaEarth. This panel of mothers helps to better their products. You too can join the Mums panel and help improve the products meant for mother and child. Since these products use natural toxin-free ingredients, they are suitable for all age groups and not just babies. They can be used by young children, as well as grandparents and of course expecting mothers and fathers. So, if you are conscious of your and your kids well being then, you should definitely choose these products.
Mama earth is an awesome store for chemical-free skincare and hair care. Alongside, they made from herbal ingredients are also very good for the body. You can find many such items at the Himalaya Store. So, don't forget to check that out while you shop for skincare.
Top selling products of MamaEarth
Ever since its inception, MamaEarth has grown by leaps and bounds and crafted a unique name for itself in the online market. Not just of parents and children, it has become the favorite brand of almost everyone irrespective of gender and age. If you are looking for some of the top selling from the brand, below are a few of the must try ones.
Shampoo
The best shampoo you can ever find with rich organic ingredients and quick results. It gives you the kind of hair you always wanted to have.
Face wash
For your gentle and smooth skin, nothing can beat MamaEarth's face wash. It will nourish your skin and give you a glowing look.
Sunscreen
The sunscreen by the brand is all you need to protect your skin from the sun. It will also protect the skin from dust and other harmful chemicals.
Onion hair oil
MamaEarth's onion hair oil is currently the best anti-hair fall oil in the market. Use it religiously and see your hair grow big and shine bright.
Face cream
The face cream offered by the company is hands down one of the best ones in the market. Using it just once is sure to make you fall in love with it.
Onion shampoo
Just like the onion oil, onion shampoo is also enriched with the goodness and vitamins of onion. Using it along with the onion oil will give you unbelievable results.
Lip balm
For your gorgeous looking soft lips, the lip balm available at MamaEarth is all you need. Using it regularly will help protect your lips from external exposure.
Toothpaste
With 100% natural ingredients, the toothpaste by MamaEarth is sure to make your teeth stronger than ever and provide an outstanding oral hygeine.Tea tree face wash
The tea tree oil face wash is a natural blend of neem and tea tree oil. This blend will actively fight bacterial and give you a healthy skin like never before.
How to use MamaEarth Argan hair mask?
The argan hair mask by MamaEarth is truly a miraculous one. It gives your hair the perfect shine by removing the dryness and fizziness. Applying this hair mask will also nourish your hair and make them stronger than ever. To know the right way to use MamaEarth argan hair mask, follow the below steps.
Divide your hair into two parts.
Take the mask according to the volume of your hair.
Apply the mask to entire hair excluding scalp. Make sure you apply the mask when your hair is wet.
Keep it for 15 to 20 minutes and rinse your hair thoroughly.
If you are purely looking for a product that can help you control your hair-fall, MamaEarth onion hair mask is a must-try. Enriched with the goodness of onion, this hair mask is sure to give you positive results within no time.
How to cancel order on MamaEarth?
In case you want to cancel the order, you must do it before 10:00 am on the previous day to your scheduled delivery. Once your order is dispatched, you won't be able to cancel it.
Get The Best Offers On MamaEarth Products With GrabOn?
Shop for these and get the best deals and offers only on GrabOn. We carefully handpick and select the latest and hottest offers so that you don't have to search all over the place. So, the next time you're shopping for these products, don't forget to check out this regularly updated page for the ongoing offers and updates about sale events. Start shopping now!
Latest News
Mamaearth's operations to scale up as it ropes in global agency 'Essence'
Mamaearth is set to get more insightful with its reach as Essence, a global data and measurement-driven media agency have now partnered with Mamaearth to scale up its operations. This promises better reach and visibility of the personal care FMCG brand.