Zoomcar Coupons, Offers & Promo Codes To Save On Car Rentals | March 2021 - GrabOn
| Zoomcar Offers Category | Zoomcar Coupons & Promo Code Details |
| --- | --- |
| Zoomcar Exclusive Deals | Save Up to Rs 7000 |
| Zoomcar Coupon Code | Flat 20% Off On Car Rentals |
| Zoomcar Weekday Offer | Flat 20% Off (All Users) |
| Zoom Car New User Deal | Flat 20% Off (New Users) |
| Coupon Code for Zoomcar | Rs 300 Off On Bookings |
Zoomcar Review
Zoomcar is a car rental company that provides self-drive cars. Why choose cars with drivers when you can have the entire car to yourself? The cars can be rented on an hourly, daily, weekly or monthly basis. From family cars to luxury cars like sedans, the company has it all. The per day charges start at nominal rates which includes fuel, insurance, and taxes. Zoomcar is present across all major Indian cities like Delhi, Mumbai, Chennai, Bangalore, Hyderabad, and Pune. The self-drive cars from Zoomcar are ideal for weekend family trips, business meets on the weekdays and a get together with friends.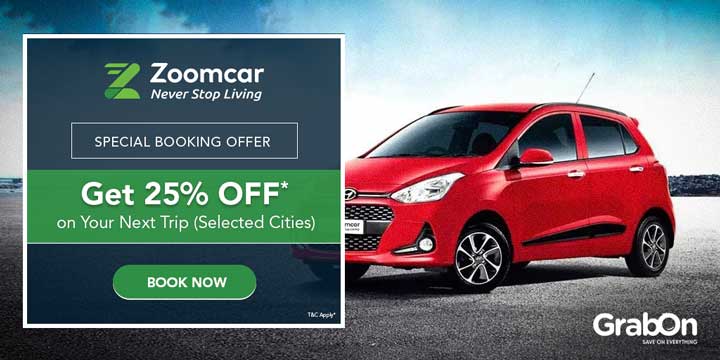 How Does Zoom Car Work?
The user needs to select the car and upload documents like license and ID proof along with a security deposit. Zoomcar will send an SMS to the users 20 minutes before departure. This SMS will contain pickup destination, car model & registration number along with the unlock password. The user can then unlock the car, fill in the details and take the car for a ride.
What Is Zoomcar Zap?
Buying a car involves maintenance, insurance and EMI costs which are skyrocketing often. With ZAP or Zoomcar Associate Program, the user can share their car liabilities and cost whenever they're not driving it. Zoomcar suggests listing a car on ZAP for just 15/month can reduce the EMI by 70%. Users don't have to worry about the health of the car, as Zoomcar's proprietary car monitoring service Cadabra tracks vital signs (clutch, brake and accelerator usage) and sends it to the user. GPS tracking further ensures the safety and security of the vehicle.
Now you no longer have to worry about not finding the desired car. You can always check Revv, the other most popular car rental subscription in India. If you have already rented a zoomcar, however, and want to save more on it, you can use Zoomcar ZAP. On days you aren't using the car, you can put it up on the ZAP portal and offer it for one-day rentals. This way, you can share bills and save big.
Why Should You Use Zoomcar Promo Code Through GrabOn?
Whether you are a new user looking for the first ride coupons or an existing user browsing for exciting offers, GrabOn is the place to be. All the coupons displayed on the platform are handpicked and curated carefully before validating them. You can avail discounts on payments through mobile wallets like Paytm Zoomcar offer and save on your car rentals. Apart from coupons and offers, you can earn cool referral points as well if your friend is a new user.
How Popular Is Zoomcar?
Zoomcar enjoys immense popularity on the social media channels evident by over 560,000 followers on Facebook, 13,000 followers on Twitter and close to 50,000 followers on Instagram.
You can follow Zoomcar for regular updates and latest offers:
Facebook : https://www.facebook.com/zoomcar.in/
Twitter : https://twitter.com/ZoomCarIndia
Instagram : https://www.instagram.com/zoomcar_india/
Latest News & Updates
Zoomcar Bagged $30M Funds From Sony Innovations Fund
The self-drive car-rental platform from Bengaluru - Zoomcar, recently raised $30M in the fresh round of fundings. Zoomcar plans to raise another $70M in the ongoing series of funding in order to deploy the company's growth throughout the country. The brand also wants to leverage the capital to build the technology, data science infrastructure, and also to upgrade the IoT capabilities in the future.
$1.98 million funding for Zoomcar
The biggest self-drive car rental company Zoomcar India got a funding of $1.98 million from the parent company. After the huge jump in the revenue gains in FY18, the company tied up with Ixigi to promote the self-drive cars on their platform.
Zoomcar Distributes 500 Bicycles To Underprivileged Children As A Part Of #CycleofLove Campaign
Operational across 45 Indian cities, Zoomcar started its cycle sharing service in 2017. On the occasion of India's 70th Republic, Zoomcar co-founder Greg Moran extended his solidarity towards the economically underprivileged sections of the society by distributing 500 cycles in cities like Kolkata, Pune, Chennai, and Bengaluru in hopes of alleviating the transport problem and address other key issues.