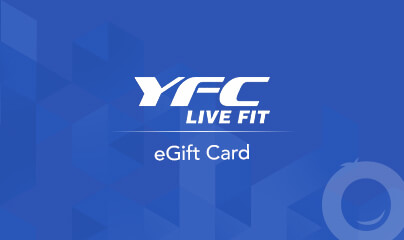 Your Fitness Club Gift Card
3 Gifting Options
1 Active Offer
i
Your Fitness Club Gift Cards Info
Ongoing Gift Card Offers
Purchase giftcard using PayPal & get 50% cashback (Maximum cash back Rs. 100) by PayPal. Limited time offer for new users. Cashback will be credited within 5 days of transaction. T&C
When fitness is on the mind map, one will definitely put in their best to achieve a healthy body. If you happen to have a friend who is a fitness freak and absolutely working out, then the best gift you can give him/ her is a Youth Fitness Club gift card. With the YFC gift voucher, your bud can enroll in any of the program offered at the YFC. This season gift them an opportunity to stay healthier.
Your Fitness Club Gift Voucher
type
value
you pay
savings
₹1000

₹1000

--

buy now
₹1500

₹1500

--

buy now
₹2000

₹2000

--

buy now
About Brand
FAQs
terms & conditions
About YFC
Your Fitness Club started their journey in the year 2009, with a mission to provide comfortable, welcoming, and a good fitness facility at an affordable price range. The top focus of Youth Fitness Club has always been on customer satisfaction. YFC understands the importance of quality fitness service and makes sure that the larger lot has access to it. The focus is essentially on fitness and health of the people, and Youth Fitness Club does its best to help people achieve a good lifestyle. In order to do so, they provide you with an atmosphere which lets you balance fitness with other things. They emphasize that fitness is an experience of the mind and body. For the people who taught fitness was expensive, Yough Fitness Club provides the motivation for them to achieve a better health and healthier lifestyle by shelling out less. They are constantly working on providing YFC services to masses at affordable rates.
Learn The Pro Way
So what are the fitness program one can enroll in at Youth Fitness Club? Starting from Parkour, Zumba, Krav Maga, Yoga, Kick Boxing, Olympic lifting, to almost every other fitness program that there is. Check out their page to read more about each fitness regime before you make a pick. All the classes are taken by certified trainers and you can choose from different packages. Go ahead and have a look, you just might want to try something.
YFC Gift Cards For Fitness Friend
Got a friend who is working towards living a healthier lifestyle? Or a close one who wants to learn a new fitness routine? Well, if you answered 'yes' to both, then you are at the right place. Youth Fitness Club offers gift cards that can be presented to your loved ones on a special day. Give them a boost and let them start leading a better lifestyle. They can use the YFC voucher against any package purchase.
How to get/buy Youth Fitness Club gift cards?
Visit the GrabOn gift cards page.
Type in 'Youth Fitness Club' in the search bar.
Select the denomination
Add to cart and place order
How to use Youth Fitness Club gift cards?
Visit the Youth Fitness Club website
Redeem it against your purchase
Read the Terms and Conditions in the FAQ section
How to use Youth Fitness Club e gift voucher?
Go to the Youth Fitness Club website
Redeem it against your purchase
For detailed information refer to the FAQ section
Save And Train More With YFC Offers
Fitness shouldn't be expensive. When you work towards maintaining that fit body, it is in good faith that you'll lead a healthier life. So, why should anyone not be able to achieve it? Expensive programs? Well, worry not with Youth Fitness Club coupons from GrabOn you can achieve your goal. Offers on the fitness programs aren't the only thing you get, you also get discounts on YFC gift cards. So hurry up and grab them before they are grabbed away.
+ read more
YFC Gift Card FAQs
What does the YFC Gift Card do?
With a YFC gift card you can sign up for any fitness package at Youth Fitness Club Center. You can even redeem it against any fitness program that you are enrolled in.
How do I buy Youth Fitness Club Gift Card?
To purchase your Youth Fitness Club gift card:
Select the type of gift card fit for the occasion.
Choose the denomination amount.
Enter the recipient details and write a customized message (if you want to)
Proceed and select payment option. Pay and complete your transaction.
You will receive a confirmation mail on your registered mail ID.
Till when is my Youth Fitness Club Gift Card valid?
Please refer to the terms and conditions to know the validity of your gift card
What are the types of Youth Fitness Club Gift Card available?
There is just one type of Youth Fitness Club Gift Card available. The e-Gift Card. These Gift cards can be bought for special occasions. Youth Fitness Club offers customized gift cards for every occasion.
How will I receive my Gift Card(s) after purchase?
You'll receive your Youth Fitness Club gift card in your email within 24 hours from the time we receive your payment. The e-Gift Card will be sent to the recipient email address provided by you.
How can I redeem my Youth Fitness Club Gift Card?
You can redeem your gift card by using it on the Youth Fitness Club website/ store. To use your gift card, simply apply the gift card code and the corresponding PIN during your checkout payment process. Your card can be redeemed against any purchase made on the Youth Fitness Club website.
Can I use my gift card on the Youth Fitness Club mobile app?
Yes, you can use the gift card on the app as the merchant does provide services over their mobile app.
Can I use multiple Gift Card during one purchase?
No. You can only use one gift card during one transaction.
What happens if the transaction amount is lower than the balance in my Gift Card?
If the order total is less than your gift card value, then the balance will be credited back to your gift card. This can be used for the next purchase.
If I cancel my purchase or booking what happens to the Gift Card that I have used?
In such an event, you will receive back the value of the returned item. The balance will be credited back to your gift card.
Upon applying my Gift Card the transaction failed. But the amount has been deducted. What do I do?
In such a case reach out to us as soon as possible and we will look into the matter and revert accordingly.
What are the customer support details?
Drop us a mail at giftcards@grabon.in and our team will get back to you.
+ read more
This E-Gift Voucher is issued by Your Fitness Club and may only be redeemed for products & services at Your Fitness Club Fitness Centers.
OTP sent to registered Mobile Number needs to be provided for redemption of Voucher.
This E-Gift Voucher cannot be exchanged for Cash.
This E-Gift Voucher is not a cash card.
Your Fitness Club will not replace/reimburse the value of your Voucher if lost, stolen, damaged or expired.
Your Fitness Club reserves the right to amend the terms and conditions of the E-gift Voucher at any time and to take appropriate action, including the cancellation of the voucher, at its discretion, if it deems such action necessary.
This E-Gift voucher is valid for 1 Year from the date of issue.
+ read more
Related Gift Card Stores