i
Pepperfry Gift Cards Info
Ongoing Gift Card Offers
Purchase giftcard using PayPal & get 50% cashback (Maximum cash back Rs. 100) by PayPal. Limited time offer for new users. Cashback will be credited within 5 days of transaction. T&C
Is it someone's house warming party? Or maybe just a completion of 10 years together? Do you what is the best thing to gift them? Well, something that stays with them for a while, something that they connect with, something that they will cherish forever! Why not give them the choice to choose their gift altogether and with Pepperfry, gifting is always made easy. Get your loved and dear ones the chance to have something of their own accord for to build a home! The amazing Gift Cards from Pepperfry come to your rescue: Check them out now, get the best deals and offers through GrabOn!
Pepperfry E-Gift Card
type
value
you pay
savings
₹100

₹100

--

buy now
₹250

₹250

--

buy now
₹500

₹500

--

buy now
₹1000

₹1000

--

buy now
₹2500

₹2500

--

buy now
₹5000

₹5000

--

buy now
₹10000

₹10000

--

buy now
About Brand
FAQs
terms & conditions
The Pepperfry Story
Pepperfry began its journey in the year 2011 with Ambareesh Murty and Ashish Shah. With a common vision to create a place where Indians could shop for their homes, Pepperfry came into being. By January 2012, Pepperfry launched their website and in order to give their customers an access to the furniture ( to see and feel it), Pepperfry inaugurated their very own Pepperfry studio in Mumbai. Pepperfry has always been on a mission to think outside the box and they take it up seriously. To invent, to delight their customers and to exceed their target has been their priority. And they put in dedicated efforts to succeed. Pepperfry has always kept in mind the importance of efficiency and productivity, and in turn, they deliver. Pepperfry provides their customers with an improved experience and an all-around understanding of the product. Be it at the store or online. Today, Pepperfry has stores across 15 cities in India and has served 4 million happy customers by September 2017.
Trusted Brand With Authenticity
When it comes to Pepperfry, authenticity is assured. Pepperfry has earned its trust from customers across the world. They promise to offer unique and stylish collections of home decor, furnishing, and other lifestyle accessories. Why? Because people love creative pieces of work and prefer to buy something that would fit in their space. Pepperfry, the superheroes of furniture, have made it an endeavor to provide furniture at decent prices. And yes, they don't compromise on quality. With 38+ million registered users under their wing, it goes without saying that Pepperfry is one of the leading shopping destinations in the e-commerce furniture marketplace.
The Importance Of Gift Cards
Gift cards have made the entire process of gifting simpler. Cutting down time spent on deciding what to buy, worrying about whether the person for whom the gift is meant for will like it or not. Well, why go through all that when you can just give them something that would let them buy whatever they want as per their wish. And there's when the gift cards play a crucial role. They convey your wishes to the person and at the same time achieve their purpose. The world of gifting has transformed ever since the birth of gift cards. Gift cards are preferred on certain occasions when nothing pops up in your mind. The gift cards rescue you from all that trouble of selecting a gift. Need more reasons to choose a gift card? Well, there are offers on the gift card that you wouldn't want to miss. So what are you waiting for, go ahead and get a gift card for your loved one soon?
Gifting Made Easy By Pepperfry
Times when you got to attend a special occasion and don't know what to gift, gift cards come in handy. With a gift card, one has the power to choose and buy whatever they want. And when it comes to gifting a furniture, one can never be sure as to which piece would perfectly fit or match. So why gift something that might not be used? Pepperfry offers you a simple and easy way to get the right gift for your people. The solution being: The Pepperfry gift card or Pepperfry gift voucher. You can accompany your Pepperfry gift cards with a personalized message. Put a smile on your loved or dear ones face. Give them a thoughtful gift. Experience the joy of gifting with Pepperfry gift vouchers. The best thing about Gift Cards by Pepperfry is that you can avail them on all the amazing pepper fry products without conditions. You can choose from over 100,000 products available at Pepperfry. With a product range wide enough to be worth boasting, including Furniture, Decor, Wall-art, Curios & Showpieces, Lamps & Lighting, Mattresses & Bedding, Carpets, Cookware and Bakeware, Kitchen Appliances, Dining, Bath & Laundry, Hardware & Electricals and more. You can choose between an e-Gift Card and enjoy the services. Pepperfry now also offers rentals for those who live their life on the move. With zero deposits, great quality, reasonable prices and free delivery and installation, backed by one the biggest Home needs a brand in India today, there really is no need to look for another source.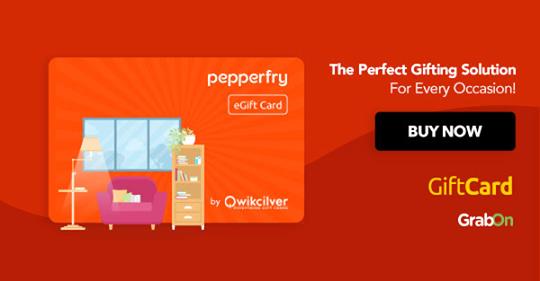 How To Use The Gift Cards
How can one redeem the Pepperfry gift card coupon? To use your Pepperfry Gift Card, simply apply your Gift Card Code at the payment step during checkout. Your card can be redeemed against any purchase made on Pepperfry. The whole process is very simple and easy to use. The process is kept simple and secure for both the parties involved, I.e., the one purchasing the GrabOn Pepperfry gift cards for their loved ones and the one receiving this exciting gift. Buy Pepperfry gift card and express your gratitude. Your dear and loved ones will be very happy to receive such a considerate gesture.
Best Deals And Discounts Through GrabOn
When you can't decide what to buy, rely on the gift cards. A thoughtful gift that can never go waste. Let the receiver get to buy whatever they want. Put away the thought of sticking to a budget. The Pepperfry gift card offers to help you save on your purchase of the gift cards. What's interesting? Pepperfry has its own sale from time to time. From great discounts to offers up to 50% off, this is the one destination that you need to check. Do check out their website for more, you probably just might get something. There are curated deals and offers on this page that helps you save more. Through GrabOn you find the best gifting solutions for anyone at the most reasonable price with amazing offers, deals, and discounts on the Gift Cards offered by Pepperfry. When can you present a gift card and let the person buy whatever they want, why consider anything else? Visit this space for more gift cards from Pepperfry and gift more. Save time, effort and money with the gift card offers. Happy Gifting!
+ read more
Pepperfry Gift Card FAQs
1. What does the Pepperfry Gift Card do?
A perfect gift for someone who wants to set up their new home or upgrade their current one. With the pepperfry gift card, you can buy furniture and home décor. With a wide range of collections of furniture, furnishings, home décor and more, your home needs are taken care of. There are many denominations available to suit your budget.
2. How do I buy Pepperfry Gift Card?
To purchase a Pepperfry gift card follow the below steps:
Choose the type of gift card you want to buy ( E-card or physical).
Now enter or choose the required denomination for your gift card. Available denominations are Rs 100, Rs 250, Rs 500, Rs 1000, Rs 2500, Rs 5000.
Enter the details of the recipient.
Make the payment. You can pay via credit card/ debit card/ Net- banking.
3. Till when is my Pepperfry Gift Card valid?
Please refer to the terms and conditions to know the validity of your gift card.
4. What types of Pepperfry Gift Card available?
We provide e-Gift Cards as well as Physical Gift Cards. The e-gift will be sent to you via email. Use this link to buy your gift card: https://www.grabon.in/pepperfry-gift-cards/
5. How will I receive my Gift Card(s) after purchase?
You'll receive your Pepperfry gift card in your email within 24 hours from the time we receive your payment.
6. How can I redeem my Pepperfry Gift Card?
To redeem your gift card, follow the below steps:
Select items for purchase. Click on the 'Proceed To Pay' option on the checkout page.
In the choose payment method page select the 'Pepperfry Gift Card' option.
Enter your 16 digit gift card number and the 6 digit PIN number provided on your gift card.
If your order total exceeds the gift card value, you will be asked to select an additional payment method.
And, if the order total is less than your gift card value, then the balance will be credited back to your gift card. This can be used for the next purchase.
7. Can I use my gift card on the Pepperfry mobile app?
Yes, you can use the gift card online as said provided merchant has an app.
8. Can I use multiple Gift Card during one purchase?
No. You can use only one gift card for one purchase.
9. What happens if the transaction amount is lower than the balance in my Gift Card?
If the order total is less than your gift card value, then the balance will be credited back to your gift card. This can be used for the next purchase.
10. If I cancel my purchase or booking what happens to the Gift Card that I have used?
The balance is credited back to your account in the event of a cancellation or refund of your purchase made through your gift card. It can be used for future purchases.
11. Upon applying my Gift Card the transaction failed. But the amount has been deducted. What do I do?
In such a case reach out to us as soon as possible and we will look into the matter and revert accordingly.
12. What are the customer support details?
Drop us a mail at giftcards@grabon.in or call us at 7997692233 and our team will get back to you.
+ read more
Pepperfry Gift Card(s) (referred to as "Pepperfry GCs" or Pepperfry GCs) are issued by Qwikcilver Solutions Pvt. Ltd. ("Qwikcilver") , a private limited company incorporated under the laws of India, and is authorized by the Reserve Bank of India ("RBI") to issue such Gift Cards.
The Pepperfry Gift Cards (Pepperfry GCs) so issued can be used for any purchase listed on www.pepperfry.com.
Pepperfry GCs will be valid for a period of 1 (One) year from the Date of Issue of Pepperfry GCs.
Pepperfry GCs can be redeemed by selecting the payment mode "Pepperfry Gift Card".
Pepperfry GCs cannot be redeemed on Pepperfry Mobile App.
No cash withdrawal is permissible against the Pepperfry GCs.
Pepperfry GCs cannot be used to purchase other Pepperfry Gift Cards, if any.
If the order value exceeds the Pepperfry GCs amount, the balance must be paid by Credit Card/Debit Card/Internet Banking/Wallets. Cash Pay, Part Pay and COD cannot be used to pay the balance amount.
If the order value is less than the amount of the Pepperfry GVs, the outstanding balance (after deduction of order value) will reflect under the same Pepperfry GCs and can be used for subsequent transactions till its validity.
In case the Order is cancelled by the Customer within the timeframe as mentioned in the Cancellation Policy, wherein the Customer has redeemed the Pepperfry GCs, in such scenario the Customers' Pepperfry GCs shall be credited with the amount equivalent to the redemption amount.
Once the Pepperfry GCs has been sent to you, you are bound to protect the Pepperfry GCs PIN or Gift Card number as confidential. In the event of any misuse of Pepperfry Gift Cards due to loss of any such confidential details due to the fault of the purchaser, Qwikcilver, Trendsutra Platform Services Private Limited (Pepperfry.com) or their affiliates shall not be responsible for the same and no refund can be issued.
Qwikcilver/ Pepperfry.com reserves the right to cancel the Pepperfry GCs if the same have been found to be purchased with fraudulent means. In such cases, the funds shall be credited back to the same source from where these were received.
In the event the beneficiary/Know Your Customer ("KYC") details as per RBI Guidelines are found to be incorrect/insufficient, Pepperfry.com /Qwikcilver retain the right to cancel the Pepperfry GCs so issued.
You agree and understand that Pepperfry GCs are a pre-paid payment Instrument subjected to regulations by RBI Under the RBI guidelines Pepperfry.com / Qwikcilver may be required to share KYC details of the purchaser/ redeemer of the Pepperfry GCs and/or any other information with relation to the purchase of the Pepperfry GCs and/or transaction undertaken using the Pepperfry GCs with RBI or such statutory authorities. Pepperfry.com / Qwikcilver may contact the purchaser/redeemer of the Pepperfry GCs for any such information.-
For the detailed Terms and Conditions applicable to Pepperfry GCs, please visit on our TnC page www.pepperfry.com/gv-tnc.html
Note: A convenience fee might apply on the purchase at the payment gateway.
+ read more