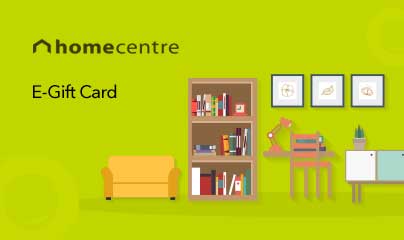 i
Home Centre Gift Cards Info
Are you looking for something to gift you loved and dear ones on their birthdays, anniversaries, or other events? The search is over, get the best gifting solutions at Home Centre: A place where you can find almost anything to gift your loved and dear ones, and what's the best thing about Gift Cards? You give your people the opportunity to choose their gifts! Since 1995, Home Centre has brought the joy of homemaking to millions of customers. Starting with a single store in Sharjah, UAE, today, the brand has over 100 stores worldwide. Over the years, Home Centre has earned a reputation for delivering outstanding value, continuous innovation, and exceptional customer experience. Give someone the option to choose from a whole variety of products through Home Centre and get the Gift Cards at optimum price with the best deals and offers through GrabOn. Check them out now!
Home Center Voucher
type
value
you pay
savings
₹1000

₹1000

--

Out Of Stock
Delivery & Redemption
The e-Gift Cards you purchase will be delivered to you via email instantly.
In some instances it might take upto 24 hours max to reflect in your inbox.
The e-voucher or Gift Card can be redeemed online at the merchant website or using the app.
If the merchant has an offline store, the e-Gift Card might be redeemable. Please check the Terms & Conditions for further information.
Card Details
This Gift Card will be delivered to you inbox for free.
This Gift Card can't be used to purchase other Gift Cards.
This Gift Card can only be used at the mentioned merchant store.
Check Terms and Conditions to find out if your Gift Card can be used multiple times. and can be clubbed with other voucher codes.
About Brand
FAQs
terms & conditions
The Story Of Home Centre So Far
Home Centre began their journey in the home furnishing retail sector in Sharjah, UAE, 1995. They started with a single store in Sharjah and within 22 years, it has launched over 100 stores worldwide. The brand has always focused on continuous innovation, outstanding value, and delivering exceptional customer service. They understand the delightful experience one has while decorating their home, and they help their customers on that endeavor. To offer the best of products and an impressive range of collections has always been their priority. The team draws inspiration from global trends and ensures stylish yet affordable products are available to the crowd. With over 10+ million happy customers and 1+ million products sold, it has made their mark in the home furnishing retail stores.
The Home Centre Collection
So, what are the things one can buy using the gift cards? Well, the brand offers an extensive and impressive range of furniture, modular furniture, home furnishings, home accessories, bed and bath products, and kitchenware. It puts in dedicated efforts in bringing some of the most stylish and innovative products to a broad spectrum of homes ranging from the traditional to the modern. The in-house team of stylists and buyer make it a point to design and deliver the best of products. Setting up a new house can be fun, all that shopping for home decor and furniture is something one can indeed look forward to. But purchasing new things for the house can be a bit heavy on the pocket. The home centre has made that more relaxed with their in-store sale and gift cards. Give your dear and near ones a chance to get something they have always wanted for their homes. An opportunity to decorate their home just the way they like.
Give them a home centre gift card, and let them buy something from the store. One would want to purchase something for there is an excellent collection one can't say no to. From a wide range of options to aesthetic decors, it is the destination for all your home needs. They also have a dedicated blog section on their page, so if you are confused about what to buy, you can take inspiration from here.
Quality With Price Reasonability
Shopping for your home needs is a fun experience. They say the more you pay, the better the quality. But the brand assures to deliver products of high-end quality at reasonable prices. It is not usual when you find a place where you can see everything you have wanted at a reasonably low price, have you? Well, you can get all these best products from Home Centre for fairly reasonable and highly affordable prices to suit your needs and requirements. Why not share the joy of saving with your loved one? Get the home centre e gift vouchers online and gift it to your close one. Don't compromise on quality with the home centre. Pick out some of the authentic right products and use them for the long run. Check out the online store, or you can even visit their store.
Gifting, Gratitude And A Bunch Of Happiness
Adding a bunch of pretty pieces of work to your beautiful home can bring happiness. Because when you get to buy something you like, it usually gives you a warm, happy feeling. But presenting a gift card to someone close brings more happiness. It is an excellent way to show your gratitude, and everyone loves to receive one. Gifting a card that can let them buy anything from the store is probably one of the smartest gifts. With continuous change in trends, people are more open to accepting a gift card on special occasions. And they would appreciate it. But it's just not that you can even save that extra time on travel or in wrapping the gift up. The home center gift cards help you convey your wish to the person it is meant for. So, if you are looking to buy a gift card soon, then you can get the home centre gift card online.
Something For Everyone
Be a special occasion, an event or a festival, gift cards are your best bet. Why? Because the receiver can buy whatever they like. And with the endless collection, there's always something for everyone. Make your close ones happy by gifting them a home centre voucher. Let them experience the joy of purchasing. To be able to buy a product of their choice and add it to their home as per likes.
Online Home Centre Gift Cards
Now shopping is made easier and helps us save time. Getting an online gift card is a thing now. They have indeed revolutionized the world of gifting. Right from companies gifting these cards to their employees for festive seasons or as incentives to people buying it for their loved ones. There are a set of denominations available. Customers can choose their required amount and buy home décor gift cards online in India. Gift cards come in different variations too, each differing season or festival-wise.
Best Deals and Discounts
Gift something valuable this festive occasion. Give your loved ones the best gift of all: Home Centre Gift Cards! Be it the home centre e-vouchers or the physical gift cards, and you will get it all online. The cards are delivered or sent via email to the recipient. You can visit the FAQ section to know more about the gift card policy. To grab some of the best deals or offers, you can tune into the GrabOn page. The deals get updated from time to time. Happy Gifting and saving!
+ read more
All About Home Centre Gift Card FAQs
1. Why should I purchase a Homecentre Gift Card?
A Homecentre gift card lets you purchase anything that a Homecentre store sells. These Gift Cards make for a perfect gift as your friends, and family gets to pick from the best options available. The gift cars can be redeemed in single or multiple purchases, catering to the need of the customers. Get a Homecentre Gift Card now for someone you want to surprise with a gift and witness the joy on their face.
2. What's the process to redeem a Homecentre gift card?
Add the products you want to buy to your cart
While checking out, Choose the pay by Homecentre gift card option
Enter your 16-digit number and the corresponding 6 digit PIN number while making the payment of your order to redeem your gift card.
3. If I cancel my purchase or booking, what happens to the Homecentre Gift Card that I have used?
In case of a cancellation, please get in touch with our customer support regarding the available options of repayment or transaction failure. Mail us at giftcards@grabon.in or call us at 7997692233 and our team will get back to you.
4. Can I club other offers when I pay through a Gift Card?
Yes, you can always avail the running offers and discounts when you are paying through a Gift Card.
5. Can I buy whatever I want with a Gift Card?
Well, you can redeem your Gift Card against any purchase made at Homecentre, but in case the purchase amount is more than the Gift Card value, you need to pay the excess amount.
6. What is the validity of a Homecentre Gift Card?
To check the validity, you need to go through the terms and conditions. Meanwhile, in case of any query, you can write to us at giftcards@grabon.in and our team will get back to you.
+ read more