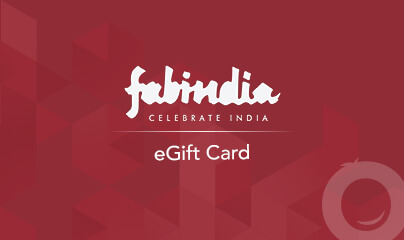 Fabindia Gift Card
2 Gifting Options
1 Active Offer
i
Fabindia Gift Cards Info
Ongoing Gift Card Offers
Purchase giftcard using PayPal & get 50% cashback (Maximum cash back Rs. 100) by PayPal. Limited time offer for new users. Cashback will be credited within 5 days of transaction. T&C
Fab gift cards for the Fab Indians! Established in 1960 by John Bissell, an American working for the Ford Foundation, Fabindia is known for its uber cool designs that are amalgamated with Indian texture, colors, and patterns. Their wide range of designs are novel, creative and original in nature. You can find anything you want with them, including shampoos, body lotions, kurtas, home decor. The best part is that everything is made of natural products. Their bath and body products are known for their scent and smell and they are harmless to the skin. And if you are looking for gift cards from Fabindia, you are on the right page. Get a wide range of gift cards on this page!
Fabindia Gift Voucher
type
value
you pay
savings
₹1000

₹1000

--

buy now
₹2000

₹2000

--

buy now
About Brand
FAQs
terms & conditions
About FabIndia
Natural, affordable and contemporary, Fabindia is India's largest private company that makes products from traditional techniques, skills and hand-based processes. Fabindia's products are mainly from villages, which helps in producing and sustaining rural employment in India. With over 40,000 artisans and craftspeople across India, the hand-crafted products not only bring out traditional textures of India but also different cultures from different states. Links with over 55,000 craft based rural producers to modern urban markets, they have created a base for skilled workers from the rural sectors. This has helped in preserving India's traditional handicrafts in the process.
Flexible Budget, Flexible Options!
Thanks to GrabOn, you can now choose a gift card of your choice and you can buy as many as you want! If you are looking to bring a smile on the faces of your employees, colleagues, friends or family, you can now do it with GrabOn! You can buy gift cards starting from Rs. 1000 to Rs. 10000, any denomination of your choice! You can not only send them a gift card via email but also take a print of it and give them a hard copy! You can also request for printed, cool looking gift cards for special occasions! So, what are you still waiting for! Get your gift card today and make someone's day special! Do you need any more reasons not to get these?
+ read more
1. What can I down with a Fabindia gift voucher?
Many things! Fabindia gift card lets you give someone the gift of the best products from their online stores. With our physical and e-gift vouchers options, you can give the gift card to anyone for any occasion. Birthday, anniversary, festival, or just about anything else, bring a smile on anyone's face! Let them decide what they want to do with the gift card and what they want to buy.
2. How do I buy a Fab India Gift Card?
To purchase a gift card follow these steps:
Go to: https://www.grabon.in/giftcards/fabindia-gift-vouchers/
Click on the Gift Card option and choose Fabindia from the list.
Choose the amount you want for your gift card.
Make the payment. We accept all major credit cards/ debit cards and net-banking.
3. Why haven't I received my gift card yet? What is its validity?
Your gift card will be sent to you via email within 24 hours from the time we receive your payment. For queries related to the validity of the card, please refer to the terms and conditions.
4. How can I use my gift card?
To redeem your gift card, follow the below steps:
Select items for purchase. Click on the 'Proceed To Pay' option on the checkout page.
In the "Choose Payment Method" page, select the gift card option.
Enter your 16-digit gift card number and the 6-digit PIN number provided on your gift card.
If your order total exceeds the gift card value, you will be asked to select an additional payment method. And, if the order total is less than your gift card value, then the balance will be credited back to your gift card. This can be used for future purchases. Please note that you can only use one gift card per purchase. In case you cancel your purchases later on, please get in touch with our customer support regarding the available options of repayment.
5. My gift card transaction has failed but the amount has been deducted. What do I do?
In such a case reach out to us as soon as possible and we will look into the matter and revert accordingly. For further queries, send us an e-mail at giftcards@grabon.in and our team will get back to you.
+ read more
The E-Gift Card has to be redeemed in full and partial redemption will not be allowed.
This E- Gift Card can be redeemed only once.
This E-Gift Card will take 48 hours to activate from the time of purchase.
Please present the print out of this e-gift card to the customer relationship officer prior to billing when you wish to redeem the card.
Redeemable only on presentation by the bearer at all Fabindia Stores in India except Gangtok, Imphal and all airport stores.
This E-Gift Card is freely transferable and redeemable for any product/merchandise at any participating store of Fabindia in India, unless otherwise specified at the point of sale.
Purchases exceeding the value of this E-Gift Card should be settled by cash/ credit card.
This E-Gift card can neither be redeemed for cash or credit nor any unutilized balance would be refunded.
This E-Gift Card is redeemable only during the validity period and the validity shall not be extended under any circumstances.
This E-Gift Card is valid for one year from the date of issue.
This E-Gift card will not be replaced or refunded if lost.
E-Gift Cards are normally delivered instantly. But sometimes due to system issues, the delivery can be delayed up-to 24 hours.
No returns and no refunds on gift cards, E- gift cards and gift vouchers shipped by www.woohoo.in. Please check the refund policy at http://www.woohoo.in/faq for further details.
+ read more