Who Are They And What Do They Do?
A subsidiary of the Indian manufacturing and retail giant TATA, Croma is one of India's most trusted electronics store. Established in 2006, Croma is a multi brand megastore that sells almost ever electrical appliance and device. They promise customers the country's best electronics shopping experience featuring over 6000 different products of 200 major brands in over 120 outlets spread across 19 metropolitan cities. Customers are offered an omni channel retail experience at their offline stores as well as the official website portal i.e. www.croma.com. The electronics superstore also launched its very own label of products in 2008. With a motto to ensure customers always get "More For Their Money", Croma promises the best quality products and an equally great staff to make customers truly enjoy a valuable shopping time.
The World Of Croma
Croma's website boasts of having nearly 6000 different electronics products from around 200 brands. Ranging from home appliances such as air conditioners, washing machines & dryers, smart home devices, water purifiers, coolers, fans; kitchen appliances such as ovens, food processors, cooktops, refrigerators, dishwashers, mobile phones, mobile accessories, wearables, laptops, tablets, printers, headphones, speakers, home theatre systems, cameras, grooming and wellness appliances, gaming accessories and many other products.
The Digi 1 online store has some really interesting products. Right from LED TVs, Washing Machine, Air Conditioners, Refrigerators, Mobiles, Home Theatres, Speakers, to other home appliances, you get it all here. Digi 1 houses products from some of the most preferred and famous brands in the market. Their appliances are crafted with high precision and care that they are durable and are of great quality. With Digi 1 there is no regret in the purchase. Check their online store for their offerings. Another interesting thing you can find at the Digi world is that they have their own sale. It's the time when you can grab some really cool deals, don't forget to look out for the sale section on their page.
Gift Cards From Croma
Gift cards are one of the most practical and logical gifting solution. It's the modern man's way to gifting. It's simple, relies on technology that envelopes all of us. Anyone would love the chance to be given a prepaid loaded card to spend on the store they like and the especially the products they actually like rather than what others getting them things they think want. So have a electronics freak of a friend/ relative? Gift him/ her this Croma gift voucher from GrabOn.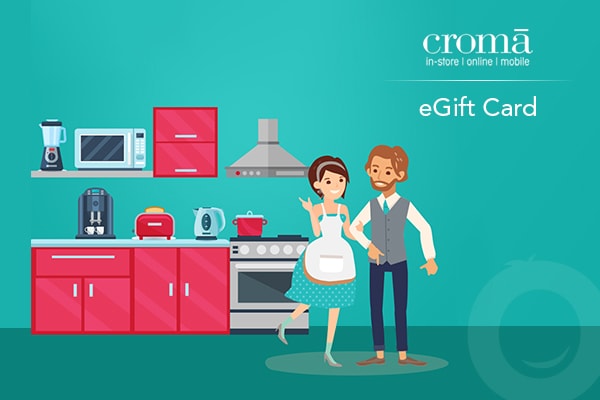 How to get/buy Croma gift cards?
Visit the GrabOn gift cards page.
Search for "Croma" in the search bar.
Pick the desired gifting denomination
Add to cart and transact a Croma gift e-gift card.
How to use Croma gift cards?
Go to the Croma official website
Make a purchase with your gift card redemption.
Check out the Terms and Conditions in the FAQ section ahead.
Grab More Croma Offers From GrabOn
Electronics are not light purchases, and always warrant discounts. So when you're on a electronics purchase spree, avail the several discounts and coupons from Croma all accumulated here at this perfect place, aka GrabOn. You don't just end up saving a ton with help from the listed offers and promo codes, but you can also avail an opportunity yo gift a loved one a Croma shopping experience with gift cards from GrabOn. Now that we're acquainted, do keep up and visit again whenever you plan on a Croma adventure again!