Virgin coconut oil, which is usually extracted from fresh coconut's milk, is gaining immense popularity in India due to a myriad of health benefits it offers. The benefits, however, can only be seen and felt if one is using an authentic virgin coconut oil, which contains a high concentration of vitamins, minerals, antioxidants, and good cholesterol. But with so many companies manufacturing virgin coconut oils under various brands, it can get super confusing to pick the one that suits your requirements and offers you the best health and beauty benefits. That's why we came up with this list of the best virgin coconut oil brands in India. We looked at reviews and ratings, price, capacities available, and possible benefits to come up with our rankings.
As we will be mostly linking to Amazon pages, we would advise you to also check some of our Top Amazon Offers to save more on these products.
Best Virgin Coconut Oil Brands in India
Coconut oil is an amazing product, and there are a lot of good virgin coconut oil brands in India. In this post, we'll list 17 of the best coconut oil brands in India and provide a little information about each. We hope you find this post useful and that you'll choose one of these brands to try out!
Max Care's Cold-Pressed Coconut Oil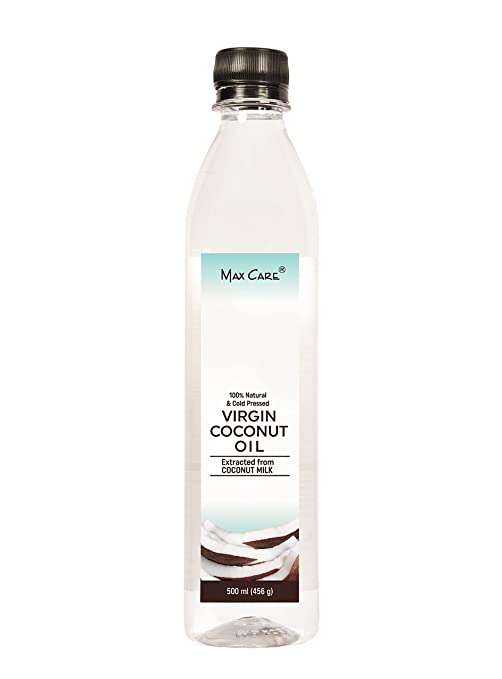 Max Care's cold-pressed virgin coconut oil is extracted from 100% fresh & unrefined coconut milk, and packs in a fresh aroma as you would expect from a cold-pressed oil. Due to a rich presence of medium chain fatty acids and antioxidants, it not only makes up for a great cooking oil, but also works as a great oil for skin, hair, and baby care. The brand says that consuming this oil can help promote healthy metabolism & improve immunity.
Max Care's Coconut Oil enjoys Amazon's Choice badge for a complete category of "virgin coconut oil" due to its highest popularity and brilliant reviews. The oil can be bought as a standard 1L bottle, or in a 500ml wide-mouth container (easier to fill and empty), and even in dual pack combinations of different sizes.
Coco Soul Cold Pressed Organic Virgin Coconut Oil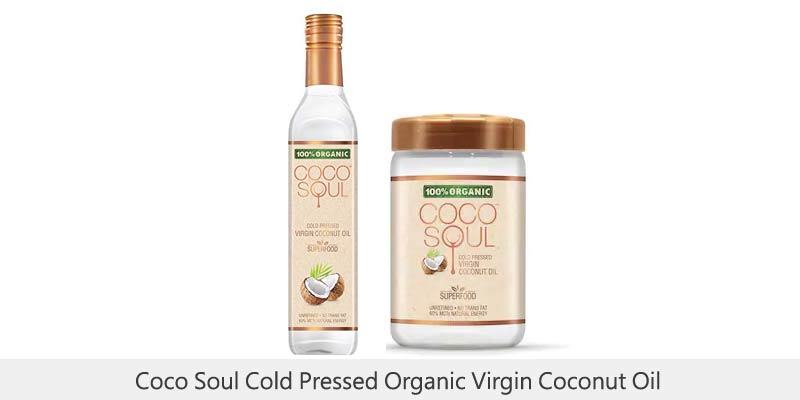 Manufactured by the House of Marico (the brand behind popular oil brands like Saffola and Parachute), this virgin coconut oil from Coco Soul is 100% unrefined and 100% cold-pressed. That's why it's rich in coconutty flavors and aroma, and preserves nutrients like MCTs (Medium Chain Triglycerides) healthy fats, Lauric acid C12, and Vitamin E. Due to all these nutrients, it not only helps in improving body immunity, but also aids in weight management. We also love how this natural oil is free from not-so-nice ingredients like preservatives, gluten, and GMO.
Coco Soul virgin coconut oil  can also be used as a regular edible oil due to its oxidative stability and high smoke point. It is even ideal for raw consumption and diets like Keto. Besides its best-selling 500ml bottle, this virgin coconut oil can be bought in a 250ml bottle, 1L Bottle, and other pack combinations like this (250ml + 500ml) and this (250ml + 500ml + 1L).
If you are on a budget and looking to save more on this virgin coconut oil, consider ordering from their official website. Great news. You can save as much as 30% across all the products' categories by using Coco Soul Hair & Skin Care Offers.
HATHMIC Extra Virgin Raw Coconut Oil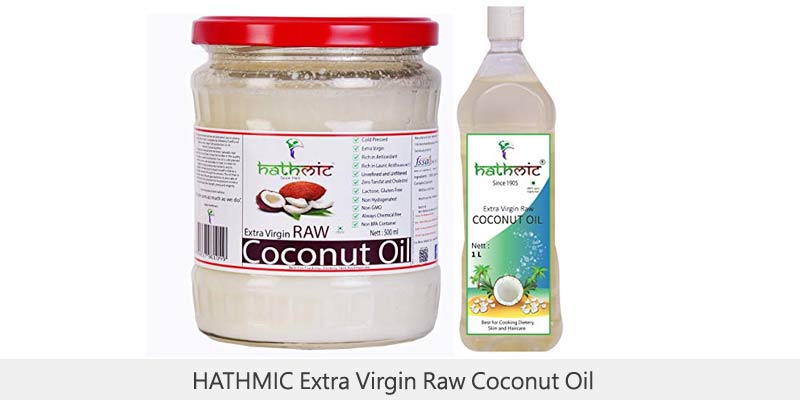 Another pioneer brand of virgin coconut oils in India is Hathmic. Their extraction of coconut oil follows a manual selection of matured coconuts, extraction of coconut meat, and then using the cold-pressed technology with no heat to give you natural unrefined and raw coconut oil with fantastic health benefits. There is no use of any chemicals, and the oil is entirely undiluted and devoid of any bleaching agents.
Use the Hathmic extra virgin raw coconut oil to enhance your dishes' taste and make them healthier or serve your beauty and hair needs without any worry. Many users report favorable results when the oil is used to treat dark circles under the eyes. While the 1L glass jar is HATHMIC's top-selling model, you can also buy their coconut oil in a 1L bottle, 500ml wide-mouth glass jar, and a 5L can.
Organic India Extra Virgin Coconut Oil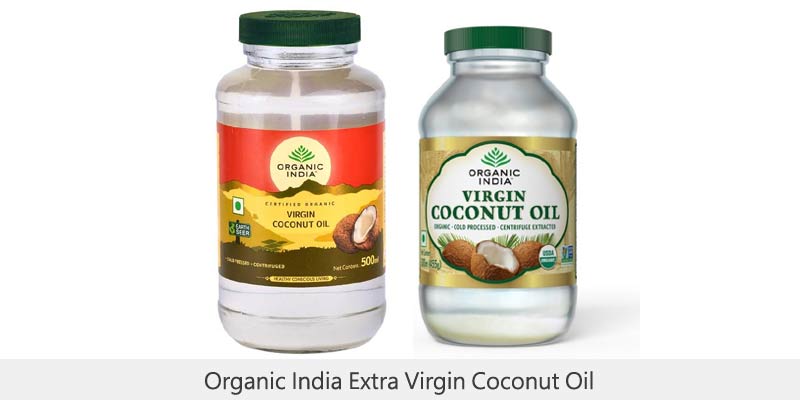 Organic India Virgin coconut oil is extracted from fresh coconuts by separating coconut cream through a series of centrifuges at low temperatures. The end product is pure, isolated oil that is raw and unrefined. That's why this one of the best virgin oils iis not only highly edible, but also works wonderfully on hair and skin as well. You can use it for cooking as it supports a healthy endocrine system or even to treat dull, dry, and damaged hair. It is also an excellent moisturizer for your skin, especially during the cold and dry winter season.
Consuming Organic India Extra Virgin (or any other virgin coconut oil) will also increase your metabolic rate to aid in weight loss and burn fats. The oil is packed in a glass jar, which may not be travel-friendly for some. However, glass jars are anyday more environment friendly than contemporary plastic bottles. This virgin coconut oil comes only in a one size standard 500ml jar.
Besides Amazon, the product is also available on Organic India's official website. Do check it out. And if you would, do make use of our Organic India Coupons to save more on your next virgin coconut oil purchase.
Old Goa Cold Pressed Virgin Coconut Oil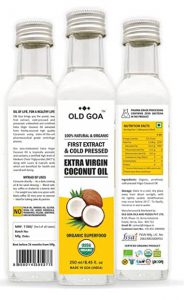 Looking for pure and virgin coconut oil to cook with and use for your beauty products? Look no further than the Old Goa brand. This virgin coconut oil is made from the purest of coconuts and 67% of fatty acids to offer myriad health benefits. To talk about the quality standards, they are certified by FDA and USDA.
This unrefined cold-pressed coconut oil has a rich, nutty flavor that will elevate your cooking to new heights. Adding up, the prices seem to be affordable. It is perfect for cooking, baking, frying & sautéing or as a delicious alternative to butter.
Vedaka Cold Pressed Virgin Coconut Oil

Vedaka cold-pressed virgin coconut oil is one of the best edible coconut oils for cooking, baking, frying, and sauteing purposes. The oil is extracted from premium quality coconuts using no heat process, underges fatty acid profiling to ensure 100% purity, and gets hygienically packaged in anti-spillage glass bottles for easy cooking and storage provision. Those looking for a multi-purpose coconut oil would be better off trying the former brands.
This cooking coconut oil's 500ml glass bottle is a hot-selling product. Those looking for a bigger bottle can also opt for its 1L Liter Bottle.
Merit VCO Extra Virgin Coconut Oil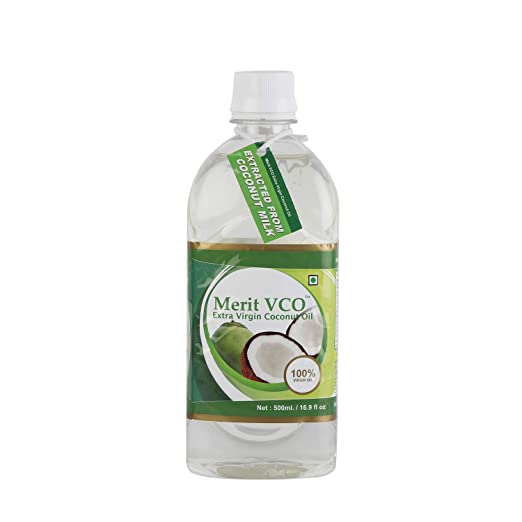 Another great virgin coconut oil is this extra virgin oil from Merit VCO. Unlike the previous Vedaka Virgin Coconut Oil, it's a multi-purpose oil, so can be used for all imaginable purposes including cooking, dietary supplement, haircare, skincare, and baby care. Extracted from the tender coconut milk using cold-pressure method, this oil retains all the physical and chemical properties of a great coconut oil including high antioxidant concentration, clear appearance, delightful taste, and rich aroma.
Merit VCO virgin coconut oil is one of the few oils in the list to be 100% vegan, so would be a great bet for those following a vegan lifestyle. It comes in a plastic bottle and is competitively priced. Like many other brands, 500ml is their best-selling model (even available as a pack of 2), and other available capacities are 250ml.
Anveshan Wood Pressed Coconut Oil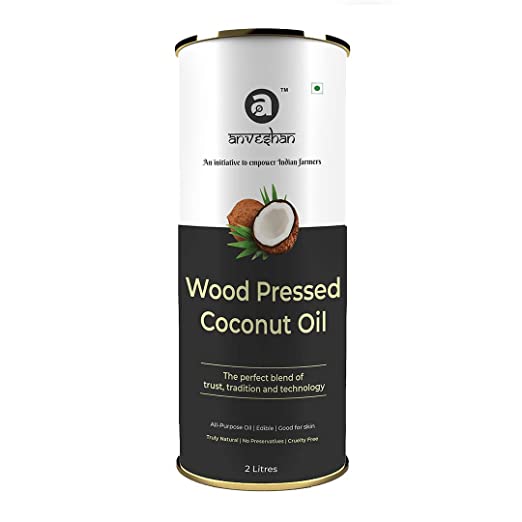 Anveshan virgin coconut oil wows us in so many aspects. First of all, it's made from high-quality coconuts containing fresh white coconut meat, which is ethically sourced from the farmers of Pollachi, Tamil Nadu. These coconuts are then sun-dried for a few days to ensure better taste and aroma, which are then extracted using a cold-press method by employing low-temperature wooden Kolhus. The end result is an amazing virgin coconut oil that's rich in antioxidants and other key nutrients like capric, caprylic, and lauric acids ( a natural energy booster).
The extracted oil is then quality tested for 17 FSSAI mandated parameters, and is stored in a tin can for enhancing shelf-life and retaining taste & smell aspects. No chemicals, preservatives, or gluten is added at any step, which means this virgin coconut oil is completely natural.
Anveshan wood-pressed coconut oil can be used for everything, from cooking foods to all other external applications. Those performing ayurvedic practices like oil pulling should also pick this up. This coconut oil is available in 2L Tin Can, 1L Glass Bottle, and is also offered as a pack of 2 with other oils like Black Sesame or Groundnut oil.
WOW Life Science Extra Virgin Coconut Oil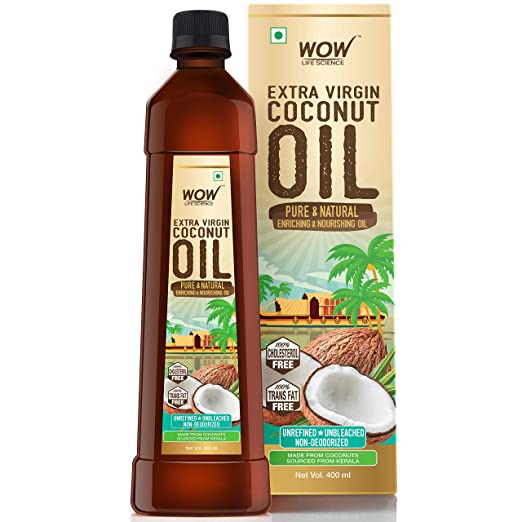 This extra virgin coconut oil from WOW Life Science makes it to the list of best virgin coconut oils as it's a 100% medium chain triglycerides (MCTs) oil that contains healthy HDL cholesterol, antioxidants, and a high amount of vitamin E. It's able to retain all these key nutrients as it's extracted from fresh and raw coconut milk using centrifugal cold-pressing technology. Consuming this all-purpose virgin coconut oil promotes a healthy heart and optimal weight. It's also perfect for managing issues like excessive dryness, skin irritations and dry scalp.
WOW Life Science extra virgin coconut oil is a 100% natural oil, so it is free from harmful trans-fats and cholesterol. It comes in an unconventional capacity size of 400ml. The plastic container bottle featuring visual graphics and company's branding sure looks attention grabbing.
What's also attention-grabbing are GrabOn's Wow Coupon Codes which are providing as much as 25% discount to all users. Applicable on their official website only.
KLF Nirmal Multi-Purpose Virgin Coconut Oil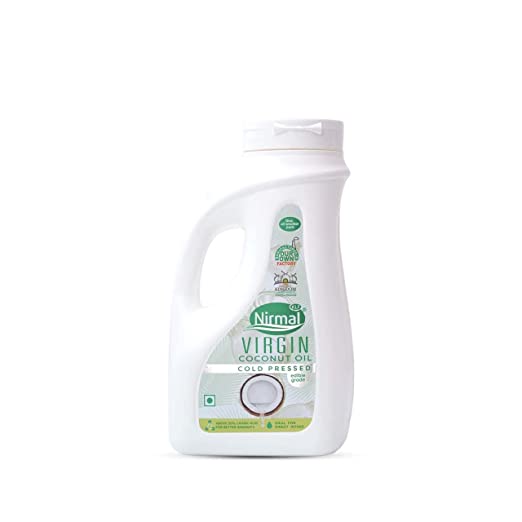 Containing a subtle aroma of fresh coconuts, and packed in an all-weather friendly can with a flip-top lid, this coconut oil from KLF Nirmal is another great virgin coconut oil for your health, skin, and hair. Extracted from 100% pure and cold-pressed coconut, KLF Nirmal virgin coconut oil, while great for cooking, works best as a hair care oil as the brand seems to be highlighting its hair-related benefits like damaged hair renewal, anti-dandruff properties and aid against lice infestation. That's why we would recommend this oil to those who want an oil for hair care, which could double up to meet other requirements too.
The brand's best selling model is 1L can-based coconut oil. This virgin coconut oil is also available in other capacities like 250ml and 500ml, and comes in a range of packaging options like wide-mouth jar, glass bottle plastic, bottle can, depending on the capacity you order.
Kama Ayurveda Extra Virgin Organic Coconut Oil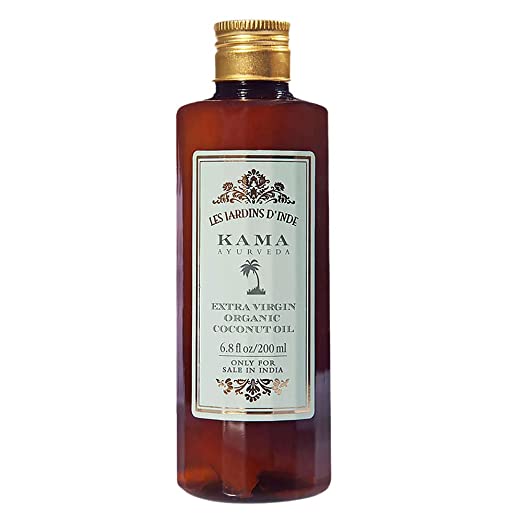 Ask any consumer about the best extra virgin coconut oil for hair, and you are likely to hear the word "Kama Ayurveda". The brand enjoys tremendously positive reviews on all its product categories, and so is true for their virgin coconut oils. Kama Ayurveda's virgin coconut oil is extracted using cold press technology and does not contain any additives or pesticides. By its virtue, it helps nourish the hair and scalp to give you a beautifully textured mane. Your skin will also look and feel healthy if you use this oil regularly on the skin. A lot of people recommend this oil for baby massages as well.
A 200ml bottle of Kama Ayurveda Extra Virgin Organic Coconut Oil costs about Rs. 900. That makes it a luxury virgin coconut oil brand. Besides Amazon, the product could be purchased from Nykaa too. Do check out other top Nykaa offers for best deals on beauty products online.
Forest Essentials Cold-Pressed Virgin Coconut Oil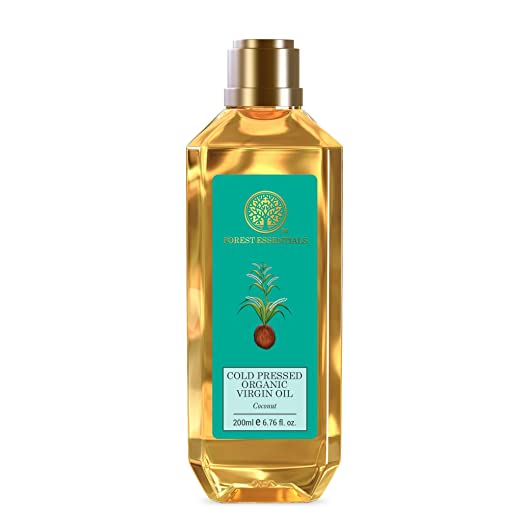 This luxury skincare and hair care beauty brand is making a significant mark in the Indian health and beauty industry. That's also apparent from their virgin coconut oil, which is extracted using the natural cold-press method. Forest Essentials uses high-quality dried coconuts for their cold-pressing, which allows their coconut oil to retain its nutritious properties. That's why it makes it to our list of the best virgin coconut oils in India.
Light to use, and packing a delicate fragrance, this pure oil is rich in fatty acids, Vitamin A, B1, B2, B6, and E. Due to the presence of all the nourishing ingredients, it's also considered as one of India's best coconut oil for hair. To use it on your hair, first warm it, and then massage it lightly from the scalp to the ends to nourish and condition your hair.
Forest Essentials virgin coconut oil is only available in a 200ml bottle. As it's a premium brand, expect to pay a premium price. Those on a budget and looking for higher capacity products should either opt for other brands or make use of Forest Essentials Promo Codes.
Dabur Unrefined Virgin Coconut Oil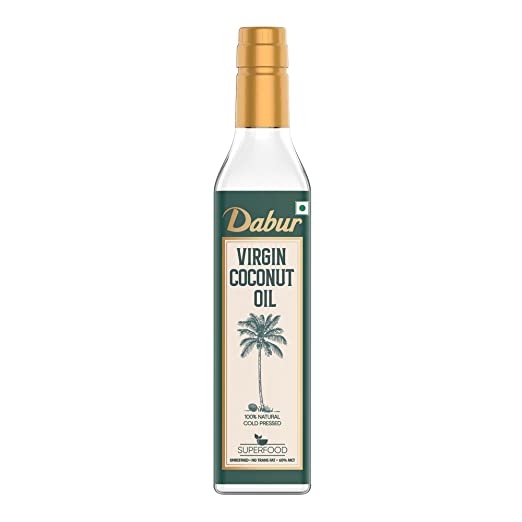 Dabur, India's famous consumer goods company, makes great natural & cold-pressed virgin coconut oils. This coconut oil from them is not only rich in aroma and traditional flavor, but also contains key nutrients like 60% Medium Chain Triglyceride (MCTs), Lauric Acid (C12) and Vitamin E for digestion aid and energy boosting. It's even fit for raw consumption as it undergoes fatty acid profiling for ensuring 100% purity. All in all, a great virgin coconut oil for direct consumption, cooking & taste enhancing, oral health, and other purposes across skin and hair care.
Dabur offers their virgin coconut oil in only a standard glass bottle of 500 ml capacity. The bottle comes with anti-spillage & flow control functionality, which makes using and storing oil a breeze work.
The HappyGrove Co. Extra Virgin Coconut Oil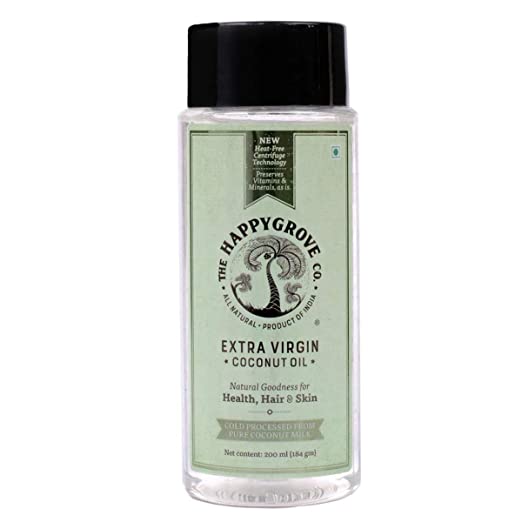 Cold-processed virgin coconut oil from The Happy Groves is sourced from the finest coconuts grown in Kerala, and is then processed naturally without using any additives. As it's cold-pressed (like most other virgin oils in the list), when you buy this oil, you can expect nutrients and antioxidants to stay retained. The HappyGrove Co. extra virgin coconut oil is a multi-purpose oil, and is beneficial for  hair, bones, feet, teeth, skin, heart, and more. It also helps with weight loss and is a rich source of vitamin E and lauric acid.
Packing in a coconutty taste and intense aroma, a 500 mnl glass jar of extra virgin coconut oil from HappyGrove costs somewhere around Rs.600, and can be used for  cooking, baking, direct assumption and more. There is even a 200ml bottle available for those who use coconut oil sparingly, or want to test the brand before opting for the higher capacity jar.
Pure & Sure Organic Extra Virgin Coconut Oil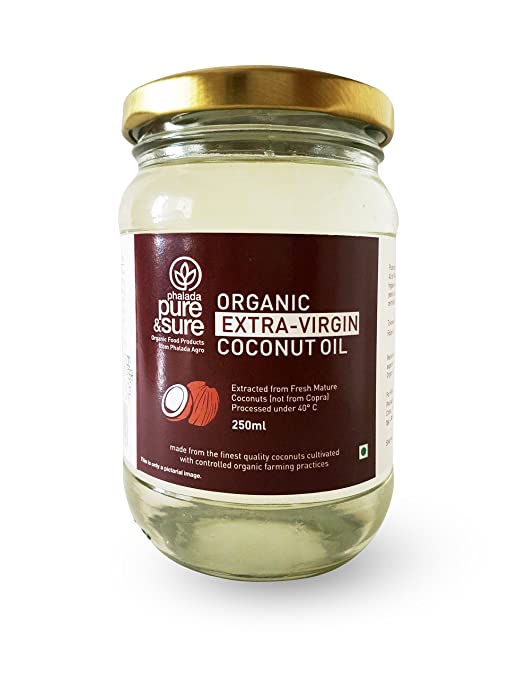 This oil is obtained from the finest, matured, and fresh coconuts, which are cultivated under controlled organic farming practices. The oil is extracted using cold-pressed technology under a room temperature of just 40 degrees to maximize nutrients retention. The main attraction of this oil is its price – it's super-affordable compared to other luxury brands that we saw, and gives them a close competition in terms of quality, aroma, and other aspects.
Pure & Sure coconut oil comes in a classic-looking mason jar, which is both easy to use as well as travel-friendly. It's only available in a capacity size of 250ml.
TNW's Cold Pressed Virgin Coconut Oil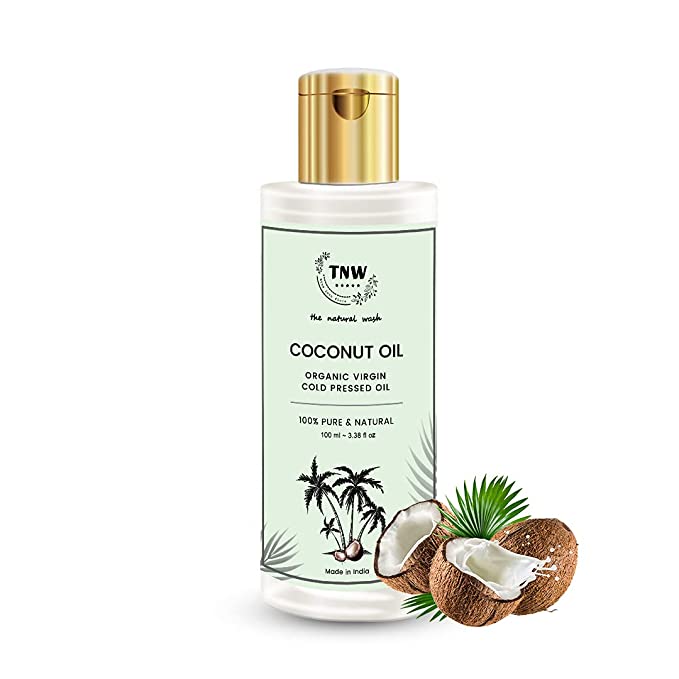 Go for this cold-press virgin coconut oil from "The Natural Wash" if you primarily intend to use coconut oil for skin and hair. That's because this unrefined coconut oil contains high antioxidants concentration, which help prevent aging of both skin cells and hair follicles. Like most other coconut oil brands in the list, it's extracted  from the finest coconuts to retain 100% purity.
This virgin coconut oil comes in a 100 ml bottle though, which is okay considering how it's marketed as a hair and body massaging oil primarily. Check out other options if you are looking for a cooking oil or multi-purpose oil.
The Kerala Store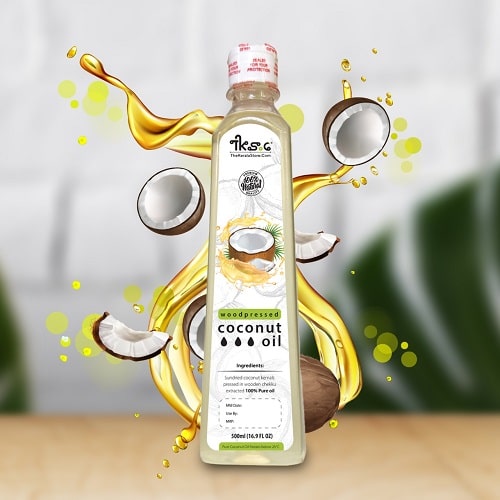 Most coconut oil brands in India have a mineral oil mix that results in poor health. To prevent this, the Kerala store team has set stringent quality control measures to ensure that only 100% Natural Coconut Oil will be delivered to the customers. The Kerala Store is a perfect blend of culture and tradition, founded by a young team to offer authentic food products.
To talk about this Kerala Store coconut oil, it is processed from coconut for healthy hair and glowing skin. As it does not use any heating process, all the natural antioxidant properties of these ingredients retain to boost your overall health. It has a unique flavour and distinct aroma with the richness of its nutritional content. Due to the tremendous demand for Kerala's coconut oil, an adulterated version of the oil has found its way into the market.
What we like the most is that it is 100% organic, rich in vitamins and minerals with zero cholesterol as it is delivered fresh from the mills. It is available in 500 ml quantities. On the whole, The Kerala Store pure coconut oil can be used for cooking, skincare, hair, keto diet, and as a massage oil.
Check out GrabOn's "The Natural Wash Coupons" to get a whooping up to 50% discount on their virgin coconut oil. Limited deal, so steal the deal before it's gone!
About Coconut Oil | 5 Interesting Uses of Coconut Oil
1. Protect your skin from sun damage
Coconut oil has an SPF of 7. This means that it blocks about 20% of the sun's UV rays. Although that is lower than sunscreens (which conventionally blocks 90%), it is a good alternative if you run out of sunscreen.
2. Cook at high temperature
Coconut oil is safe for high-temperature cooking. On the other hand, vegetable oils (like corn and safflower oils) convert into toxic compounds when heated.
3. Use as a mouthwash
A study found that coconut oil is as effective as an antiseptic mouthwash in reducing dental plaque, tooth decay, and gum disease. The only difference is that while you swish mouthwash for one minute, you'll need to swish coconut oil for longer to see similar results.
4. Use as moisturizer
Research shows that coconut oil is as effective as a conventional moisturizer or mineral oil. It especially helps improve dermatitis and other skin disorders.
5. Prevent hair damage
Coconut oil is better than mineral oil and sunflower oil for your hair. It reduces protein loss from your hair. This is because the fatty acids present in it penetrate the hair shaft better than most other fats.
FAQ's
1. What is virgin coconut oil?
Virgin coconut oil, also known as extra virgin coconut oil, is unrefined and cold-pressed in the extraction process to retain the texture intact. The presence of lauric acid in the VCO reduces bad cholesterol levels and helps to maintain a healthy diet.
2. How is virgin coconut oil made?
Virgin coconut oil is made from fresh coconut milk, mixed with water, and then squeezed out of the oil. The extracted milk is fermented for 36–48 hours, and the cream is heated to remove the oil content. Further, it undergoes a centrifuge to separate the oil from other liquids. The virgin coconut oil can also be extracted from the dry residue leftovers of coconut milk.
3. What are the benefits of using virgin coconut oil?
When you make virgin coconut oil part of your diet, it can regulate blood sugar levels, heart attacks, weight loss and improve the immune system. Further, it prevents wrinkles and makes your tresses stronger and shiner.
4. How to use virgin coconut oil?
To start using EVCO for skin, place it in a bowl and then in warm water for a couple of minutes. Now separate the oil from the bowl and apply it to the skin to moisturize gently, making you feel soothed in no time.