We all are very familiar with coconut oil, but not all of us are equally familiar with virgin coconut oil. Almost similar in composition to coconut oil, virgin coconut oil differs from regular coconut oil in significant ways. Virgin coconut oil is extracted from coconut milk obtained from fresh coconuts. The extraction of oil follows a different process with no use of heat or exposure to sunlight. It helps in retaining a higher content of vitamins, minerals, antioxidants, and good cholesterol. Regular coconut oil is extracted from dried coconuts and subjected to different heating, refining, filtering, etc. Virgin coconut oil smells better, tastes better, and has a better shelf life.
Coconut oil is one of the most versatile oils with a myriad of health benefits on offer. Virgin coconut oil is one notch up and is gaining popularity rapidly. Many companies are manufacturing virgin coconut oils under various brands. It can get super confusing to pick the one that suits your requirements and offers you the best health and beauty benefits. The list of the ten best virgin coconut oil brands in India is compiled with thorough research. It will help you choose the best one based on your preference, availability in your area, and price.
Do not forget to check out some of the top coupons at Amazon using which you can save on these products. Amazon lists almost all the products we have listed in this article. You might not require any coupons too when you shop at Amazon for these products.
Have a Look at Best Virgin Coconut oil Brands in India for 2022
Last update was on: May 26, 2022 4:05 pm
Best Virgin Coconut Oil Brands
Since virgin coconut oil is extracted using the cold press technology and has maximum nutrients intact, the better the process, the superior the oil. It can be challenging to differentiate virgin coconut oil from regular coconut oil because they may look the same. In a semi-solid state, virgin coconut oil looks creamy and smooth and bright when liquid. It also smells better and has better moisturizing properties because of non-exposure to heat, killing the smell and dries the moisture or coconut oil.
Let us now go through the top 10 best virgin coconut oil brands in India that offer the highest quality coconut oil at the best prices.
Nutiva Organic Virgin Coconut Oil
Buy Now


In the top organic virgin cold-pressed coconut oils in India, the Nutiva organic virgin coconut oil is by default at the top. This edible oil can be used to sauté, bake, enhance your recipes' flavor, and for your body and hair care. The oil has a rich aroma coupled with the smell of fresh coconuts. It has never been refined, bleached, or treated with chemicals, thus bringing you wholesome health and nutrition.

People across the globe love Nutiva organic virgin coconut oil for its use as a multipurpose oil. You can even read fantastic reviews of Nutiva organic coconut oil online. You can add a pinch of salt in the oil if you want to eat healthy food cooked in this oil but detest the smell of coconuts.

A 414 mL bottle of Nutiva organic virgin coconut oil will cost you on MRP. Check out online deals for some offers! If cost is not a deterrent for you, there is no reason why you should not but a bottle of this miraculous oil!
Kama Ayurveda Extra Virgin Organic Coconut Oil
Ask any consumer about the best extra virgin coconut oil for hair, and you will be surprised at how many people respond positively. Kama Ayurveda review is tremendously positive, making more and more people buy it to moisturize their skin and condition and strengthen their hair. Kama Ayurveda's virgin coconut oil is extracted using cold press technology and does not contain any additives or pesticides. By its virtue, it helps nourish the hair and scalp to give you a beautifully textured mane. Your skin will also look and feel healthy if you use the oil regularly on the skin. A lot of people recommend this oil for baby massages as well.
A 200ml bottle of Kama Ayurveda Extra Virgin Organic Coconut Oil costs about Rs. 650. The product could be purchased from Nykaa.com. Do check out other top Nykaa offers for best deals on beauty products online.
Forest Essentials Organic Cold Pressed Coconut Virgin Oil
The luxury skincare and hair care beauty brand made its mark in the Indian health and beauty scene. The Forest Essentials Organic Cold Pressed Coconut Virgin Oil is extracted using natural methods. While its extraction, cold-pressed technology is used on high-quality dried coconuts retaining their highly nutritious properties. No wonder the oil is one of the best virgin coconut oils in India.
Light to use with a delicate fragrance, the pure oil is rich in fatty acids, Vitamin A, B1, B2, B6, and E, and is considered one of India's best coconut oil for hair. Massage it lightly from the scalp to the ends after heating it using the second heating method to nourish and condition your hair. So, start using the exclusive Forest Essentials deals and offers to take some advantage on the pricing factor.
Organic India Extra Virgin Coconut Oil
Organic India Virgin coconut oil is made from fresh coconuts. It is done by separating coconut cream through a series of centrifuges at low temperatures. The produce is pure, isolated oil that is raw and unrefined. Being edible, it is the best extra virgin coconut oil for hair and skin as well. You can use it for cooking and support a healthy endocrine system or use it to treat dull, dry, and damaged hair. It is an excellent moisturizer for your skin, especially during the cold and dry winter season.
Consuming Organic India Extra Virgin or virgin coconut oil will also increase your metabolic rate to aid in weight loss and burn fats. The oil is packed in a glass jar, which may not be travel-friendly for some.
Old Goa Cold Pressed Virgin Coconut Oil
Looking for a pure and virgin coconut oil to cook with and use for your beauty products? Look no further than the Old Goa brand. This virgin coconut oil is made from the purest of coconuts and 67% of fatty acids to offer myriad health benefits. To talk about the quality standards, they are certified by FDA and USDA too.
This cold-pressed coconut oil is unrefined and has a rich, nutty flavor that will elevate your cooking to new heights. Adding up, the prices seem to be affordable. On the whole, it is perfect for cooking, baking, frying & sautéing or as a delicious alternative to butter as well.
Pure and Sure Organic Extra Virgin Coconut Oil
The oil is obtained from the finest, matured, and fresh coconuts. These are cultivated under controlled organic farming practices. Pure and Sure Organic Extra Virgin coconut oil is mainly used for hair and skin beauty purposes. The oil is extracted using the cold-pressed technology under 40 degrees. The main attraction of this oil is the price – you get the benefits of extra virgin coconut oil at a reasonable price that sounds pretty affordable.
The bottle is easy to use and travel-friendly, and you can get a 250 mL bottle of Pure and Sure Organic Extra Virgin oil on MRP. It is available even cheaper if you shop online.
Morpheme Pure Cold Pressed Organic Virgin Coconut Oil
Morpheme makes India's best organic cold-pressed coconut oil for shiny, glossy hair and healthy skin. It is primarily rich in Vitamin E, has anti-fungal, antiviral, and antibacterial properties, and is lightly textured with a mild fragrance. It is a chemical-free, mineral-free, pure cold-pressed oil of the highest quality to serve your beauty needs. The oil is refined and thus is used for baby massages as well. Using this oil regularly for hair and skin can give you longer and thicker hair and beautiful, healthy, and glowing skin.
Morpheme Pure Cold Pressed Organic Virgin Coconut Oil is priced for a 500 mL pack. You can get attractive deals on an online purchase, though.
HATHMIC Extra Virgin Raw Coconut Oil
Another pioneer brand of virgin coconut oils in India is Hathmic. The extraction of coconut oil follows a manual selection of matured coconuts, extraction of coconut meat, and then using the cold-pressed technology with no heat to give you natural unrefined and raw coconut oil with fantastic health benefits. There is no use of any chemicals, and the oil is entirely undiluted and devoid of any bleaching agents.
Use the Hathmic extra virgin raw coconut oil to enhance your dishes' taste and make them healthier or serve your beauty and hair needs without any worry. Many users report favorable results when the oil is used to treat dark circles under the eyes.
Max Care Virgin Coconut Oil Cold Pressed
A multipurpose, natural, and cold-pressed virgin coconut oil extracted from coconut milk. It is used for both dietary and beauty purposes. It is also one of the most popular edible coconut oil brands in India. The Indian in-house brand, Max Care coconut oil, serves as an excellent remedy to treat dandruff and hair loss. It also moisturizes dry hair and skin and adds flavor and taste to your everyday cooking while making the food healthier. The price is affordable as well, though it may be hard to spot it offline.
Cold-Processed Virgin Coconut Oil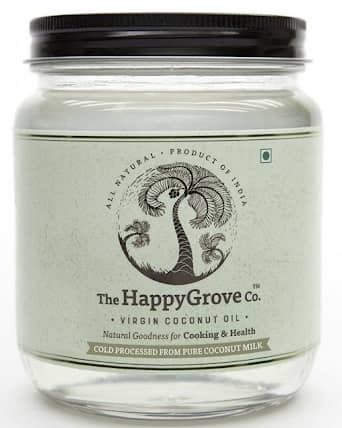 Cold-processed virgin coconut oil from The Happy Groves is sourced from the finest coconuts grown in Kerala. These are organic oils obtained naturally with no additions. Cold processed oils work better than cold-pressed oils as it retains its nutrients and antioxidants. The oils are best for a variety of reasons including hair, bones, foot, teeth, skin, heart, foot and more. It also helps with weight loss and is a rich source of vitamin E and lauric acid.
One bottle of Cold Processed Virgin Coconut Oil from The Happy Grove gives the real taste and aroma of coconut which you can include in cooking, baking, direct assumption and more. You can buy a jar or a bottle of virgin coconut and aid your healthy living habits right from your home.
Coco Soul Cold Pressed Organic Virgin Coconut Oil
Another famous edible coconut oil brand in India is Coco Soul, from Mario's house, which also manufactures Saffola and Parachute oils. Coco Soul Cold Pressed Organic Virgin Coconut oil is derived through a meticulous process with no heat technology to retain the oil's maximum healthful properties. Natural, gluten, and chemical-free, Coco Soul organic virgin coconut oil are ideal for people looking to stock on oil. It can be both consumed as a superfood and used topically for beautiful skin and hair.
Umanac Organic Cold Processed Raw Extra Virgin Coconut Oil
Umanac Organic Cold Processed Raw Extra Virgin Coconut Oil is centrifugally extracted from the milk of fresh coconuts sourced from organic farms. The oil is obtained using the cold-pressed technique and is pure, unrefined, unbleached, and free from chemicals. It can be added to food, used for baby massages, and is exceptionally good for healthy hair and beautiful skin. It is light in texture, is readily absorbed in the body, and gives a cooling effect. Including Umanac Organic Cold Processed Raw Extra Virgin Coconut Oil in your daily diet will positively impact your metabolism, improve gut health, and support the endocrine system.
This oil full of natural goodness can be bought online and offline, though you do better deals on online portals. It comes in a glass bottle, so it is not considered travel-friendly.
These are the best virgin coconut oil brands in India that promise coconut oil benefits in their purest form. Including coconut oil in your dietary and beauty regime regularly will show you favorable and noticeable results. Let us know which brands you have tried that we might have missed out on.
About Coconut Oil
5 Interesting Uses of Coconut Oil
1. Protect your skin from sun damage
Coconut oil has an SPF of 7. This means that it blocks about 20% of the sun's UV rays. Although that is lower than sunscreens (which conventionally blocks 90%), it is a good alternative if you run out of sunscreen.
2. Cook at high temperature
Coconut oil is safe for high-temperature cooking. On the other hand, vegetable oils (like corn and safflower oils) convert into toxic compounds when heated.
3. Use as a mouthwash
A study found that coconut oil is as effective as an antiseptic mouthwash in reducing dental plaque, tooth decay, and gum disease. The only difference is that while you swish mouthwash for one minute, you'll need to swish coconut oil for longer to see similar results.
4. Use as moisturizer
Research shows that coconut oil is as effective as a conventional moisturizer or mineral oil. It especially helps improve dermatitis and other skin disorders.
5. Prevent hair damage
Coconut oil is better than mineral oil and sunflower oil for your hair. It reduces protein loss from your hair. This is because the fatty acids present in it penetrate the hair shaft better than most other fats.
FAQ's
1. What is virgin coconut oil?
Virgin coconut oil, also known as extra virgin coconut oil, is unrefined and cold-pressed in the extraction process to remain the texture intact. The presence of lauric acid in the VCO reduces bad cholesterol levels and helps to maintain a healthy diet.
2. How virgin coconut oil is made?
Virgin coconut oil is made from fresh coconut milk, mixed with water, and then squeezed out of the oil. The extracted milk is fermented for 36–48 hours, and the cream is heated to remove the oil content. Further, it undergoes a centrifuge to separate the oil from other liquids. The virgin coconut oil can also be extracted from the dry residue leftovers of coconut milk.
3. What are the benefits of using virgin coconut oil?
When you make virgin coconut oil part of your diet, it can regulate blood sugar levels, heart attacks, weight loss and improve the immune system. Further, it prevents wrinkles and makes your tresses stronger and shiner.
4. How to use virgin coconut oil?
To start using EVCO for skin, place it in a bowl and then in warm water for a couple of minutes. Now separate the oil from the bowl and apply it to the skin to moisturize gently, making you feel soothed in no time.