Welcome to our list of the best ghee brands in India! We love ghee for its health benefits, and we know that you will too. Here, we've put together a list of the top ghee brands in India, based on our extensive research. We hope you find this list helpful, and that you enjoy trying out some of these amazing ghee products!
Our Top Picks
| | |
| --- | --- |
| Best Ghee Brand | Aashirvaad |
| Best In Quality | Anveshan A2 Desi Cow Ghee |
| Best Shelf Life | JIVIKA NATURALS A2 Desi Ghee |
| Best Organic Ghee Brand | Talegaon Farms |
Top 14 Ghee Brands in India
Last update was on: January 25, 2023 12:09 pm
In this article, we provide a list of the best ghee brands available in India and explain why each one is worth considering.
Aashirvaad Svasti Pure Cow Ghee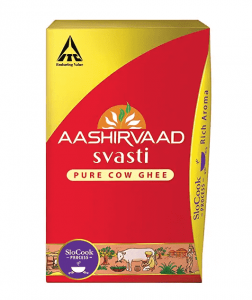 Aashirvaad is the revered brand launched by ITC in 2002, known for its quality and taste. Aashirvaad's Svasti Pure Cow Ghee is the epitome of premium quality ghee. It is made with a special slow cooking process which gives it a rich aroma, and golden granular texture. This ghee reminds us of the wonderful taste of the homemade ghee that we used to get during our childhood. It is best known for supporting immunity due to the presence of Vitamin A.
Shelf life: 9 Months
Verdict: Go for Aashirvaad Svasti pure ghee if you miss the original homemade ghee, made with pure cow milk, this is perfect for enhancing the taste and enriching the aromas of your dishes.
Nestle Everyday Shahi Ghee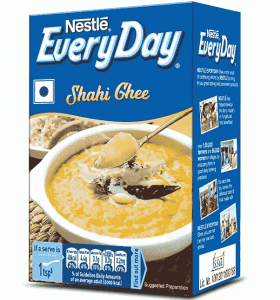 Nestle is world-renowned Swiss multinational food and drink processing company. Nestle's Shahi Ghee is no doubt among the best in the market. This shahi ghee is made with the milk of cows which were responsibly fed and taken care of ethically. The specially designed packaging retains the smell and aroma of pure ghee. And, most importantly, it aids your everyday diet when consumed daily, apart from helping you keep up with your body's energy requirement. The best thing about this ghee? It adds great taste to your food and is suitable for all Indian dishes, be it adding it to rotis, dal, parathas, or any sweets like laddoo for a soft texture.
Shelf life: 9 Months
Verdict: The pleasing aroma and the granular texture makes it perfect for making your favorite dish.
Patanjali Cow's Ghee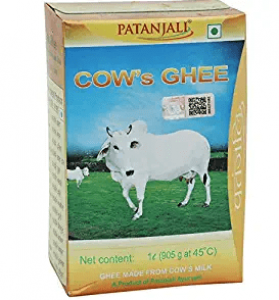 Patanjali Ayurved is an Indian multinational conglomerate founded in 2006. It went on to become one of the most successful companies of the decade. Patanjali's Cow's Ghee is among the most affordable ghee available in the market. Made with pure cow milk, this one has a buttery consistency with a light aroma.
We discovered that this cow ghee by Patanjali is rich in antioxidants, and is known for its nutritive ingredients. Consuming this cow ghee has many benefits. It helps increase your memory power, energizes your body, and relieves constipation. Importantly, it is also good for your heart.
Shelf life: 9 Months
Verdict: Patanjali's pure ghee is perfect for people who like light ghee aromas and the taste is very similar to that of homemade ghee.
Mother Dairy Pure Healthy Ghee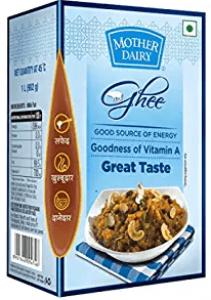 Mother Dairy is a fully owned subsidiary of the National Dairy Development Board, under the government of India. Mother Diary's Pure Healthy Ghee is made with cow's milk. It has a pleasant aroma and rich taste with the goodness of vitamin A. From doing poojas to cooking your favorite dishes, Mother Diary's pure healthy ghee is a perfect choice.
This ghee by Mother Dairy does not contain any industrial, or harmful trans-fat, and helps keep your body fit, active, and healthy. The consumption of this ghee would aid in the maintenance of a healthy lifestyle for individuals who engage in physical excise. With the addition of short-chain fatty acids, it very well fits your diet.
Shelf life: 8 Months
Verdict: Mother Dairy's healthy ghee is great for people looking for natural-colored ghee with a smooth texture.
Nandini Pure Cow Ghee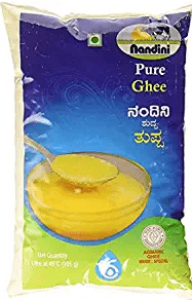 Nandini is a well-known brand and a common household name when it comes to pure and fresh milk and milk products. Nandini's Pure Cow Ghee is the personal favorite of many ghee lovers. It's made by adopting traditional methods and meeting stringent quality standards. This ghee is guaranteed to make your dishes taste the best. Nandini's pure ghee comes with an AGMARK certification for its quality and is a special-grade product.
This Pure Cow Ghee has many benefits for your health. Some of them include improved heart health, aids in weight loss, relief from joint pain, strengthening of bones, etc. This apart, the product is 100% natural and has no artificial flavors, suitable for sweet and savory food.
Shelf life: 9 Months
Verdict: Nandini's ghee is the best product out there for people looking for authentic ghee. It is very similar to homemade ones in taste and texture.
Two Brothers Organic Farms A2 GIR Cow Cultured Ghee
Incorporated in 2012, the Two Brothers Organic Farms is one of the fastest-growing firm in India. It is known for its 100% organic products that are free from chemicals with zero preservatives and additives. The Two Brothers Organic Farms A2 GIR Cow Cultured Ghee is made from fresh A2 Gir cow milk using an ancient process of 'Bilona', a clockwise and anticlockwise traditional slow wooden churning.
The numerous purity and authenticity certifications it has, including those from the IAF, USAC, and other organisations, set it apart from other ghee on the market. In addition, it uses A2 milk from native breed cows and creates ghee from cultured butter, both of which increase its nutritional value. Additionally, Two Brothers Organic Farms Ghee is of exceptional quality and suitable for usage and consumption by infants and children due to the presence of vitamins A, E, and K.
Shelf Life – 12 months
Verdict – The Two Brothers Organic Farms ghee is best for people with lactose intolerance since all the milk solids are removed. This ghee is perfect for daily consumption for better skin, hair, and eye health.
Anveshan A2 Desi Cow Ghee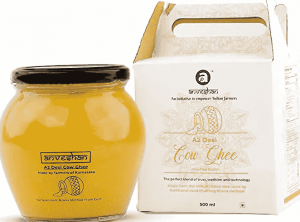 Anveshan is known for its minimally processed foods, which are sourced directly from farms. Anveshan A2 Desi Cow Ghee is made from the A2 milk of grass-fed Hallikar cows of Karnataka. It is made in small batches to ensure high standards and premium quality. Anveshan's cow Ghee is 100% pure, preservative-free, chemical-free, and cruelty-free. The ghee is made with curd churned bi-directionally using a wooden churner which helps in retaining all essential nutrients.
What makes this ghee stand out from the rest? It is rich in vitamins A, E, and K, omega-3, and omega-6, which are much needed for the human body. Also, it improves digestion due to the mixture of butyric acid and is also best for the skin when mixed with besan. This ghee is beneficial for baby massages in addition to being used in culinary items such as roti, parathas, and so on.
Shelf life: 6 Months
Verdict: Anveshan A2 desi cow ghee does not cause lactose intolerance since all milk solids are removed, perfect for people with lactose intolerance. This ghee is perfect for everything from cooking to baby massage.
Kesariya Farm A2 Cow Ghee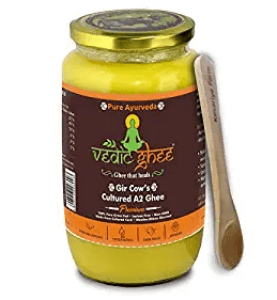 Established in the year 2010, Kesariya Farm is a trusted company committed to delivering chemical-free dairy products directly from their farm to your home. Kesariya Farm's Vedic Ghee is made from milk collected from grass-fed desi Gir cows and shimmering butter.  The pleasant aroma and flavor of this ghee can increase the deliciousness of your daily food.
This pure A2 Gir cow's ghee from Kesariya Farm contains nutritive fatty acids, which is a perfect fat source for your everyday vegetarian diet. And if you start consuming this ghee on frequently, you can see quick results in the enhancement of your physical and mental strength for a balanced and active lifestyle. Also, it will help in increasing the potency of your body to a great extent.
Shelf Life: 12 months
Verdict: This grassfed Vedic Ghee from Kesariya Farm can be your absolute choice if you want to get medicinal, cosmetic and health benefits with a taste of delight in your everyday diet.
GirOrganic A2 Pure Ghee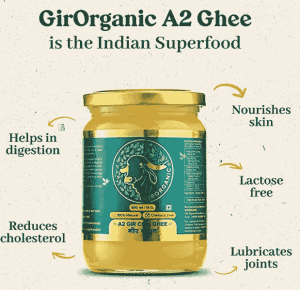 GirOrganic started in 1990 and is a pioneer in providing 100% natural and unadulterated organic products. GirOrganic A2 Pure Ghee is made with A2 milk of grass-fed Gir cows. This ghee is made using the Vedic Bilona method and the milk used is untouched by hands. This is a 100% organic product made with the traditional method of production. A2 cultured cow ghee is gluten-free, easy to digest, and safe for people with lactose or casein intolerance.
With the presence of Vitamin A, omega-6 and omega-9, iron, magnesium, butyric acid, and beta-carotene, this Indian superfood by GirOrganic is nutritive, and also rich in taste. Apart from this, this ghee is best known for its dietary options such as Ayurveda, GMP, Keto, Whole30, and more.
Shelf life: 3-4 Months
Verdict: This is one of the best Gir cow ghee on the market. GirOrganic A2 pure ghee comes in triple-layer packaging for damage and leakage protection. The product is GMP certified, ensuring high standards during manufacturing.
Talegaon Farms Pure Cow Ghee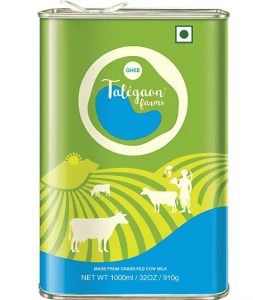 Talegaon Farms is a community-led enterprise working with farmers and artisans to create sustainable and high-quality organic products. Talegaon Farms Pure Cow Ghee is made using the traditional method with a wooden churner, which gives the ghee a creamy texture and golden color. The milk used to make the ghee is collected from grass-fed cows. This is handmade artisanal ghee, made with the help of both farmers and artisans.
This ghee is 100% natural, and free of artificial flavors, preservatives, and additives. The bottling of the product, made of glass helps in offering longer shelf life, apart from preserving the quality, and taste of the ghee.
Shelf life: 6 Months
Verdict: Talegaon Farms cow ghee is 100% pure and is a great addition to all diet formats, including Keto, FODMAP, Ayurveda, etc.
Amul Ghee-Pure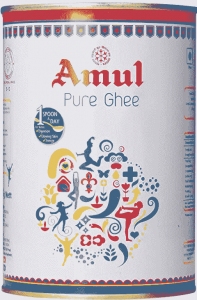 Amul is perhaps the most iconic dairy brand in India; they were at the forefront of India's white revolution, which facilitated the development of rural economies. Amul ghee reminds us of childhood memories and the wonderful aromas that come from the kitchen. It's made with fresh cream and has a granular texture and rich smell.
Amul's Pure Ghee can be used for a variety of purposes, like adding it to paranthas, rotis, or for making sweets, garnishing, and cooking. Additionally, one spoonful of ghee a day can help you stay fit, apart from aiding your digestion, strengthening your sense organs, and improving the complexion of your skin.
Shelf life: 12 Months
Verdict: Amul ghee is a tasty delight, and a rich source of Vitamin A, D, E, and K. Best for daily use.
Country Delight Desi Danedar Ghee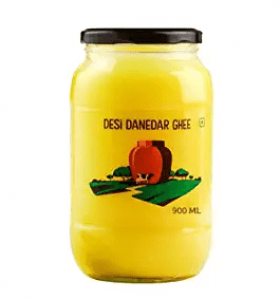 Country milk is known for providing pure milk of good quality. Their ghee is no different, it's made from 100% natural cow milk, giving it an authentic taste like homemade ghee. The unique grainy texture makes it among the best affordable ghee available on the market.
This Desi Danedar Ghee comes with a glass container that helps preserve the ghee for a longer period. Apart from offering 'Ghar Jaisa' taste, this ghee helps boosts your immunity naturally and is free of recombined oils, and adulteration.
Shelf life: 365 Days
Verdict: Go for this authentic tasting ghee if you are looking for quality and affordability. Also, this product has a long shelf life, making it a good choice for people who do not use ghee regularly.
 Divya Kamdhenu Gir Cow Organic A2 Ghee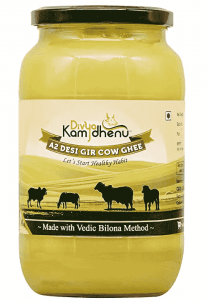 Divya Kamdhenu's organic A2 ghee is cultured from the milk of Gir cows, who were fed and sheltered under ethical conditions. The ghee is made with butter cooked on cow dung cake and a wooden fire using an iron vessel and filtered it using cotton to remove the residue, giving it a pleasant natural texture and incredible taste.
Versus the taste, this superfood by Divya Kamdhenu offers top-notch health benefits for all. For pregnant women, it is said to increase the chances of a normal delivery due to the mix of the right nutrients, minerals, and vitamins. This apart, it powers the growth of the fetus in the mother's womb and also increases fertility and reproductive power. Other benefits include good heart health, strengthening of bones, slowing down the aging process, and more
Shelf life: 365 Days
Verdict: This ghee is a perfect immunity boosting, and for people with high cholesterol. The long shelf life is an added advantage.
JIVIKA NATURALS A2 Desi Ghee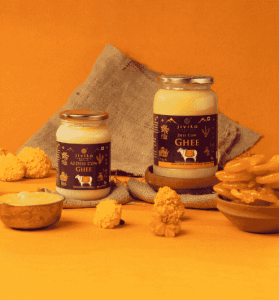 JIVIKA NATURALS A2 ghee is 100% authentic and sourced from the gwala communities of the rural areas. JIVIKA follows a five-step process that is derived from the Vedas, resulting in the world-class quality of the ghee.  This A2 Desi Cow Ghee is churned in the earthen pots as per the Ayurvedic traditions. It boosts your immune system, improves your digestive system, and also protects your skin due to an abundance of vitamins, and healthy fats, apart from promoting heart health.
Shelf life: 12 Months
Verdict: JIVIKA has a lot of ayurvedic properties which makes it the perfect choice for people looking for a healthy alternative.
Tips to Store Ghee The Right Way
Keep it in an airtight container: Ghee should never come into contact with sunlight or anything else that could spoil it. To keep it fresh and safe, put it in an airtight container just like you would any other food item. If there's nothing else convenient around, try storing it in the fridge (it will still be good after 2-3 months).
Avoid placing ghee near heat sources and light because these are two of the main ways that it can become rancid.
Always take ghee with a clean spoon: The ghee will not last long if it's contaminated with dirt or dust.
Make sure you close the jar with a lid to prevent dust to enter it: If the jar is not closed tightly, the ghee will spoil and develop a bad odor. Also, make sure that the container is free from moisture.
Small – Big Container: With Ghee being one of the most used products in the kitchen, people use it about 4 to 5 times a day. The frequent opening and closing of the container draws moisture which might eventually spoil the ghee. To avoid this, you can use two containers – a small one, and a big one to store the ghee. The small container can be used for daily purposes and can be refilled accordingly. While the big container can be used to store the ghee in a cool and dry place.
Material of the container: The material of the container for storing ghee plays a major role. However, the best type depends on various purposes, like:
Steel containers for daily use.
Plastic containers for deep freezing ghee.
Glass containers to store large quantities of ghee.
 By now, you would have realized that this article is not just a list but also a comprehensive guide to the best ghee brands in India. We checked for customer satisfaction and quality of each product before publishing this article. Plus, we have given some tips about how to store and use ghee that can make your experience even better!
It is time for you to discover new options and pick the one that fits your needs. If none of these brands mentioned here suit your taste buds, do not worry because we will keep updating this list when new ones get released in the market!