When you are all set to follow a fitness regime, the first thought to cross your mind is investing in a treadmill to lose that extra flab. Apart from losing weight, there can be several reasons to get a treadmill. Factors such as fear of judgment, bad weather or safety issues might prevent you from going for a jog outside or hitting the gym.
Treadmills have become the favorite cardio equipment at homes, as they help in knocking off those unwanted fats anytime without having to worry about missing the alarm. The cushioned track of this workout appliance will add enough comfort to your knees when compared to jogging outdoors.
To simplify your buying process, we have shortlisted some of the best ones in the market based on few key features like build quality, motor torque power, technologies used, running belt quality, cost, etc.
Top 10 Treadmills In India for 2020
1. Cockatoo CTM-05 Multi-Function Treadmill (2 HP Peak)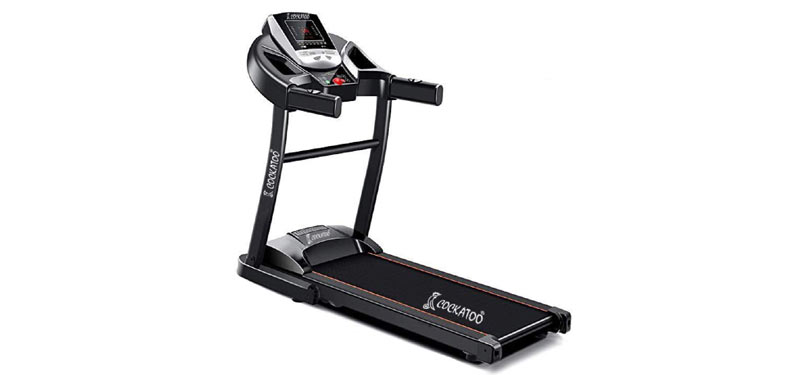 This motorized multi-function treadmill from Cockatoo with a 2 HP DC motor flaunts a sleek steel body featuring storage slots at the side and smooth handles.
The large 5-inch LED display keeps a track of your pulse, calories, speed, incline level, distance, time and speed.
This treadmill comes with 12 preset programs and maintains 0.8 to 10 km/hr speed to make workout sessions very effective.
The total weight capacity of this workout appliance of 90 kg, which makes it an apt choice for endurance driven activities like walking and running.
The handrail grips are fitted with pulse sensors to track your heart rate accurately.
It has a wider running surface measuring 1100 x 390 mm, USB port for device connectivity and wheels for transportation.
Price: Rs. 16,990
2. Healthgenie 3911M Motorized Treadmill (2.5 HP Peak)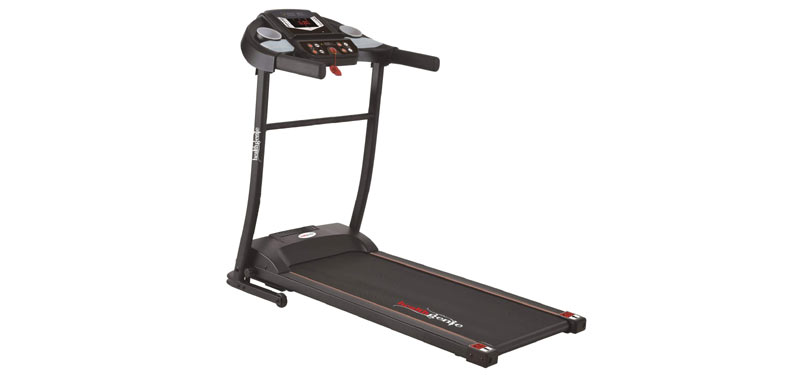 The Healthgenie treadmill is powered by a 1 HP noiseless DC motor with a large running surface of 1100 X 395 mm and has a foldable design to save space.
It can maintain a speed range between 0.8 – 10 km/hr.
This treadmill with portable wheels comes in 90% pre-installed state to use it right away.
The motorized treadmill with pulse sensors offers accurate feedback about pulse, calories, distance and speed on its 3-inch LCD display.
The Safety Key feature connects you with the treadmill and the emergency stop button protects you while working out.
The powerful speakers and AUX port help you listen to music while using the treadmill.
Price: Rs. 15,990
3. Lifelong FitPro LLTM09 Motorized Treadmill (2.5 HP Peak)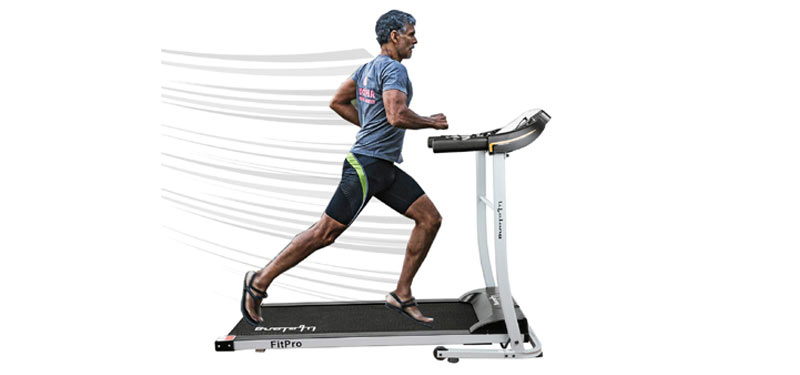 The Lifelong Motorized treadmill with LCD display and heart sensor comes with a unique 90-degree foldable space-saving design.
The powerful motor maintains a peak power of 2.5 HP with a maximum speed of 10 km/hr, which makes it a suitable workout appliance for amateurs to workout professionals.
It is offered with 12 preset programs to cater to the needs of endurance training and weight loss.
The deck of this workout appliance is designed with 8 rubber pads for better shock absorption, 1100 X 395 mm wider running area and 90-kg weight capacity.
Lifelong offers free installation service through video and it comes with a free 1-month customizable HealthifyMe Smart Plan.
Price: Rs. 16,999
4. Durafit Strong Motorized Foldable Treadmill (4.0 HP Peak)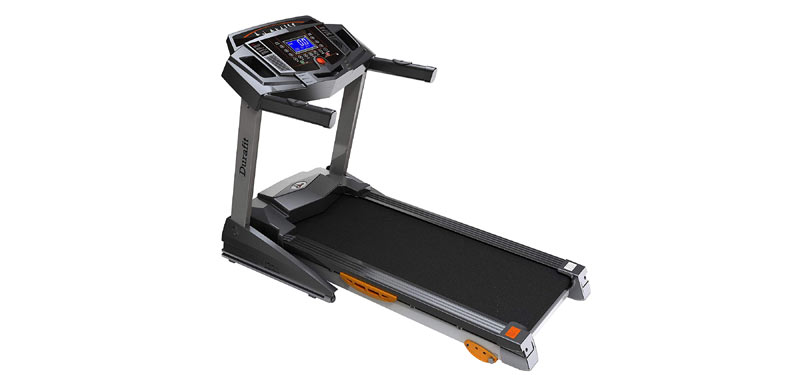 Durafit Motorized treadmill is specifically built with steel for HIIT users, marathon trainers, retired people and diabetics to stay active throughout the day.
Equipped with a manual inclination with 3 levels and 1 – 14 km/hr speed range, this treadmill comes with a foldable design for quick storage.
It houses a potent 2 Hp motor powered with Copper Mesh Core technology to deliver a 4 HP peak performance with low noise.
The treadmill has Chase and Target modes along with 24 preset HIIT workout programs for endurance training, weight loss and maintaining weight.
The wide 1260 X 440 mm running surface, 120 kg weight capacity and heart rate sensors with real-time readings make it a convenient choice.
Price: Rs. 29,999
5. Durafit Heavy Hike Motorized Foldable Treadmill (5.0 HP Peak)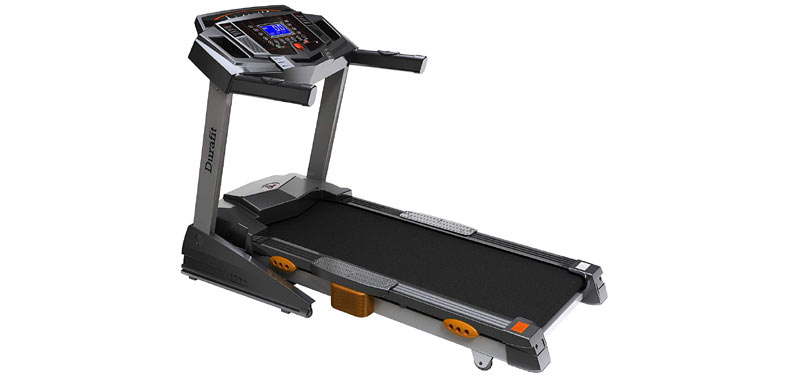 Durafit Heavy Hike treadmill with LCD display performs with a 2.4 HP DC motor with a peak output of 5.0 HP to maintain an optimum speed range between 1 to 16 km/hr.
This appliance is designed with a 1.8 mm thick running belt with special friction coating for improving traction.
The vertical hydraulic folding system helps in storing the treadmill with the heart rate sensor easily.
It utilizes Dura-Spring technology with gel cushion for maximum shock absorption.
You can chase or set targets in terms of time, calories, distance and time in the Target mode.
It supports a maximum user weight of up to 90 kgs and has 48 preset workout programs.
Price: Rs. 30,999
6. Fitkit FT200 Series Motorized Treadmill (4.5 HP Peak)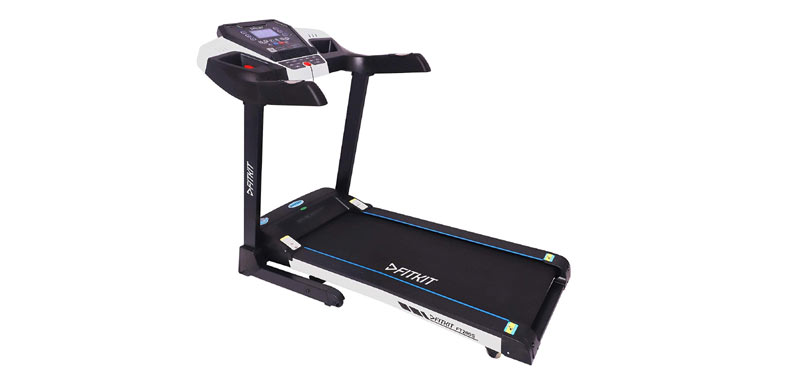 Armed with a fusion of sleek look and impressive functionality, the Fitkit motorized treadmill is an excellent choice for home workouts.
It can cater to your cardio workout needs with its auto inclination having soft drop function and auto lubrication function.
The sturdy 2.25 HP motor with noiseless function can handle the workout requirements of beginners and professionals.
The shock-absorbing running belt with multiple layers helps in protecting the knees of the users.
The treadmill comes with 12 preset workout programs with customizable modes for efficient fitness regime.
It can keep a track of your workout records with Fitplus App with excellent connectivity.
Price: Rs. 28,490
7. Fitkit FT100 Series Motorized Treadmill (3.25 HP Peak)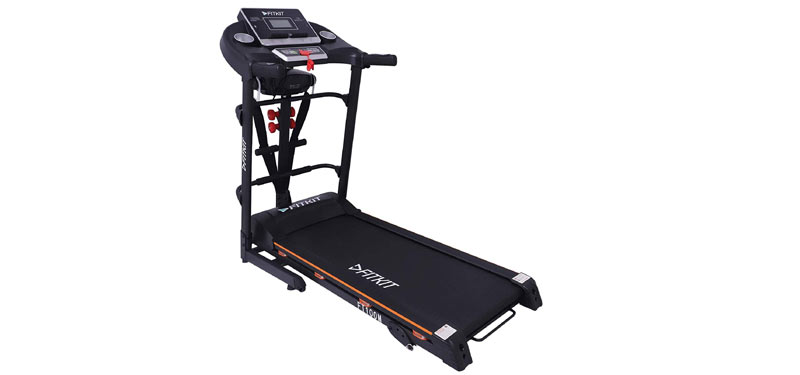 The Fitkit motorized treadmill flaunts large LCD display to display readings about heart rate, calories burnt, time, speed and so on.
It is studded with touch button controls featuring safety key, programs key, mode key, speed setting, USB port and stop key as well as MP3 speakers on its front panel with bottle holder.
The efficient 1.75 HP motor of this workout appliance maintains a peak performance at 3.25 HP to cater to the varied needs of runners and walkers.
It is designed with a manual inclination of 3 levels for better fat burning and the knees stay protected with the multilayered shock-absorbing running belt.
Price: Rs. 27,499
8. MAXPRO IM5001 Folding Treadmill (3 HP Peak)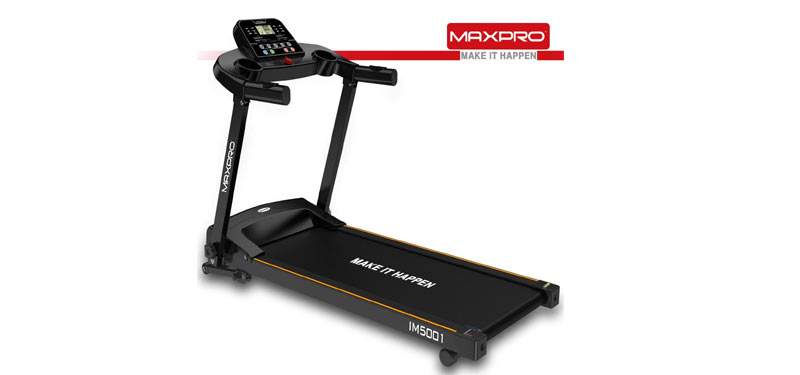 The MaxPro treadmill comes with an innovative folding design to save space while not in use.
It has a huge LCD monitor that keeps a track of your pulse, calories, distance, speed and time regularly.
The 12 pre-exercise programs are designed to burn calories, enhance health and promote cardiovascular fitness.
The 5-layered 1100 X 400 mm anti-skid running path with grass texture offers good support.
The pulse grip monitor of the treadmill maintains the target heart rate to update your fitness data.
You can go at a speed up to 12 km/hr while running or walking on the treadmill.
Price: Rs. 16,900
9. Fitkit FT098 Series Motorized Treadmill (2 HP Peak)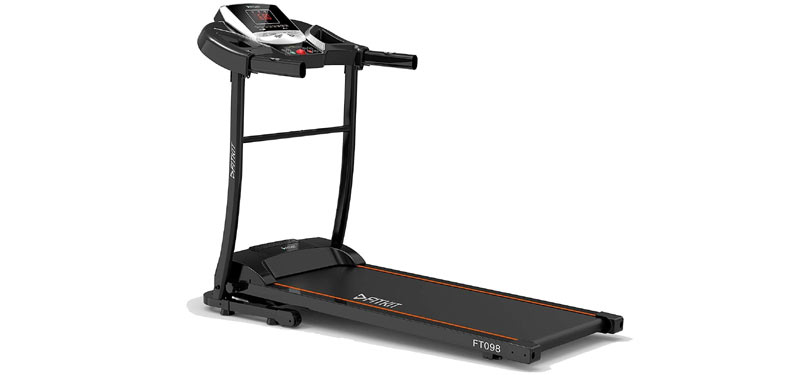 The motorized treadmill from the house of FitKit with 12 preset workout programs is carefully engineered to cater to the varying cardio workout demands while making exercising time very simple and easy.
The professional-grade multi-layered running belt with non-slip shock-absorbing surface area prevents friction issues and the digital dashboard with LCD, USB and AUX port displays speed, calories burnt and programs.
The power-saving 2 HP motor helps it to meet the user requirements while running and walking.
The FitKit motorized treadmill comes with an array of free services, such as free home installation, personal trainer support, fitness videos and plans, diet plan for 6 months, diet monitoring and consultation with a doctor.
Price: Rs. 16,990
10. Cockatoo CTM-04 Motorised Multi-Function Treadmill (2 HP)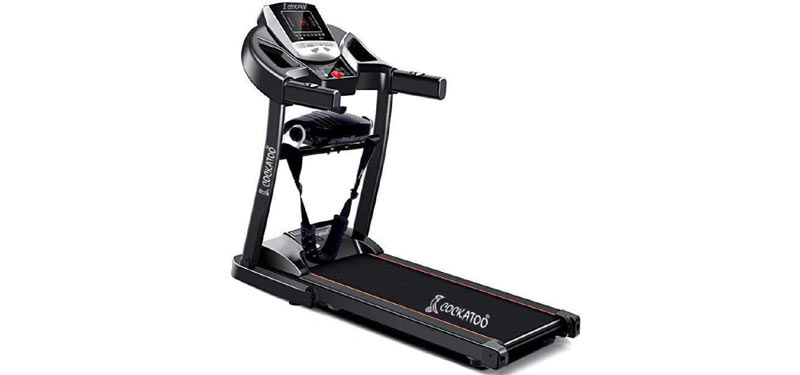 Cockatoo offers this multifunctional treadmill to promote circulatory and cardiovascular function while strengthening and slimming down your hips, waist and leg muscles with its 3-level manual incline.
This motorized treadmill with 2 HP motor delivers peak performance and the running belt measuring 1100 X 390 mm offers enough space for workouts.
The treadmill features tactile buttons for mode, program, stop, start functions and the wheels at the base aids in quick transportation.
The grab handles embedded with heart rate sensors monitors the heart rate while the digital display screen shows the calories burnt, speed, time and distance accurately.
Price: Rs. 20,990
With that, we wrap up our list featuring the best-selling treadmills in the market. Make sure that you choose one keeping your fitness goals in mind and the space available at your home to make the most out of it.