There are multiple products available in the market but the truth is, we all are a sucker for Natural Oils. These oils aren't just chemical-free but also have healing properties that fix the problems just right. From health to hair and skin, there's barely anything that cannot be treated with the properties that natural oils hold. Now if you're wondering which is the best natural oil for skin and hair, my answer is Castor Oil.
In this article, I will list the best Castor Oil brands that are available in India along with their buying links. But before I mention that, it's important to know what is Castor Oil and why is it so useful. Read ahead to know more about the benefits of this oil.
Top 13 Castor Oil Brands In India
Rey Naturals Castor Oil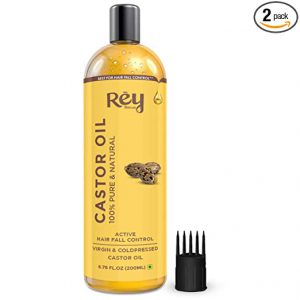 Rey Naturals is an Indian brand committed to providing cost-effective solutions for all types of hair problems. The Rey Naturals Castor Oil is one among them, perfectly blended with 100% pure cold-pressed process to help promote hair thickness and density. Further, this oil helps to penetrate deep into hair follicles and hydrates the scalp.
The Vitamin E concentration in castor oil helps to repair split ends. And for better results, apply this oil to hair and scalp and allow it to settle for 60-120 minutes.
Key Specifications
Available Quantities: 200 ml, 400ml
Suitable For: All Hair Types
Price: 189
Also Read: Best Virgin Coconut Oil Brands
UrbanBotanics? Cold Pressed Castor Oil

Give your hair a lustrous look with the UrbanBotanics Cold Pressed Castor Oil. The manufacturer extracts castor oil through a cold-pressed method without heating or using harsh chemicals like hexane. Adopting this process retains vitamins and fatty acids to nourish skin and promote hair growth.
What we like most about the product is it is suitable for multiple purposes: hair growth, moisturising lips, thicker eyebrows and eyelashes, and skin softening.
Key Specifications
Available Quantities: 200 ml
Suitable For: Adults
Price: 178
Soulflower Cold Pressed Castor Oil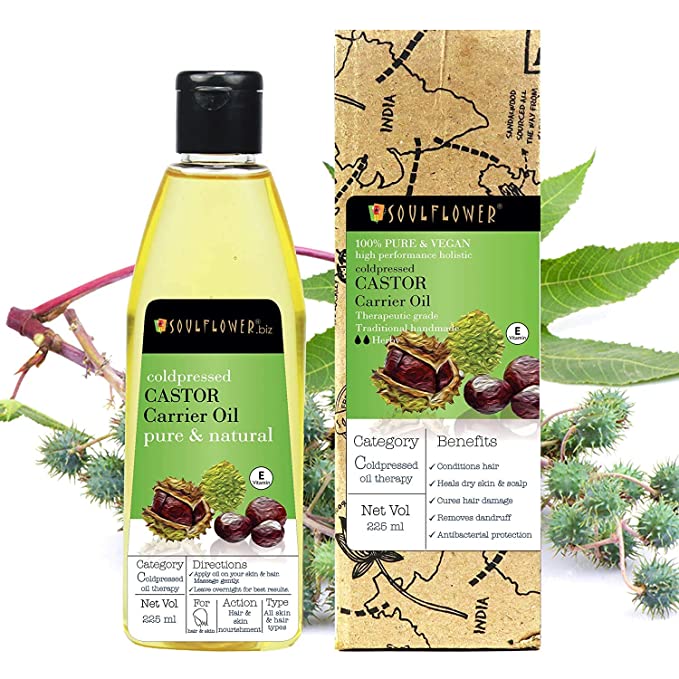 Soulflower Cold Pressed Castor Oil is a Hexane-free, organically produced cold-pressed Castor Oil that has a huge amount of therapeutic properties. This brand is by far one of the most promising brands in India for essential oils. The packaging is also pretty good and easy to store.
One of the most amazing benefits of Soulflower Cold Pressed Castor Oil is that it can treat nail cuticles and help you get stronger nails in no time. The brand is also FDA Approved, which means that there's no compromise with the quality.
Key Specifications
Available Quantities: 100 ml
Suitable For: Normal Hair
Price: 254
MamaEarth Castor Oil
MamaEarth is a popular brand which is renowned for its product quality. MamaEarth's Castor Oil is a deep moisturizing & conditioning agent which benefits your hair, skin & nails. This 100% pure, natural & cold-pressed oil is made with only the best quality castor seeds, and is free from additives, toxins or harmful chemicals.
It nourishes skin and aids in fighting infections to make sure you have clean, glowing skin. A bottle of this product does wonders to your health. And all this without costing you a fortune as you can now save more at MamaEarth with special coupons by GrabOn.
Key Specifications
Available Quantities: 150 ml
Suitable For: All Hair Types
Price: 224
Also Read: Best Ghee Brands in India
WishCare? Cold Pressed Castor Oil
Are you looking for ways to treat hair and skin care problems? If yes, WishCare Coldpressed Castor Oil is the best option. It is free from Hexane, Mineral Oil, and Parabens, thereby controlling the breakage of follicles and giving you healthy and shiny hair. You can apply it on your face to wipe out dirt, and dry skin, for a refreshing look.
In addition, the presence of Oleic Acid, Linoleum Acid, Ricinoleic Acid, and other fatty acids in this castor oil treats cracked/brittle nails and strengthens them.
Key Specifications
Available Quantities: 200 ml
Suitable For: All Hair and Skin Types
Price: 169
Pure and Sure Organic Castor Oil
Having used it myself, I can vouch for the fact that this brand provides genuine and effective Castor Oil. you can rely on the brand for safe consumption of the product as it does not have harmful chemicals, fertilizers, and artificial ingredients. Since this is pure cold-pressed oil, the purity of the product sustains. It comes in a compact bottle which is easy to store and carry while traveling. It is also one of the finest laxatives.
Pure and Sure Castor Oil can be used externally on the skin and hair. This oil is also edible so you can use it for cooking or use it to treat health problems.
Key Specifications
Available Quantities: 500 ml
Suitable For: Thick Hair and Dry Skin
Price: Rs. 235
The Balance Mantra Cold Pressed Castor Oil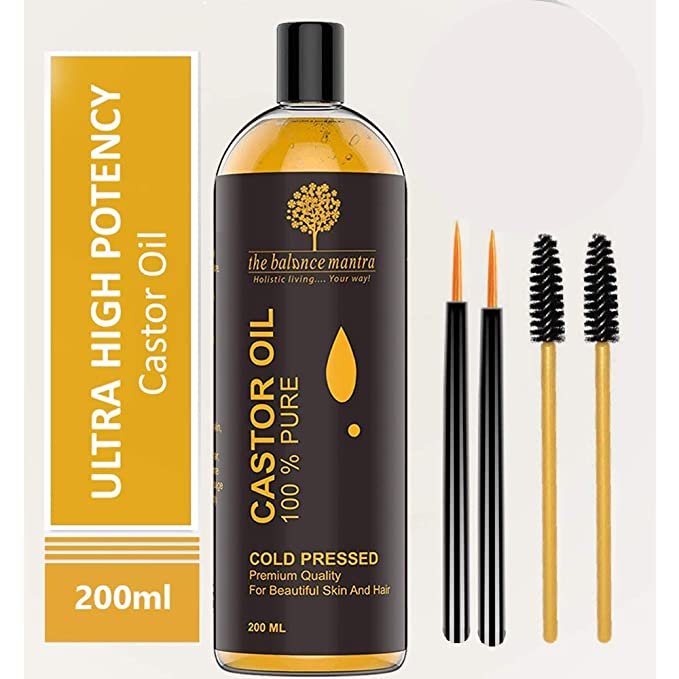 The multiple benefits that this bottle of Castor Oil contains is incomparable. This carrier oil promotes hair growth, thickens eyelashes, and shows extremely amazing results when used regularly. Your skin will thank you for this one, trust me!
Cold Pressed Castor Oil by The Balance Mantra is one of the best products for hair growth. Though the product is priced on a little higher side, you can easily get it for a lesser price on Amazon. Routine head massage with this oil can result in thicker, longer, and shinier hair.
Key Specifications
Available Quantities: 500 ml
Suitable For: Thick Hair and Dry Skin
Price: Rs. 235
Also Read: Best Essential Oil Brands
Khadi Natural Herbal Castor Oil
Worried about your skin texture and hair fall? Now it's high time to kick-start your day with Natural Herbal Castor Oil. Being rich in vitamin E, it retains moisture in the scalp and hair, strengthens roots, protects the scalp from itching, and drying, and controls dandruff. Overall, the Khadi Natural Castor Oil is an excellent choice for all skin types due to the usage of organic ingredients.
Key Specifications
Available Quantities: 100 ml
Suitable For: All Hair Types
Price: 122
Good Vibes CastorOil
Good Vibes is a leading personal care brand in India that offers a wide range of face, body, and hair care products at reasonable prices. One such fantastic product from their collection is the cold-pressed castor oil. It is rich in omega-6 fatty acids, amino acids, and vitamin E that helps to treat split ends, retain moisture and minimise skin inflammation.
This product is Non-GMO certified and does not contain parabens, sulphates, and alcohol. Mix Good Vibes castor oil with a few drops of essential oil and apply it to your skin to enjoy the nourishing benefits.
Key Specifications
Available Quantities: 100 ml, 200 ml
Suitable For: All Skin Types
Price: Rs. 167
Hill Dews Castor Oil
Extremely popular among the consuming audience, Hilldews Castor Oil is 100% pure and unrefined. The oil works best for skin and hair and treats dry skin miraculously. You can also trust the brand to get rid of the frizz in your hair. It leaves your hair soft and manageable after regular use.
Not just for beauty, this oil can also be used for health benefits. The oil is chemical-free and suits almost everyone. Using castor oil can not only treat health problems like arthritis pain, back pain, and other health-related issues.
Key Specifications
Available Quantities: 100 ml, 200 ml
Suitable For: Oily Hair
Price: 172
Dabur Castor Oil
Strengthen your hair roots with Dabur Castor Oil. The main reason for choosing this product over others is it retains all the essential nutrients due to the cold-press extraction process. It is rich in omega 6 and 9 fatty acids and does not contain hexane, silicons, and mineral oil. Moreover, the presence of nutrients and antioxidant properties make it an excellent choice for skin, hair, nails, eyebrows, and eyelashes.
Key Specifications
Available Quantities: 200 ml
Suitable For: All Hair Types
Price: Rs. 149
Bliss of Earth Organic Cold Pressed
This is another ultimate brand for Castor Oil in India. The best thing about this oil is that the castor beans that are used to extract the oil are organically grown and cultivated. The product is easily available on all shopping websites and can be used for hair and skincare.
Bliss of Earth is known for its organic and pure products. Using this castor oil regularly on your skin can result in miraculous benefits and treat dark circles, wrinkles, and dry skin problems.
Key Specifications
Available Quantities: 100 ml
Suitable For: Dry Hair
Price: Rs. 325
Satthwa Castor Oil
Satthwa is a well-established brand in India that offers a wide range of products in hair care, skin care for your overall well being. It curates products for men and women with finest quality ingredients (no harsh chemicals) to enhance their lifestyles. Among all, the Satthwa cold pressed castor oil is specially designed to treat scars, dryness, and uneven skin tone.
Castor oil is rich in antioxidants, fatty acids, and Vitamin E to offer immense benefits, making it suitable for all hair & skin types. Moreover, the antibacterial properties protect the skin from free radicals, treat cracked feet, and strengthen brittles.
Key Specifications
Available Quantities: 200 ml
Suitable For: All Hair and Skin Types
Price: 180
Castor Oil Buying Guide
What Is Castor Oil?
Castor oil is not unknown among people for its qualities. It's one of the most popular oils among people for skin and hair care. It is a pale yellow, thick vegetable oil that has a distinct odor and taste. The extremely beneficial castor oil is made up of Ricinus Communis, which is a scientific name for Castor bean. The oil is extracted from the Ricinus seeds after drying them up so that the shells split open and the oil can be extracted and pressed for the seed inside. Castor Oil is known as ????? ?? ??? (Arandi ka Tail) and is available in general stores everywhere.
Why Is Castor Oil More Popular Than Other Oils?
Though all the natural oils are beneficial, castor oil, however, has occupied the top position. It has properties that can be used to treat hair and skin problems including acne, psoriasis, and others. Apart from the beauty benefits, this oil also has significant solutions for health problems and anti-fungal properties. Unlike most natural oils available in India, Castor Oil has multiple uses in every household and plays a vital role in the beauty regime.
Some of the properties of Castor Oil that makes it a distinct oil are:
It is rich in fatty acid (Omega 9) which helps in treating hair fall, eyelashes, and makes hair strong.
The consistency of Castor Oil is thick. This makes it more economical as it can be used for a long time.
The presence of ricinoleic acid promotes the anti-bacterial and anti-fungal properties in the oil, making it useful for health-related problems, hair, and skin.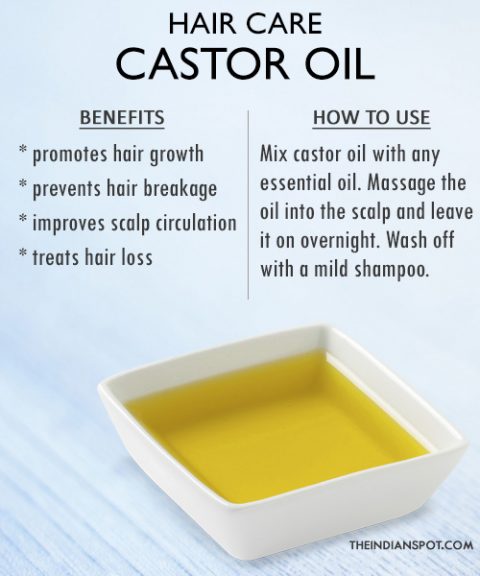 What Are The Benefits of Using Castor Oil?
I am sure you're eager to know about the benefits of using castor oil. Here, I will cover the benefit of using castor oil for skin, health, and hair. Read through!
Castor Oil for Skin
Prevents acne
Fights signs of aging
Prevents stretch marks
Natural moisturizer
Heals Inflamed skin
Reduces Blemishes and Pigmentations
Castor Oil for Health
Has anti-diabetic properties
Enhances Immune System
Beneficial in Abdominal Disorder
Lowers Arthritis
Useful in Constipation and Backpain
Treats wounds
Castor Oil for Hair
Prevents Premature Greying
Controls Dandruff
Promotes blood circulation, enhancing Hair Growth
Improves Hair Thickness and Strength
Prevents Hair damage
Natural Conditioner
How to Use Castor Oil for Hair and Skin
For Hair:
To reduce dandruff, mix 2 tbsp Castor Oil with Lemon Juice. Apply the mixture and leave overnight. Wash in the morning.
For dry and frizzy hair, mix 2 tbsp Castor Oil with 1 tbsp Honey. Apply the preparation on your hair and wash after 2 hours.
Add Jojoba Oil to Castor Oil and apply the mixture to your scalp. This will bring shine in your hair.
Use Castor Oil with olive oil to premature greying of hair.
For Skin: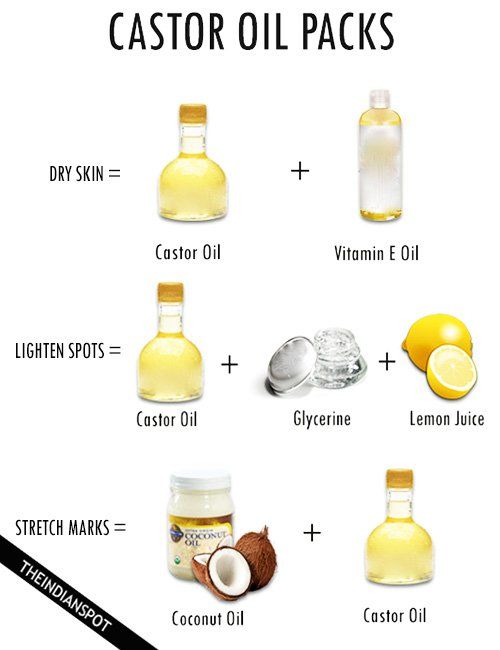 Apply Castor Oil with cotton balls at night to reduce dark spots.
Mix Castor Oil with 1 Vitamin E capsule and apply the mixture under your eye to treat dark circles. Leave overnight and wash in the morning.
To prevent acne, wash your face with lukewarm water and massage with oil. Leave it overnight.
You can mix Castor Oil with Olive Oil and Almond Oil to get glowing skin.
Note: This quantity can be increased according to the length of your hair. For best results, use the oil constantly for a couple of months.
For Health:
Apply a mix of castor oil with coconut oil to treat wounds, ringworms, and other infections.
For summer detoxing, mix 1 tbsp of castor oil in half glass cold milk. Drink once in a week for stomach detoxification.
For better digestion, boil a cup of water with crushed ginger. Filter the ginger tea and mix one tbsp of Castor Oil. Drink daily for better digestion.
Castor Oil massage in the pain area followed by hot water bag massage can help in treating chronic pain.
Side effects of Castor Oil
Though not many side effects are reported after the consumption of Castor Oil, one should always be careful while using products. The best advice would be to do a patch test to understand if your body type is allergic to castor oil. Nonetheless, there are a couple of instances reported by people who used it. Here are a few of those, take a look.
Overconsumption of Castor Oil can cause diarrhea. While consuming the oil with water/milk or any other product, keep a check on the dosage.
There have been a couple of allergy cases caused after the consumption or usage of Castor Oil.
Castor Oil stimulates labor pain. Pregnant women should be careful while consuming Castor oil as it can accelerate labor. However, in case your labor is overdue, you can use castor oil to trigger labor.
This was our list of best Castor Oils brands in India. Try them out and let us know which one worked best for your skin type. In case we missed any exemplary brand in our list, do let us know in the comments section and we will update the list.
Image Courtesy:
The Indian Spot