On this Republic Day, (observed on the 26th of January each year), here are some major highlights about all the Prime Ministers, and their historic decisions that have impacted the lives of many in the country.
So far, since the nation made its transition to a republic in the year 1950, and the day when we as a nation adopted the constitution, or since the Independence, India has witnessed 14 full-time Prime Ministers, with Mr. Narendra Modi of the Bharatiya Janata Party (BJP) heading the office at present as the 14th Prime Minister. Currently, Mr. Modi continues to serve as the Prime Minister of India after throwing Dr. Manmohan Singh of the Congress-led UPA government out of power in 2014, and in 2019 won a landslide victory in the general elections.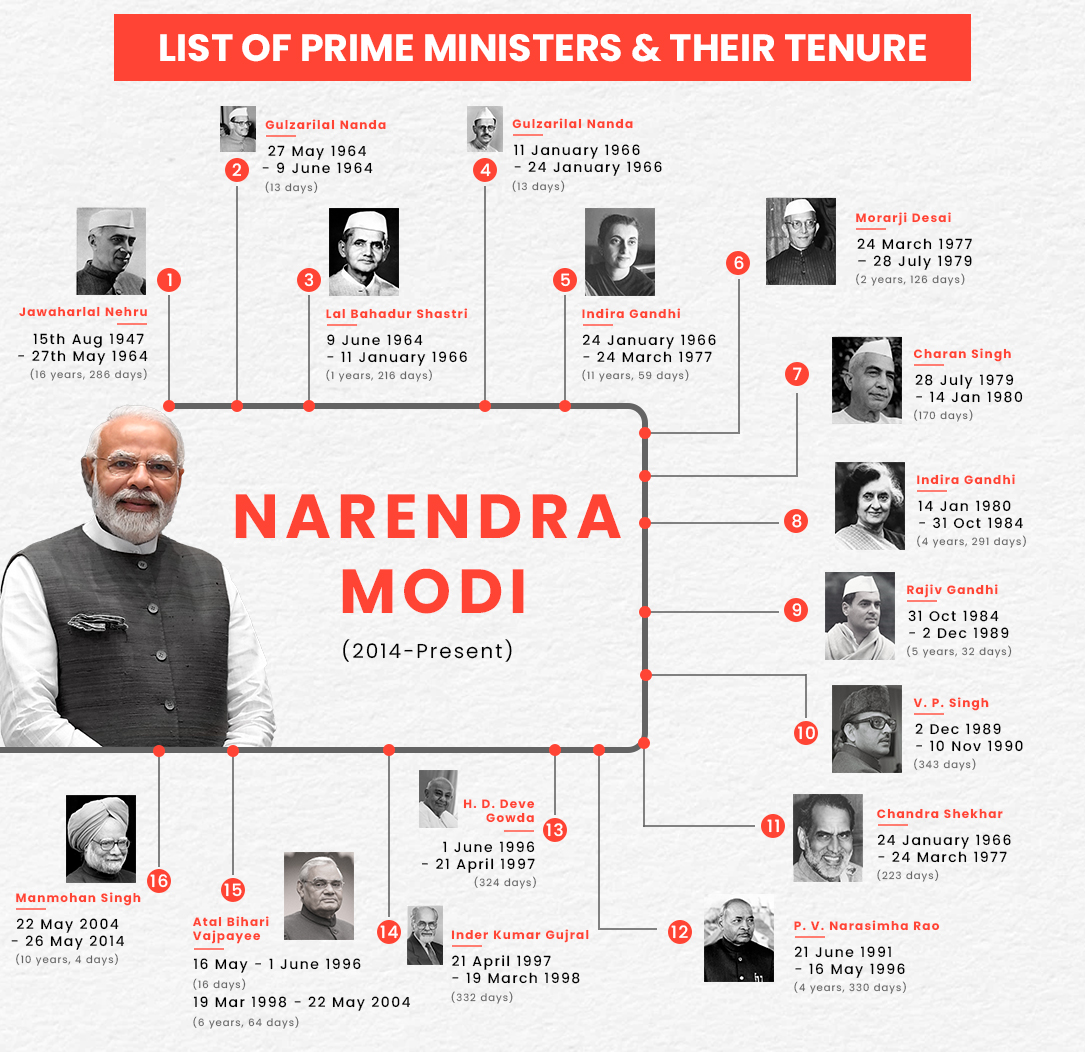 We, at GrabOn, decided to list out the leaders of our great nation and their achievements during their tenure in office. This Republic Day, don't just know the leaders of the nation. Also, know what they did for the nation. Their achievements, welfare schemes, their bold moves, etc are something you shouldn't miss! Read further…
Indian Prime Ministers and Their Historic Decisions
Narendra Modi
Tenure: 26th May 2014- Present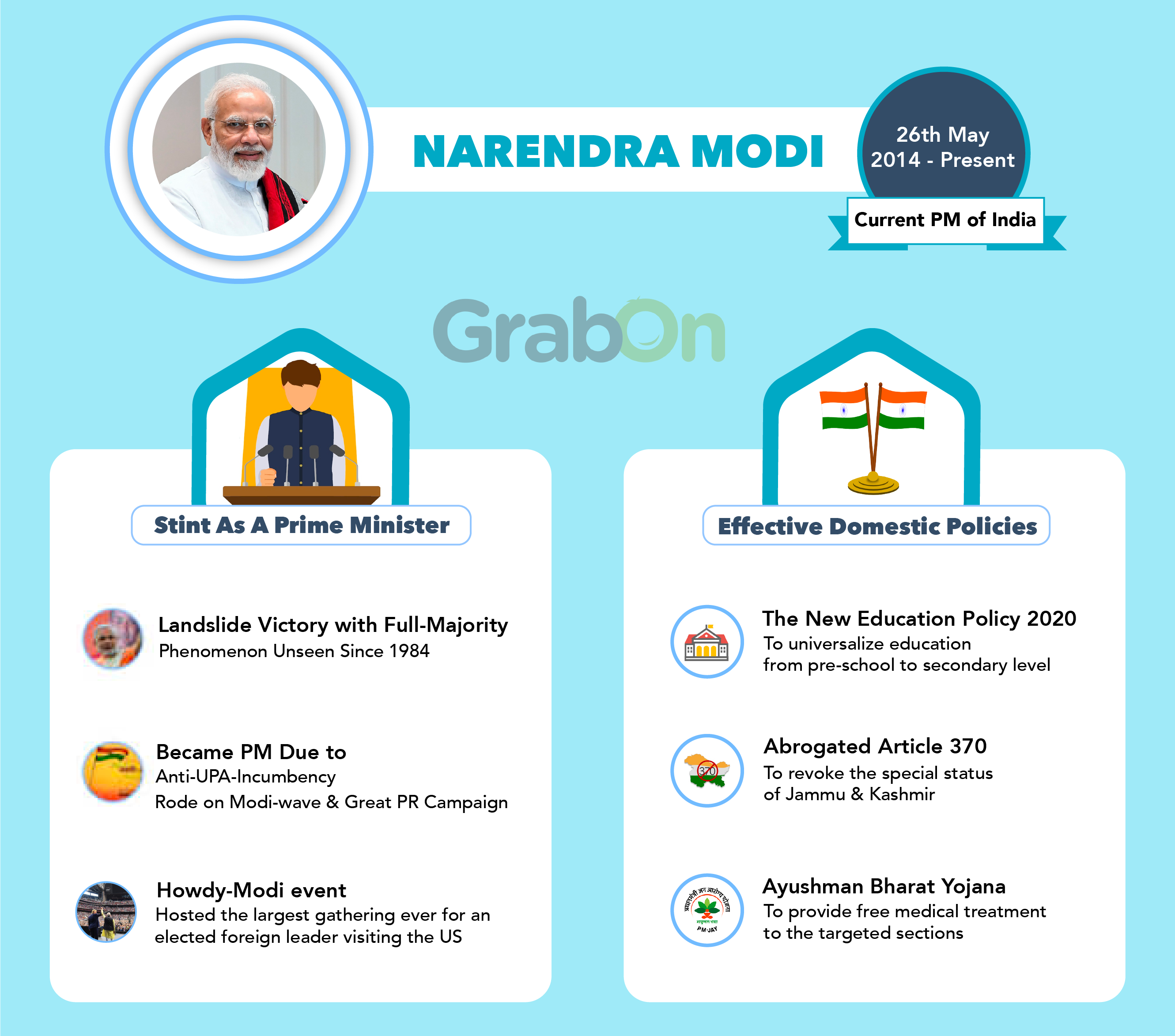 About Narendra Modi
After coming to power after riding the 'Modi Wave', Mr.Modi went on to create history by becoming India's most popular Prime Minister. Currently the 14th Prime Minister of the Country (Gulzarilal Nanda's tenure was considered to be acting PM), Modi went on to bring massive economic reforms. Before becoming the PM, he was the Chief Minister of Gujarat from 2001 to 2014. In 2019, a UK magazine poll voted Modi as the world's most powerful leader.
In regards to some bold decisions, and achievements ever since Mr. Modi took charge as the Prime Minister of India, the announcement of Demonetisation, way back in 2016 was the boldest move ever made to date. The decision to scrap high-value bank notes, (both Rs 500, and 1,000) is said to have powered the nation's economy, and improved tax compliance. After this, the introduction of the Goods and Services Tax (GST) is considered to be the biggest ever tax reform since Independence, all in a bid to boost government revenues, and bring millions of organizations into the tax net. Following this, the abrogation of Article 370 to bring the Union Territory of Jammu and Ladakh into the mainstream was another great move, followed by the poll promise of the construction of Ram Temple, which is all set to be completed in 2023.
Some of the key achievements in the welfare sector include the 'Sabka Saath, Sabka Vishwas', which brought in a new dimension in governance that is development-driven, and free of corruption. Today, India is home to the world's best and largest healthcare programmes that covers more than 50 crore Indians, with Ayushman Bharat offering the best healthcare to the pro-poor of the nation. Thanks to PM Modi's unwavering efforts to promote, and prioritize universal health coverage.
Pradhan Mantri Kisan Samman Nidhi is yet another welfare scheme that received applause worldwide. Through this scheme, the government sends Rs 6,000, directly to the bank account of farmers in three installments. In addition to this, the withdrawal of the most controversial farm laws as a mark of respect to the farmers of India won hearts. Other than this, there are countless initiatives that the Modi-led government at the Centre introduced such as Beti Bachao, Beti Padhao – an initiative that celebrates the birth of girl child, the rollout of the JAM trinity: Jan Dhan, Aadhar and Mobile to power welfare subsidies directly into the bank accounts of the poor, and the boost to entrepreneurship with the 'Make in India' initiative, powered by new initiatives like the ease of doing business, etc.
In addition to this, Modi launched a housing welfare scheme, the "Pradhan Mantri Awas Yojana (PMAY)," in a bid to provide houses for all. The government also plans to build 2 crore houses throughout India, making it beneficial for the needy. The cost of the houses is very economical and prioritizes senior citizens, women, and SC/ST candidates in the allotment.
The Game-Changing General Elections
On 13th October 2018, Modi's name was given as the BJP candidate for prime minister for the 2019 general elections, and Amit Shah was the chief campaigner. Before the general elections, Modi launched the "Main Bhi Chowkidar" campaign on 8th April 2019. He contested as a candidate from Varanasi in the Lok Sabha elections. He won against Shalini Yadav, a member of the Samajwadi Party with a whopping majority of 479,505 votes. Later, he was appointed as the Prime Minister for the second-straight time.
We have compiled all the major decisions taken by him to date, take a look at them below!
Place of Birth: Vadnagar, Gujarat
Qualification: Bachelor of Arts in Political Science, School of Open Learning at the University of Delhi
Caste: Ghanchi-Teli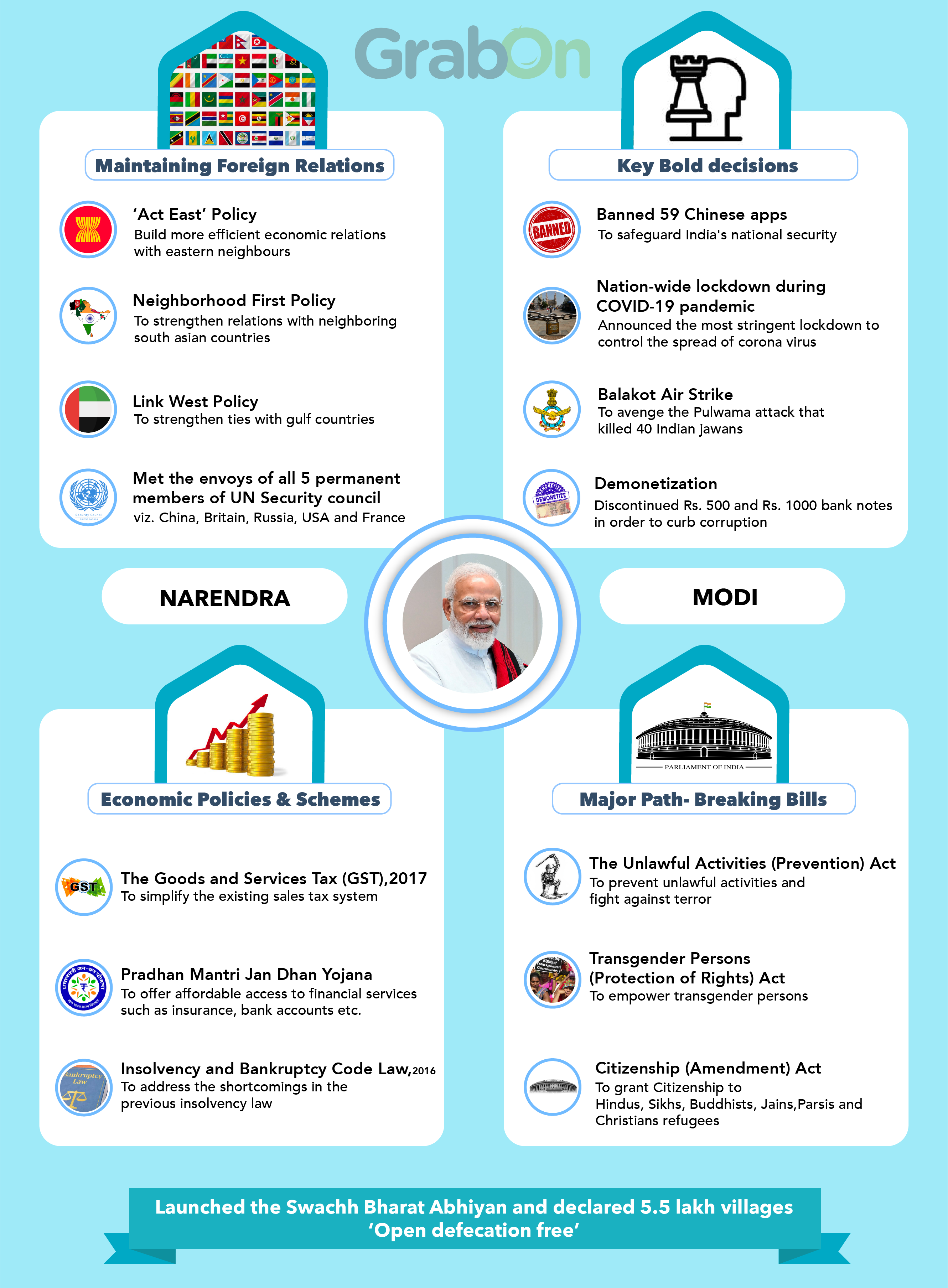 He sits on a list of achievements, including:
Beti Bachao Beti Padhao movement to promote girls' education
Launched the Pradhan Mantri Ujjwala Yojana to offer cooking gas connections for free to all the pro-poor in the society.
Electrified 18,000 plus villages across the country in 988 days of the total 1000 days promised during the I-Day speech in 2015. All these villages were dark even after 70 plus long years of India receiving its Independence
Modi introduced some path-breaking initiatives of which E-Nam and Soil Health Cards were a hit.
He also fulfilled one of his biggest poll promises of launching a new Jal Shakti Ministry that address all aspects in regard to water resources.
The mass moment, the 'Swachh Bharat Mission' witnessed massive participation with several UTs, and States becoming Open Defecation Free (ODF). The extent of sanitation touched 99% from 38%.
Make in India and Digital India campaign to improve the online infrastructure of the country and make India a global manufacturing leader
Witnessed a Growth in GDP from 7.4% to 8.4% in 2021
Lowered the corporate tax rate from 30% to 22% or 15% on September 20, 2019
Started Ayushman Bharat to provide free medical treatment to the targeted sections
Introduced Rs. 25,000 crore worth of special funds to complete housing projects for the middle class
Provided 10% reservation to economically weaker sections
PM Kisan scheme to benefit over 14.5 crore farmers
Inducted Rafale jets in the Indian Army to boost India's air power capability
Announced Rs. 20 lakh crore relief package to make the self-reliant during the COVID-19 pandemic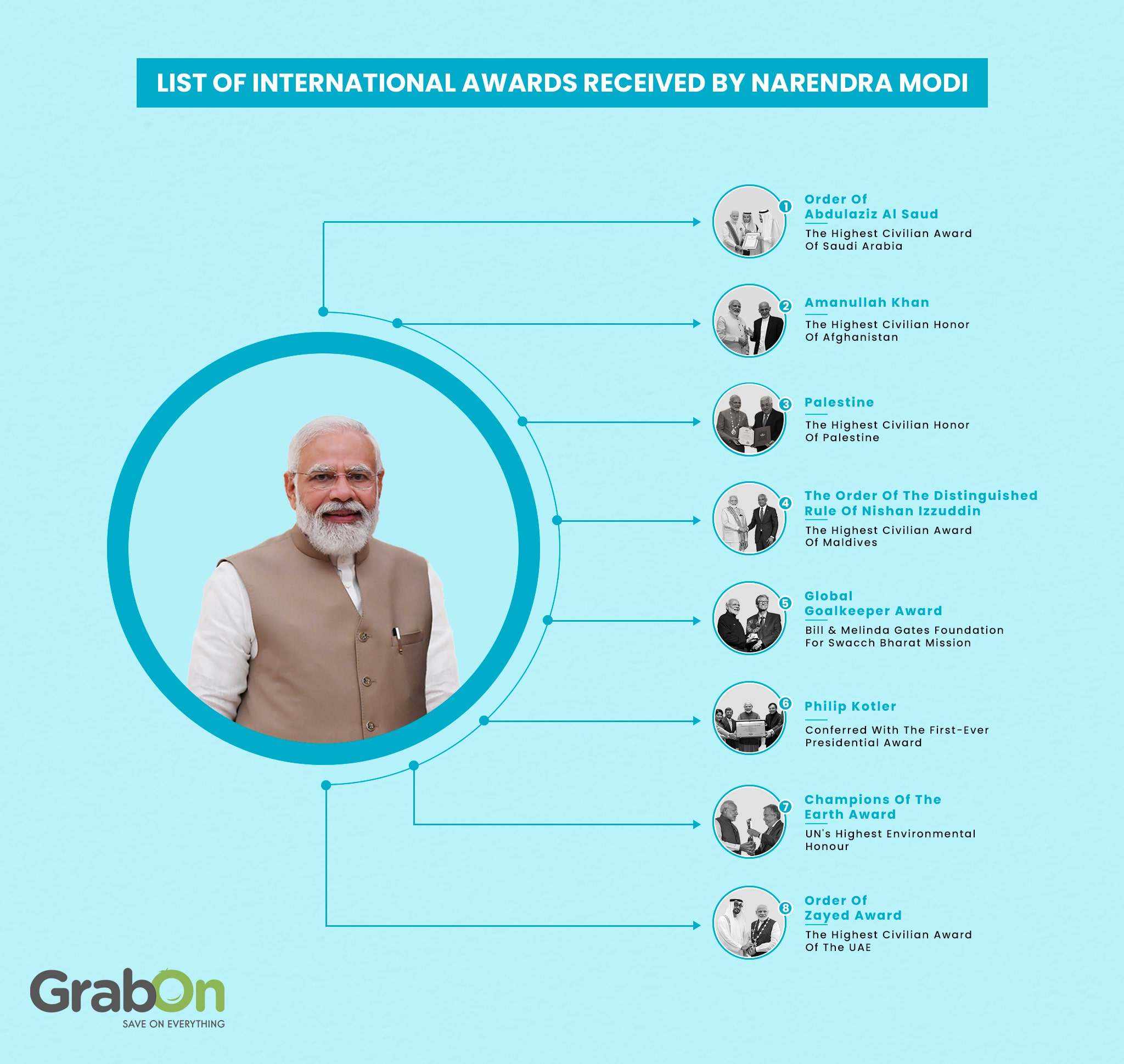 Dr Manmohan Singh
Tenure: 22nd May 2004- 26th May 2014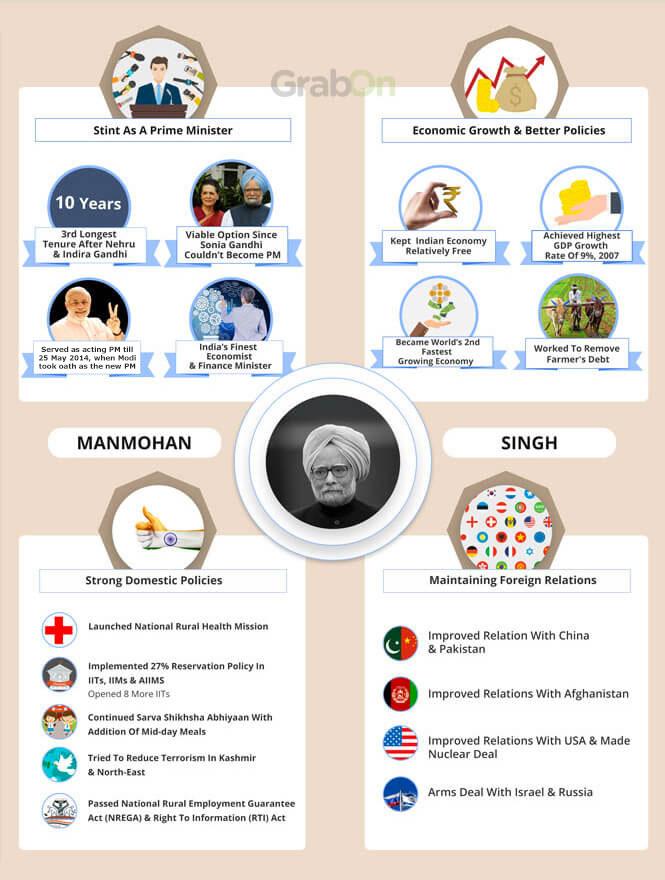 About Manmohan Singh
Considered to be India's best Finance Minister, Dr. Manmohan Singh is considered to be one of the best economists in the country. He joined the Indian government as Economic Advisor in the Ministry of Commerce. He also held various portfolios such as Advisor to the Prime Minister, Deputy Chairman of the Planning Commission and Governor of the Reserve Bank of India. As the Prime Minister of the country, he was in charge of some of the biggest changes in the country.
Place of birth: Gah, Pakistan
Qualification: Bachelor's and Master's in Economics
Caste: Sikh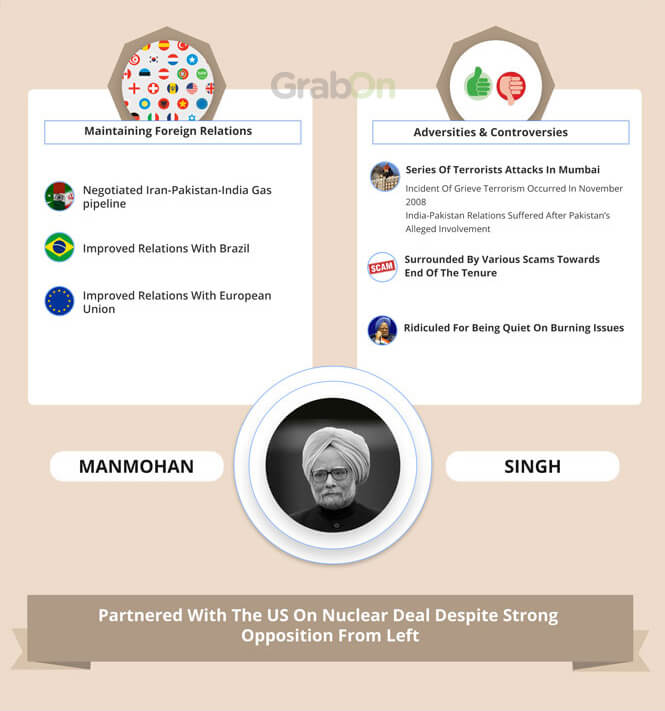 His wonderful achievements include:
Highest GDP growth since Independence
Became the world's 2nd fastest growing economy
Launched National Rural Healthcare
Passed the RTI Act
Improved diplomatic relations
Inder Kumar Gujral
Tenure: 21st April 1997- 19th March 1998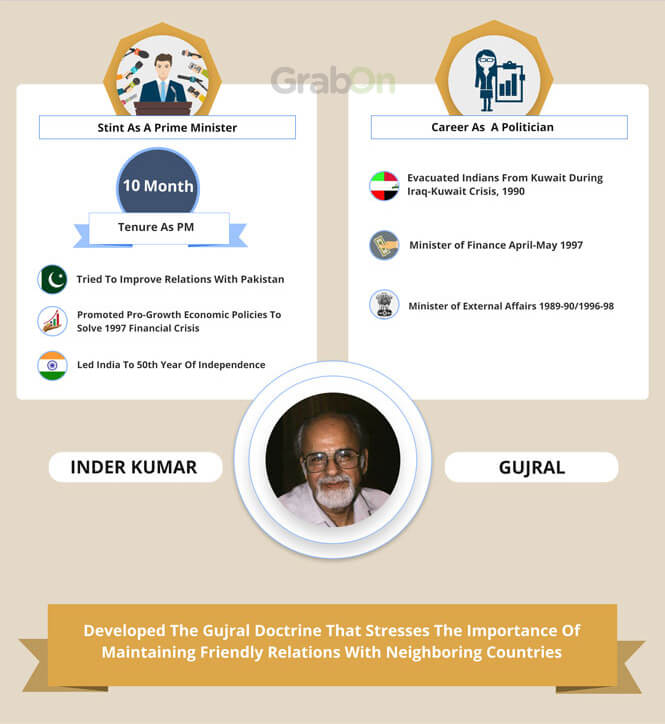 About Inder Kumar Gujral
Famous for implementing the Gujral Doctrine, Mr. I.K Gujral was also in office for 10 months. Mr. I.K Gujral held important positions including Minister of External Affairs, Water Resources Minister and Minister of Information and Broadcasting before handling the PM office. Gujral was also a part of India's freedom struggle and was jailed for taking part in the Quit India Movement.
Place of Birth: Jhelum, Pakistan
Qualification: Bachelor of Commerce, Punjab University
Caste: Punjabi
Haradanahalli Doddegowda Deve Gowda
Tenure: 1st June 1996- 21st April 1997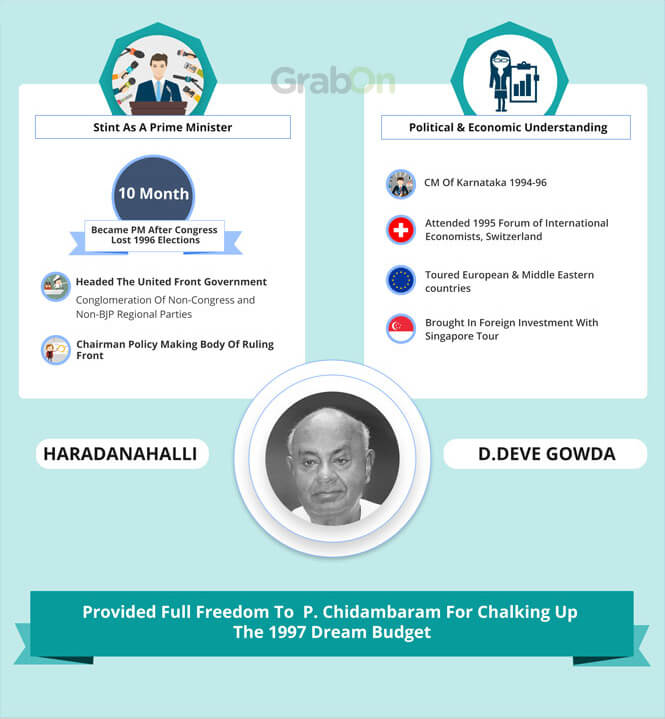 About Haradanahalli Doddegowda
Holding the post for 10 months, Mr. Gowda was also the head of the United Front Government. In these 10 months of tenure, he was also the Chairman of the Steering Committee of the United Front. This was the highest body which was in charge of all the constituents of the ruling front. During his tenure as the Chief Minister of Karnataka, he successfully led the government by tackling many issues.
Place of Birth: Haradanahalli, Karnataka
Qualification: Diploma in civil engineering from L. V. Polytechnic
Caste: Lingayath
Atal Bihari Vajpayee
Tenure: 16th May 1996- 1st June 1996; 19th March 1998- 10th October 1999; 10th October 1999- 22nd May 2004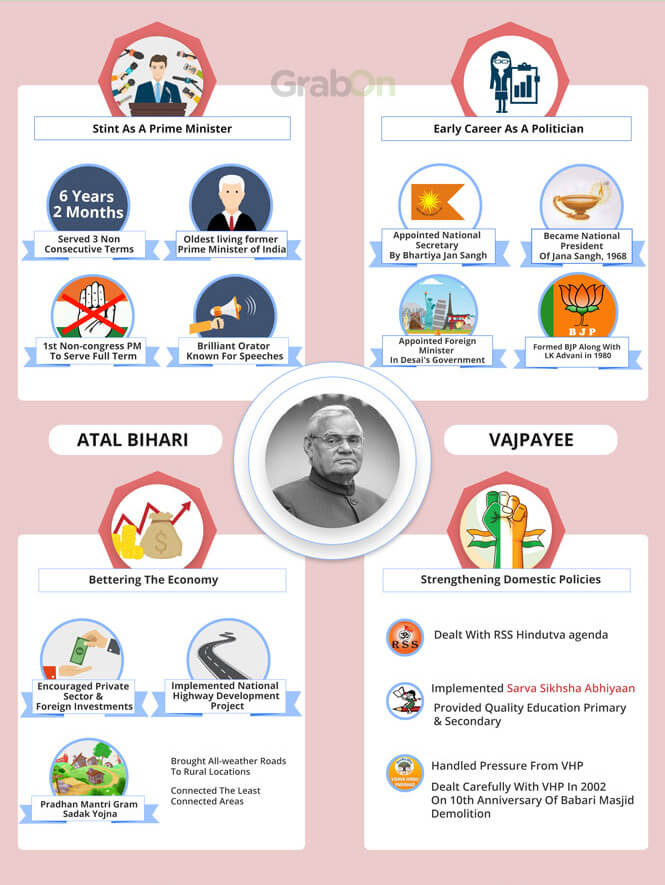 About Atal Bihari Vajpayee
One of the most recognised politicians of India, Mr Vajpayee was the first non-Congress Prime Minister to hold office for a full term. He was one of the co-founder and the first President of the currently ruling Bharatiya Janata Party. Under his tenure as the PM, India transitioned into a new era and saw a lot of changes. His government made efforts to enhance the digital connectivity in the country and made India a 'software super power'.
Place of Birth: Gwalior
Qualification: BA in Hindi, English and Sanskrit and MA in political science
Caste: Hindu Brahmin
His other key achievements include: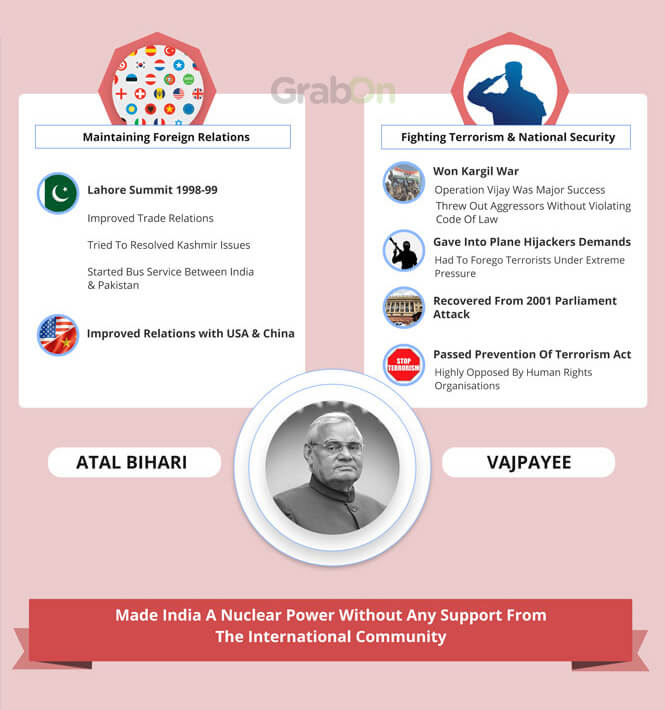 India carried out the Pokhran II nuclear tests
Encouraged private sector and foreign investments
Implemented National Highway Development Project
Implemented Sarva Siksha Abhiyaan
P.V Narasimha Rao
Tenure: 21st June 1991-16th May 1996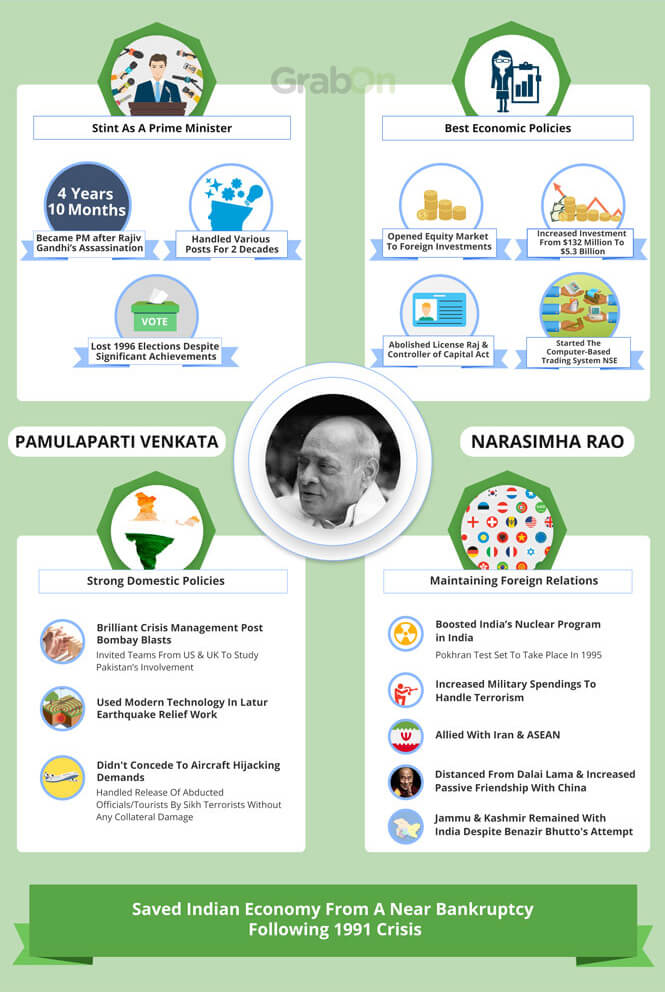 About P.V Narasimha Rao
Referred to as the Father of Indian Economic Reforms, Narasimha Rao was instrumental to India's growth and globalisation. Before becoming the PM of India, he was the Chief Minister of Andhra Pradesh. He also held various portfolios in Andhra Pradesh's cabinet and was responsible for major reforms in the state. Under his Prime Ministership, India experienced a shift in its economic model; going from a mixed economy to a market economy.
Place of Birth: Laknepally, Telangana
Qualification: Master's degree in law, Hislop College
Caste: Telugu Niyogi Brahmin
Some of his key achievements were:
Managed India's economic crisis of 1991
Abolished License Raj
Opened Equity Market for foreign investments
Boosted India's Nuclear Program
Chandra Shekhar Singh
Tenure: 10th November 1990- 21st June 1991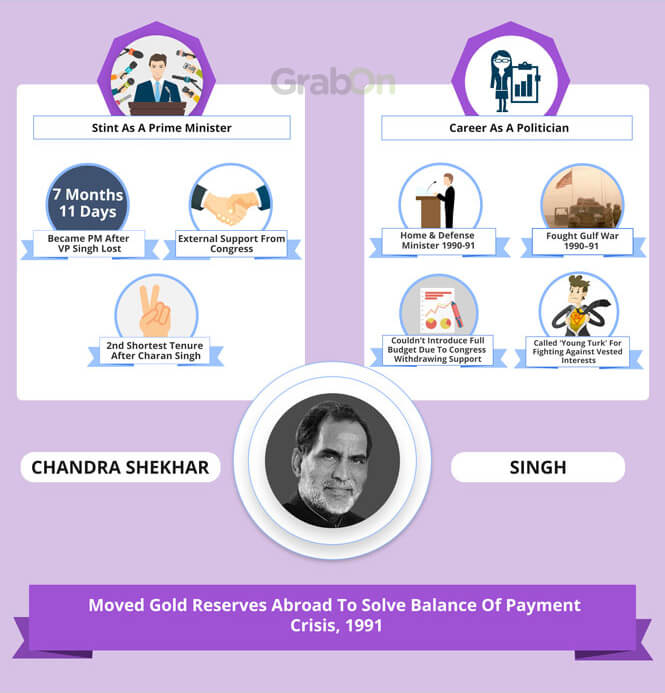 About Chandra Shekhar Singh
The second shortest tenure after Mr. Charan Singh, Chandra Shekhar's tenure lasted a little over 7 months. He was attracted to politics from a young age and was known for his revolutionary ideas revolving around politics of social change. He also held the post of Minister of Home Affairs during his period in the office of Prime Minister. Due to the political instability at that point, he couldn't contribute much.
Place of Birth: Ibrahimpatti
Qualification: Bachelor of Arts, Satish Chandra PG College and Master's in political science, Allahabad University
Caste: Rajput
Vishwanath Pratap Singh
Tenure: 2nd December 1989- 10th November 1990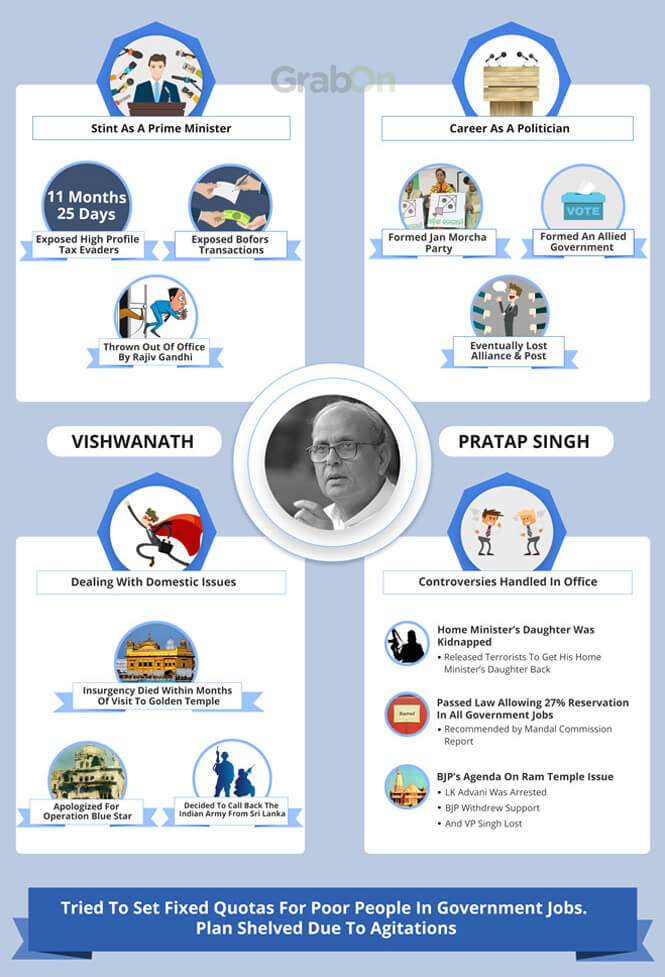 About Vishwanath Pratap Singh
The 7th Prime Minister of India, Vishwanath Pratap Singh started his political journey from the age of 10. Before becoming the PM, he was the Chief Minister of Uttar Pradesh. He also held various portfolios in the union cabinet such as Minister of Commerce and Minister of Finance and Defence. Known for the implementation of the Mandal Commission, during his Prime Ministership, Mr V.P Singh's short tenure of 11 months was full of interesting developments.
Place of Birth: Prayagraj
Qualification: B.Sc from University of Pune and B.A., L.L.B from Allahabad University
Caste: Rajput
Handled domestic controversies, including the kidnapping of his Home Minister's daughter
Stopped Pakistan's attempt to start a border war with India.
Apologised for Operation Blue Star and curbed the insurgency in Punjab
Rajiv Gandhi
Tenure: 31st October 1984- 2nd December 1989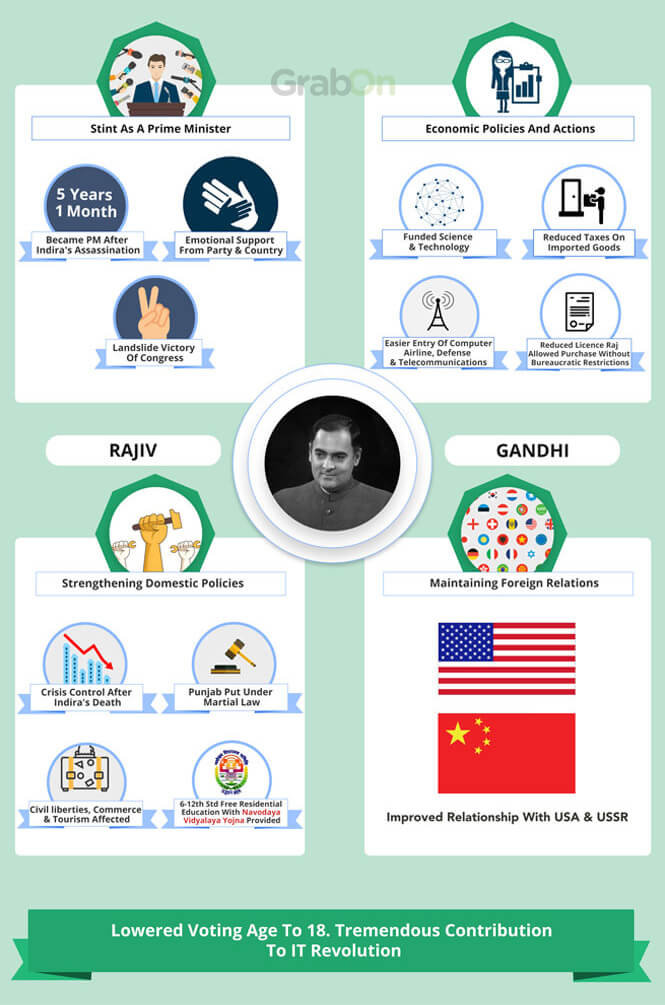 About Rajiv Gandhi
Part of the Gandhi-Nehru family, Rajiv Gandhi was the son of Indira Gandhi. After his brother, Mr Sanjay Gandhi, died in an aeroplane crash, Rajiv Gandhi decided to enter politics. He was (and still is) the youngest person to hold the post of Prime Minister in India. Having acquired a commercial pilot's license, Rajiv also worked for Indian Airlines. As a PM, he is often credited with contributing the most towards India's IT revolution.
Place of Birth: Mumbai, Maharashtra
Qualification: B.Tech, Trinity College (dropped out)
Caste: Kashmiri Pandit
Below are some of his key achievements.
Reduced License Raj
Reforms in Economic Policies
Improved relations with both USA and USSR
Helped contribute massively to the IT Revolution
Charan Singh
Tenure: 28th July 1979- 14th January 1980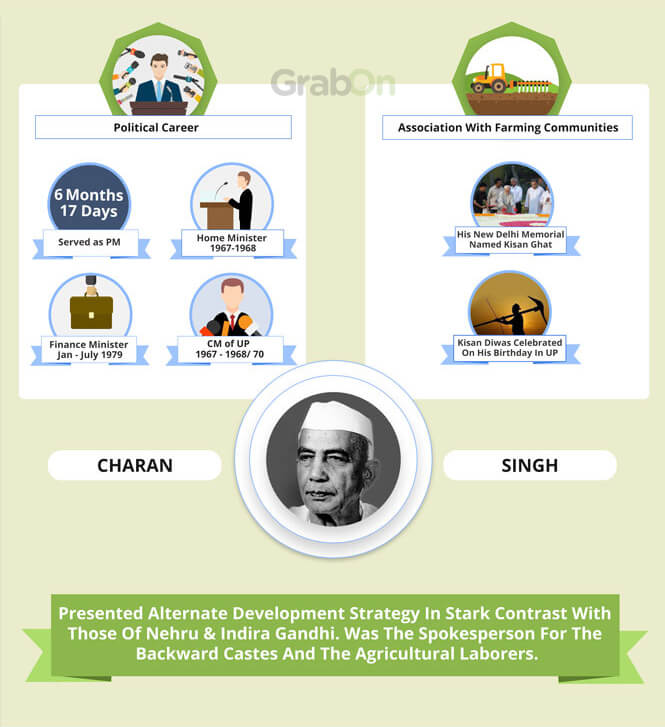 About Charan Singh
Considered to be the champion of peasants, Chaudhary Charan Singh enjoyed a brief time in the office. A lawyer by profession, Singh served Uttar Pradesh in various capacities and was known for raising his voice against corruption, nepotism and inefficiency in the administrator. He is also the man behind major land reforms in UP. He was an avid reader and author of several books including 'Abolition of Zamindari'.
Place of Birth: Hapur
Qualification: L.L.B and Master's in Arts from Agra University
Caste: Jat
During his short tenure, he made the following key decisions.
Presented novel strategies to deal with India's development
Vocal about the upliftment of the backward classes
Morarji Desai
Tenure: 24th March 1977- 28th July 1979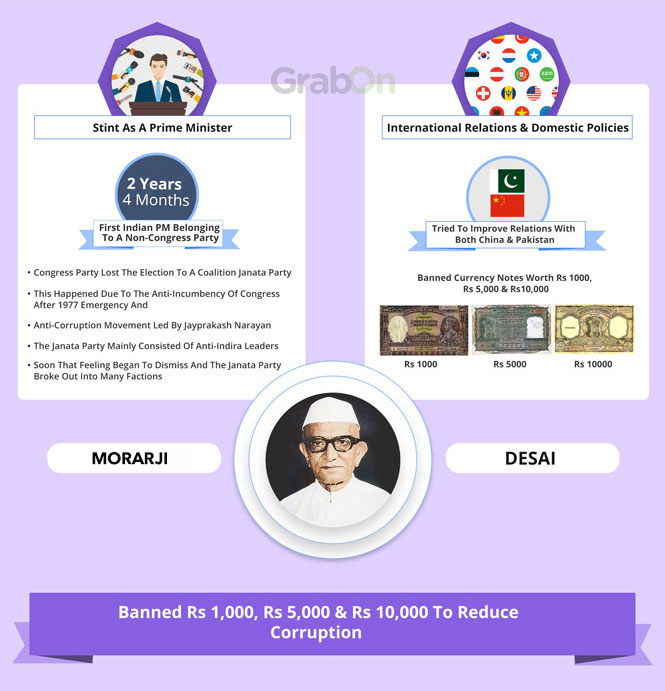 About Morarji Desai
The first Indian PM who was not from the Congress party, Morarji Desai was (and still is) the oldest person to hold the Prime Minister's office. A renowned independence activist, Desai led the government formed by the Janata Party. Before serving as the PM, he was the 2nd Chief Minister of Bombay state from 1952 to 1956.
Place of Birth: Valsad
Qualification: Graduated from Wilson College, Mumbai
Caste: Brahmin
In his two years in the office as India's Prime Minister, he brought about some major reforms.
Banned currency notes worth Rs 1000, Rs 5000 and Rs 10000
Formally ended the state of emergency called by Indira Gandhi and removed media censorship
Supported peace activism and initiated peace talks with Pakistan
Indira Gandhi
Tenure: 24th January 1966 to 24 March 1977; 14th January 1980 to 31st October 1984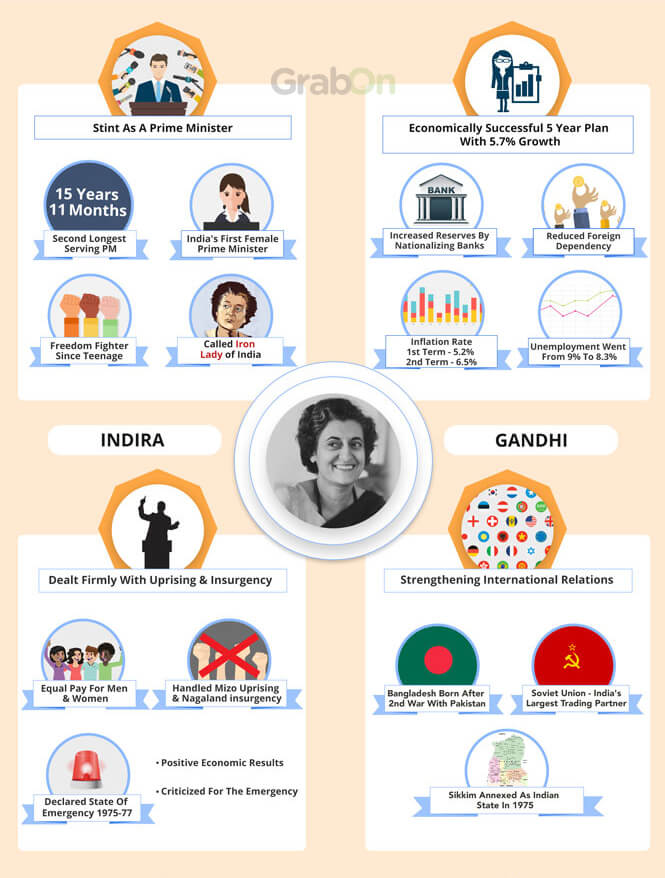 About Indira Gandhi
Known as the Iron Lady of India, Indira Gandhi was and till date the only female Prime Minister of India. Before becoming the Prime Minister, she served as the Minister of Information and Broadcasting from 1964 to 1966. Besides serving as the PM of India, she concurrently held various portfolios including Minister of Atomic Energy, Minister of Home Affairs and Minister of External Affairs. A central figure in Indian politics, Indira Gandhi brought in a lot of changes.
Place of Birth: Prayagraj
Qualification: Visva-Bharati University (dropped-out) and Somerville College, Oxford (dropped-out)
Caste: Kashmiri Pandit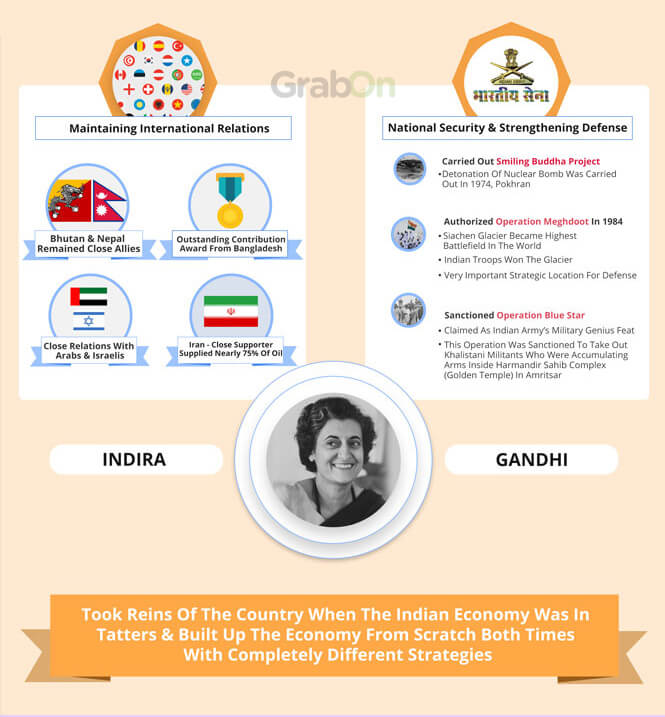 Her key achievements are:
Nationalized banks
Reduced unemployment
Introduced equal pay for genders
Strengthened international and domestic policies
Increased national security
Integrated Sikkim as an Indian State in 1975
Lal Bahadur Shastri
Tenure: 9th June 1964 to 11th Jan 1966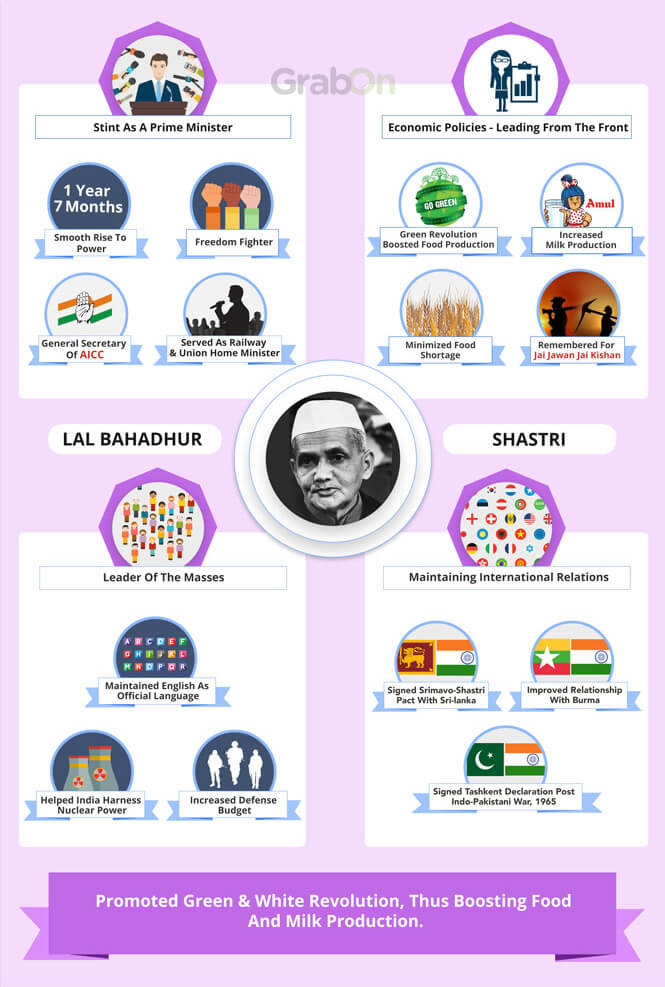 About Lal Bahadur Shastri
Considered to be a leader of the masses, Lal Bahadur Shastri also served as the Railway Minister and Home Minister. In his two-year tenure, before his tragic death, he brought in some key achievements. His famous slogan 'Jai Jawan, Jai Kisan' during the 1965 Indo-Pakistan to cheer the soldiers and farmers was extremely popular.
Place of Birth: Mughalsarai
Qualification: Bachelor's in philosophy and ethics, Vidyapith
Caste: Kayasth
His achievements include:
Brought about the Green Revolution
Helped the dairy industry produce more, which led to the 1970 Operation Flood.
Helped India harness nuclear power
Maintained International Relations, including the signing of the Tashkent Agreement
Gulzarilal Nanda
Tenure: 27th May 1964 to 9th June 1964; 11th January to 24th January 1966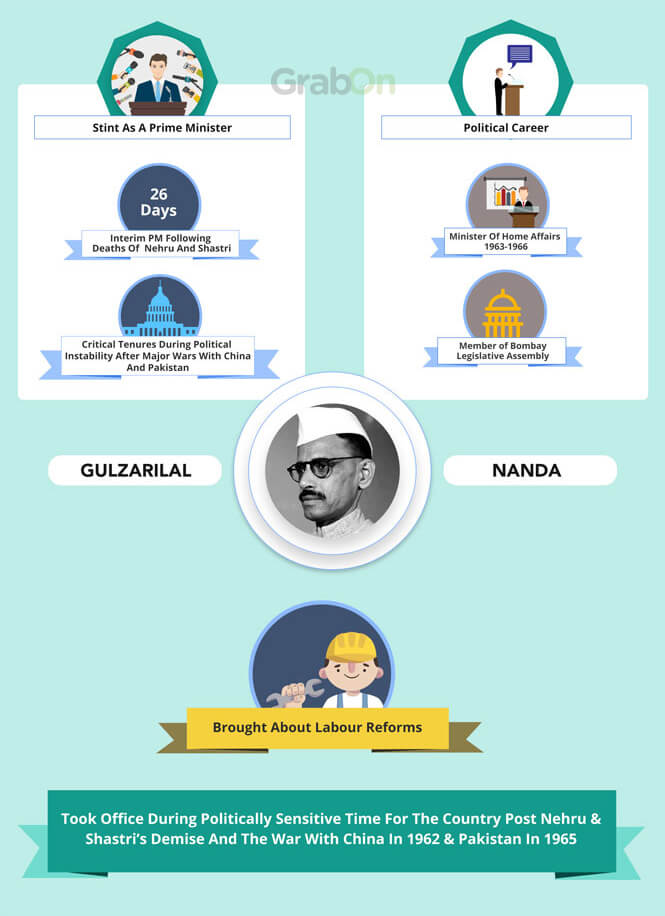 About Gulzarilal Nanda
Serving as the acting Prime Minister after the death of Pt. Jawaharlal Nehru, Mr. Nanda served the office for two months. Apart from being a politician, he was an economist who worked as a research scholar on labour issues. He also held the post of Union Minister for Labour and Employment. In his brief tenure, he did not sit quietly. Instead, he brought about numerous changes. Later, he was again appointed as the acting Prime Minister after the death of Lal Bahadur Shastri for 13 days.
Place of Birth: Sialkot, Pakistan
Qualification: Studies in Lahore, Agra and Allahabad. Research scholar on labour problems, University of Allahabad
Caste: Punjabi
His achievements include:
He served as the PM during a very critical time, considering the political instability just after the major 1962 Indo-China War and the 1965 Indo-Pakistan War
Brought Labour Reforms
Jawaharlal Nehru
Tenure: 15th August 1947 to 27th May 1964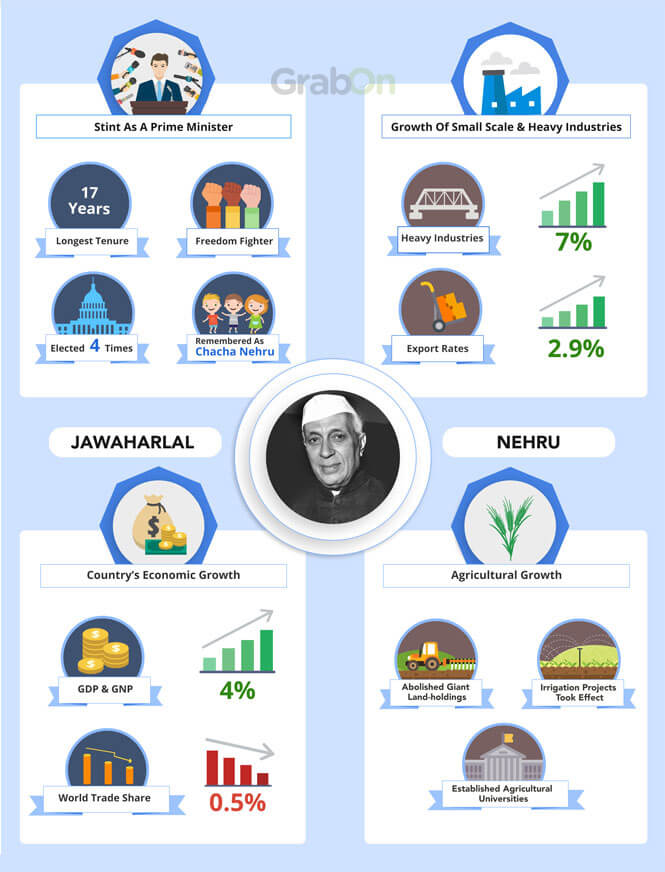 About Jawaharlal Nehru:
The longest-serving Prime Minister, Chacha Nehru (as he is fondly remembered) was a central figure in the Indian politics, both before and after independence. Born on 14 November 1889, his significant focus was to enhance the country's industrial sector for which he started the 'five-year plan in 1951′.
Place of Birth: Prayagraj
Qualification: Graduated with honours degree in natural science, Trinity College
Caste: Kashmiri Pandit
Besides his famous non-aligned policies in foreign affairs, his other key achievements are:
Set up premier institutions like IITs, IIMs, AIMMS etc.
Agricultural Growth – Abolished Giant Landholdings, Undertook irrigation projects
Helped recover the economy by increasing the GDP & GNP by 4%. World Trade Share decreased by 0.5%
Helped in social changes by decriminalizing caste-based discrimination, worked towards women rights etc.
Made primary education available for every child
Helped India build a good rapport in international politics and pacified domestic struggle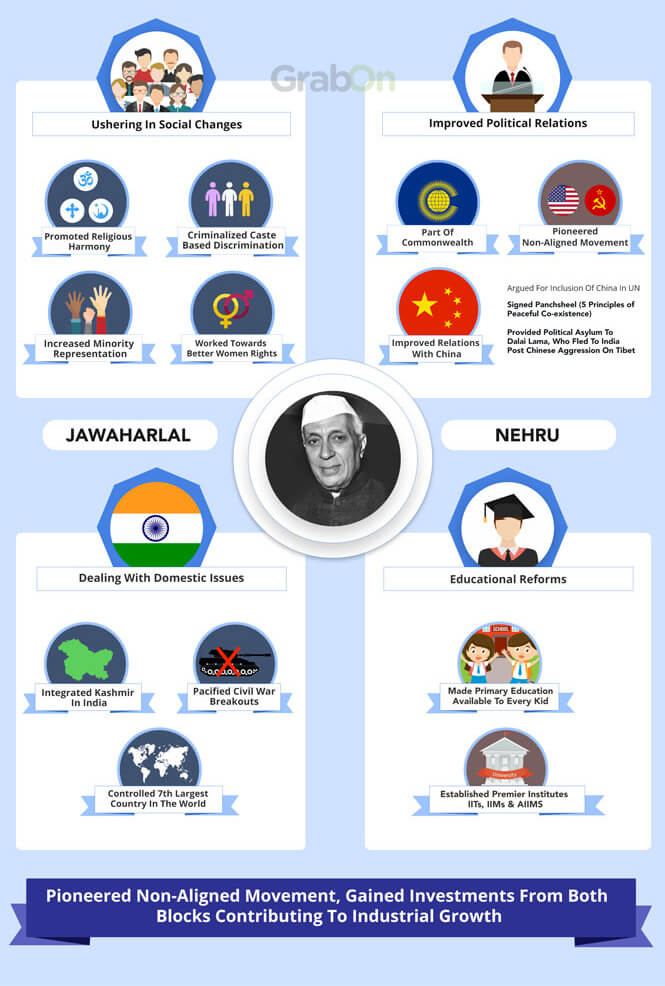 The list can go on. Considering he was India's first Prime Minister and served for 17 years, it is hardly a surprise.
So, that's the country's history. How well do you know the leaders who shaped our country?
We wish you a Happy Independence Day this 2021 and hope you actively show interest in the country's policies. How will this country prosper if the citizens are not active and show an educated opinion when it comes to the country's welfare!