Lipsticks are a wonderful way to pamper your lips and give them the moisture they need. They are a universal accessory that can be worn by anyone, anywhere. It is a must-have in every woman's makeup bag. For many, it is a staple product that they use on a daily basis.
Lipsticks are designed to look natural on the lips but enhances their appearance with just one touch. It is no secret that we love to experiment with our lipsticks. They come in a variety of shades and textures, allowing you to find the one that works for you. From matte finishes to bright colors, and even bold shades, the makeup world is filled with a whole range of options. But finding the right shade can be difficult. To make choosing the right lipstick and lip shade easy for you, we have prepared a list of the 10 best lipsticks in India.
Here is a list of the best lipsticks for you to choose from.
Best Lipstick brands in India
1. MAC Lipsticks
MAC lipsticks are a piece of art. They were one of the first brands to introduce glosses and metallic shades. MAC lipsticks are known for their smooth, creamy texture and soft, pigmented finish.
MAC lipsticks offer a lightweight formula and these products are so effective that they can last up to 16 hours! The product is packed with moisturizing ingredients like ceramides and hyaluronic acid. The lightweight texture also helps the product stay on your lips all day. You might also love them, for the long-lasting colour and hydration they offer. Shop your favourite MAC shades at great deals from GrabOn now!
Every woman has her signature shade. That's why, every year, a new generation of beauty lovers is born and old favourites are sought out again. We're taking a look at the three iconic MAC lipsticks among the MAC lovers.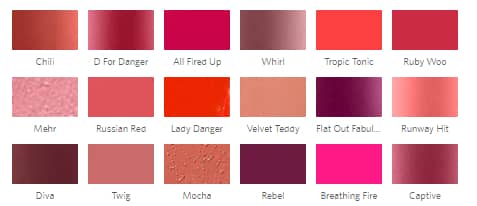 MAC Matte Lipstick in Velvet Teddy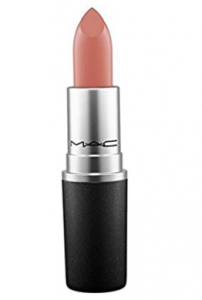 MAC Matte lipstick's Velvet Teddy shade is a soft nude that's flattering on all skin tones. It is a neutral matte shade with a creamy formula and is easy to apply. The shade is absolutely gorgeous, and the formula lasts all day without drying out at all. It provides a warm toned brown with golden shimmer look. It is also a great choice for beginners. This is a lipstick for all seasons, but especially perfect for summer because it goes on sheer and dries down to a comfortable matte finish that lasts for hours.
MAC Retro Matte Lipstick in Ruby Woo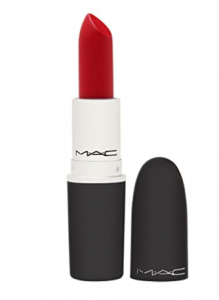 Ruby Woo is a deep and fiery shade of red that is absolutely perfect for any occasion. This bold, beautiful, and long-lasting lipstick is one of the staple products of MAC's Retro Matte Lipstick collection. With its creamy texture and beautiful hue MAC's Ruby Woo lipstick is the go-to-choice for most of us.
MAC Diva Matte Lipstick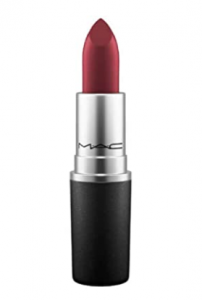 The MAC Diva Matte Lipstick is the latest addition to the MAC matte range. It features a warm, neutral hue with pink undertones and satin finish. The formula is described as "super-long-lasting" and "durable" by the brand, and we think it lives up to its claim! We love how long this lipstick lasts for, with only a slight touch of fading after hours of wear.
---
Pros
Matt finishing
Great consistency
Provides moisturising effect
Long lasting
Cons
Could be drying
Pricy
Difficult to remove
---
2. Maybelline Lipsticks
Maybelline is a makeup brand that is famous for its lipstick colours. With a wide range of shades and innovative formulations, the brand continues to set trends in the Indian beauty industry. It includes all shades of different colors, types and finishes. From peach to red and brown, there are a number of beautiful shades that you can choose from. There are different kinds of lipstick in the Maybelline collection, such as lipsticks, lip glosses, lip liners, lip crayons, and more.

Maybelline's lighter formulation, with the moisture control system ensures that the lipstick stays on your lips longer. The company is known for its range of formulas, which are all long-lasting and hypoallergenic. If you are wondering which Maybelline lipstick shades suit you the best, here are three Maybelline lipstick shades that the Maybelline fans are going crazy about. Shop your favourite Maybelline lip shades at great deals now!
---
Pros
Long lasting
Feel great on the lips
Easily glides on
Cons
Sightly sticky formula
Difficult to remove
Non cruelty-free brand
---
Maybelline New York Color Sensational Creamy Matte Lipstick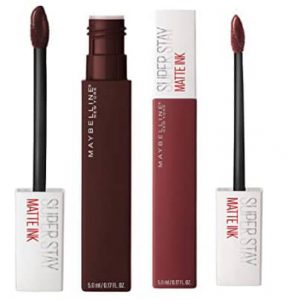 Maybelline New York Color Sensational Creamy Matte Lipstick has a beautiful matte finish. The creamy texture of this lipstick is enriched with Vitamin E and Vitamin A. It has a subtle sheen which makes it look like you have just applied false lashes. The soft and velvety texture glides smoothly on the lips without pulling on them, leaving behind a flawless matte finish.
Maybelline SuperStay 24 2-Step Liquid Lipstick in 136 Constant Toast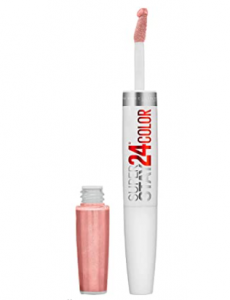 Maybelline SuperStay 24 2-Step Liquid Lipstick in 136 Constant Toast is the latest addition to the Maybelline's 2-step liquid lipsticks. This product is a hybrid of a matte and creamy liquid lipstick. The product features a combination of matte and satin finish with an additional glossy sheen. It has a two-step formula which gives you intense colour payoff without drying out your lips. The glossy texture provides a long-lasting finish with no transfer, and it doesn't budge even after eating and drinking. It's available in a wide range of shades, so there's something for everyone.
Maybelline New York Super Stay Matte Ink Liquid Lipstick in 85 Protector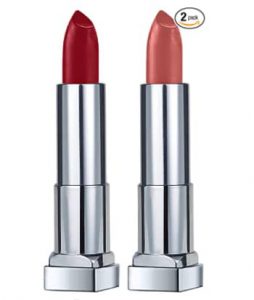 The new Maybelline New York Super Stay Matte Ink Liquid Lipstick in 85 Protector is a long-lasting, high-shine liquid lipstick that delivers smooth, full coverage with a matte finish. It's ideal for those who want an intense, streak-free color that doesn't budge. The formula is comfortable to wear and dries quickly so you can get ready faster. The lipstick comes in 16 shades and you can choose the one that suits you.
3. Colorbar Lipsticks
If you're a beauty fanatic, and you love the way your lipsticks look, but don't want to splurge on expensive brands, then Colorbar is for you. With over 40 shades of lipsticks, there is a color of lipstick for every shade of skin tone. The range of colors also includes shimmery and matte shades which are easy to apply and maintain throughout the day. These lipsticks are 100% vegan and have no harmful chemicals in them. Now pick your Colourbar lipstick at amazing deals!
Here are the three Colorbar lipsticks that are widely chosen by people across the country.
---
Pros
Sets fast
Makes lips look fuller
Easy to apply
Waterproof
Long lasting
Cruelty free
Cons
Doesn't moisturise the lips
Could have been more creamy
---
Colorbar Creme Touch Lipstick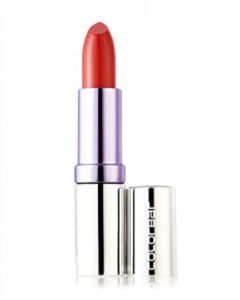 Colorbar Creme Touch Lipstick is a smooth, creamy lipstick that glides on the lips effortlessly. It's perfect for regular day wear and you can wear it to parties as well. Its creamy texture and high pigmentation ion make it hydrating and comfortable on the lips. This lipstick from Colorbar is also loved for its good staying power.
Colorbar Lipcolor – Take me as I am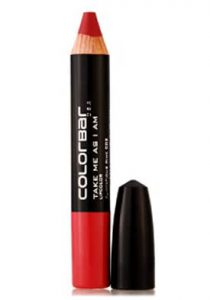 Colorbar Lipcolor- Take me as I am is high in pigmentation. The shades of this lip color are not too dark, not too light, just perfect for all skin tones. But what really makes this product special is the shade range – a wide variety of 15 shades, from nudes to deep reds. You can use it alone or as a base for other colors.
Colorbar Sheer Creme Lust Lipcolor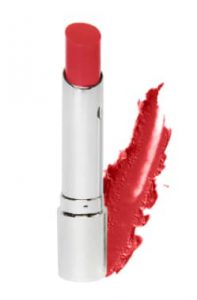 It's time to reinvent your lips with the Colorbar Sheer Creme Lust Lipcolor! This buttery, long-lasting shade leaves a natural looking finish that is perfect for the summer season. This new lipstick promises a natural and matte look, with stunning shimmering effects. The formula is made of pure pigments that glide on smoothly, creating a velvety texture. The Lipcolor is enriched with Vitamin E and Shea Butter to keep your lips hydrated while you're at it.
---
Pros
Water resistant
Long lasting
Paraben free
Matte finish
Cons
Dry finish
Can look patchy
Quantity could be more
---
4. Lakme lipsticks
Lakme lipsticks are a part of the popular fashion and beauty industry that has been making waves for many years now. Lakme lipsticks are a highly recognised brand that is synonymous with beauty and glamour. The brand is one of the pioneers of Indian cosmetics and continues to set trends in the country as well as abroad. Lakme's lipsticks are super smooth, moisturizing, and long-lasting with natural ingredients like coconut oil and beeswax, which works together to keep your lips soft and supple for up to 24 hours.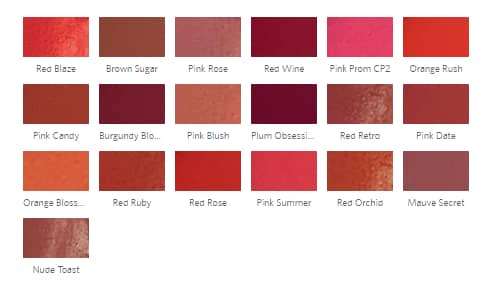 ---
Pros
Comfortable due to creamy texture
Matte texture
Glides easily
---
Here's our list of the top three Lakme lipsticks.
Lakme 9 to 5 Scarlet Drill Lipstick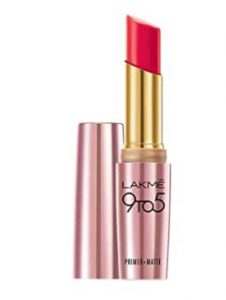 Lakme 9 to 5 Scarlet Drill Lipstick is one of the latest additions to the brand's range. While there are countless lipstick shades to choose from, the thing that makes the Lakme 9 to 5 Scarlet Drill Lipstick special is its extraordinary staying power.  Made with a precise shade match to the classic Scarlet shade, this lipstick looks best on medium skin tones. The matte finish of the lipstick glides easily across lips and can be worn day or night. It has a relatively sheer coverage that goes well with lighter skin tones and gives off a natural red-brown tint.
Lakme 9 to 5 Scarlet Drill Lipstick stays on for a long time and does not stain your lips at all. You can pair it with your favorite lip gloss for a perfect look. Made from all-natural ingredients, this lipstick is ideal for day or nightwear.
Lakme Absolute Creme Lipstick
Lakme Absolute Creme Lipstick is a versatile lip product. It has a rich colour pay-off and brilliant shine, which gives it an ultra-smooth and creamy texture. The creamy formula of this lipstick offers incredible comfort all day long, even on the driest of lips. Its mild scent enhances the overall fragrance of the lipstick, making it very pleasant to wear for extended period of time.
Lakme Absolute Lip Tint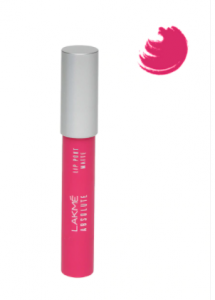 Lakme Absolute Lip Tint is a true luxury. Lakme Absolute Lip Tint is a beautiful, full-coverage lip tint that gives you the perfect shade for your day. It glides on like a dream and leaves lips looking beautifully natural. The formula is enriched with collagen to keep lips hydrated and plump all day long. The lightweight formula feels moisturizing on the lips without drying them out. Buy Lakme Absolute Lip Tint at great offers now!
5. Lotus
Lotus lip color  gives your lips a slight shimmer and has a nice color that looks good with every skin tone. It's also amazing for people who don't like to wear make-up, but want something to add some definition and coverage. The best part about this lipstick is that it comes in different shades so you can choose from a wide range of colors to match your outfit or mood at amazing deals now!
Here's our list of the top three Lotus lipsticks.
---
Pros
Claims to be lead and paraben free
Long lasting
High pigmentation
Transfer proof
Matte look
Satin finish
Cons
Neither drying or moisturising
---
Lotus Make-Up Ecostay Creme Lip Crayon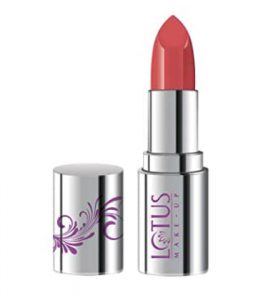 Lotus Make-Up is all about bringing colour to life. The Ecostay Creme Lip Crayon offers a wide range of beautiful colours, perfect for creating pretty looks on lips and cheeks. This lip crayon comes in 3 shades that are suitable for any occasion and outfit. Lotus Make-Up Ecostay Creme Lip Crayon is a vegan friendly lip crayon that has all the benefits of a traditional lip crayon. This make-up stick is enriched with anti-oxidants and aloe vera to give it an awesome effect on your lips.
Lotus Make-Up Pure Colors Matte Lip Color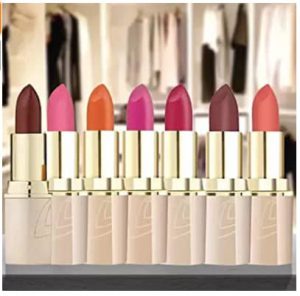 Lotus Make-Up Pure Colors Matte Lip Color is a lipstick that gives a matte finish and offers a strong hold. It's perfect for anyone who wants to achieve long-lasting results without having to worry about drying out their lips.
Forget about chapped lips! The formula contains Vitamin E, which keeps lips smooth and hydrated for hours. It also has a conditioning moisturizing texture that feels smooth on the lips and melts into them like butter. In addition, it comes in 10 rich and saturated shades, making it easy to find your perfect shade.
Lotus Make-Up Ecostay Butter Matte Lip Color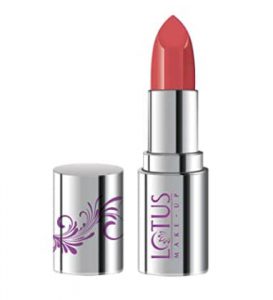 The Lotus Make-Up Ecostay Butter Matte Lip Color is a lip color that sets the stage for flawless, matte lips in the sun. The creamy, buttery texture keeps your lips moisturized throughout the day and prevents them from drying out. It also has a velvety finish and delivers intense pigmentation for long-lasting color. It comes in nine shades, so there's sure to be one to suit your skin tone. Some of its celebrated shades are: Pomegranate, Red Berry, Rosy Rose, and Roasted Coffee.
7. NYX Lipsticks
We love NYX lipsticks! NYX is a makeup brand with an amazing collection of lipsticks. Not only do they smell amazing, but the colours are so vibrant and long-lasting that it is hard to resist. Its lipstick range includes more than 50 shades, ranging from nudes to bold colors, as well as matte and shimmer formulas. The product is also available in a vast range of different packaging options, such as the iconic round case or sleek mini tube. We have handpicked some of our favourite shades from their range.
Here's our list of the top three NYX lipsticks.
---
Pros
Vegan products
PETA certified
Cruelty free
Cons
Not all lipsticks are paraben-free. Do check before purchasing.
---
NYX Soft Matte Lip Cream
NYX Soft Matte Lip Cream is a great addition to your summer makeup collection. It has got the perfect nude shade for any complexion and the perfect amount of shine for the summer months. NYX Soft Matte Lip Cream is a soft matte lip cream that offers a silky, lightweight formula that is buildable for a more intense matte finish. Its long-lasting formula provides medium coverage and has SPF 15 protection to guard against the sun's harmful rays.
NYX Soft Matte Metallic Lip Cream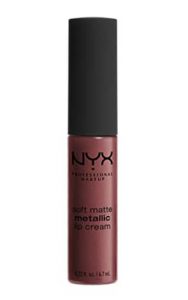 The new NYX Soft Matte Metallic Lip Cream is a luxurious, hydrating formula that allows you to create endless hues. The lip cream provides full coverage with an ultra-matte finish. The product is enriched with moisturizing ingredients like Vitamin E and shea butter to keep lips soft and supple. With a wide variety of shades and sizes, the matte lipstick will appeal to all women.
Nyx Professional Makeup Lip Lingerie Liquid Lipstick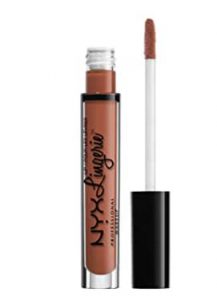 The Nyx Professional Makeup Liquid Lipstick is a hybrid product, combining the best of both worlds. It's a lipstick that's not only matte and long-lasting, but also hydrating and easy to apply. You can wear it every day without having to worry about how your lips look. This liquid lipstick comes in six shades, ranging from natural and neutral hues to bold and bright pinks.
8. L'Oreal Paris
L'Oreal Paris Lipsticks are the first lipsticks to come with an innovative, patented technology called 3D Moisture Renewal Complex. The innovation enhances the look of lips, especially in case of dryness or flakiness, by redistributing moisture from the top layer to the bottom layer of skin. The special mechanism makes the product very easy to apply and guarantees a perfect finish for hours.
L'Oreal Paris has recently announced its first ever range of lipsticks. The new range includes twelve shades, each with a new formula that keeps your lips soft and smooth. It contains a high concentration of oils and emollients to keep your lips supple.
Here's our list of the top three L'Oreal Paris lipsticks.
---
Pros
Infused with essential vitamin oils
Waterproof
No bleeding
No bleeding
Moisturizing feel
Cons
Its strong fragrance could bother people with sensitive smell senses
Can settle in fine lines on lips. Scrubbing of lips is a must to avoid it.
---
L'Oréal Paris Colour Riche Shine Lipstick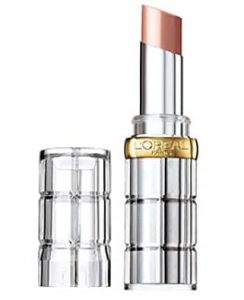 L'Oréal Paris Colour Riche Shine Lipstick is a long-lasting, non-drying lipstick that delivers bold and intense colour that lasts for hours. With the rich, pigmented new formula the brand provides up to 14 hours of intense colour and flawless wear. The product is available in 8 shades with a smooth formula that feels weightless on lips.
L'Oréal Paris Colour Riche Matte Lipcolour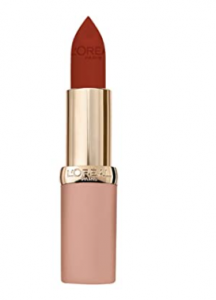 The L'Oréal Paris Colour Riche Matte Lipcolour is a semi-matte lipcolour that looks great on all skin tones. The rich colour and intense matte finish will help you effortlessly exude confidence, while the SPF 15 helps protect your lips from harmful sun rays. This product is perfect for everyday wear and also makes a perfect gift for your loved ones.
L'Oréal Paris Infallible Pro Last-Lipstick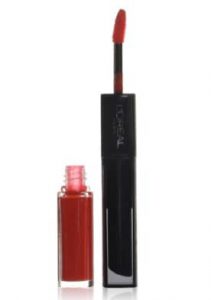 L'Oréal Paris Infallible Pro Last-Lipstick is an extraordinary formulation that promises to deliver a glossy, long-lasting lipstick that looks great on your lips. It has the creamy texture of a normal lipstick but the staying power of a stain, so you can feel comfortable in any situation. L'Oréal Paris Infallible Pro Last-Lipstick comes in three colors: Red, Hot Pink and Warm Beige. Each color has its own unique shade and finish. L'Oréal Paris Infallible Pro Last-Lipstick has a comfortable feel on the lips while providing a lightweight look and feel.
9. Nyor Lipstick
Nyor is a premium, cruelty-free brand of lipsticks that are infused with moisturizing oils and natural extracts. It's available in 10 different shades with a sheer, shiny finish. The Nyor Lipstick uses advanced lip-plumping technology, infused with light and oxygen to hydrate your lips. Nyor's all-natural formula includes plant oils such as shea butter, jojoba oil, sunflower seed oil, avocado oil, coconut oil and vitamin E. It also has active ingredients that enhances collagen production, so that it stays on for longer.
Here's our list of the top Nyor lipsticks.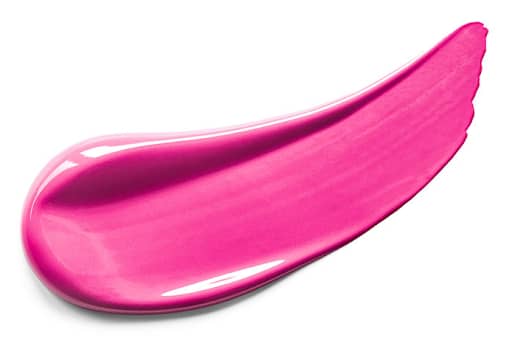 ---
Pros
Paraben free
Cruelty free
No harmful chemicals
High coverage
Higher pigments
Cons
Might be expensive for some people who would still like to try the products
Only 4 options yet
---
Nyor Cinnamon Plumping Lip Colour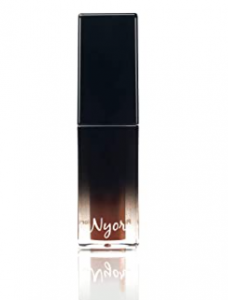 Nyor Cinnamon Plumping Lip Colour from Nyor Industries is a hydrating lipstick with intense colour. It comes in 12 beautiful shades to suit every skin tone. Its formula is enriched with shea butter, coconut oil, and jojoba oil to nourish the lips and make them appear soft and supple. It provides long-lasting and high-intensity pigmentation.
Nyor Muse Lip-plumping Lip Color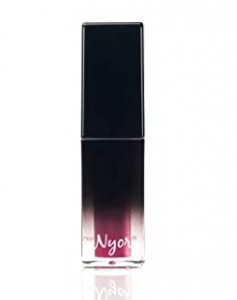 The Nyor Muse lip-plumping formula was formulated with a combination of glycerin, rosehip oil, and hydrolyzed collagen that help the lips to regain their natural shape. It is non-greasy and fast-absorbing; so, you can apply it before going out in the sun or windy weather.
Nyor Spotlight Lip Color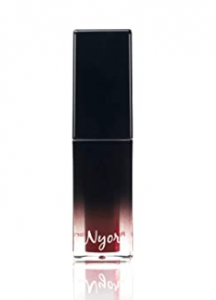 Nyor Spotlight is a rich, luxurious lip color that exudes elegance and sophistication. The shades of this lipstick enhance your natural beauty and completes your look in the most flattering way possible. Each shade has its own unique color payoff, pigmentation and lasting power .Nyor looks beautiful on all skin tones, and it's ideal for women of all ages.
10. MyGlamm Lipsticks
MyGlamm was launched with the goal of making their lipstick the best for women, both in terms of form and function. MyGlamm is a revolutionary lip color that delivers healthier-looking lips and the widest range of colors. This lipstick contains all the colours of the rainbow and has an amazing, long-lasting formula that lasts up to 12 hours. MyGlamm products are 100% vegan and free from animal derived ingredients. They are also reasonably priced and you can now pick all your favourite MyGlamm lip shades at amazing deals!
Here's our list of the top MyGlamm lipsticks.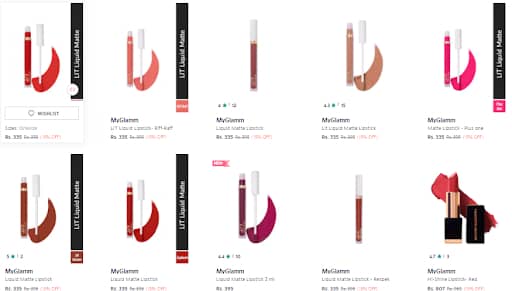 ---
Pros
Moisturises your lips
Smudge proof
Transfer proof
Cons
Shades might not suit everybody
Can be uncomfortable due to dryness
---
MyGlamm Lit Liquid Matte Lipstick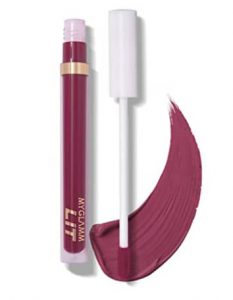 MyGlamm has launched a new liquid matte lipstick, Lit. This lipstick has a gorgeous formula that does not dry out the lips. The Liquid Matte Lipstick, with its high-shine finish, is the perfect choice for any skin tone and texture. The formula is long-lasting and easy to apply.
Ultimate Long Stay Matte Lipstick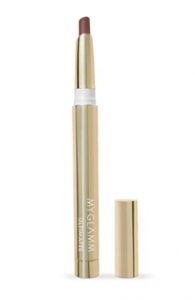 Myglamm Ultimate Long Stay Matte Lipstick is an innovative lipstick with a unique formulation that keeps your lips feeling comfortable and hydrated all day long. This formula has high-pigment, lightweight and glossy coverage, with a matte finish that lasts up to 12 hours.
LIT Creamy Matte Lipstick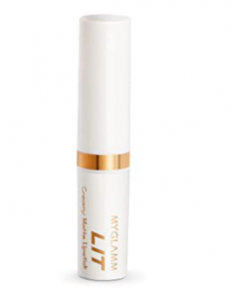 MyGlamm LIT Creamy Matte Lipstick is a vibrant, long-lasting lipstick that has been designed to give you the perfect colour for every occasion. This range comes in 12 different shades and offers rich pigmentation without drying out your lips.
FAQS
Are lipsticks safe to use?
Lipsticks are frequently thought to be harmful, but this is a myth. Lipsticks, like the rest of the makeup, are made with skin-safe ingredients. Read the label and choose the one that is suitable for your skin.
What are the different types of lipsticks?
There are 3 types of lipsticks – Matte lipsticks, Creamy liquid lipsticks, and lip gloss.
How do I choose the perfect lip shade?
No one has a perfect shade. That's the only way to go about it, especially when you want to create a flattering look for yourself or your loved ones. You need to experiment with different shades and tones that are complementary to your skin tone and what you are trying to achieve.
Lipsticks are a popular item of makeup, and we all have our favourite shade. Whether you're looking for a pink lipstick or a deep red, there's a perfect one out there for you. From subtle shades to bold ones, these lipsticks will make your lips look their best. Which lipsticks are your favourites? Let us know in the comments below!