Cosmetics is a tricky thing to write about for a guy. So after hours of research and talks with female colleagues, here's what I found about lipsticks and the companies that sell them.
There are a bunch of factors that decide how great a brand is. The variety they offer, the quality and the pricing are probably the most crucial ones. In addition, availability is another concern. Other factors include how long the lipstik stays, its texture and the shades available.
The best lipstick for you is which goes with your preferences. Do you like creamy texture, darker colours, or are you just concerned about how long they last?
So, here are my picks for the best lipstick brands based on the factors mentioned above.
Best Lipstick brands in India
1. Mac
MAC is a very popular cosmetics brand and is spread worldwide. The brand is a favorite of many professional make-up artists, Youtubers and celebs. With MAC you cannot go wrong as you get quality products that last longer and also feel great.
MAC lipsticks usually start from around a thousand rupees. There are quite a few shades you can find viz, Mehr, Ruby Woo, Twig, Chilli, Russian Red and more. However the most popular one is the MAC Velvet Teddy.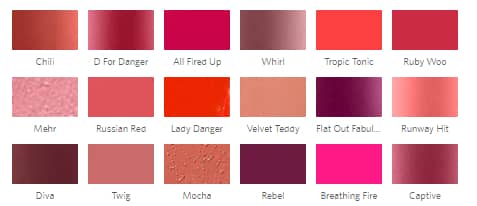 MAC's amazing program called Back to MAC lets you get a free lipstick when you return 6 package containers of used ones.
In order to make out an original MAC product from fake ones, check that the barcode must be printed on the sticker and not just on the box.
About MAC: MAC is a brand born in Canada and currently has its headquarters in New york. It was founded in 1984 and stands for Makeup Art Cosmetics.
Pros:
Matt finishing
Great consistency
Provides moisturising effect
Long lasting
Cons:
Could be drying
Pricy
Difficult to remove
2. Maybelline
Maybelline has everything from creamy matt lipsticks to bold ones. These lipsticks follow 3 simple rules of high pigmentation which makes the application easy and smooth. It has a no drying formula which makes it last for at least 3 to 8 hours depending on the one which you are using. It also highlights with a little bit of lip gloss. The Super Stay Ink lipstick is particularly well known for its flawless matte finish look and can also last for upto 16 hours.
Pros
Long lasting
Feel great on the lips
Easily glides on
Cons
Sightly sticky formula
Difficult to remove
Non cruelty-free brand
3. Colorbar
Colorbar is an Indian brand much widely known otherwise (Colorbar USA). Its products are FDA approved and cruelty free. As per the brand, there is no usage of heavy metal (like lead) in making its lipsticks (or other products). Colorbar lipsticks have a waterproof formula too, so more on time and less ruining your lipstick in rains.
Pros:
Sets fast
Makes lips look fuller
Easy to apply
Waterproof
Long lasting
Cruelty free
Cons:
Doesn't moisturise the lips
Could have been more creamy
4. MyGlamm
MyGlamm products are 100% vegan and free from animal derived ingredients. MyGlamm lipsticks are reasonably priced. But if you are ready to shed some more money, you could find better options. MyGlamm has a bunch of shades like E-boy, Perk Up, Zoomer, Lacey, Vogueing and more. The liquid lipsticks are easy to apply and go on all day.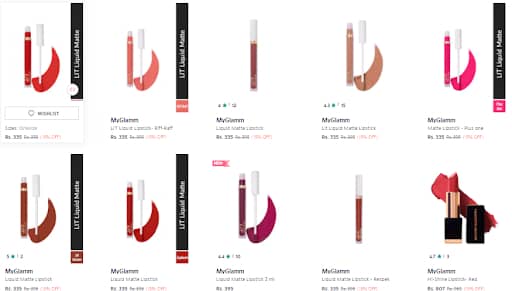 MyGlamm is an Indian origin brand, based in Pune which strives to make great makeup products for women. You can also get free gifts from MyGlamm when you use CLAIMREWARD05. It is home for some really dark lipsticks if you like one.
Pros:
Moisturises your lips
Smudge proof
Transfer proof
Cons:
Shades might not suit everybody
Can be uncomfortable due to dryness
5. Lakme
Lakme is another leading lipsticks (and other cosmetics) brand originated in India. All the products are made with the Indian climate in mind. The lipsticks, primers, and other products can withstand Indian summers with no issues.
All Lakme products are reasonably priced. You can get shades from Rs 250. You will find shades for a variety of your looks. Some of the best shades of the Lakme lipstick are the Red Wine, BurgundyBloon, Pink Prom and more. There's liquid lipsticks and lip colours that you can buy too.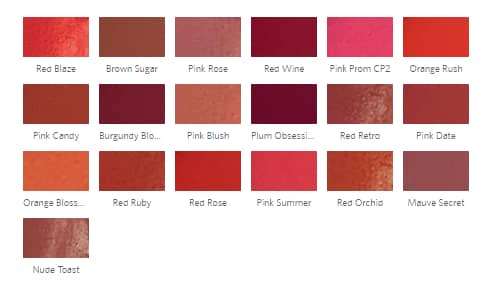 About Lakme: Lakme is derived from 'Lakshmi' in Sanskrit and is owned by Hindustan Unilever. The  brand was previously owned by the TATA group but was sold away in 1998.
Pros:
Comfortable due to creamy texture
Matte texture
Glides easily
Cons:
6. Lotus
Lotus is another brand which makes reasonably priced lipsticks. These are herbal and 100% vegetarian. You can easily get one starting at Rs 450. The lipsticks come in 34 shades. That's a whopping lot. But they are also durable and paraben free. It has a smooth texture and is are easy to slide.
Pros:
Claims to be lead and paraben free
Long lasting
High pigmentation
Transfer proof
Matte look
Satin finish
Cons:
Neither drying or moisturising
7. Nyor
Nyor has 4 unique shades viz., Sun kissed, Muse, Cinnamon and Spotlight. Thes lipsticks provide a voluminous look to your lips. They are also lightweight and smooth thus glide in very well. These provide a plumping effect that turns up your lips and accentuates your pout. Result? Luscious lips that look effortless.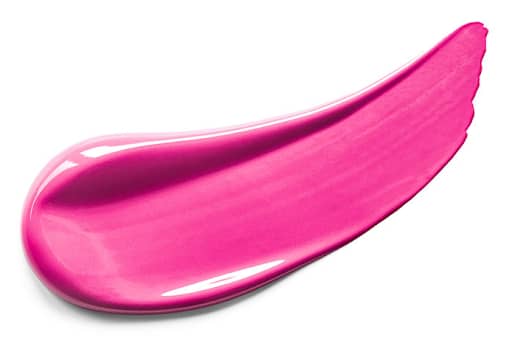 The items are made from naturally found ingredients. The brand is an outcome of a repulsion that the founder, Parineeta, had against animal derived ingredients and harmful chemicals. Thus, bringing in natural and herbal based products, Nyor was born in 2018. The years of research and collaboration with UK top professionals paid off well, as Nyor has been moving forward ever since.
The name stands for 'dew drops' in Assamese, and has a clearly stated full form.
N – Natural
Y – You
O – Originality
R – Rare
Pros:
Paraben free
Cruelty free
No harmful chemicals
High coverage
Higher pigments
Cons:
Might be expensive for some people who would still like to try the products
Only 4 options yet
8. Sugar
Sugar lipsticks start from Rs 250. You can also go for sets of 4 for a lesser price. A few of the shades you can find are White and Shine, Smudge me not, Preach Peach, Red Zeppelin and more. Sugar lipsticks provide an opaque finish, and stay all day long without fading.
Pros:
Water resistant
Long lasting
Paraben free
Matte finish
Cons:
Dry finish
Can look patchy
Quantity could be more
9. NYX
Originating in Los Angeles in 1999, NYX came to India with its first Bandra store in Shoppers Stop. The brand offers a variety of lip products from which the nude lip creams are particularly famous. NYX lipsticks last up to 16 hours without any cracks, transfers, fades or bleeds.
Pros:
Vegan products
PETA certified
Cruelty free
Cons:
Not all lipsticks are paraben-free. Do check before purchasing.
10. L'Oreal Paris
L'Oreal Paris has been ranked World's most valuable beauty brand. It has a range of lipsticks including matte, creamy or liquid. Some of the shades you can choose from are Desire, No Judgement, Beige Couture, Mont Blanc and more.
Pros:
Infused with essential vitamin oils
Waterproof
No bleeding
No bleeding
Moisturizing feel
Cons:
Its strong fragrance could bother people with sensitive smell senses
Can settle in fine lines on lips. Scrubbing of lips is a must to avoid it.
Removing lipstick is also crucial. So you want to invest in one which can be easily removed. Leftover lipstick or other makeup products can lead to skin imperfections. Thus ensure that you take them off before going to bed and also moisturise your lips with the best natural based moisturizers.