For those suffering from or prone to body acne, choosing the right soap is as crucial as choosing a right face wash. Why? Because we use a soap everyday, and many of them can actually reduce acne & pimples (which is important for those with body-acne).
While medicated soaps containing AHA/BHAs, salicylic acid, benzoyl peroxide, sodium sulfacetamide, zinc, or tea tree oil are great for those with oily skin type as they help clear clogged pores, blackheads, and destroy problem-causing bacteria, gentle soaps containing some moisturizing ingredients would be a better choice for dry acne-prone skin. On the other hand, sensitive-skin types should go for soaps containing natural acne-clearing ingredients and as few anti-acne ingredients as possible to avoid irritation.
Considering all these fundamentals, and performing an extensive research on all the soaps available for acne and pimples in the Indian market, we have come up with our list of 15 best soaps for acne and pimples.
Note: Soap or Face Wash? Avoid soaps, and just go for face wash if you only have acne or pimples on your face. Also, always make sure to use the right moisturizer specially formulated for acne or pimple-prone skin. Plus, never forget to buy the right sunscreen, especially if you stay in hot regions or need to go outside (even once) during the scorching summer..
Last update was on: December 6, 2022 2:48 pm
Best Soaps For Pimple & Acne
15 Best Soaps For Pimple & Acne
Richfeel Calendula Anti Acne Soap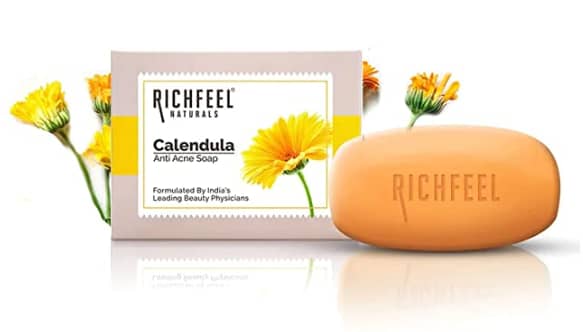 Popular highly-rated whole-body soap that removes pimples, clears acne marks & dark spots, provides a brighter & clearer skin, and leaves skin only minimally dry (dry-skin friendly).
Extremely popular and highly-rated Richfeel Calendula Soap thoroughly removes impurities & visibly reduces excess oil on the skin's surface. Formulated by India's leading beauty physicians, this 100% vegetarian cruelty -free soap is sure to not induce any breakouts.
Containing anti-acne and anti-inflammatory Calendula extracts and sunscreen Titanium Dioxide, it's able to remove pimples, clear clears acne marks & dark spots, and provide a brighter & clearer skin – all while drying the skin to the minimal extent (however, using a right moisturizer after soap is always a great idea!).
But again, like most soaps in the list, it's hard to buy it as a single unit as it's usually sold in a pack of 4 or 6. And while we do want all soaps to be available as single pieces too for just testing out, we believe that this soap's bundle is worth going for blindly. Suitable for whole body application, it enjoys 1600+ ratings on Amazon with a great overall rating of 4.3.
SebaMed Cleansing Soap-Free Bar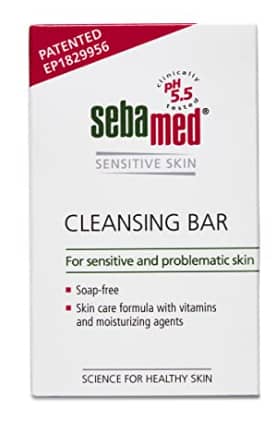 Mild, pH-balanced, irritants-free soap designed for sensitive skin. Reduces pimples and blackheads, removes excess sebum, and can be used by both kids and adults alike.
SebaMed is a soap-free (made entirely of synthetic cleansers, so doesn't produce extensive foaming), pH-balanced soap designed for sensitive and problematic skin. Packing numerous moisturizing ingredients (Sodium Lactate, Panthenol), and skin-identical ingredients (Glycine & Alanine), it effectively reduces pimples and blackheads,  removes excess sebum, provides natural moisturization and supports the maintenance of the skin's moisture balance.
This german-imported soap is light green in color, packs medicated smell, contains no plausible irritants, and can be used by both kids and adults alike. It's surely a popular soap as it enjoys more than 1500+ ratings on Amazon, which give it an average score of 4.1.
However, it does have some flaws. It does dry out skin as it contains acids, and smells like medicine. Also, there is a chance of receiving a duplicate product. If you want to avoid that, try ordering from the official website directly.
Pears Soft & Fresh Bathing Bar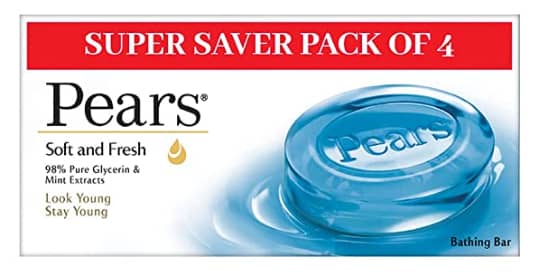 Well-recognized soap which is super-gentle on acne & pimples skin. Summer-friendly and amazing for those with dry skin.
This Pears Soap may not be a medicated soap, but it's wondrous for dry-skin people as it's the best at maintaining skin's natural moisture. With Menthol, it offers that post-cleaning cooling sensation, making it a great soap for summers. Its fragrance is mild & pleasant, unlike Chandrika Soap's prolonged fragrance.
This gentle soap with 98% glycerin washes away impurities while being super skin-friendly, which makes it a great choice for those having pimples and acne. And while it may feel expensive per unit, Amazon's 3+1 pack now makes it even budget-friendly.
On the not so nice front, we believe that it's not the best soap for oily skin people. Another issue with it as it is with many soaps is that it doesn't last long. Also, we did read a few Amazon reviews talking about delivery-related issues and receiving duplicate soap.
Medimix Ayurvedic Classic Soap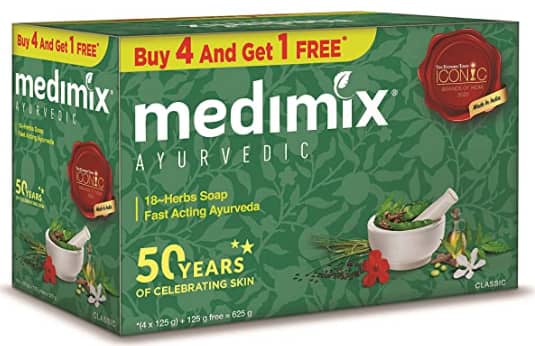 Well-known and highly-regarded herbal soap that works against multiple skin disorders, offers amazing foaming, packs amazing fragrance, and is dry-skin friendly as it causes minimal drying.
Packing nothing but 100% herbal ingredients, Medimix Ayurvedic Classic Soap is an effective solution against most skin disorders like pimples, prickly heat, itches, heat boils etc.
What's also great about it is that it improves skin complexion, dries out the skin minimally, offers a strong pleasant fragrance and provides amazing foaming. Also, it's 100% handmade, 100% vegan, cruelty-free and is super-affordable (it's sold as a "buy 4 get 1" offer). This is both the most-popular and the best-rated soap in our list (has 14000+ Amazon reviews with 4.4 average score).
However, it still dries out the skin even after having premium grade vegetable glycerine and Ayurvedic formulation of Lakshadi oil (that's why we always recommend a good moisturizer for post-bathing application). Also, it does melt quickly when kept in a moist environment, so may not last as long as Himalaya Herbals Neem and Turmeric Soap.
Himalaya Herbals Neem and Turmeric Soap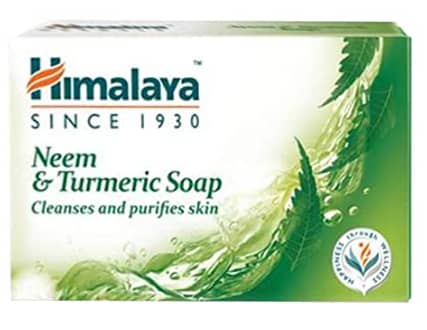 Himalaya's reliable anti-acne and anti-pimple soap with 3-years storage life and super-affordable price tag.
This Himalaya's soap contains Neem Oil, which allows it to combat bacterial infections such as acne, boils, and ulcers besides soothing itchiness, redness, and irritation. Turmeric allows it to even out your skin tone and complexion.
We think that its 3000+ ratings with an average Amazon rating of 4.3 and Himalaya brand's trustworthiness and reliability is enough to justify why you should buy it. This soap offers a brilliant shelf life of 36 months, and is super-affordable (you can get 6 soaps from anywhere between Rs.200 to Rs.300).
However, the soap isn't 100% herbal as it does contain synthetic compounds. Also, Himalaya doesn't mention the percentage of ingredients used, which we do expect from such a reputed brand.
Chandrika Ayurvedic Handmade Soap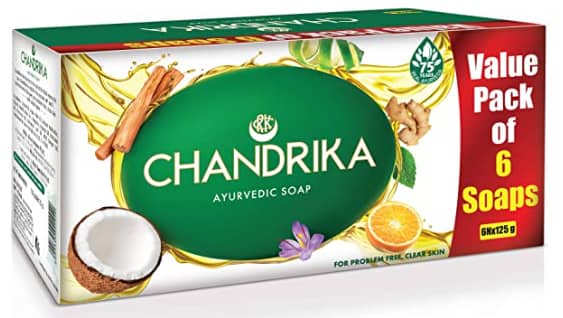 Known for its prolonged fragrance, Chandrika soap is great at treating acne, removing blemishes, and soothing skin. 100% handmade, almost 100% herbal (contains artificial colors though), super-cheap, and even works as hair shampoo.
7 natural oils containing Chandrika Soap packs the strongest scent of all the soaps. In fact, such a strong (and pleasant) is its fragrance that it can linger on for an entire day. It's great at removing impurities, treating acne, removing blemishes, and soothing skin.
Chandrika Ayurvedic Soap lathers extremely well, avoids tons of not so nice ingredients, is 100% handmade, plus is one of the cheapest in the list too. What's also great is that it can be used as a soap shampoo (using soap to wash hair). It enjoys an appreciable Amazon rating of 4.4 from 7000+ user ratings.
However, for those with dry skin type, we would advise MediMix Soap as it's less drying. Also, it can't be said to be 100% ayurvedic as it does contain chemicals like CI 51656 and CI 47000 for colourisation purposes. Last not so nice thing about it is it melts fast, so it doesn't last as long as Himalaya Herbal Soap.
Soulflower Tea Tree Soap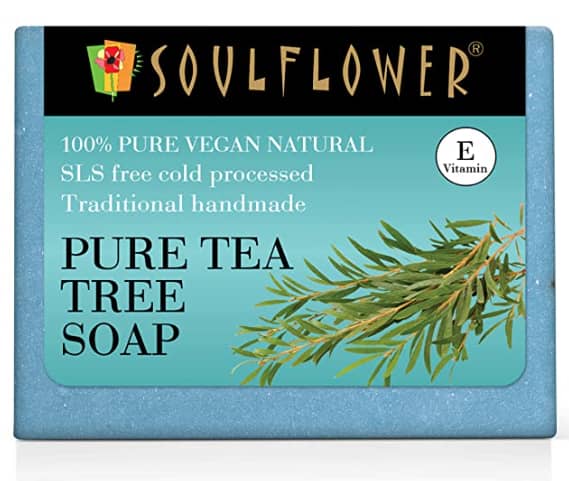 100% herbal, handmade and vegan soap that reduces acne or pimple-related redness & swelling. Mild, moisturizing, and goes well for even sensitive-skin.
Offering deep cleansing, great lathering, jasmine's prolonged fragrance, and cooling effect, Soulflower Soap inhibits bacteria, fungi, and viruses and reduces redness & swelling that commonly occurs with acne or pimples.
It's a handmade, vegan and 100% natural soap that's free from not so good ingredients (SLS, Chemicals, Synthetic Color, and Fragrance). It offers a moisturizing effect (so doesn't cause excessive drying), goes well over sensitive skin types, and works as a soap shampoo too!
It comes as a big bar, so requires cutting in two before usage. Again, like many other soaps in our list, it melts fast (so requires keeping it dry after bathing). Also, while it does work as a hair shampoo, it's not the best for that as it can trigger hair fall and dries out scalp. Regarding price, while it's expensive, it's 50% bigger than other similar soaps.
Khadi Organique Natural Neem Soap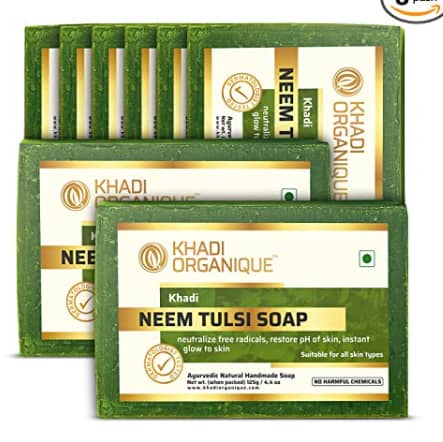 A natural dermatologically-tested handmade soap that's best for those with acne-body and skin irritation.
This 100% natural home-made soap containing Neem oil and Basil oil is great at fighting skin itching, clearing acne, and moisturizing skin. As it contains no chemicals and perfuming ingredients, it goes well for even those with sensitive skin type.
This soap lathers extremely well, packs a mild neem-based natural fragrance, works for all skin-types, and is designed for complete body usage (so great for those with body acne). Also, it's one of the few soaps in the list to be dermatologically-tested and 100% vegan.
If you are looking to just test it out, it's better to order it from Nykaa as Nykaa is allowing you to order just a single unit. However, Amazon is a better bet if you want to save money by ordering in bulk.
Getrid Salicylic Acid and Sulphur Cleansing Bar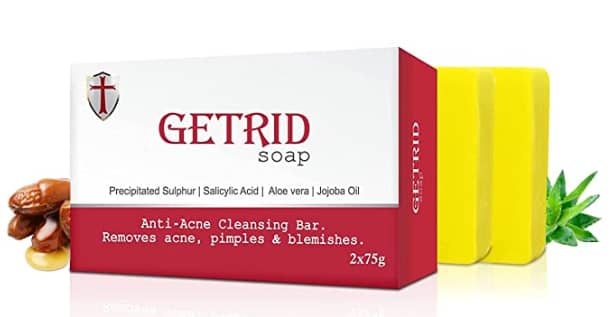 A highly-popular Sulfur-based soap that effectively works against pimples, acne (including fungal and cystic acne), and multiple other issues.
With exfoliating ingredients Salicylic acid & Sulfur at its core, this soap is able to reduce acne, heal old pimples, prevent recurrence breakouts, and reduce acne scars. It also works for itch, body malodour, jock's itch & athlete's foot.
The sap offers an instant intense cooling effect right after its usage. As it's a popular soap, it has tons of user reviews to refer to for making meaningful deductions.
However, it's very drying (always make sure to use the right moisturizer after it), has many negative reviews too, and melts super-fast when kept in a moist environment. Also, we would have loved it if the manufacturer would have mentioned the percentage of active ingredients.
Derma Dew Acne Treatment Soap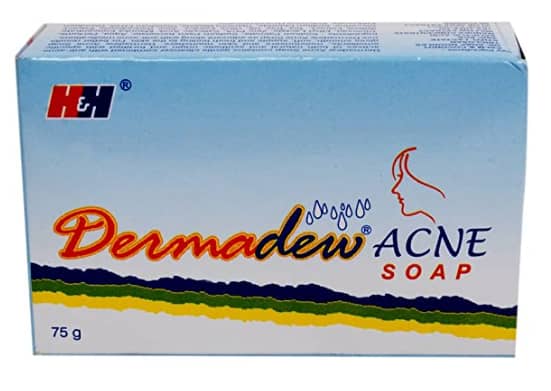 Popular body-based soap that reduces acne, offers sunscreen protection, and features many amazing ingredients. Available for buying as a single unit.
This soap is very similar to E Acne Soap in composition, but differs in application area and popularity. It's much more popular than E Acne Soap, plus, can be applied all over the body.
Also, as it contains titanium dioxide, it's able to provide some sunscreen protection too. Like E Acne Soap, it deep cleans with salicylic acid, offers reduction in acne with Zinc Pca and Teatree Oil, and even moisturizes with Aloe Vera.
On the not so good side, it also contains controversial triclosan. However, it's one of the few soaps in the list to be available for buying as a single unit (that's awesome for making the first trial).
Alite Anti Acne Pimple Bathing Soap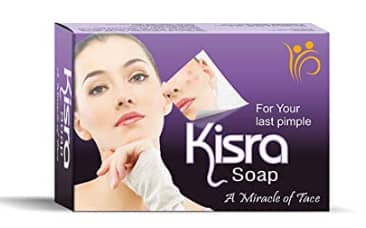 Medical face soap that works for all skin types (including sensitive), and effectively reduces acne.
Alite Bathing Soap clears oil, dead skin & pollutants from the skin, provides effective protection against acne with "Tea Tree Oil" (a well established anti-acne ingredient), and works for all skin types as it's hydrating & conditioning.
This soap packs vitamin E (which offers significant photoprotection against UVB rays), and Allantoin, which provides a soft and rich feel. Like Kisra soap, it also imparts glow on to the skin. Also, we appreciate Alite for keeping their ingredients list transparent.
Alite Soap's simple composition with natural anti-acne ingredients makes it a great choice for even those with sensitive skin types. It packs a mild tea tree fragrance. However, what we don't like is that the soap can't be purchased as a single unit and only comes in a bundle of 3 or 4.
E Acne Soap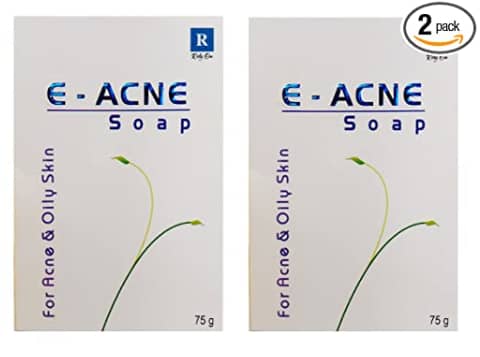 Dermatologists-recommended face soap that deep cleans, reduces acne and moisturizes with its numerous amazing ingredients.
A medical dermatologists-recommended soap which packs salicylic acid as exfoliating agent, Zinc Pca & Teatree Oil as anti-acne ingredients, and Aloe Vera extract as moisturizing ingredient. Again, we appreciate Rely On (this soap's manufacturer) for offering transparency regarding this soap's composition.
On the not so bright side, it contains controversial triclosan, isn't much popular online, and is much more expensive than other soaps in the list. Alite Bathing Soap is still a better pick than it.
Kisra Pimple Care Soap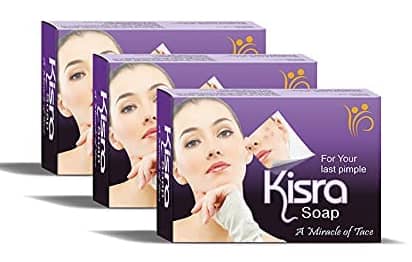 A highly-rated face soap which clears pimples and reduces dark spots.
Containing Triclosan (an antibacterial and antifungal agent), Kisra Soap is a high-foaming soap that removes excess oil from the face, clears pimples and reduces dark spots.
Its formulation also provides radiant glow to the face, while rejuvenating and repairing cells. This soap packs a mild lemon grass fragrance, and enjoys a brilliant rating of 4.2 on Amazon India.
However, its star ingredient Triclosan enjoys a bit of controversy surrounding its potential risks. Also, it's not clear to us what all ingredients it contains, so we can't recommend it for those with sensitive skin types. Another thing to note is that it's available as a pack of 3 on Amazon & Flipkart, so those who just want to test it out, should buy it from IndiaMART or Kisra's official website.
D'Acne Soap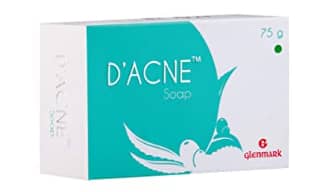 Very similar to E Acne Soap in composition, but it's mild (contains just 0.1% ww Salicylic acid), and can be used for both face & body.
Glenmark's D'Acne Soap has the same composition as E Acne Soap. That means, it contains exfoliating ingredient Salicylic acid, same two anti-acne ingredients (Zinc Pca and Teatree Oil), and again aloe vera (and many other oils) as moisturizer.
However, this medicated soap, unlike E Acne soap, can be used for a complete body bath. Also, we appreciate Glenmark for specifying salicylic acid content (0.10% ww) which very few soap manufacturers seem to be doing. Another thing we love about this soap is its availability across so many ecommerce websites.
The D'acne soap enjoys a rating of 4.1 on Amazon India from just over 30 reviews. Figuring out if it really works with so few reviews and ratings was difficult. Also, it's one of the most expensive soap in the list, and we aren't truly sure if it's worth that.
ACNOFF Bar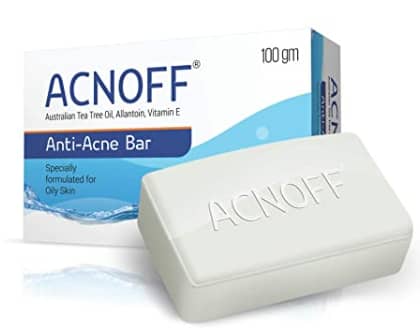 Non-comedogenic soap that's suitable for both face & body-based acne or acne scars.
Suitable for both face and body use, ACNOFF Bar soap is a non-comedogenic soap that wipes out excessive oil, cleanses dirt, fights P. Acnes acne bacteria, and repairs acne scars and blemishes.  Australian Tea Tree Oil, a well-established anti-acne ingredient, helps it to accomplish all this.
Also, Allantoin allows it to offer skin-softening and protecting features, while Vitamin E allows it to prevent acne progression i.e., non-inflammatory acne to inflammatory acne.
But again, like D'Acne Soap, it has very few reviews surrounding its real-effectiveness. While it does give a good impression based on ingredients and the limited reviews we could access, nothing conclusive can be said about it. The soap can be bought as a single piece and was last selling for around Rs.180 at the time of writing this review.
Conclusion
Choosing the right soap when you have acne or pimples is crucial as it's the first line of defense (and offense). While mild soaps that clean thoroughly and nourish skin would be ideal for most sufferers, those with acne-body should consider buying body-based medicated soaps containing anti-acne ingredients. But if you have acne just on your face, we would advise you to buy the right face wash rather than a medicated face soap. But no matter whatever soap you use, always apply a suitable moisturizer and a sunscreen post-bathing.
Reviewed by
DR. B LAKSHMI DIVYA
Registration Number: 74576
MBBS, MD – Dermatology, MBBS, MD – Dermatology , Venereology & Leprosy