Most of us women have a complicated relationship with our bras. Some days we question why wearing a bra is necessary, and then there are days when we go on lingerie shopping that, not to lie, feels incredible! And during those shopping sprees, we often are hit with a dilemma over choosing the right bra from the overwhelmingly extensive types of bras. From high-performance sports bras to exotic lace bras, here's a list of all the bra types available on the market so you can wear the deep-neckline and backless dresses that you have dumped at the back of your wardrobe!
Understanding the different kinds of bras is only step one. The next step is to know which one works for your body type and size and what it can be worn under. So, let's dive right in and find all that out!
37 Different Types of Bras
T-shirt Bra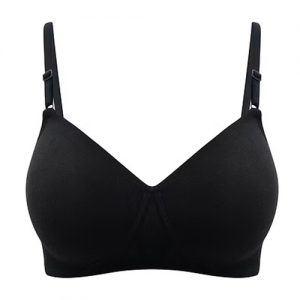 T-shirt bras are honestly our forever baes! They have everything you usually look for in a daily wear bra – support, comfort, coverage, and look and feel. This bra is (usually) seamless with round moulded cups to provide invisibility as opposed to the age-old conical cups with seams running from between.
Want to embellish your curves, go for a padded t-shirt bra, or if you want to go all out for comfort, you can try the non-padded and non-wired ones! Additionally, all the leading bra brandsoffer this style making it one of the most accessible bra types.
Key Highlights
Ideal everyday bra
Seamless and smooth with medium to 3/4th coverage
Comes in various styles – plunge neck, padded, non-padded, wired, and unwired
Has a round moulded cup, therefore, enhancing your natural shape
Best for: Tight-fitted or oversized tees, body-hugging dresses, formal wear, traditional and western tops
Push-up Bra
It doesn't matter whether you are petite or full-breasted…push-up bra doesn't judge any body type and gives everybody the support they need! As the name suggests, this bra moves your breasts inwards and upwards to accentuate your cleavage. It fills the breasts, thereby making them seem fuller.
With extra padding at the bottom made up of either foam, gel, or silicone and a close-fitted underwire, the push-up bra gives your silhouette a voluptuous makeover. It is categorized into 3 levels, based on the amount of padding present. A push-up bra can be worn under any outfit for any occasion. So go on, try on, and slay on!
Key Highlights
Enhances your cleavage and creates the appearance of fuller breasts
Gives medium coverage
3 different levels of paddings to choose from
Does not suit women who have wide-set breasts
Best for:Low-cut tops, dresses, and t-shirts
Padded Bra
A Padded bra is designed with padded cups or sometimes has pockets towards the side to convert your padded bra into a non-padded one by removing the pads or cookies. This bra alleviates many concerns women face by providing invisibility of nipples over outfits, good support, and increased comfort.
What's more? There's something for everyone. If you have fuller breasts, try light-padded bras, and for women with smaller breasts, take utmost advantage of the heavy-padded bra to enhance your curves.
Light-Padded Bra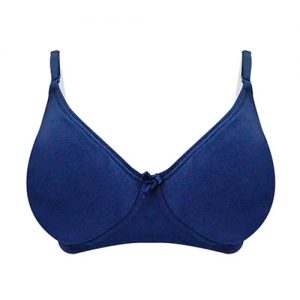 We all know about the protrusion (if you know, you know) when the weather gets chilly or when the AC temperature is reduced. So how do we conceal that? Padded bras! Yes, we have already spoken about them above, but here we'll talk about its variant – the light-padded or soft-paddedbra. Padded bras may sometimes feel stuffy, bulky, and hot. But the light-padded bra brings the best of both worlds – it feels less stuffy and bulky and conceals everything perfectly too
These versatile bras are engineered to give you a smooth and seamless silhouette, leaving you blissful all day, every day!
Key Highlights
Comes in various necklines
Varies in the amount of padding for different-sized breasts
No nipple shows
Smooth and natural look
Best for: Fitted tops, t-shirts, and business casuals
Non-Padded Bra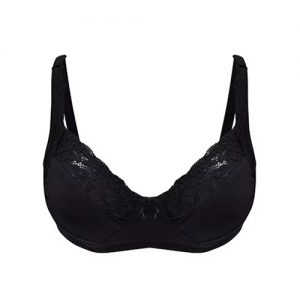 If you are looking for a basic bra that can give you support and comfort without any crazy additions, the non-padded or unpadded bra is the one for you. This bra does not have pads, so it is light, breezy, and cozy and shows off the natural shape of your breasts. Additionally, due to its minimal use of fabric, the bra absorbs moisture quickly and prevents skin irritation or infections.
If you had an assumption that non-padded bras are not supportive enough, then let us tell you, it is a myth. Just like padded bras, the non-padded also provides the support you need while giving you uncompromised comfort for daily use.
Key Highlights
Shows off natural curves without adding volume
Super comfortable and breathable
Reduced risk of breast cancer
Medium to full coverage
Best for: All types of tops and dresses
Convertible Bra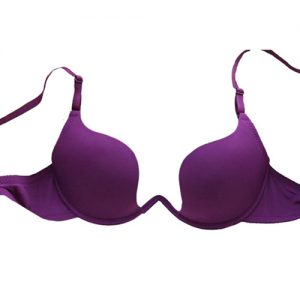 Not all of us need strapless bras daily, but some situations call for it. So, what do we do? We convert our regular bra into a strapless one. But how? Buy a convertible bra! This bra can be magically transformed into any style you want – strapless, crossover, crisscross, or halter style. A few convertible bras can even convert into backless bras!
Due to its versatility, it can be worn with almost any outfit. Going on a trip? You don't need different bras for different ensembles anymore. This bra is the "one bra fits all" type. Make it a part of your lingerie arsenal!
Key Highlights
Wide variety of necklines – long-line, plunge, and more
Convert from regular bra to strapless bra within seconds
Coverage: Medium to full coverage
Best for: Racerback shirts, off-shoulder tops, halter tops, and wide or boat neck t-shirts
Strapless Bra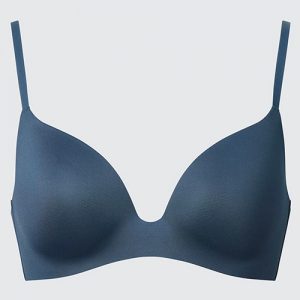 Typical misconception women have is that most of the bra's support comes from the straps. Even though it is accurate to a certain extent, the backband plays the main lead by distributing the weight of the breasts around the body. That is why strapless bras are possible and efficient!
Strapless bras have a broader backband with silicon seams or dots to ensure it stays in place. Like the t-shirt bra, this bra has moulded and well-constructed cups with pads to give some extra support, shape, and an uplift too!
Key Highlights
Wider backband for good support
Silicone seams to stay intact
Coverage: Medium to 3/4th
Best for: Off-shoulder tops and dresses, spaghetti-strapped tops, and asymmetrical necklines
Lace Bra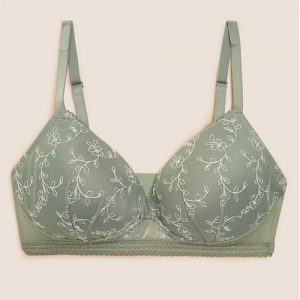 There is a bra for every mood, and lace bras are for when you want to feel sensual or exotic! This bra comes in a traditional design with generally less rigidly moulded cups to tug to your body. The fabric feels soft, and the lace itself is made of breathable fabric with smoother ends to make you feel completely comfortable by not digging into your skin.
A lace bra gives you a feminine and pretty look. No matter what outfit you are wearing on top, the lace stays invisible. It comes in various styles and intricate designs to oomph your elegance. They say the more exotic the clothing is, the higher it costs. But don't fret anymore! The deals offered by Cloviaare as appealing as their lace bra collection.
Key Highlights
Suitable to women of all body types
Comes in rich colours and designs
Medium to full coverage
Best for: Sheer tops, style it by itself as a crop top, spaghetti tops and camisoles, night robes
Balconettes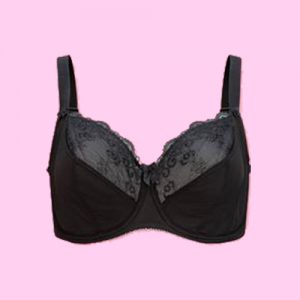 Though Balconettes and Demi Bras look strikingly similar, there are a few differences between these bra types. A Balconette bra has a sweetheart neckline, whereas a Demi Bra has a straighter neckline. In addition to that, Demi Bras do not provide a lot of coverage. Balconettes, on the other hand, are less revealing and have a broader set of straps that increase comfort and reduce the weight of the breasts from your shoulders.
Balconettes go well with almost all outfits, especially lower-cut ones, as the cups do not interrupt the cleavage. This bra is an excellent option for women with a smaller bust. It can also give an appealing look to women with fuller breasts.
Key Highlights
Good for cleavage show-off
Padded and moulded cups give an attractive appearance
Medium to 3/4th coverage
Best for: Square, sweetheart, and florentine necklines
Bralettes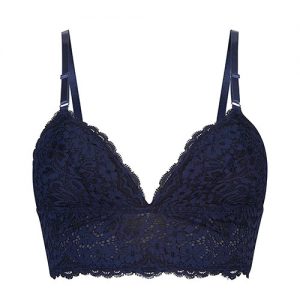 Bralettes are popping up everywhere lately, and honestly, it is an excellent piece of garment for the fashionista in you. This is a bra that can be used as innerwear and can be styled as outerwear too. Even celebs like Alia Bhatt and our very own international heartthrob Priyanka Chopra are donning them with chic blazers.
Bralettes are usually made of lace or cotton, or to give a complete boho look, they come in crochet too! This bra isn't just a bra but more. It can be paired with skirts, straight pants, and denim shorts. Though traditional bralettes don't offer much support, inclusive brands have options for curvy women. To up your style game and save simultaneously, head to the sales section of Zivamefor some of the most fantastic offers!
Key Highlights
Model it as underwear or outerwear
Padded and non-padded variants are available
Works miraculously during travel and trips
Medium to 3/4th coverage
Best for: Sheer tops, oversized crochet sweaters, cardigans
Sports Bra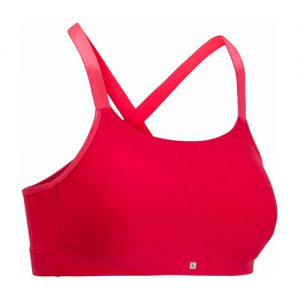 The name exactly defines its function. Sports bra needs to be called out for what it is – the most needed innovation for the entire woman race! This tiny piece of clothing provides enormous support to breasts during physical workouts. Sturdier than your regular bra, sports bra minimizes breast movement, which, frankly, is a massive problem for us women.
The moisture-absorbing fabric and thick straps, added to maximum coverage make it the best choice of sportswear. Brands today are taking this bra forward by making it a style statement. Slip one on and go for your much-needed workout session.
Key Highlights
Well-supported
No discomfort while moving or jumping around
Pair it with workout or yoga pants as outerwear
Maximum coverage
Best for: Activewear, tank tops, racerback tops, sheer tops, jackets, and blazers
Plunge Bra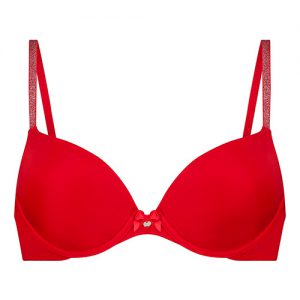 Do you have a deep-cut top and are unsure about what lingerie to wear with it? We got you covered, literally! The plunge bra is the warrior that'll save you from the bra peeking out and ruining your sultry look. This bra has a deep neck that typically vanishes underneath your outfit. Its angled cups mildly push the bust inwards, creating a natural-looking long cleavage illusion.
This sensual bra will give you all the confidence you need to pull off the boldest looks. And to all the curvy women reading, you will be surprised at the support and comfort plunge bra provides! What else are you waiting for? Try it out for yourselves, and you will be glad you did!
Key Highlights
Offers good support
So comfortable that you'll want to wear it all day long
Medium coverage
Best for: Keyhole, deep V-neck, deep cowl, and plunge neckline tops and dresses
Stick-on Bra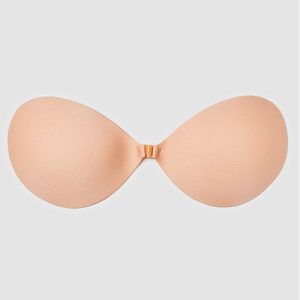 Daring to model a backless and deep-neck dress, but alas, you don't have a proper bra to wear for it? Relax girl. We have a super neat option! Presenting to you the stick-on bra. This bra is one-of-a-kind since it sticks to your breasts without straps or a backband. The adhesive cups are made of nylon or silicone and are padded for a no-nipple show.
This is not your typical bra and cannot be worn the usual way. To increase adhesiveness, ensure your breasts and sides are dry. Because a wet base leads to a slippery slope! At the time of removal, gently peel from top to bottom, hand-wash it, dry it, and store it in a dust-free compartment of your wardrobe. Easy!
Key Highlights
Mild push-up effect
Low to Medium coverage
Reusable and padded silicone/nylon cups
Best for: Backless, off-shoulder, plunging neckline, halter, and tube tops and dresses
Wireless Bra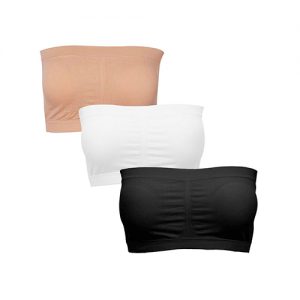 Like Virat and Dhoni in cricket, Messi and Ronaldo in football, and Shah Rukh Khan and Salman Khan in movies, wired and unwired bras have a very loyal fan base of their own too! There is an ongoing and never-ending debate as to which one is better. Wire-free or wireless bras are comfortable and can be worn for longer durations without discomfort. This bra also gives you an incredible and naturalistic shape with moulded cups.
Key Highlights
Helps the breasts relax and eases blood flow
With breathability and mild support, it contours the natural shape of the busts
Reduces premature sagging of breasts
Medium to full coverage
Best for: Designed to look good under any outfit.
Underwired Bra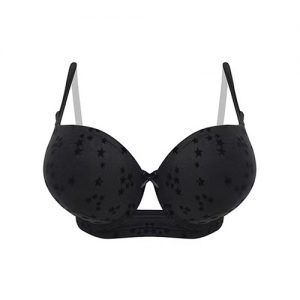 Next up is the contender of wireless bras. We have all heard the word "underwire" a gazillion times, but how many of us know what it is and its uses? If you are unaware, let us give you some 'gyaan', and if you do know, now's the time to go and buy one! The underwire contours the shape of your bosom and slightly pushes them up.
These bras are a rescuer for heavy-chested women because they reduce the back pain they commonly experience. Support, shape, and lift – underwired or wired bras take these parameters together and heighten them for the utmost appeal. The only snag is that the wire may come out and make you feel pokey or bumpy. When that happens, it is a hint for you to replace it!
Key Highlights
Provides better support and shape
Not recommended to wear it daily
Compliments almost all outfits
Best for: Deep neck Kurtis and any neckline tops and dresses
Seamless Bra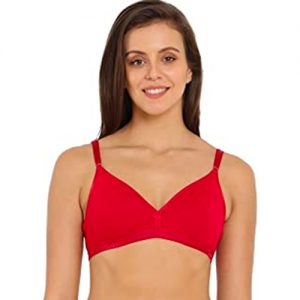 Seams in the cups can ruin the entire smooth look that you were going for. Usually made with a light blend of fabric, seamless bras are meticulously curated with no seams/stitches in the well-defined cups to go unnoticed under your outfit. Moreover, these bras can be sported by women of all cup sizes.
Key Highlights
Moulded cups for great shape
Supportive under band and backband
Covers the sides for a no-bulge look
Coverage: 3/4th to full
Best for: All outfits that require a smooth finish
Maternity Bra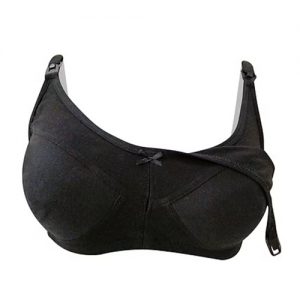 Pregnancy is a magical time when we feel all the highs and lows of life. Carrying a child changes you emotionally, mentally, and physically too. Soon you will not be able to fit into your old clothes, and the same goes for your lingerie. But we have options unlike in the yesteryears. Maternity bras are designed to support your growing breasts during pregnancy with extra-wide straps, backbands, and additional hooks.
Just like maternity wear, maternity lingerie is indispensable. Every woman's pregnancy is unique, and so are the hormonal and physical changes. Just a heads up, depending on your body growth, you might have to go maternity bra shopping more than once.
Key Highlights
Jacked-up version of a regular bra
Soft cotton lining since breasts are more sensitive during pregnancy
Comes in various styles like bralettes, lace bras, etc.
Best for: Maternity and postpartum wear
Nursing Bra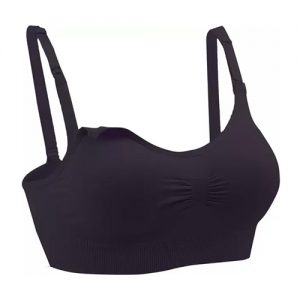 We've already talked about maternity bras, and it's natural to wonder how the nursing bra is different? Maternity bras support the body changes that occur during pregnancy. Nursing bras benefit entirely for things necessary post having your baby. One of the many issues that new mothers face is breastfeeding. It becomes even more complicated when it has to be done in public. Breastfeeding-friendly clothes are already on the market, but compatible lingerie is also much-needed.
The cups/flaps can be unlatched easily to expose the nipple for feeding. Since frequent breastfeeding can swell up your bust and lactating women discharge colostrum, they are made with quick-absorbing and soft fabrics.
Key Highlights
Made with cotton or spandex materials
Open flaps for a better nursing experience
Continuous breastfeeding can sag the breasts. Nursing bras prevent that from happening
Comes in various designs and patterns
3/4th to full coverage
Minimizers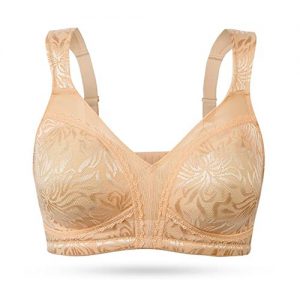 One of the most exciting and transformational bras on the list, Minimizer bras do just what they mean. This bra does everything a regular bra does but adds to it – extra support and technology that gives the impression of having a smaller bust by distributing the bust tissues evenly. As a result of minimising breast size, the Minimizer bra assures next to zero bounce.
The non-stretch fabric frame for superior support and anti-sag, broad back band, and cushioned straps hold the weight of the bust with minimal chafing. Now, you can bid goodbye to the button-snapping gap in button-down shirts!
Key Highlights
Gives a zero-bounce and zero-bulge look
Defined cups to prevent sagging and enhance the natural shape
Balanced and smoother silhouette
Full coverage
Best for: Button-down shirts, tops, and kurtis
Transparent Bra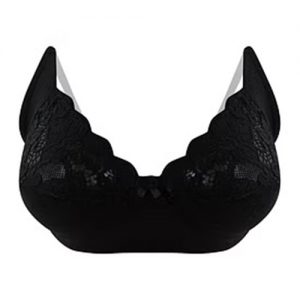 Do you always need to push your bra straps toward the sides while wearing a wide-neck top? Or have you compromised on your deep back-neck blouse due to the visible backband? Then hear us out because we bring you an ideal solution – The transparent bra! This bra comes with a transparent backband and straps making it nearly invisible.
This bra comes in wired and non-wired variants with plastic and non-yellowing straps that provide you the support you need to flaunt your best outfits with total confidence. The variant where the bra comes with a transparent backband is also called a backless bra.
Key Highlights
The straps are stretchable and adjustable
Made from a blend of nylon, elastance, viscose, and polyester
Medium to full coverage
Best for: Spaghetti, off-shoulder, bareback, lace back, deep-neck, and sheer tops and dresses
Halter Bra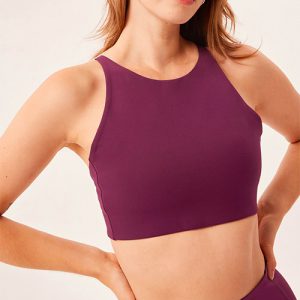 How much weight can the shoulders alone take? So, when you get a chance, give your shoulders a break and opt for a halter bra. This bra has a strap that wraps around the back of your neck to relax your shoulders and torso by gently lifting your breasts. It looks enormously modern and chic when paired with the right outfit.
Another advantage of opting for a halter bra is that it is designed to bring your bust closer towards the centre for an appealing cleavage and prevent sliding and slipping down of straps. If you already own a convertible bra and don't want to spend more, you can always convert it into a halter neck bra.
Key Highlights
Takes the weight off your shoulders
An excellent pick for all body types
Improves shape by uplifting breasts
Medium to 3/4th coverage
Best for: Halter neck and spaghetti tops and dresses
Bandeau Bra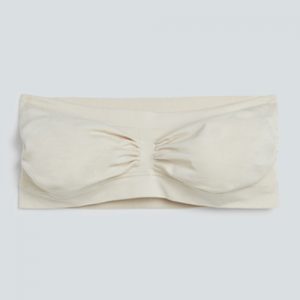 Similar to a strapless bra yet unique in its own way, the bandeau bra or tube bra is made from a stretchable piece of fabric with horizontal bands at the bottom and top for more support. Hooks always give you the scares? Then this bra is definitely for you! This slip-on bra can also be converted from non-padded to padded in an instant by inserting cookies into the pockets provided in a few of these bras.
Additionally, undergarments don't need to be restricted to just their functionality. This adaptable apparel can be flaunted by itself with boy shorts, blazers, or skirts.
Key Highlights
Strapless with no closures
Does not provide the support and hold that heavy-breasted women need
Wear it as an undergarment or as an exterior piece of clothing
Best for: Wrap dresses, tube tops and dresses, blazers, dungarees, and long armhole tees
Long-line Bra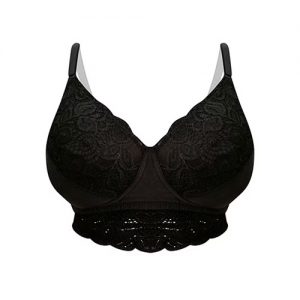 Wearing underwire bras or wired padded bras all day long can leave your breasts sore and irritated. But they don't need to be that way! Various bra styles can make your breasts feel at home – one such unique style is the long-line bra. These are bras with extra fabric running down to the mid-riff or the waistline.
Due to the added fabric, long-line bras have increased comfort and are more likely to stay in place without slipping down or moving up. Elimination of the underwire and structured cups in these bras also enhances comfort.
Key Highlights
The extra fabric provides extra support
Helps in pulling off a seamless look
Depending on the material, the bra can act as a waist shaper
Best for: Deep plunging neckline, open-side dresses, see-through tops, as outerwear – with jackets, skirts, and over tops
Cage Bra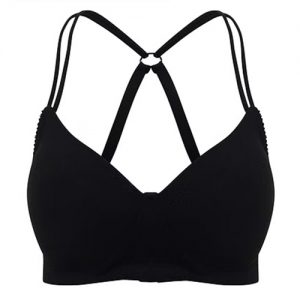 The name sounds very irresistible, for sure! A cage bra is an attractive undergarment with a harness-looking front. With various thin straps encapsulating the breasts, this bra will give you the most exotic feel! The cage-like pattern will immediately beautify your busts. These bras are the decorative versions of regular bras but are not the greatest at providing support.
You can choose styles such as single-strapped, multi-strapped, sporty, choker, and V-shaped cage bras made of fabrics like lace, mesh, and leather to give a bolder aura to your lingerie collection.
Key Highlights
Brings out a feminine yet edgy look
Increases symmetry of the breasts
Fashion creative outfits with the help of the straps
Best for: Sheer tops, casual clothes, crop tops, and party wear
Racerback Bra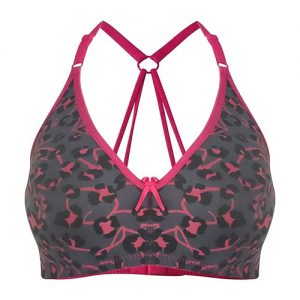 Tired of straps slipping down your shoulder or bras not giving enough support that you need, or maybe both? Why not give Racerback bra a try? The straps of this bra intersect at the back to create an "X" shape. Racerback has several benefits, especially for fuller breast women. The first and the most essential one is the support it provides! The crossover of straps offers an extra lift, and when combined with a broad back band, it becomes the most comfortable bra.
Moreover, since they meet and cross each other at the back, it relieves the shoulder and upper back from excessive pressure and also prevents the straps from slipping down the shoulders.
Key Highlights
Disperses weight across the back for more support and comfort
Relieves pressure from shoulders, back, and neck
Sports bras of racerback style are the most convenient for intense workouts
Half to full coverage options are available
Best for: Fitness tanks, racerback tops, plunging back, and open-back tops and dresses
Demi Bra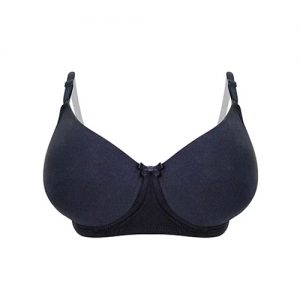 The land of bras is massive with so many puzzling names, and one such name is the "Demi Bra." Demi means half. This bra is literally not meant to give you full coverage. In fact, the bra partially exposes the bust to not-so-prominently enhance your cleavage. They lift your breasts ever-so-slightly to draw attention to their natural shape.
A demi-cup or demi bra is not ideal for fuller body types since the partial cups do not provide the necessary support or coverage. This bra can further have options such as a demi push-up bra or a demi plunge bra.
Key Highlights
Designs come in both padded and non-padded variants
Slight cleavage show
Ideal for small-breasted women
Partial coverage
Best for: Deep neck tops and dresses, square and sweetheart neckline dresses
Cami Bra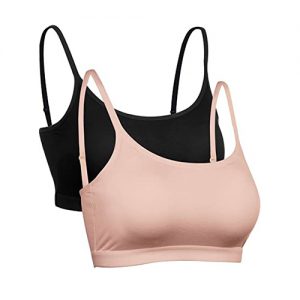 What do you get when you combine a camisole and a bra? Yeah, you are right! You get a cami bra. Also called a built-in bra, this bra is a great option when you want to cover yourself with an extra layer of clothing. Commonly worn under t-shirts, padded cami bras or camisole bras are the best for those who don't like to wear typical bras.
This bra comes with noodle straps and a camisole made of spandex, lace, satin, or hosiery materials. This fashionable apparel is designed in T-back, racerback, and many other styles, making it a popular choice amongst women.
Key Highlights
Covers more skin than a regular bra
Designs that are figure-hugging with padded and non-padded options
A good choice for all body types
3/4th to full coverage options
Best for: Depending upon the neckline, the bra can be worn under everyday clothes, plunging necklines, and body-hugging clothes
Front Open Bra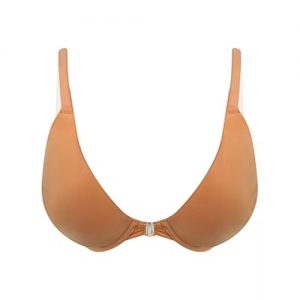 Even though bra has become a staple piece of clothing in our daily lives, most of us still struggle with those hooks. Some of us secure them in the front and then move them to the back. What a strenuous thing to do every day! Front-open bras were designed to relieve you from all that struggle. It also helps women with mobility issues, arthritis, and joint pains since reaching the back can be difficult.
And that's not all. These bras also push the breasts to the centre for a more attractive shape and an appealing cleavage. Now you can effortlessly fasten your bra in the front, look your best self, and carry on with your day.
Key Highlights
Usually comes with demi cup and plunging necklines
One of the best options for wide-set breasts
Easy to hook and unhook
Medium to full coverage
Best for: Summer dresses and fitted tops
Lounge Bra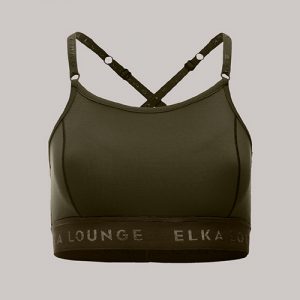 This bra puts comfort over everything else. Imagine coming home dead tired, and all you want to do is toss off the bra and relax. But going completely unprotected isn't your thing? This is where lounge bras come into the picture. They are made with stretchy fabric like cotton and microfiber with no metal hooks, itchy straps, or wires. Lounge bra is an umbrella term for bras that prioritise comfort, including bralettes and post-surgical bras.
One thing to remember before making your lounge bra purchase is to decide the purpose of its usage. This bra style can be great for walking, lounging around the house, yoga, meditation, quick grocery and shopping errands, and other low-intensity activities. Since it provides minimal support, it would be a poor choice to wear them and go running or to the gym.
Key Highlights
Provides minimal support
Ultra-light and soft fabric
Best for: Casual clothes, sleepwear, and loungewear
Beginner Bra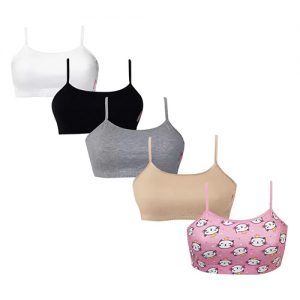 Teenage girls might not be able to share everything with their parents. When puberty hits, there are several bodily changes that girls go through, and one of them is the growth of their busts. As a parent, you need to understand that the transformation might be a little scary for them. It is essential to hand them a beginner bra that is soft, comfortable, and provides sufficient room for growth.
These bras can easily be slipped into without struggling with hooks or clasps like a tank top or spaghetti. Beginner bras are also non-padded and non-wired, but a few have pockets for inserting pads for complete nipple coverage.
Key Highlights
A basic bra for teenage girls
Made with soft and stretchable fabric to aid growth
Slip-on style bra with no zippers, hooks, or clasps
Medium to full coverage
Best for: All types of dresses
Low-Back Bra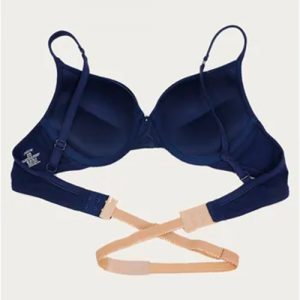 Stick-on bras can sometimes feel unreliable and will keep you worried about them slipping when wearing a deep-back blouse, top, or dress. The low-back bra is a much more reliable option. With its backband stretching down to your lower back, you can rest assured that there are no peek-a-boos happening behind your back!
Key Highlights
You can confidently show off your long back
The backband is usually narrow
Instead of a backband, a few low-back bras go around the waist
Medium to 3/4th coverage
Best for: Low-back blouses, kurtis, and tops
Sheer Bra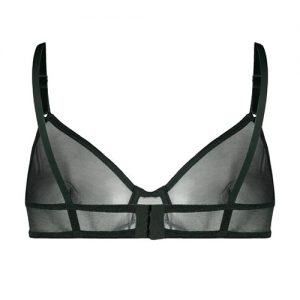 Sheer is a word that might scare most women from trying this bra, but for all courageous and adventurous women out there, this one is specially made for you! The sheer bra can sometimes feel like a high-risk stake due to the usage of see-through materials.
When paired with the wrong outfit, there is a chance that you are flaunting more than you had initially thought. Therefore, it is suggested that women with darker or larger areolas pair sheer bras with thicker t-shirts or choose darker tones like black or red.
Key Highlights
Lightweight and flexible
See-through and floaty material makes the bra feel breezy and comfortable
Easy to maintain
Partial coverage
Best for: Thick t-shirts and chunky sweaters
Cupless Bra
Cupless bras are graceful and erotic and can become the most impressive piece to carry for your exotic honeymoon or for spending intimate time with your man! It is a bra style that makes you feel confident in your skin and shape by covering your busts with lace or satin with no defined cups.
Cupless bras come in different styles, such as cage or strappy bras. Some designs also include an underwire to give support and upliftment. If visible nipples aren't your thing, you can pair them with silicone reusable nipple covers or body tape.
Key Highlights
Showcase your authentic beauty
An exotic pick for intimate times
Comes in the quarter and demi-cup variants as well
Coverage: Partial
Mastectomy Bra
Fighting breast cancer is a daunting and life-changing experience, and post-surgery care is essential since your body is recovering. During the first few months, it is vital to choose a bra that is comfortable and soft, and here's where a mastectomy bra helps. It does not matter if you have undergone reconstruction, mastectomy bra adds support to the prosthetics and has pockets to insert the silicone externally.
They come in various styles and designs since every woman's needs differ during recovery. From t-shirt bras to sports bras, they are designed to provide comfort and high support.
Key Highlights
Integrated pockets for prosthetics
Wider and padded straps for more comfort
Most mastectomy bras are non-wired to avoid irritating the scar tissue
Supportive side seams
Wider under band to hide scars
Full-Figure or Full-Support Bra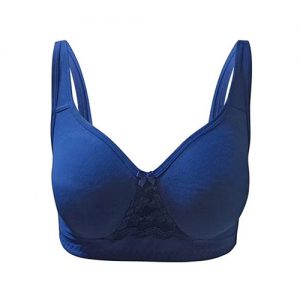 Full-coverage bras are the unsung heroes of fashion. This bra style offers the perfect blend of comfort and confidence, so you can look good and feel better. Full-coverage or full-figure bras are designed for fuller women since they provide extremely high coverage and support for heavy breasts.
These bras provide no slips and no spillage without compromising on support or comfort, making them the best choice for curvy women. You can avail of these super comfy bras from Shyaway, one of the top lingerie brands online. And for comfy prices, coupons from Shyaway?
Key Highlights
Straps are wider and supportive
Increased hooks and closures
The best option for plus-size women
Provides a smooth finish with no spillage or bulges
Bridal Bra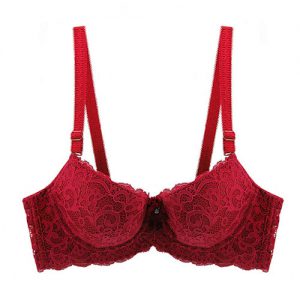 Shopping for your big day? Gown or Lehenga. Check. But what about innerwear? That's important too! Wedding or bridal bras are made with heavy work and intricate designs to provide a fuller and more royal appearance. These bras are some of the fanciest and most sensual bra styles of all – made with the most comfortable fabric, like lace and satin.
You can choose from a wide range of styles based on your bridal trousseau, such as padded, light-padded, non-padded, or bralette variants.
Key Highlights
Provides a classy and elegant appearance
Adds more confidence and fullness
Partial to 3/4th coverage
Best for: Wedding and honeymoon attires
Shelf Bra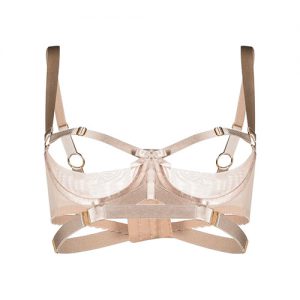 Shelf bras are an ingenious invention that can take your lingerie game to the next level. These bras are designed with a unique structure that supports the bust from below, without fully encasing it like a traditional bra. The result? A lifted and separated look that is both sexy and comfortable.
The key to the shelf bra's success lies in its construction: it typically features an underwire or support band that runs along the bottom of the cups, and straps that attach to the band instead of the cups. This allows the cups to remain open, giving the breasts a more natural shape and allowing for a tantalizing glimpse of skin.
Key Highlights:
They lack full coverage cups
Generally preferred by those who find traditional bras confining and uncomofrtable
Works best as lingerie or intimate wear
Usually has adjustable straps and band
Comes in a variety of styles and fabrics including lace and satin to prints and bold colours.
How To Find The Right Bra Size?
Bra sizes have two elements – a number followed by an alphabet. Let's find out what these two components actually mean. The number is the band size (30, 32, 34, and so on), and the alphabet denotes the cup size (A, B, C, D, DD… etc.).
Determine your band size:
With the help of a measuring tape, measure your rib cage under the bust, where the bra would usually sit.
Add 3 inches if it is an odd number and 4 inches in case the number is even. For example: If the measured size is 32, your band size is 36. If you measured 31, your band size is 34.
Calculate your cup size:
Wrap the measuring tape across the fullest part of your busts and round it to the nearest number.
Subtract the above-calculated band size from this number. The difference in inches will give you your cup size.
| | | | | | | | | |
| --- | --- | --- | --- | --- | --- | --- | --- | --- |
| Difference (in inches) | 0 | 1 | 2 | 3 | 4 | 5 | 6 | 7 |
| Cup Size | AA | A | B | C | D | DD | F | G |
If your band size is 32 and your bust size is 36, then your bra size is 32D.
Checklist to determine whether the measured size is accurate:
Check if the cups completely contain your breasts without any spillage or bulges
Bend forward to ensure no gaps are present in the cups. If they exist, try a smaller cup size.
The back of the bra must be in line with the under band on the front.
Assemble Your All-Round Arsenal
Well, this long list of all the bra styles available in the market may seem overwhelming at first, but take your time to decide which ones are your must-haves and add them to your brassiere arsenal. The most important thing while shopping for lingerie is to feel comfortable and choose a proper-fitted bra. Now that you know everything about bras, it is time for you to pair them with some of the trendiest kurtis from a few of the top kurti brands. You are now ready for your grand entry on all occasions, big or small!
FAQs
1. Which bras are the best for daily use?
If you have an average cup size, then t-shirt bras are the most comfortable to wear daily with minimum discomfort. The seamless and moulded cups make them invisible under any dress. For larger cup sizes, full-coverage bras are the ideal choice.
2. Can I wear a bra to sleep?
Yes, you can wear a bra to bed if that's what you are comfortable with. But the type of bra you wear matters. Wired and padded bras are constricting and less breathable. You can always include lounge or cami bras in your sleepwear.
3. Are there any side effects of wearing a bra?
Neck and shoulder stress and backaches are a few side effects of wearing a tight or wrongly fitted bra. It is essential to know your proper bra size. Additionally, you can opt for a bandeau or strapless bra to alleviate the pressure on the shoulders and neck.
4. What is the lifespan of a bra?
Ideally, it is suggested to go bra shopping once every 6-8 months since even on taking meticulous care of your bras, the elastics and the shape of the cups deteriorate after 180 uses.
5. Which bras are the best for heavy breasts?
Full-support, minimizer, underwired, and sports bras are some of the go-to bras that heavy-breasted women must have in their wardrobe.
6. What are the best bras for new mothers?
Maternity bras are great during pregnancy and sometimes even in postpartum due to their support and use of soft fabrics. Nursing bras are perfect for lactating mothers.