Did you know at least 70% of Indian women wear a saree on a daily basis or on at least one special occasion? Well, that's the popularity of the saree in India. Sarees are women's best friends when it comes to traditional Indian outfits. You can never go wrong with a saree because it accentuates the beauty of women in all forms. Sarees are the pride of Indian fashion which even got global recognition, with many international celebrities wearing them at global events.
Today, modern women prefer to wear a saree on special occasions to celebrate Indian culture and its uniqueness. The market is already flooded with saree brands, So here's a curated list of top saree brands in India that sell stylish and affordable sarees at your disposal. Hence dig in to find out!
Our Top Picks:
| | |
| --- | --- |
| Best Overall | Satya Paul |
| Best Affordability | Monjolika |
| Best Style | Manish Malhotra |
| Best Varieties | Meena Bazaar |
 Top 28 Saree Brands in India
If you are a saree lover and looking for great options, we have listed some excellent Indian saree brands that you can choose from.
1.  Satya Paul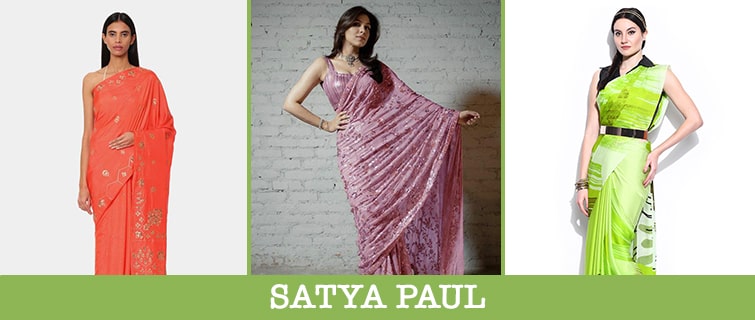 Having been in the fashion game since 1985, Satya Paul has become an exclusive Indian brand for designer sarees. From embroidered, printed, and woven to embellished, you will find classy sarees that will keep you addicted to the changing fashion. So, if you want to drape an elegant saree for a casual dine-out or a sequin saree for a glamor event, do explore the gorgeous saree collection at Satya Paul.
Why prefer sarees from Satya Paul?
If you're fond of sarees, then you absolutely need to check out Satya Paul. Their designer saree collection is truly a sight to behold, with intricate patterns and stunning contrasts that will leave you spoilt for choice. When it comes to effortlessly blending tradition with modern style, Satya Paul is truly in a league of their own. You'll find yourself absolutely enamored with their beautiful creations, and wondering how you ever managed without them in your wardrobe!
 2.  Kalanjali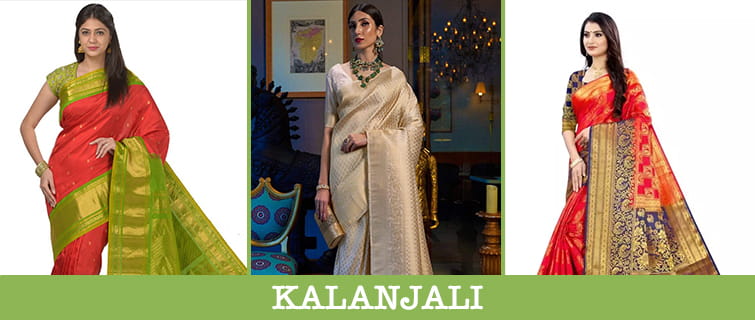 Known for traditional South Indian fashion, Kalanjali is one of the leading brands of graceful sarees. From luxurious silk to breezy cotton, Kalanjali offers a wide range of fabrics and styles to suit every taste and occasion. There are many options to meet your saree needs. So why settle for ordinary when you can add a touch of elegance and grace to your look with a stunning Kalanjali saree?
If you are a student looking for budget-friendly options, consider shopping from online platforms such as Ajio, using its plethora of coupons and offers.
Why prefer sarees from Kalanjali?
Kalanjali is the right place to shop for sarees if you want traditional beauty at affordable prices. Many designer brands charge too high for handcrafted sarees, but Kalanjali is the brand for sophisticated and affordable ones. Also, if you want to shop for different types of sarees from different states, they have everything from Kota, Uppada, and rich Banarasi sarees for you.
3.  Sabyasachi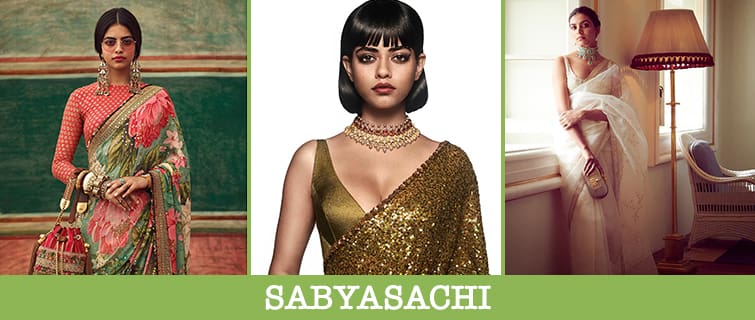 Who hasn't heard the name Sabyasachi and their exclusive lehenga collection, which has always been the talk of the B-town? But apart from lehenga, there's another category of Sabyasachi called Elahe, where you will find a diverse range of sarees from Benarasi and sequin to chiffon. And be it cocktails, reception, or red carpet, they will always have a saree solution for you.
Why prefer sarees from Sabyasachi?
Sabyasachi sarees are no less than a true style statement, and their sarees' original traditional touch cannot be found in any other brand. And their Elahe section is all about flawlessly beautiful pieces, from shimmer to pastel colors and prints. So, if you want to get 'sanskarified' with a touch of glamour, a saree from Sabyasachi can be your choice.
4.  Manish Malhotra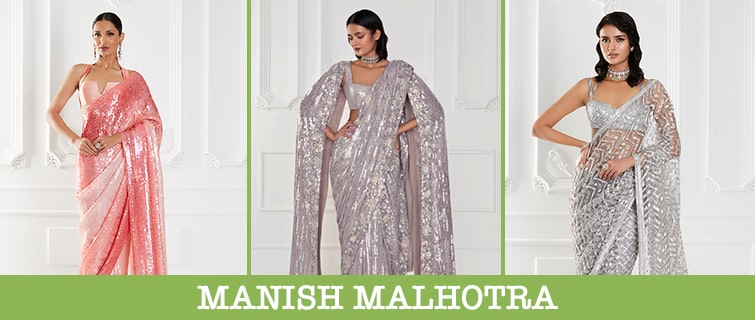 Manish Malhotra's collection will always win hearts when we hear exquisite modern sarees. The B-down beauties like Alia Bhatt, Kareena Kapoor, Aishwarya Rai, and others are mostly seen donning the elegant sarees of Manish Malhotra. If you want a room full of people to admire your elegance, pick Manish Malhotra sarees for your next big event.
Why prefer Manish Malhotra Sarees? 
When discussing the best designer sarees in India, Manish Malhotra can never skip your mind. The exotic touch this designer brings to his sarees is just incomparable. And the mismatch of different colors and fabrics in Manish Malhotra's sarees cannot be found in any other brand.
5.  Meena Bazaar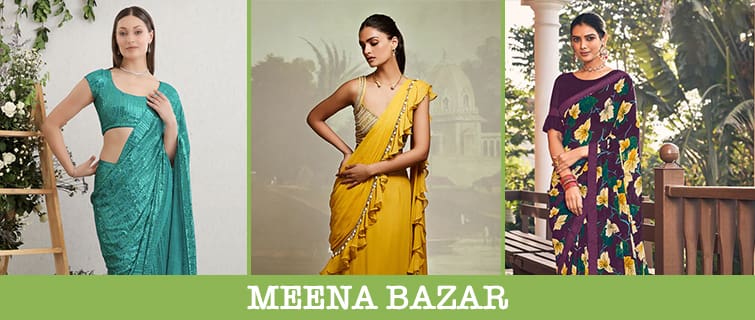 Inaugurated in the 70s as a small saree store in Delhi's Chandni Chowk, Meena Bazaar has now become one of the best saree brands globally. Their iconic collection of party-wear to wedding-wear sarees is just never-ending. From modern pieces to vintage classics, they have options for everyone.
Vintage clothing is always worth owning, and Myntra is offering several discount coupons for the same. Make sure to check that out as well!
Why prefer Meena Bazaar Sarees?
When looking for designer sarees, you may get them at exclusively high prices from other brands. But at Meena Bazaar, their affordable designer wear is what makes them unique from others. And whether you want an embroidered saree or a silk one, they have everything from super classy to pure traditional ones.
6.  Nalli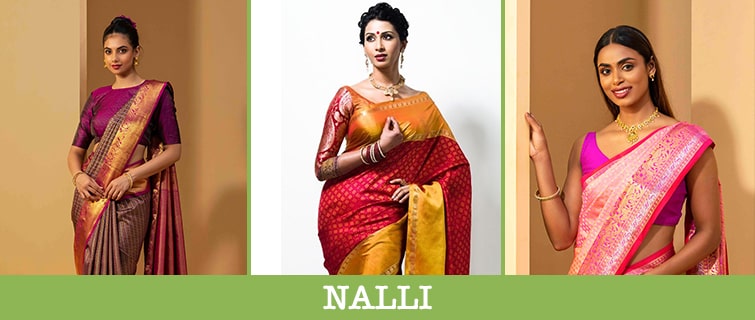 Look for the best silk saree brands in India, and Nalli will be one of them. This renowned South Indian brand has an exclusive selection of sarees in various fabrics and styles. From summer and daily wear sarees to fancy sarees, you will find something for yourself. So, if you want them a reason to stare, choose your favorite piece from Nalli.
Why prefer Nalli sarees?
This particular brand is solely about the finest traditional sarees with a pinch of modern touch. And the best thing about Nalli is, the new variations it keeps adding to the current collection. Some of their newly added collections, like Anandhiya, Birds of Paradise, etc., have some beautiful and unique designer sarees you will not find in any other brand.
7.  Ritu Kumar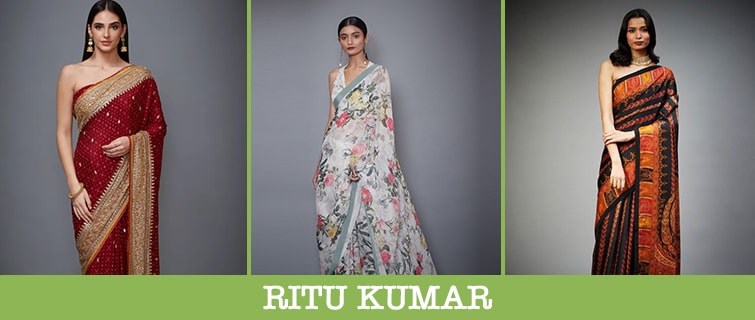 The saree is the only timeless fashion that will never retire. And if sarees are in talk, how could you miss Ritu Kumar? Known for its rare style, Ritu Kumar is a brand started by Ritu, who made it possible to introduce a new line of graceful sarees. Everything from intricate embroidery to glorious colors is what you will find in Ritu Kumar's sarees.
Why prefer Ritu Kumar sarees?
Not many brands, but Ritu Kumar sarees can cause you to stand out from others. And it's because of the mix of glamor and Indian-ness that the designer brings to her work of art. This brand will never disappoint you because it has attractive sarees for every beautiful woman, from extra small to free-size.
8.  Anarva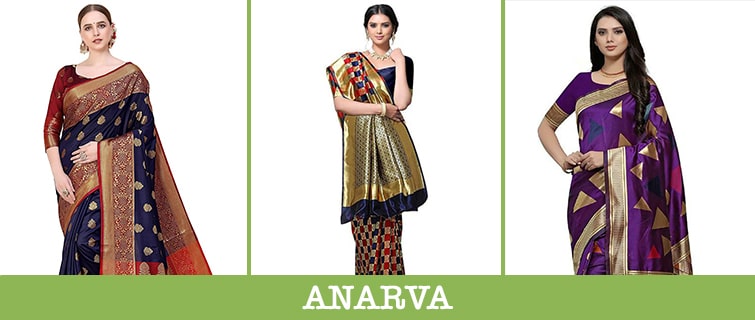 Anarva is a top saree Indian brand that deals in different varieties of sarees namely Kanjivaram, Banarasi, Silk, Cotton Silk, Jamdani, and Printed ones. It sells affordable sarees that are of high quality and style. The brand is Indian at heart and has artistic roots in our culture.
Why prefer sarees from Anarva?
Anarva is one of the top-rated Indian brands that cater to the saree category. It sells high-quality Kanchipuram saree with extraordinary designs that you may not find in other brands at that price and quality.
9.  Sidhidata Textile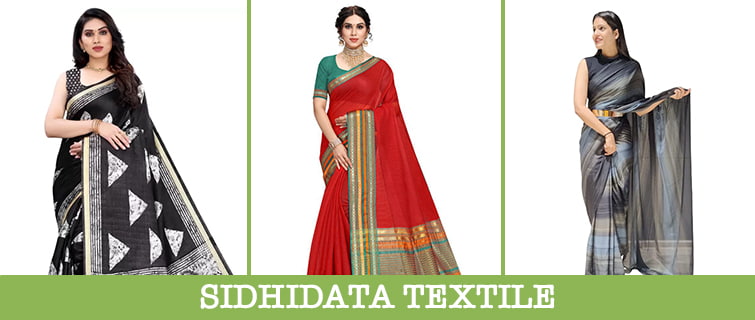 Sidhidata textile is another brand that offers a variety of beautiful saree at your disposal. It deals in Kanjivaram, Satin, Georgette, Embroidery, Pure linen, and Kota Doria linen sarees. This brand offers traditional to modern sarees catering to the needs of different women in the country. If you like classic traditional ones or are a fan of desi-girl lookalike modern saree, they have it all.
Why prefer saree from Sidhidata Textile?
Sidhidata Textile is the ultimate destination for fashion-forward women who want to elevate their saree game. Their latest designer sarees are a perfect blend of modernity, elegance, and affordability. Crafted with the finest fabrics and intricate details, their sarees exude style and sophistication. Now, if you wish to look and feel like a fashion diva, do purchase one of the elegant pieces from their on-trend designs and impeccable quality collection of sarees.
10.Shivanya Handicrafts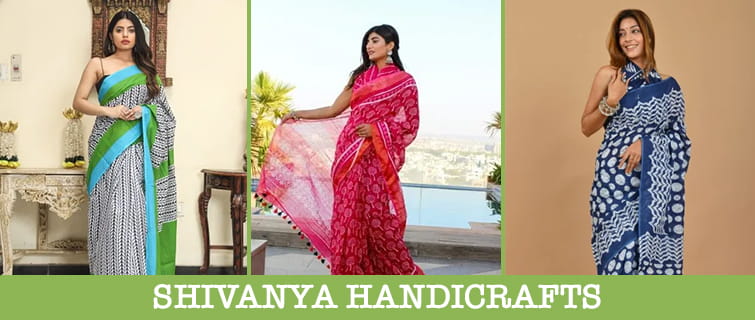 Shivanya Handicrafts is one of the best cotton saree brands in India. Basically, they deal in cotton mulmul with zari border, mulmul cotton, cotton silk, chanderi cotton, linen sarees, and tussar silk. The brand prides itself on offering quality cotton sarees at reasonable prices that are stylish and trendy.
Why prefer saree from Shivanya Handicrafts?
Sidhidata Textile is one of the best saree brands in India because of its huge range of cotton sarees at affordable prices. Also, the designs and prints are evergreen and timeless which makes this brand stand apart.
11.Nivah Fashion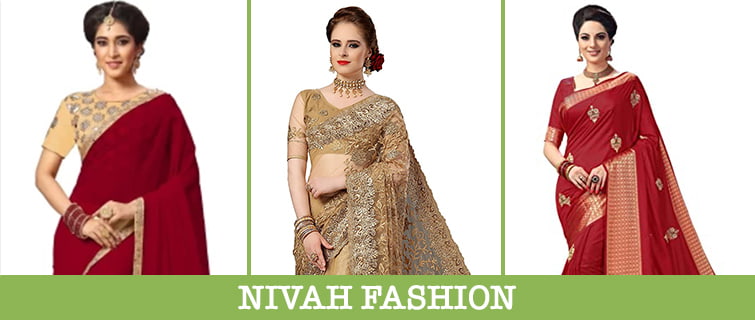 Nivah Fashion is another famous saree brand in India. Dealing in embroidery and silk sarees, Nivah is a fashion hub. It sells glamorous festive sarees that can make you look like a star at the party. Also, embroidery is gorgeously done on them to give them a luxurious look.
Why prefer sarees from Nivah Fashion?
Elegant and refined, sarees from Nivah Fashion are a must-have for any special event. Their sarees, made from the best materials possible, include elaborate patterns and attention to detail that set them apart. They provide a wide variety of alternatives to suit any style, from the traditional to the cutting-edge. That being said, Nivah Fashion is your one-stop shop for both classic silk sarees and cutting-edge designer sarees. In addition, their low costs allow you to live extravagantly without debt. All in all, Nivah Fashion is a great brand for festive and party-wear sarees.
12.Sarvadashi Fashion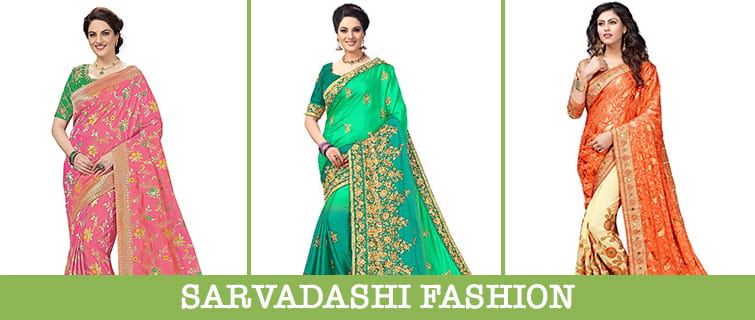 Sarvadashi fashion is one of the top saree brands dealing in Banarasi silk sarees, satin embroidery, georgette embroidery, net embroidery, and silk embroidery sarees. It is a brand that caters to beautiful traditional sarees that have heavy work. This brand has eye-catchy sarees that can be worn on any given occasion.
Why prefer saree from Sarvadashi Fashion?
Sarvadashi fashion is a hub that caters to Banarasi sarees and intricate embroidery sarees of the highest quality. Their designs are super elegant and stylish, so if you are an embroidery saree lover, you know which brand to pick.
13.Panash Trends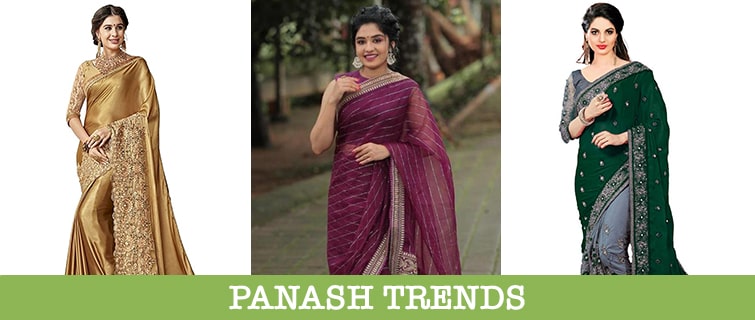 Panash Trends is a brand from Surat that caters to Banarasi silk, Georgette, Brasso, heavy net, and satin sarees. The brand has a great collection of eye-catchy sarees that are elegant and stylish. The brand is known for its amazing ethnic wear that steals the show with its excellent designs. So, if you are looking for one of the best ethnic wear brands, Pansh can definitely be your pick.
Why prefer saree from Panash Trends?
Panash Trends is a brand that sells excellent Banarasi sarees that are modern and of premium quality. Let's say you are tired of wearing the same old sarees for every occasion. Well, Panash Trends has the most affordable and elegant collection of sarees. They offer stunning Banarasi sarees that are modern, chic, and of premium quality. Don't settle for boring, upgrade your wardrobe with a touch of Panash.
14.Manohari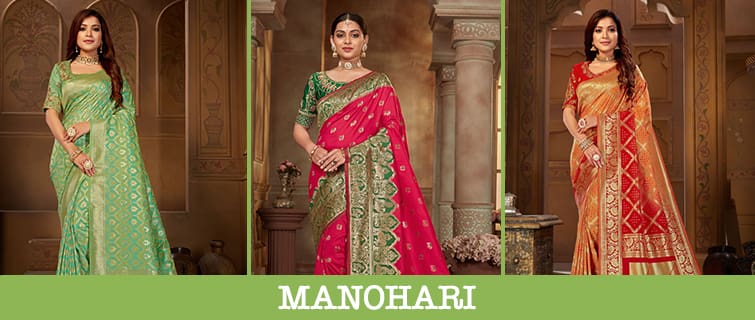 Manohari is an Indian brand that specializes in a variety of sarees namely Art silk, georgette, Linen, banarasi silk, Chiffon, and cotton blend. This brand houses modern to traditional sarees with fine designs and colors. You'll get amazing options to shop from. So, check out this brand and pick your favorite saree to sizzle.
Why prefer sarees from Manohari?
Manohari is one of the top saree brands we have in the market that sells gorgeous sarees, especially when it comes to chiffon sarees. They are one of the most customer-loved sarees that got excellent reviews and ratings. Also, if you are a fan of printed sarees, Manohari can be your ideal brand.
15.Monjolika Fashion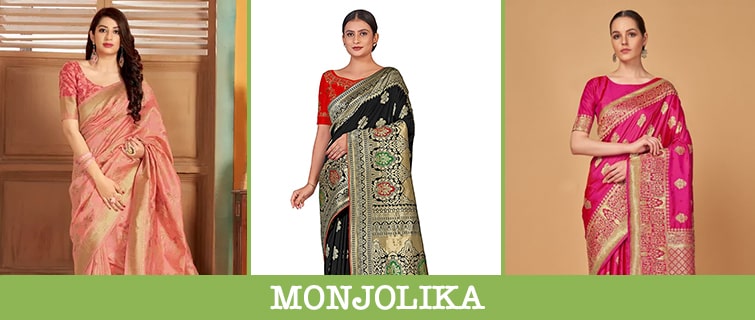 Monjolika Fashion is a brand that deals in Banarasi, Patola, Silk, and Foil print sarees. They have been in this business for years and have the experience to understand the trends of sarees today. Be it Banarasi or Patola, Monjolika Fashion knows how to make it look like a royal affair, as the sarees are specially designed in Varanasi itself. With their commitment to quality, style, and affordability, Monjolika Fashion is sure to become your go-to destination for all your saree needs.
Why prefer saree from Monjolika?
Monjolika Fashion's USP is not just limited to their stylish and affordable Banarasi and satin sarees, but it is their dedication to keeping up with the latest designs and trends that truly sets them apart. Their sarees are a perfect blend of traditional elegance and modern flair, making them a must-have in every fashionista's wardrobe. Not only this but Monjolika Fashion offers a wide range of colors and patterns to choose from, ensuring that there is something for everyone.
16.Varkala Silk Sarees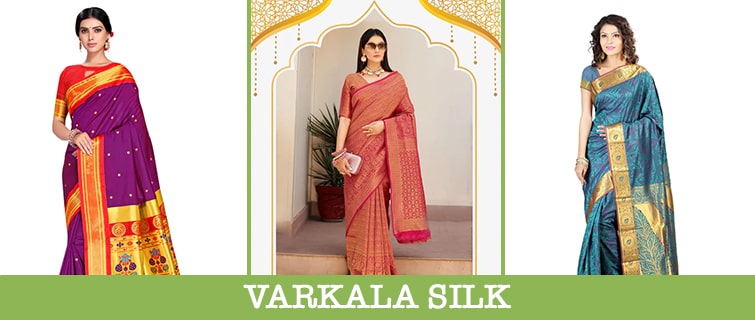 Varkala Silk Sarees is one of the best silk saree brands in India. The fine designs and lively colors are what make Varkala's Silk Sarees the best. Be it Banarasi or Kanjivaram sarees, this brand never misses hitting the right spot with its beautiful saree designs. Hence if looking for superior-quality silk sarees, you know which brand to prefer.
Why prefer saree from Varkala Silk Sarees?
Varkala Silk Sarees are different from other brands. They make unique designs that are enticing and beautiful. Moreover, the quality adds more beauty to the already gorgeous sarees.
17.Kalkee Fashion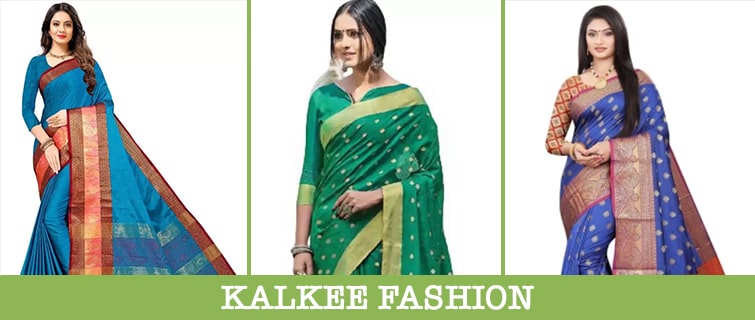 Kalkee Fashion is another best saree brands in India. It deals in Silk Kanjivaram sarees that are breathtakingly beautiful and regal. This brand sells artistic Kanjivaram sarees that can make you look like a royal affair. The fine designs, popping colours, and extraordinary zari work are what makes them stand apart. So if you are a fan of Kanjivaram sarees, Kalkee fashion is your destination.
Why prefer saree from Kalkee Fashion?
Kalkee Fashion truly has a love affair with Kanjivaram sarees. Their extraordinary collection exudes the magnificence and intricate design work of this beautiful garment. It's no wonder then that Kalkee can be one of the top saree brands by many luxury connoisseurs. Keeping up with the latest fashion trends, Kalkee allots enough options for every fashionable woman out there to captivate everyone's attention when donned in style.
18.Satrani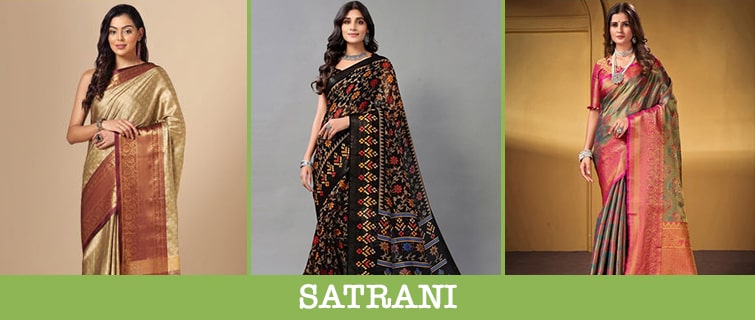 Satrani is a brand that deals in Georgette, Chiffon, Cotton, and Art Silk sarees. It sells one of the most graceful sarees you could ever find. The classy colors, gorgeous designs, and premium quality are what Satrani is all about. If looking for some traditional gorgeous sarees, Satrani can be your definite pick.
Why prefer sarees from Satrani?
Satrani is a brand that makes gorgeous traditional sarees that are literally treat-to-eyes. Especially the chiffon sarees are what makes them a good brand. The sarees are beautiful, of great quality, and affordable.
19.Mimosa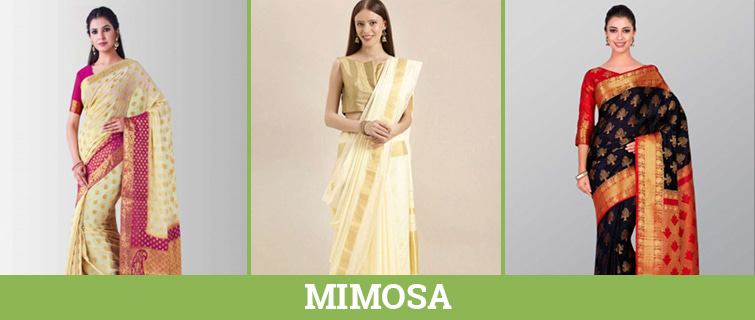 Mimosa is one of the top saree brands in India and has decades of experience in the saree industry. They deal in Kanjivaram, Banarasi, Mysore, Patola, Kasavu, chiffon, Lenin, Cotton, raw silk, Orgenza, and Uppada. This brand has a cool collection of sarees that everyone can shop from. As they have a huge variety of types.
Why prefer saree from Mimosa?
Mimosa deals in stunning Kanchipuram and silk sarees that are eye-catchy, versatile, and affordable. You should definitely consider Mimosa because it has a unique style that none of its peers has.
20.Effigy Online Hub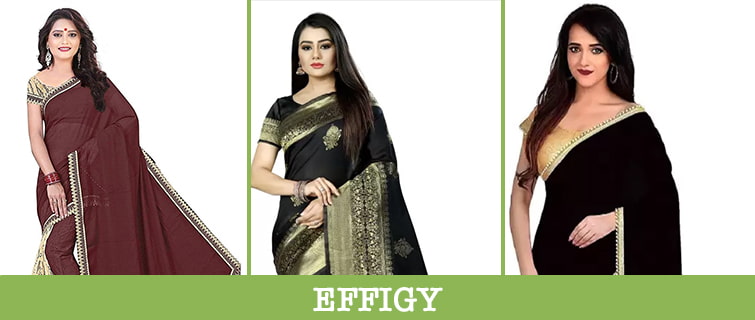 Effigy online hub is a brand that deals in Chiffon, Art silk, and Georgette sarees. They have stunning designer sarees that are drop-dead gorgeous and elegant. Be it a choice of colors and designs, Effigy is simply top-notch when it comes to sarees. Therefore, if you wish to don a saree that's both timeless and on-trend, Effigy is the brand for you.
Why prefer sarees from Effigy?
Effigy is one of the best saree brands out there, with years of expertise in the industry. They have their finger on the pulse of current trends and contemporary styles, resulting in stunning sarees that are sure to catch your eye. You will love Effigy's commitment to quality, attention to detail, and dedication to staying ahead of the fashion curve.
21.Desi Butik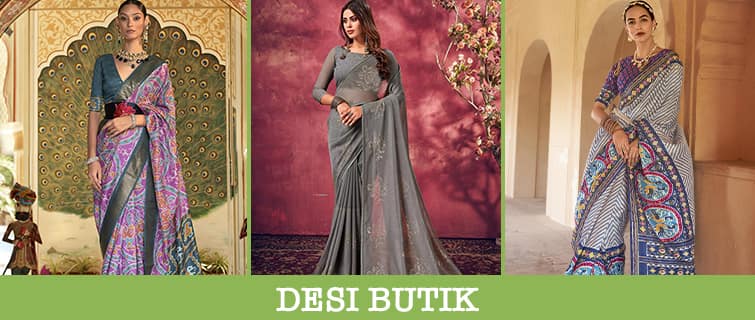 Desi Butik is a brand that offers a wide range of traditional and contemporary sarees for women. Their collection includes handwoven silk, cotton, and chiffon sarees with intricate designs and embroidery work. They also offer custom stitching services to provide a perfect fit for their customers. It aims to promote the rich cultural heritage of India through its saree collection.
Why prefer sarees from Desi Butik?
Desi Butik is a brand that has become synonymous with exquisite sarees. With an unparalleled range of sequin, embroidered, printed, and ruffled sarees, Desi Butik can cater to your every whim and fancy. And the most mesmerizing thing is their wide array of fabrics like georgette, lycra, silk, and chanderi on offer. Why settle for ordinary when you can stand out in Desi Butik's stunning collection?
22.Gaurang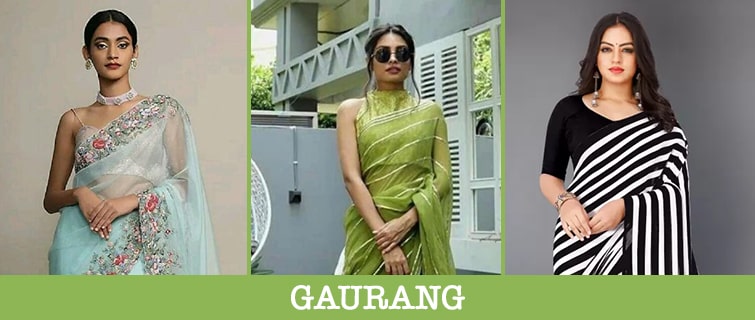 Gaurang is a Hyderabad-based luxury saree brand that is known for its exquisite handwoven sarees. Their collection includes traditional and contemporary sarees made from high-quality silk, cotton, and other natural fabrics. Gaurang's sarees are known for their intricate weaving patterns and vibrant colors, which are inspired by Indian culture and heritage. Their sarees are a popular choice among fashion enthusiasts who appreciate artisanal craftsmanship and unique designs.
Why prefer sarees from Gaurang?
Gaurang is focused on bridging the gap between fast fashion and artisanal elegance with its traditional, hand-crafted sarees. Besides their obvious indulgence in culture, they are also deeply involved with indigenous artisans while providing a supportive structure for the socio-economic development of the underprivileged.
23.Kalamandir Sarees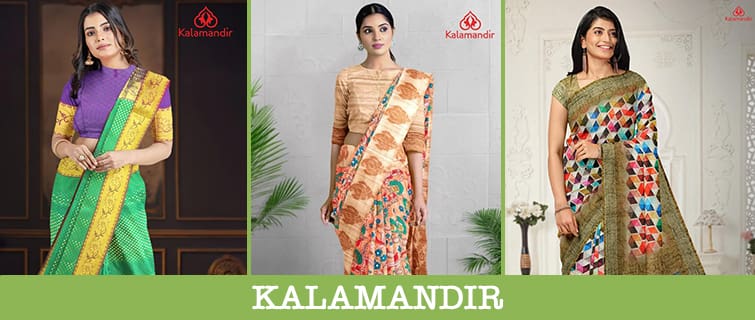 Established over 50 years ago, Kalamandir is known for its high-quality fabrics, intricate embroidery work, and unique designs. Their sarees are made from a variety of materials, including silk, cotton, and georgette, and come in a range of colours and styles. Kala Mandir has become a popular choice among fashion enthusiasts looking for a blend of modern and traditional styles, with nine stores across Telangana, Andhra Pradesh, and Karnataka.
Why prefer sarees from Kalamandir Sarees?
Kalamandir sarees are known for the modern twist they add to otherwise traditional and ethnic designs, specifically, the unconventional patterns and designs they adopt. They also provide several varieties of fabric options, including Matka silk, linen, chiffon, soft silk, Georgette, Kora, Chanderi, and Banarasi silk.
24.BharatSthali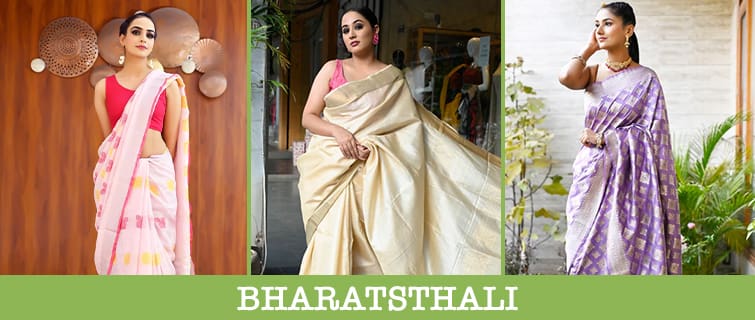 Listen up, ladies. Are you tired of searching high and low for that perfect saree? Well, now you don't have to look beyond BharatSthali – your one-stop-shop for all things saree. Whether you're in the mood for a traditional Kanjivaram silk saree or a trendy cotton saree, they've got you covered. And with their stellar reputation as one of the leading saree brands, you can trust BharatSthali with all your heart. So, don't dilly-dally – snag your stunning new look for that special occasion right away.
Why prefer sarees from BharatSthali?
Are you ready to turn heads and steal the show with your gorgeous saree? If you do, you should definitely look out for the stunning selection of sarees at BharatSthali, that will make you the talk of the town. From Kanjivaram and Maheshwari to Khadi and Madhubani print sarees, they've got everything to suit your unique style. And let's not forget the quality craftsmanship that goes into every saree – it's nothing short of extraordinary. Experience the magic of BharatSthali and take your traditional game a level up.
25.Tarun Tahiliani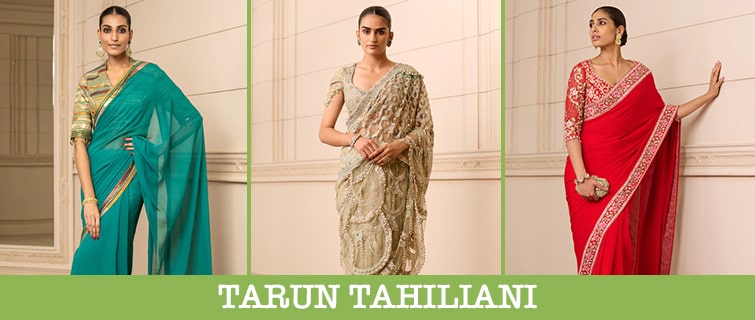 Tarun Tahiliani is a well-known luxury fashion brand, famous for its exquisite sarees that feature intricate embroidery, beautiful embellishments, and rich fabrics. From traditional silk and chiffon sarees to modern and contemporary designs, Tarun Tahiliani offers a wide variety of sarees that cater to the diverse taste of women. The brand has established a reputation for combining traditional designs with modern aesthetics to create unique and timeless sarees.
Why prefer sarees from Tarun Tahiliani?
When it comes to sarees, Tarun Tahiliani stands out for its exquisite designs and unparalleled craftsmanship. From luxurious fabrics to unique draping styles, each saree is a masterpiece that reflects the brand's commitment to elegance and sophistication. With each saree, you can experience the beauty of India's diverse textile traditions. So, if you want to make a statement with your saree, choose Tarun Tahiliani and unleash the diva in you.
26.Karagiri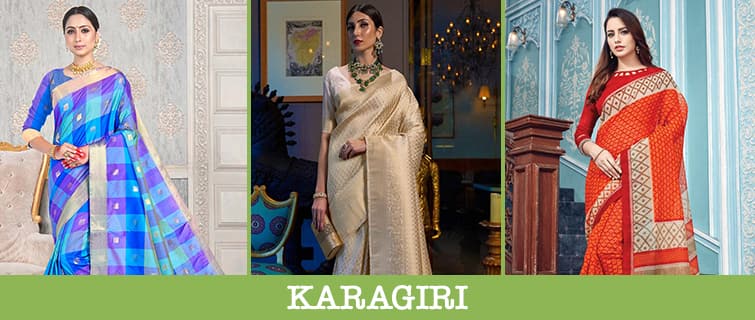 The elegance and grace that a saree brings to a woman are unparalleled. Winning the hearts of saree lovers for a long time now, Karagiri has an absolutely stunning selection of sarees that will leave you spoilt for choice. With over 10000 sarees in their collection, Karagiri is a one-stop-shop for all your traditional wear needs. From classic silk sarees to trendy floral prints, they have it all.
Why prefer sarees from Kalagiri?
Karagiri sarees are a beautiful amalgamation of traditional and contemporary styles. And the reason you should definitely own at least one Karagiri saree is that they are handcrafted with intricate detailing in order to add a touch of elegance to any occasion. From classic silk sarees to trendy chiffon and georgette sarees, Karagiri has something for every taste and preference. So, why settle for less when you can have the best with Karagiri?
 27.Suta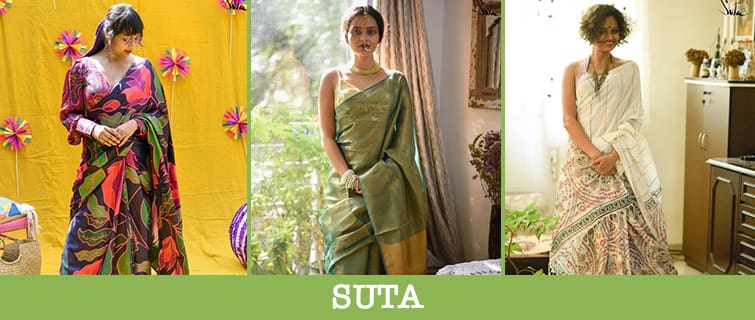 Suta is a saree brand that takes pride in reviving India's traditional handloom sarees. Besides sarees, they offer an array of handcrafted garments and accessories that reflect Indian culture and heritage. Their collection of sarees ranges from linen and chiffon to silk and floral prints. Suta's unique designs blend modern and traditional elements, making their sarees perfect for any occasion.
Why prefer sarees from Suta?
Sarees from Suta are like magic draped around your body, and you can fall in love with them faster than you can say "saree not saree". The soft fabric of their sarees will feel no less than a warm hug, while the vibrant colors and designs make you feel like the queen of the world. Besides this, there are very less brands that can offer you such versatile pieces. Be it a lazy Sunday brunch or a fancy cocktail party, you can find the saree of your preference right here.
28.IndyVogue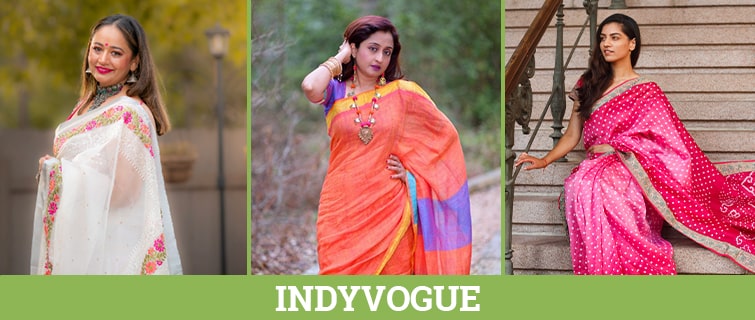 IndyVogue, an ethnic fashion boutique, stands tall as a distinguished name in the realm of exquisite hand-woven sarees. With their online platform, they bring a kaleidoscope of colors and styles, offering a delightful journey into the world of fine handloom silk. Each saree on their platform is meticulously crafted and tells a unique story of tradition and artistry. Be it Bandhni, Hand painted, Sequin, or Chanderi, IndyVogue gives you stunning choices to ensure that you find the perfect saree that reflects your individual style.
Why prefer sarees from IndyVogue?
Renowned for its impeccable blend of elegance and style, IndyVogue can be one of your go-to boutiques if you are a literal saree connoisseur. Whether it's a grand wedding or a special celebration, there's no better outfit than draping a sheer and elegant saree from IndyVogue and making a statement that will leave everyone in awe.
Popular Saree Brands – Comparision
| | | | |
| --- | --- | --- | --- |
| Top Saree Brands In India | Price Range (Rs) | Available Saree Types | Famous For |
| Satya Paul | 12000 – 35000 | Georgette, Silk, Satin, Crepe | Georgette Saree |
| Kalanjali | 2000-115200 | Silk, Kanchipuram, Tussar, Chiffon, Linen, Crepe | Kanchipuram Saree |
| Sabyasachi | 395000 | Organza, Sequin, Silk | Organza Sraee |
| Manish Malhotra | 88000-500000 | Net, Organza, Tulle, Georgette, Chiffon | Chiffon Saree |
| Meena Bazaar | 2000-32000 | Banarasi, Silk, Tussar, Net, Organza, Satin, Sequins | Georgette Saree |
| Nalli | 1500-500000 | Kanchipuram, silk, Tissue silk | Kanchipuram Saree |
| Ritu Kumar | 16000-325000 | Georgette, Satin, Silk, Crepe Blend | Georgette Saree |
| Anarva | 500-1500 | Kanjivaram, Banarasi, Silk, Cotton Silk, Jamdani, and Printed | Kanjvaram Saree |
| Sidhidata Textile | 500-1000 | Kanjivaram, Georgette, Embroidery,  Satin, pure linen, Kota Doria cotton Saree | Georgette Saree |
| Shivanya Handicrafts | 1000-1500 | Mulmul cotton, cotton silk, Linen, chanderi, | Mulmul cotton Saree |
| Nivah Fashion | 700-3000 | Embroidery and silk saree | Embroidery Saree |
| Sarvadashi Fashion | 1000- 2700 | Banarasi silk Saree, satin embroidery, georgette, net embroidery, silk embroidery. | Silk Saree |
| Panash Trends | 1000-3000 | Heavy net saree, Satin, Banarasi Art silk, Brasso, Georgette. | Satin & Heavy Net |
| Manohari | 1000-3000 | Art Silk, Georgette, Linen, Banarasi, chiffon | Silk saree |
| Monjolika Fashion | 700-3000 | Banarasi, woven saree, pure silk saree, patola silk sarees, satin Banarasi, Sana silk saree. | Banarasi Silk saree |
| Varkala Silk Sarees | 1000- 3000 | Banarasi, Kanchipuram, Paithani, Art silk, silk borders, Katan silk, cotton silk | Art silk saree |
| Kalkee Fashion | 500-1500 | Kanjivaram | Kanjivaram Saree |
| Satrani | 1000-2500 | Chiffon, Georgette, cotton, art silk | Chiffon Saree |
| Mimoso | 1100-3000 | Silk, cotton, organza, Uppada | Art Silk Saree |
| Effigy online hub | 1000-3000 | Chiffon, Georgette, and art silk sarees, | Art Silk Saree |
| Desi Butik | 2000-8000 | Patola, Georgette, Silk, Kanjivaram, Handloom and Organza sarees | Art Silk Saree |
| Gaurang | Custom | Interlace and Khadi sarees | Khadi handwoven Saree |
| Kalamandir Sarees | 1500-4000 | Kanchipuram, Banarasi, Chanderi, Linen, Kora and Silk sarees | Kanchipuram Pattu Saree |
| BharatSthali | 2000-300000 | Banarasi, Kanjiwaram, Maheshwari, Sambalpuri, Soft Silk, Kanchipuram | Pure Silk and Kanchipuram Saree |
| Tarun Tahiliani | 49900-632400 | Chikankari, Georgette, Tulle, silk-crepe | Chikankari Saree |
| Karagiri | 5500-115000 | Kanjivaram, Banarasi, Cotton, Tussar | Kanjivaram Saree |
| Suta | 2000-237000 | Cotton, Silk, Linen, Modal, | Cotton Saree |
| IndyVogue | 7000-35000 | Silk, Chanderi, Baluchai | Silk Saree |
How To Choose A Right Saree For You?
Occasion: Pick a saree according to the occasion
Right fabric: Cotton sarees are great for summers, Chiffon and georgette will make you look pretty as they are light and low maintenance, while silk sarees are more for formal affairs. Hence fabric plays an important role when it comes to the look of the saree.
Prints: Printed sarees are trendy and contemporary. You can pick any print you want. However, picking big prints will add substance to your overall look.
Types of Sarees
Banarasi silk saree: Banarasi saree is made in Varanasi, Uttar Pradesh. It usually has a rich heavy drape featuring golden embroidery.
Paithani silk saree: Paithani silk saree hails from Maharashtra that consists of a fine silk drape and a heavy peacock pallu.
Kanjeevaram silk saree: Kanjeevaram silk saree is from Tamil Nadu. It is generally available in vibrant colours and has temple-patterned
Kasavu saree: Kerala's Kasavu saree is a white to beige colour cotton saree featuring an iconic golden border.
Jamdani saree: Jamdani saree originated from Bangladesh's Dhaka. The saree consists of floral motifs on lightweight cotton.
Bandhani saree: Bandhani saree hails from Gujarat and is made using the tide-dye effect. The sarees are usually available in vibrant colours and various fabric options.
Muga Silk Saree: Muga silk saree is a speciality of Assam that typically consists of a golden tint and a glossy texture.
Phulkari saree: Phulkari saree hails from Punjab with hand-embroidered flower patterns using vibrant colour silk threads.
Kalamkari Khadi saree: Kalamkari khadi saree is the speciality of Rajasthan that has traditional artwork inspired by mythological events using natural dye.
There are many incredible saree brands to choose from, each with its own unique style and design. Whether you're looking for a traditional saree or a more contemporary look, there's a brand out there that will suit your needs. By considering factors such as material, color, and design, you can find the perfect saree to make you feel confident and beautiful. Don't be afraid to try out different brands and styles until you find the one that suits you best.
FAQs
1.What are the best saree brands to shop from?
There are many great saree brands to choose from, but some of the best include Desi Butik, Gaurang, Kala Mandir, Sabyasachi, and Raw Mango. Each of these brands offers a unique style and design, so it's worth checking them all out to find the perfect saree for you.
What materials are sarees typically made from?
Sarees can be made from a variety of materials, including silk, cotton, chiffon, georgette, and more. Each material has its own unique feel and look, so it's important to consider which one will suit your needs best.
2.Are sarees only worn for special occasions?
While sarees are often worn for special occasions like weddings and parties, they can also be worn for more casual events. It all depends on the style of the saree and how it is paired with other clothing and accessories.
3.How do I choose the right saree for me?
When choosing a saree, it's important to consider your personal style, body type, and the occasion you will be wearing it for. Consider the material, color, and design of the saree, and think about how it will look with your skin tone and other accessories.
4.How can I take care of my saree to make it last longer?
To make your saree last longer, it's important to take proper care of it. Always follow the care instructions on the label, and consider storing it in a cool, dry place when not in use. You can also get it dry cleaned or hand washed to ensure it stays in good condition for years to come.