Think of babies and the first thing that strikes one is 'baby diapers'. Disposable baby diapers have made the life of new parents much easier than our ancestors ever had it. Choosing the best baby diapers for a baby is probably one of the first things that new parents think through. Given that the market is full of various options of baby diapers, parents look to choose the best diapers for their babies considering their requirement, the baby's need, comfort, price, and utility. To help you with this important choice, we present you with a list of best baby diapers in India.
How we picked the top 11?
We made a list of all the diapers available in the market and ended up with 15 brands available online and in stores. Of all the other factors, one was ratings for each. Let us have a look at the data points. We selected top e-commerce websites like Amazon, Flipkart & Firstcry.
| | | | |
| --- | --- | --- | --- |
| Brand | Amazon | Flipkart | Firstcry |
| Pampers New Baby Diapers | 4.2 | 4.4 | 4.4 |
| MamyPoko Pants | 4.2 | 4.5 | 4.2 |
| Libero Comfort Baby Diapers | 4 | 4.5 | – |
| Huggies Wonder Pants | 3.8 | 4.2 | 3.9 |
| Himalaya Total Care Baby Diapers | 3.7 | 4.2 | 3.4 |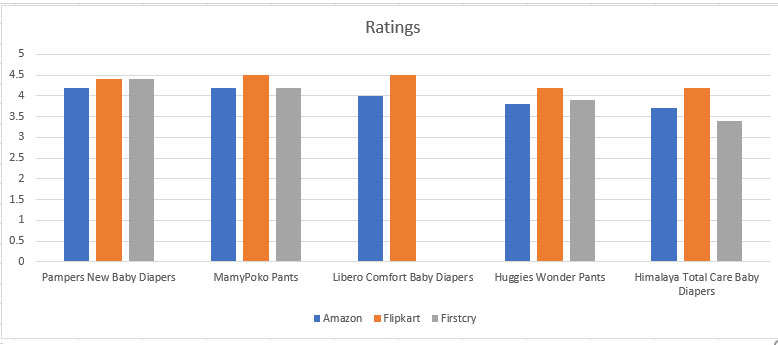 Here are top 11 Baby Diaper Brands In India for 2022
Last update was on: June 24, 2022 12:13 am
Now that you know the basics of selecting the best diaper for your baby, it is time to know about the best baby diaper brands in India. Each diaper offers some unique features, and this list of cheap and best baby diapers will help you make your choice wisely.
Check the Related Article: Do check out the related article on Best Baby Strollers in India.
Pampers New Baby Diapers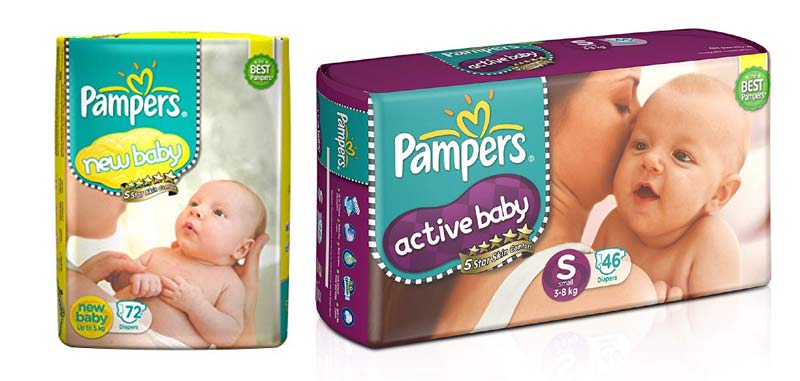 Pampers has been the leader in baby diapers with many mothers preferring it over other brands. The diapers are soft, made of breathable material, and come both in taped and pant styled diapers. Unlike many other diapers, they are quite light and thin while their absorbency is impressive. Pampers baby diapers come with three extra absorb channels, magic gel technology, air channels for air circulation and dryness, flexible Velcro easy to tear waistband, and baby lotion to keep the baby's skin soft and dry. The brand has been a market leader and is the most preferred diaper brand in India. Pampers also has a premium range of extra soft diapers. These are good for babies with highly sensitive skin.
Pampers Brand Key Features
Soft and stretchy sides for an adjustable fit
Available in small, medium, and large sizes
Pampers magic gel technology
Supports up to 12 hours of dryness
MamyPoko Pants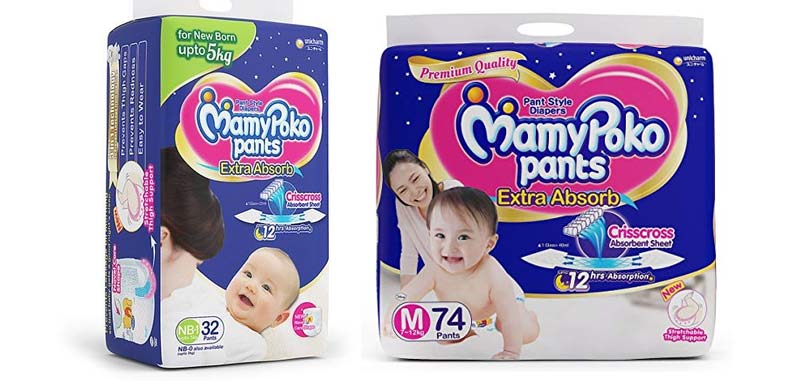 Most mothers would vouch for MamyPoko Pants Extra Absorb Diapers given the fact that the brand claims it can absorb up to 7 glasses of water. The crisscross absorbent sheet spreads the fluid evenly and does not swell up from just one side. Diaper has easy-to-tear sides on the waistband making it easy to tear off after use. The thigh support is impressive and prevents leakages. MamyPoko diapers are also suitable for overnight use.
MamyPoko Brand Key Features
Stretchable thigh support
Easy to wear and tear
Unisex baby diapers
12 hours of absorption capacity
Libero Comfort Baby Diapers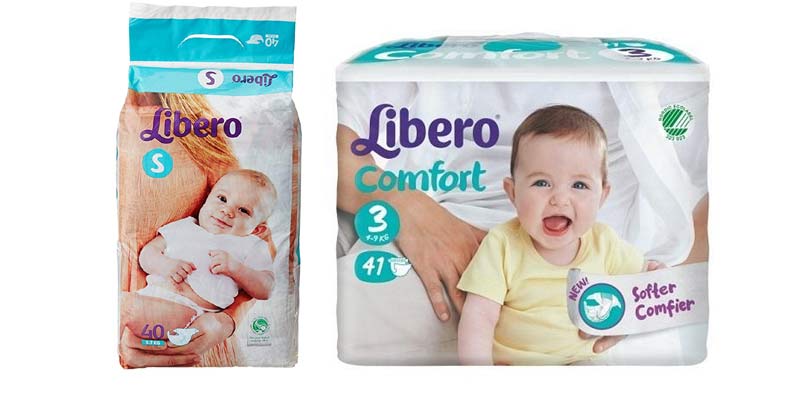 Quite a recent entrant in the Indian Diaper Market, Libero Baby diapers are very popular in other countries. They come with double leakage barriers that make them quite impossible to leak. The core is super absorbent and keeps your baby wonderfully dry and soft. Libero diapers are also great for babies with sensitive skin since they are ultra-soft to touch and made up of breathable cotton that ensures no rashes or redness for the baby. The diapers also come with a colour changing wetness indicator, and you need not go by any. of hours each time!
Libero Brand Key Features
Protects baby's delicate skin from irritation
Lightweight and comfortable to use
Available in small, medium, and large sizes
Budget-friendly diapers for babies
Huggies Wonder Pants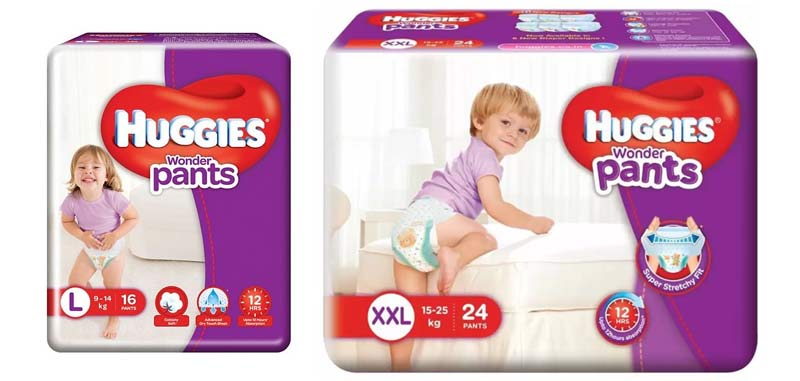 It is hard to miss Huggies Wonder Pants baby diapers because of their touching TV advertorials. Huggies Wonder Pants have been carefully designed for all-round protection of the baby and hence provides dryness, comfort and prevents redness and rashes. The diaper is made of soft cotton material, and Dry-Touch sheet pulls to keep them dry. The fit has been kept stretchy for maximum comfort and to prevent rashes. For extra protection to prevent leakage, the diapers come with double leak-guards. Can be easily torn off the sides for quick and easy disposal.
Huggies Brand Key Features
3D bubble bed technology
Snug and comfy fit waistband
Triple leak guard mechanism
Extra padding minimizes red marks on sensitive skin
Himalaya Total Care Baby Diapers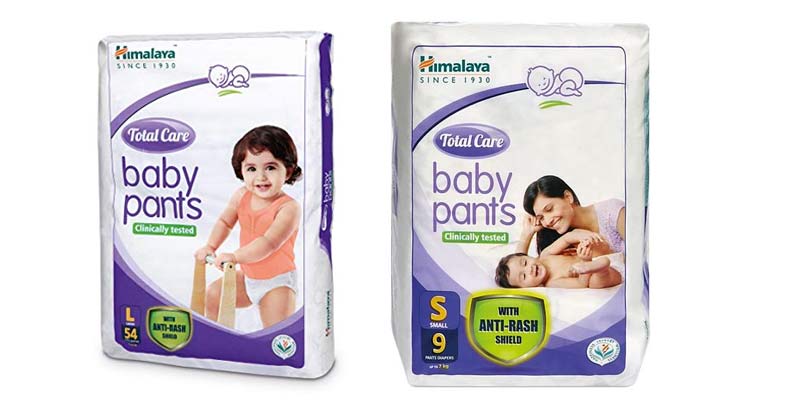 Himalaya is the quintessential Indian brand that uses natural ingredients for its products. The baby diapers contain extracts of Aloe Vera and Yashada bhasma that inhibits the growth of germs and enzymes and prevents rashes. These diapers are soft to wear, with easy to wear and take-off design and has a superabsorbent polymer layer that absorbs multiple wettings instantly. The diaper can be used overnight as well. Himalaya baby diapers also come with a wetness indicator that turns green when the diaper is full.
Himalaya Brand Key Features
Made with natural anti-rash shield
Perfect blend of aloe and yashad bhasma
Best for delicate and sensitive skin
Wetness indicator (yellow to green, green means time to change)
Snuggles Comfy Pants Baby Diapers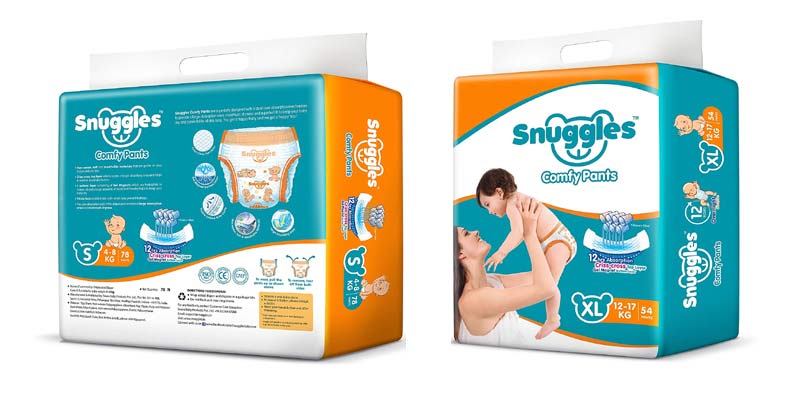 Another recent entrant into the Indian Diaper market, Snuggles diapers in India have welcomed by most mothers who used them. Keeping in view the sensitive skin of the baby, Snuggles diapers are made of non-woven, soft and breathable material. They can be used as overnight diapers too because of high absorbency thanks to the crisscross layers and gel magnets that keep the top of the diaper dry and comfortable for the baby. However, Snuggles baby diapers do not have any wetness indicator, so you need to check every few hours if the diaper needs to be changed.
Snuggles Brand Key Features
Criss-cross top layers
Made using soft and breathable materials
Triple lock side cuffs
Gel magnet bottom layer
Bella Baby Happy Baby Diapers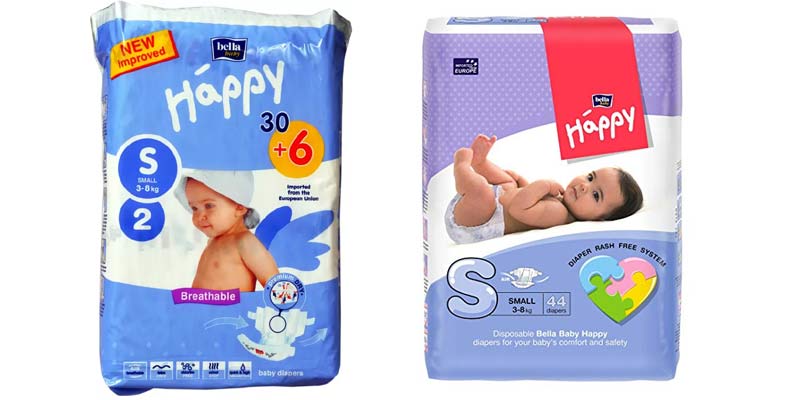 Bella Baby Diapers are from Europe due to which you might not have seen TV commercials. The manufacturers claim that babies who wear Bella Baby Diapers are Happy Babies. The diapers contain skin-friendly latex and chlorine-free components that minimise the risk of allergies and diaper rashes. They also come with a wetness indicator that informs when a diaper needs to be changed. The diapers contain green tea extract with anti-inflammatory and anti-bacterial properties that prevent skin irritation, rashes, and skin redness. The diaper is made out of the breathable outer layer that makes air circulation easier – keeping your baby dry and comfortable from the inside.
Bella Baby Happy Brand Key Features
Keeps baby skin healthy and hygiene
Prevents from rashes, allergies, and reddening
Anatomic shape and design
Side gatherers and wetness indicator system
Mee Mee Premium Breathable Diapers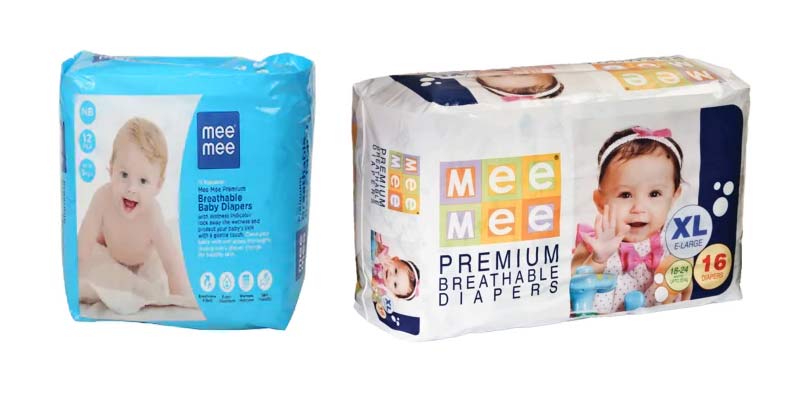 Made from a cloth-like breathable material, Mee Mee Premium Breathable Diapers are skin-friendly for your little ones. They have a leak lock system and SAP (Superabsorbent Polymers) that keep the top layer of the diaper dry and comfortable for the baby. The diaper is also ultra-thin and comes with stretchable leg cuffs to prevent leakage. Wetness indicator line turns green, making it easy for parents to change the diaper on time.
Mee Mee Brand Key Features
Uses skin-friendly technology
Latex, chlorine-free components
Wet absorbent polymers
Stretchable led cuffs
Economical to buy online
Pampers New Born Baby Diapers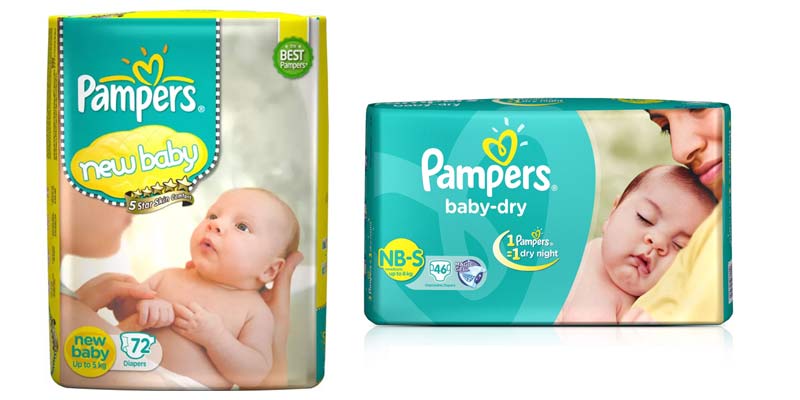 Pampers has a huge range in new-born baby diapers, both in taped and pant styled variety. Since newborns are tiny, delicate beings, taped diapers are much preferred as they involve minimum movement. The material is soft and stretchable material and stays dry for long. It also has added fragrances. Wetness indicators on the pack make it easier for parents to know when it is time to change. They come with a special provision of accommodating the umbilical stump as well.
You can also opt for Pampers Preemie Swaddlers New Baby Diapers for extra softness and protection. Swaddlers are quilted designed that cradles your infant's skin in blanket-like softness. There is an umbilical cord notch that protects the umbilical stump from any friction.
Pampers Brand Key Features
Quickly absorbs and spreads evenly
Adjustable tape for a comfy fit
Easy to make it tight or loose
Suitable for newborns to 3 year kids
Bambo Nature Premature Baby Diapers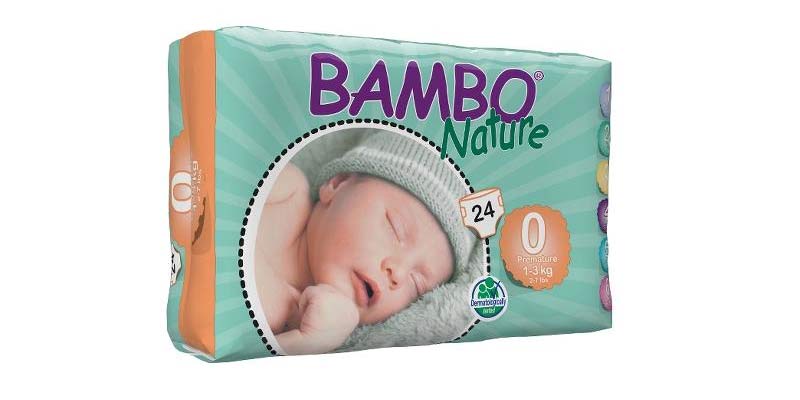 For babies weighing 1-3 kgs, Bambo Nature Baby Diapers are also a great choice for new-born babies with highly vulnerable and soft skin. The diapers are thin, made of breathable material and offer a snug fit. They do not contain any lotion or fragrances and hence are not allergic. They are free of allergens and carcinogenic ingredients and reduce the risk of diaper rashes to a minimum. For babies who need extra care, Bambo diapers are the best option. However, being imported, these can be a tad costlier than other brands.
Bamboo Nature Brand Key Features
Suitable for both boys and girls
Crafted with breathable cotton material
Paraben-free, chemical-free baby diapers
Packed in eco-friendly bags
Doobidoo Baby Pants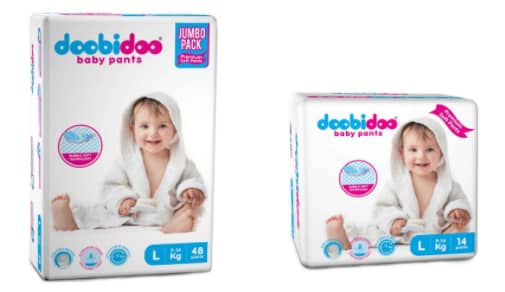 Taking Scooby out of the picture, Doobidoo is yet another awesome baby diaper brand. What makes the brand amazing is its vision to care for babies and their skin. Doobidoo products are made to suit the sensitive skin of babies and keep them dry. The bubble soft technology used in the diapers makes sure that they are extremely soft on the baby, just like feathers. Moreover, the diapers have absorbent properties which remain intact for up to 12 hours keeping the skin free from rashes. They also prevent leakage due to the anti-leak side cuffs that fit very comfortably on the baby. These diapers take care of the baby in the best way possible and provide them with a good night's sleep.
Doobidoo's diapers are available in small, medium and large. Check out the website for the different sizes and quantities.
Doobidoo Brand Key Features
Keeps baby's skin fresh and dry
Anti-leak side cuffs
3D bubble soft technology
Small, medium, and large diaper sizes
Diaper brands also stand out from their eco-friendly products, and a vision to keep babies first. So, the list doesn't stop here, but we've gathered more such brands that you can get crazy awesome diapers from.
Eco-friendly diaper brands you should give a try
1. SuperBottoms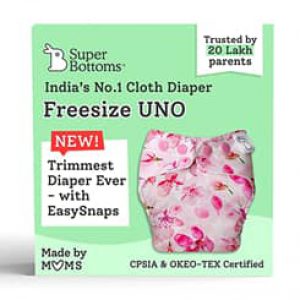 SuperBottoms is one of the most trusted brands we have in the market. Started by the mommies themselves who are experts at understanding the needs of the baby. Right from the finest cloth to picking eco-friendly colors, this brand has left no stone unturned to offer the best quality diapers.
The brand focuses on providing comfy diapers to offer the highest level of comfort your baby deserves. SuperBottoms serves two categories namely newborns less than 7kgs and free-size above 7kgs. The diapers last up to 12 hours which means your baby can sleep tight at night.
SuperBottoms Key Features
Reusable Diapers
Made with high performance, advanced cloth diaper that is soft and gentle
100% organic with no harmful chemicals(Lead and Phthalates) used
Comes with a dry feel magic pad to keep the baby's bum dry
Suitable for: 3 months to 3 years.
Supports weight: 5kg to 17 kg.
2. Tiny Rabbit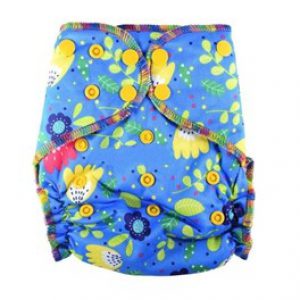 TinyRabbit is a baby diaper brand that has come a long way through innovative approaches to bringing baby care items to your doorstep. Safety and product quality are the top priorities of the TinyRabbit brand.
TinyRabbit eco-friendly diapers feature bamboo cotton, a PUL layer outside, and a microsuede layer inside, along with water-resistance nature to keep the baby free from rashes and skin allergies. To use this reusable diaper, pre-wash it with water and detergent to wipe out the stains and disease-causing germs. It is also suggested by the healthcare professionals not to use liquid detergents, softeners, fragrances, or anti-septic liquids as they can cause illness to the toddler.
Suitable For: 3 Months to 3 Years
Supports Weight: 5 Kgs to 17 Kgs
Tiny Rabbit Brand Key Features
Small, medium, large, and XL sizes
Natural bamboo cotton material
Safe and secured to use
Shell with 3 rise levels for babies
3. Tushions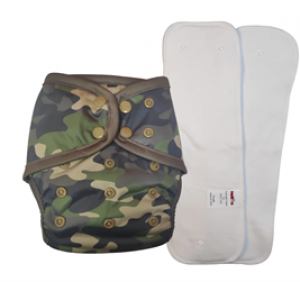 Jaya, the founder of Tushions, kickstarted the best cloth diaper brands worldwide. They produce eco-friendly diapers for toddlers to pre-schoolers (i.e., 3 months to 8 years). Hence, we have listed among the top-rated diaper brands in India to buy online.
If we talk about the product, it uses a shell that features a 2-layer microfiber insert stitched inside and lasts for 8-12 hours easily. For instance, if your beloved one is a frequent pooper, you can also attach the cotton booster at night. The main advantage of using Tushions organic diaper is that it comes with waist and rise settings to adjust as per the baby's body measurements. Adding up, it can be washed with hands or using a machine to deter the debris.
Suitable For: 3 Months to 3 Years
Supports Weight: 5Kgs to 15 Kgs
Tushions Brand Key Features
100% reusable and machine washable
Waist and rise settings
Lightweight and travail-friendly
2-layer microfiber stitched inside
4. Bumbio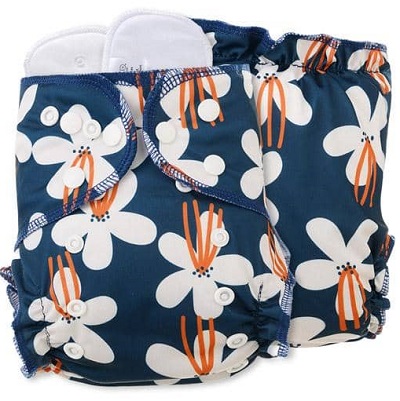 With Bumbio, your baby is set to have complete care from outside and within. The outer body of the diapers is made from soft and waterproof material, whereas the inner is a multilayer of highly absorbent fabrics. These reusable diapers have inserts that you can replace. Each diper can withstand a minimum of 300+ washes.
You can get inserts made from bamboo fibre or microfibre depending on how you need to use it. The bamboo fibre maintains dryness for up to 12 hours. These are perfect for nighttime use and if you want to avoid multiple diaper changes. Whereas, if a quick diaper fix what your baby needs, the microfiber inserts are best suitable. These give your baby protection for up to 4 hours.
The inserts have a QUA (Quick Urine Absorption) technology that prevents leakage. Your baby will receive a cloud-soft experience with both varieties, thanks to the buttery fabric used inside the diapers. You can buy the inserts separately and keep on changing them inside of a reusable diaper. The diapers are easy to put on and care for.
Both of the diapers are available in one size which is also adjustable so it fits your baby until they are 3 years old. All the diapers are designed in India and are owned by eco-conscious parents, Anet & Givi. in 2018. Anet's passion for reusable diapers paved the way for Bumbio which now serves customers all over India. You can buy the diapers from the Bumbio official website.
With the reusable diapers, a bin jam-packed with white diapers would be a sight less seen. Simply select from the range of colours and patterns to keep your baby happy and chirpy throughout.
Bumbio Brand Key Features
Made with reusable cotton cloth
Supports for just born to 3 years
Trim fitting and absorbent
Bamboo fiber inner pad with QUA technology
5. Kindermum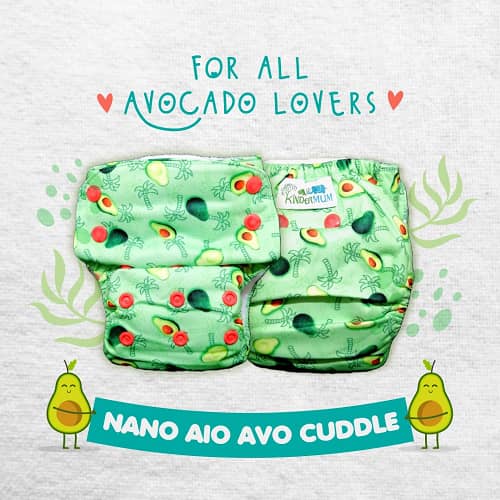 Kindermum is India's trimmest range of cloth diapers with CPSIA and Organic certification from GOTS. These diapers are made in India and designed by parents! They are designed not only to care for the baby but also for the environment. With cloth-based technology, Kindermum is the home to durable, washable, and comfy diapers. A Kindermum diaper is adjustable and, thus, can be worn by babies up to 17 kgs. It has a soft inner fleece that keeps the baby dry all night long. The organic cotton inserts are made of the softest material and the diaper shell is waterproof. This gives complete protection to the soft skin of the baby and keeps them far away from rashes and wetness. Along with diapers, Kindermum also has a range of other products from newborns to toddlers like swaddles, nappies, clothing and underwear.
Kindermum Brand Key Features
Booster pad protection
Offers dry feel to babies
Affordable to buy online
Made using 8-layers 100% organic cotton
Buying Guide for Baby Diapers
Types of Baby Diapers
The most common types of disposable baby diapers that you will come across are –
1. Pant Style Diapers
For older babies, pant style diapers are much preferred because they can be easily pulled up like underwear. The sides can be easily removed to dispose or change it.
2. Taped Style Diapers
These are more suitable for newborn babies when you place their bum on the diaper and fasten the sides. This way you don't have to lift a young and move him while changing.
3. Swim Diapers
These diapers are specifically meant for babies who wish to have fun in the water. They are made of superior absorbency power material that neither lets fluids in nor out.
4. Training Diapers
These are underwear shape diapers with the larger surface area but thinner material. These are used during the potty training phase of babies.
5. Preemie Diapers
Specially made to cater to the needs of premature babies; these diapers come in smaller sizes than regular diapers with a provision to accommodate the umbilical stump that may still be healing.
How to Select Baby Diapers?
Choosing the best baby diapers requires a lot of trial and error. Each diaper brand has its unique features on offer and parents use a combination of their criteria to arrive on the best baby diaper. Some common factors that may influence the buying decision of a parent worth respect to baby diapers are –
1. Absorbency power
Since each baby is unique a diaper that may hold a baby's urine for several hours may get soiled soon when used on a baby who pees often. Some mothers don't mind changing the diaper frequently during the day but want a diaper that will absorb the urine all through the night. All diaper brands mention the number of hours for its usage, and some even have a wetness indicator which suggests when it is the time to change. For people on the go, they may want to put off changing diapers frequently and look for maximum absorbency in diapers.
2. Price
Affordability is a prime factor when it comes to choosing the best baby diapers. Since diapers are used every day for at least the first two years of your baby's life, you need to be well aware of the prices of various brands. Grab jumbo packs which usually are more economical and look out for exciting offers online. If you happen to equally like two brands, go for the one that costs less.
3. Fit
Since diapers are worn by babies most of the times, it is essential that they fit well. Covers of diaper packs indicate the weight of the baby they are designed. However, you will need to choose the best diaper basis for your baby's shape as well. For instance, if an M sized diaper packs is apt for babies 7-12 kgs in weight, babies who are chubbier and short may find it tight.
4. Availability
Thankfully, online portals like Amazon and Flipkart have made it possible for most people to buy what they want online. You may not find all brands and variants everywhere, so it is always best to stock up with your preferred pack of diapers. If you don't shop online, see what is conveniently available in your neighborhood medical store.
Final Thoughts
Choosing the right baby diaper is crucial in the baby's initial years. You will spend quite a lot of money on buying baby diapers for at least the first two years. A comfortable, dry baby is happier and does not fuss unnecessarily, and minimum fuss ensures a parents' peace of mind. Do check multiple brands to finally select one that fits your budgets and needs. Comparing the available options online and offline will help you make an informed choice.
Baby Diapers Frequently Asked Questions
1) Which is the best diaper for a baby in India?
Pampers baby diaper brand is our top choice among the list of best diaper brands in India because of the soft, stretchy sides and skin protection mechanism to offer comfort. Also, it keeps the baby's skin dry for 12 hours without causing allergies.
2) Are organic diapers safe to use for newborns?
Organic diapers are safe to use for newborn babies as they are manufactured using plant extracts like cotton, hemp, bamboo and offer extreme comfort throughout the usage.
3) What materials are used for manufacturing baby diapers?
A normal diaper is made using polypropylene, polyethylene, cellulose, polymer, small amounts of tapes, elastics, and other adhesive materials to support the baby's overall health.
4) How much weight does a baby diaper support?
Check out the given below table to start using diapers for your kids and also know the age groups w.r.to the weights.
| | |
| --- | --- |
| Baby Age | Supported Diaper Weight |
| Up to 2 weeks | 4.5 Kgs |
| 4 to 6 months | 6.5 kgs |
| 6 months to 1 year | 10 to 12 kgs |
| 1 year to 3 years | 15 kgs or more |
5) What is the recommended age for using diapers?
As suggested by the doctors, it is good to start using diapers from day one to newborns and continue till 3 years.