Summary of Pampers Diapers Online Offers For This Month
| Diapers Sale | Pampers Offers |
| --- | --- |
| Firstcry Diapers Offers | Up to 35% Off |
| Diapers Today Sale | Up to 50% Off |
| Discount On Diaper | Up to 30% Off |
| Pampers Offers Today | Flat 30% Off |
| Diapers Online Offers | Up to 50% Off |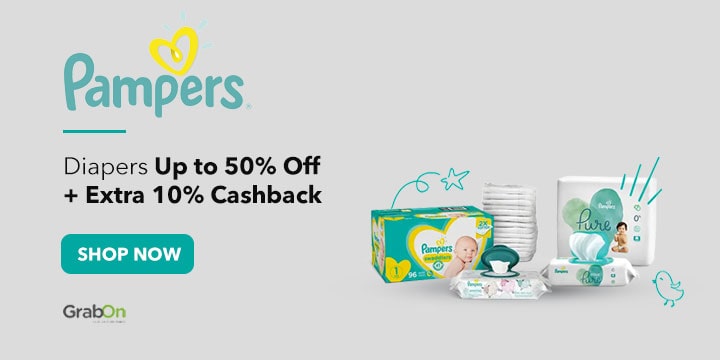 Know More About Pampers
Founded in 1961, Pampers has been the Number 1 choice of parents across the world. The P&G brand is known for its softest baby-care products, including pants, diapers, and wipes. Claiming the position of the most trusted baby-care brand is a feat, and Pampers has upheld it continuously for 50 years. With diapers that keep the baby dry and rash-free, the brand helps parents take the best care of their baby. To secure not only the baby's present, but also his future, Pampers also practices sustainable practices such as reducing its environmental impact, using less resources, and employing renewable energy.
Sustainable Practices
Between 2009 and 2014, Pampers reduced its
Manufacturing waste by 78%
CO2 emissions by 9%
Energy consumption by 8%
Water consumption by 4% (per unit of production)
This, coupled with the utilization of Renewable Energy sources, is a great effort at making the world a greener, cleaner place to live in.
Few More Products
Pampers offers a comprehensive range of products to ensure dry-days for newborns (0-3 months), babies (3-12 months), and toddlers (12+ months). Their range includes:
Pampers Pants
Premium-Care Pants: The soft and comfortable diaper pants come with a wetness indicator to let you know when your baby might need a diaper change.
Baby-Dry Pants: Designed with air channels and gel technology, these pants provide up to 12 hours of breathable dryness to your baby.
Splashers: These are swim diapers for the baby. They are for the pool days, when you want protection without any worries of a soggy diaper.
Wipes For All Skins
Fresh-Clean Wipes: Specially designed for the baby's skin, Pampers Fresh-Clean Wipes clean, moisturize, and freshen the baby, and leave a refreshing scent behind.
Diapers For Babies
Preemie Protection: These diapers are designed with NICU nurses with preemie baby needs in mind. They are a perfect fit for babies <1800g.
New Baby: With features like Magic Gel, Extra Dry Layer, and Baby Lotion, these diapers provide five-star skin comfort to the baby, and prevents skin irritation. You can get them for newborns under 3 months of age.
Active Baby: Similar to New Baby Diapers, the Active Baby Diapers are for babies from 3 to 12 months of age.
Save on Pampers with GrabOn
While you love to pamper your baby, two diapers a day can get a little expensive. This is why GrabOn lets you save on diapers, pants, and wipes from Pampers using a range of discounts and offers. While making your monthly diaper purchase from Amazon or FirstCry, make sure to check out this page. Here you will find freshly updated coupons that will help you keep your baby dry without drying out your wallet.