We all wish to have an impressive personality, and an essential of a pleasing appearance is your smile. An attractive smile cannot be achieved without proper oral care. Dental hygiene is of prime importance though most of us spend little or no time in choosing the right and best toothpaste for our pearly whites. But toothpaste is more than just a bathroom essential; it is the most valuable part of your oral hygiene routine.
The Rs 10,000-crore toothpaste market is flooded with various brands of toothpaste claiming to give you cavity-free teeth and healthy gums. But which toothpaste is the best for teeth? Let us take you through the best toothpaste brands in India to help you choose your toothpaste with ease and confidence. After all, it all starts with a smile.
Lets have a look at Top 10 best toothpaste brands in India
The toothpaste industry in India boomed after 1975 when Colgate and Hindustan Unilever's Close-up were the leading players. The industry is increasing every year, and many new players keep entering the market. The oral hygiene industry beat the locally made powders and natural herbs that were earlier used to clean teeth. Let us take you through the top 10 toothpaste brands in India.
Colgate toothpastes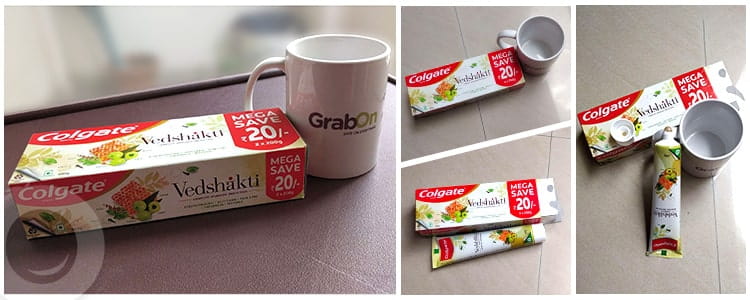 For many of us, Colgate is a synonym for toothpaste. The brand had ruled the Indian toothpaste market for many years and was the world's number 1 toothpaste in 1999 when it became the highest selling brand in the world. They offer a wide range of toothpaste catering to the young, old and kids market segments. Popular variants of Colgate include Colgate Total, Active Salt, Colgate Max infused with cooling crystals, Colgate fresh, herbal, and Colgate Sensitive for sensitive teeth. You can choose between any of the variants safely because the brand promises to make your teeth stronger, whiter and free from cavities.
Colgate has the most significant market share in the toothpaste industry and has the highest number of consumers. No wonder it has been the world's no one toothpaste company for decades now. Over the years, the brand has launched many variants, each one better than the last and given us whiter and healthy teeth and gums and bright smiles.
Related Article: Best Power Toothbrushes in India
Close-up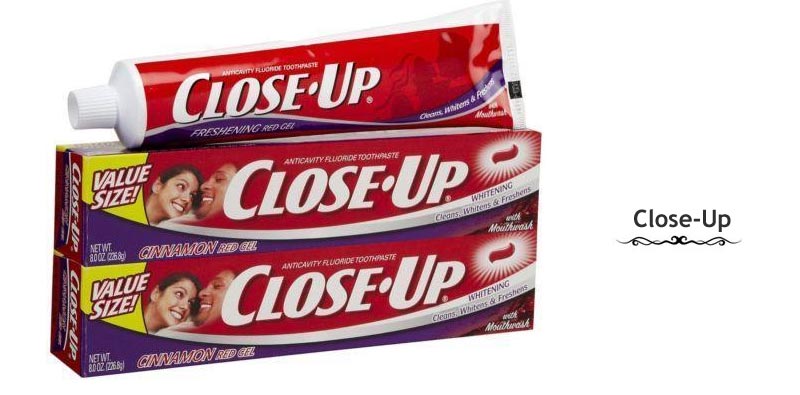 Close-up is a product of Hindustan Unilever and was the first-ever gel-based toothpaste in India. The brand markets itself as a youth-oriented company though it does have kids toothpastes too. Close-up has an interesting line of variants like Deep Action, whitening gel, active gel, zinc-menthol gel, and others. It has been in the second position concerning the market share it occupies and has been known to deliver fresh breath that is lasting and strong teeth and gums.
Close-up also has variants designed to specifically address the oral problem of cavities, bad breath, a gentle cleaning, and yellow teeth. It is undoubtedly the second-best toothpaste in India.
Pepsodent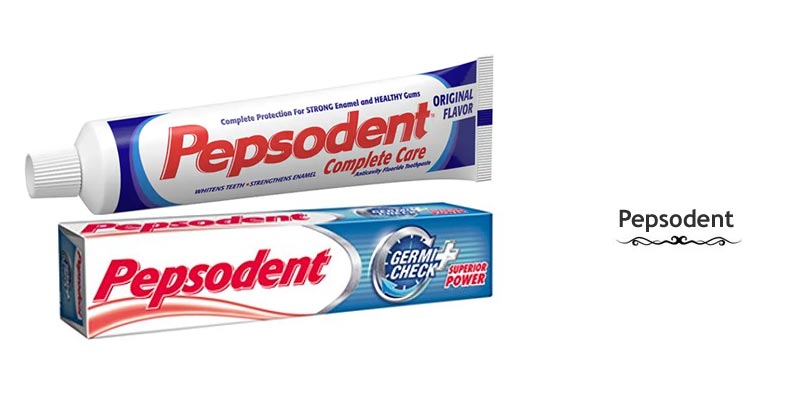 Another popular brand of toothpaste in India is Pepsodent owned again by Unilever. The toothpaste uses herbal ingredients inactive triclosan, zinc and micro granule formula giving you fresher breath and germ-free teeth and strong gums. It also has anti-bacterial properties that help protect teeth from germs and cavities and anti-plaque properties prevent the buildup of yellowish coating on the teeth. Pepsodent toothpaste is designed to prevent gum diseases and strengthens the tooth enamel.
Various variants of Pepsodent toothpaste include Expert Protection, Cavity Protection, Enamel Safe Whitening, Center Fresh, Germicheck with cloves and salt. You can get a 150 gm tube of Pepsodent toothpaste for just Rs. 94.
Sensodyne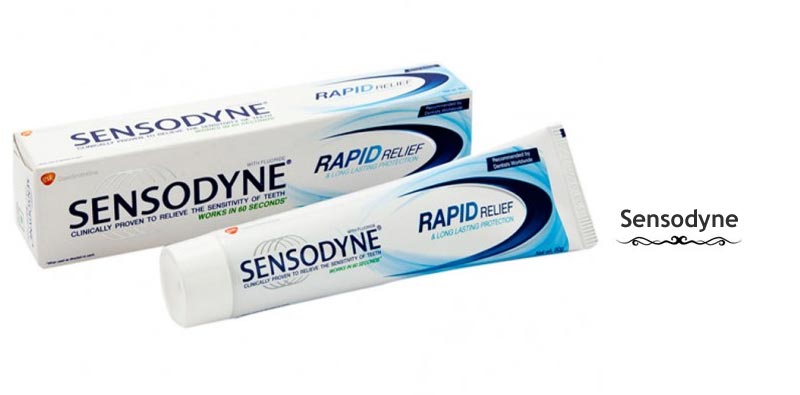 For people with the issue of tooth sensitivity, Sensodyne toothpaste is the best sensitive toothpaste that can help tackle the problem effectively. Sensodyne is also the most preferred toothpaste for sensitive teeth and is clinically recommended by many dentists in India. A registered trademark of GlaxoSmithKline, Sensodyne has been in India since 1961 and is extensively preferred by people who have sensitive teeth. Many people feel that sensitivity gets reduced from first use itself. Thanks to its effective formulation of bioglass known as Novamin that is known to reduce sensitivity in teeth when they come in contact with sweet, cold, acidic and hot foods.
Sensodyne offers three variants for people with sensitive teeth – repair and protect, fresh gel and rapid relief. Sensodyne has been proven to be the best sensitive toothpaste and is economically affordable. You can get a 70 gm pack for Rs. 99, though you can get it cheaper online.
Oral-B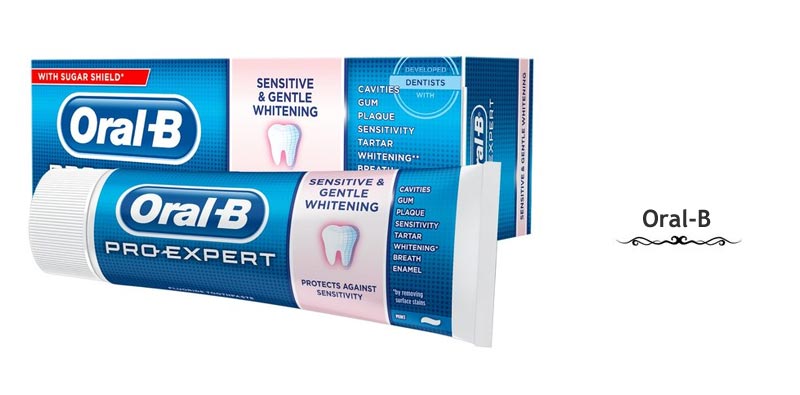 The international brand Oral-B is one of India's premium dental health care brand. It has many dental care products, but their primary expertise is in designing toothbrushes. The toothpaste contains a patented complex formulation of Stannous Flouride Complex that is known to prevent tooth decay and cavities, make teeth stronger and prevents enamel erosion. Oral-B Pro-Expert toothpaste, when used in conjugation with Oral-B toothbrush and mouthwash, can help you fight all your dental woes.
Oral-B does have a few variants like Extra White, Pro Expert Deep Clean, Gum and Enamel repair and the like. You can also get some variants for children. Priced at Rs. 160 for a 75 gm tube, it is the choice of many affluent Indians.
Meswak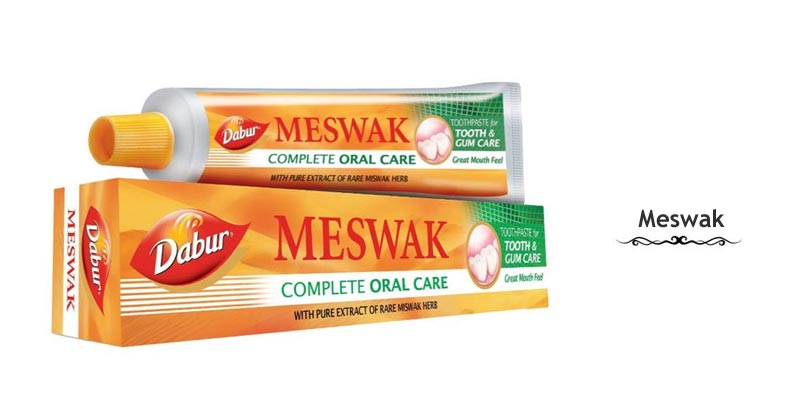 If you are looking for the best natural toothpaste for sensitive teeth, then your search ends with Meswak toothpaste. Meswak is manufactured by Dabur that has a strong foothold in Ayurvedic and natural products. The main ingredient of Meswak toothpaste is miswak (Salvadora persica) or the toothbrush tree. Other ingredients of Meswak toothpaste include fluoride, chlorides, flavenoids, silica and Vitamin C that are known to work together for optimum dental health.
Meswak does not market itself as a whitening toothpaste. However, if you are looking for a toothpaste that is natural and helps your teeth become stronger and provide relief from sensitivity, gum problems, plaque, tooth decay, and cavities, then Meswak is for you. Being herbal, its taste is quite different than other toothpaste, so you may like it or not like it based on your personal preferences. It is economically priced at Rs. 96 for a 200 gm tube. Many consumers feel they get the benefit of an excellent natural toothpaste at a high price with Meswak.
Patanjali Dant Kanti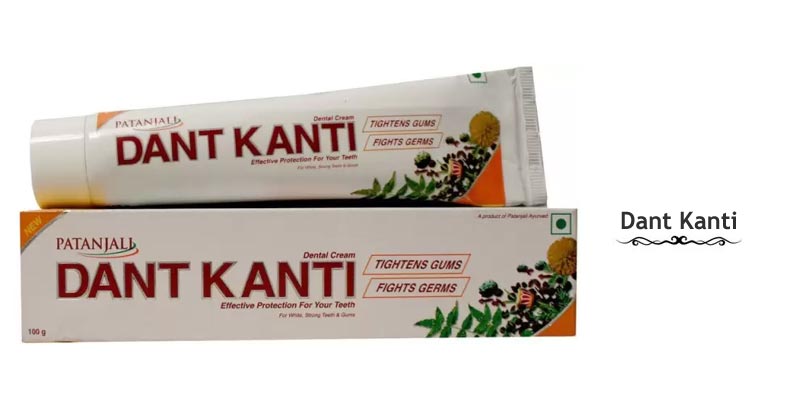 Baba Ramdev backed Patanjali has taken Indian Ayurveda to another extent, and Patanjali's Dant Kanti range of toothpaste proves the same. The only toothpaste brand to challenge Colgate's monopoly in the toothpaste industry, Dant Kanti comes in many variants like advanced dental care, aloe vera toothpaste, medicated oral gel and Dant Kanti Junior. Dant Kanti is prepared by using herbal ingredients and easily qualifies as one of the local Indian toothpaste to fight dental problems such as tooth decay, yellow teeth, cavities, painful, swollen and bleeding gums, and bad breath.
Most people who give Dant Kanti toothpaste review say that the paste has a strong, refreshing taste that indicates the dominance of herbal ingredients. A 100 gm tube of Patanjali's Dant Kanti toothpaste will cost you Rs. 90 at MRP.
Vicco Vajradanti Ayurvedic Toothpaste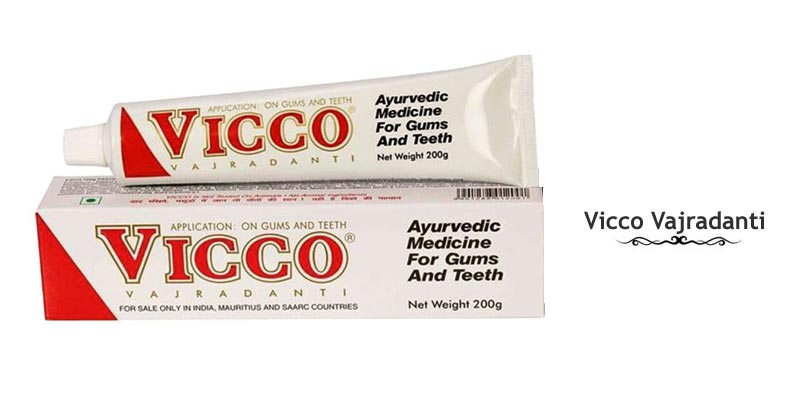 Vicco commercial has been around for ages, and it is unlikely that you haven't hummed the jingle. Vicco markets its toothpaste as an "Ayurvedic medicine for gums and teeth," and has turmeric as its main ingredient. We all know turmeric has excellent anti-inflammatory properties. The other ingredients of Vicco Vajradanti toothpaste make it an excellent choice for people looking for best natural toothpaste.
This unique Ayurvedic formula offers excellent benefits for your teeth and gums making them strong, plaque resistant and fighting the bacteria and germs that cause cavities and bad breath. Vicco is particularly beneficial for people suffering from swollen gums and toothache. A tube of Vicco Vajrandanti 150 gram toothpaste costs Rs. 90 approximately.
Dabur Red Toothpaste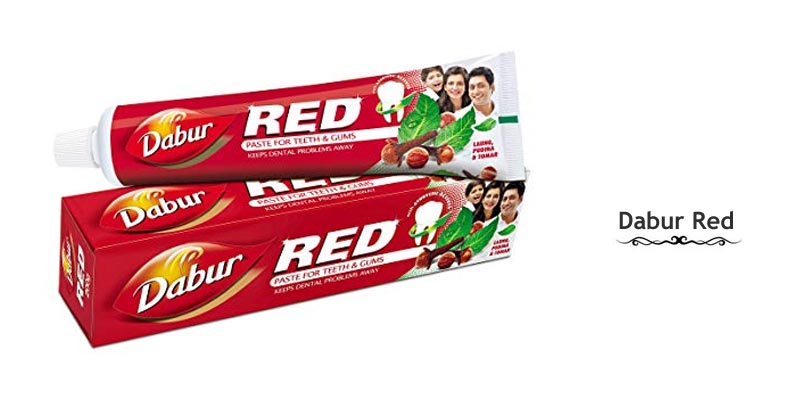 Dabur Red has been the preferred brand for oral care regime for millions of Indians. A powerful Ayurvedic composition of cloves, mint, tomar and ten other herbal ingredients, Dabur Red, is a completely natural toothpaste. It helps to keep all your dental woes away, giving you shinier, stronger teeth and healthy gums. Being a herbal toothpaste, it offers all the protection from bacteria and plaque in a natural, chemical-free way. For this reason, Dabur Red has been one of the top toothpaste in India.
Though the herbal formulation also comes in a powder (manjan) form, yet using the red toothpaste is recommended. A 200 gm pack will cost you around Rs. 95.
Himalaya herbals complete dental care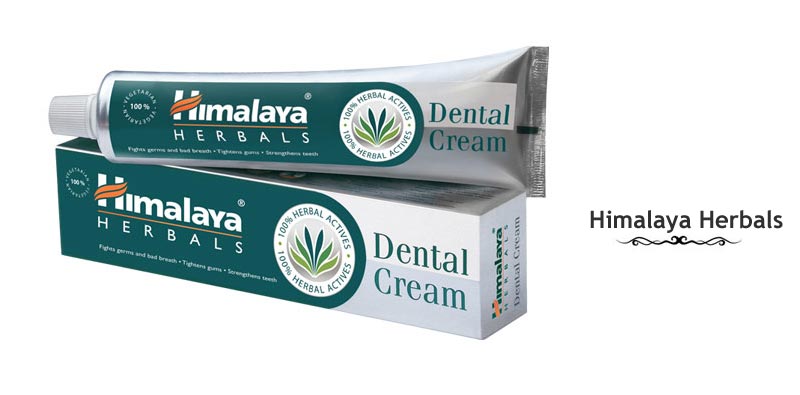 Specially formulated for adult dental and oral care. Himalaya complete care toothpaste contains neem, meswak, pomegranate, false black pepper, Triphala and other ingredients in a unique natural blend that works together to give you strong teeth and gums. The toothpaste has antioxidant properties and helps discard any toxic layers in your mouth giving you fresh and clean breath and teeth. People suffering from bleeding gums specifically benefit from using Himalaya complete dental care toothpaste.
Himalaya toothpaste is quite popular with Indian folks because of its ability to relieve toothache and fight bad breath. Moreover, it is another natural, chemical-free toothpaste and people who prefer herbal toothpaste vouch for it. A 200 gm tube of Himalaya toothpaste costs about Rs. 171.
Toothpaste Buying Guide
Top 5 Toothpaste Brands In Terms of Market Share
With new entrants like Patanjali's Dant Kanti starting a herbal revolution in the market, big players like Colgate and HUL have also started churning out ayurvedic variants. With indigenous brands such as Colgate's Cibaca Vedshakti, and HUL's Ayush, the companies are making a move towards capturing the rural market. As of now, oral care accounts for 16% of the FMCG market in India. Companies with the biggest share of the pie are:
Colgate (53%)
Hindustan Unilever Limited (17%)
Dabur (11%)
Patanjali (11%)
GSK (3%)
How to choose the best toothpaste?
The list of toothpaste brands in India is quite exhaustive and choosing the one that suits you the most can be a daunting task. To choose your toothpaste wisely, you need first to ensure that the toothpaste you choose cleans your teeth, fights plaque and prevents cavities.
You may also want to consider oral issues like sensitivity, cavities, bad breath, tooth decay, tartar, and yellow teeth into consideration when choosing the best toothpaste.
Taste can also be an essential factor when you decide and zero out on a toothpaste.
Lastly, some of us are keen only to use herbal or natural toothpaste to clean our teeth and fight oral problems. Some of us want more than just regular clean teeth – we want our teeth to gleam white and bright when we talk and smile.
With all these considerations in mind, it can be overwhelming to choose toothpaste for yourself. But not anymore. We have carefully picked up top 10 kinds of toothpaste in India based on various parameters. It will help you decide on the best toothpaste for you quickly.
No matter what toothpaste you choose from the list of top 10 kinds of toothpaste in India, the bottom line is that it should keep your teeth and gums healthy. It should fight plaque and other oral problems and leave you feeling fresh and energetic. Specific dental conditions can also be dealt with effectively by using particular dental creams. Maintain good oral hygiene to have an infectious, beautiful smile and fresh breath.