Are you feeling pooped after hectic work hours or household chores? You need a refreshing beverage that boosts your mood and creativity. If you are looking for the same to keep yourself stress-free, you need to have a Chai.
We will introduce you to some of the most popular and delicious tea brands in India that lets you prepare tea at home effortlessly. All of these have been curated based on their amazing taste and flavour, organic ingredients, and therapeutic benefits. Whether you are looking for an uplifting drink to start your day or want a brand that offers great organic tea options, do check it out from the list given below.
List Of Top 20 Tea Powder Brands
Last update was on: March 28, 2023 10:54 pm
We have curated the list of best tea powder brands that help you enjoy this delicious drink in the morning, evening, or late at night as well. Let's get started!
Taj Mahal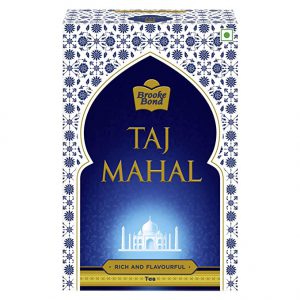 One of the top-selling tea brands in India, Taj Mahal is popular due to its unique taste and perfect blend of different ingredients. They make use of herbal tea leaves that are dried, stored, and crushed to produce a tea blend for chai lovers. Besides, you will also find handcrafted teas, assorted gifts, and more to pick from, as per your choice of interest. You also make use of Taj Mahal promo codes to get them at inexpensive prices. Wrapping up, enjoy the flavour during the morning or late evenings to boost your mood.
Net Quantity: 500 Grams, 1 Kg
Flavours: Orange, Masala, Muscatel Grapes
Available Form: Tea Powder, Teabags
Brooke Bond Red Label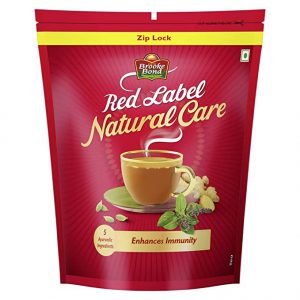 Brooke Bond is a popular tea brand across the globe for its therapeutic benefits. Most Indian households prefer this over other brands due to the perfect blend of organic ingredients like tulsi, mulethi, ginger, cardamom, and ashwagandha which are rich in taste and flavour. It is clinically proven that all of these ingredients help to minimise stress, soothe the throat, improve immunity, and promote healthy digestion.
Net Quantity: 100 Grams, 250 Grams, 500 Grams, 1 Kg
Flavours: Basil, Ginger, Cardamom, Mulethi, and Ashwagandha
Available Form: Powder
Tata Tea Gold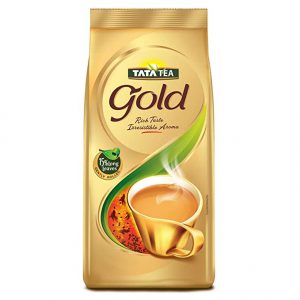 Tata Tea Gold is your go-to option if you are looking for the best ways to chill at home. It is made using 15% of long aromatic leaves and 85% Assam tea leaves. A cup of Tata Tea containing medium caffeine content will enlighten your day as it balances the rich taste and irresistible aroma of other black teas. For this reason, we have listed Tata Tea among the top tea brands in India for its high demand.
Net Quantity: 250 Grams, 500 Grams, 1 Kg, 1.5 Kgs
Flavours: Masala
Available Form: Powder
Tetley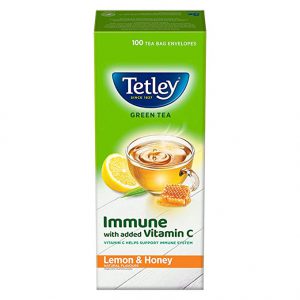 Tetley green tea will pop up if you are searching for the best tea for peaceful sleep. It is undoubtedly the best product as it comes with antioxidants that will boost your energy levels. The powder is wrapped in 100% plastic-free and staple-free bags that can be dipped in hot water with ease. On the whole, you will surely enjoy Tetley lemon and honey flavours in every sip of chai.  
Net Quantity: 25, 100 Tea Bags
Flavours: Lemon and Honey
Available Form: Tea Bags (Loose Leaves)
Wagh Bakri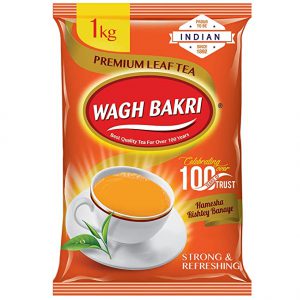 There is no better way to kick-start your day with a cup of Wagh Bakri Tea. This brand is a leading exporter to global retailers. And over the years, it has gained immense popularity due to its offerings of unique tastes to the customers. It has a shelf life of 12 months from the date of packaging and for any sort of queries, you can reach out to the support team via feedback@waghbakritea.com
Net Quantity: 250 Grams, 500 Grams, 1 Kg
Flavours: Natural, Masala, Ginger
Available Form: Powder
Tea Box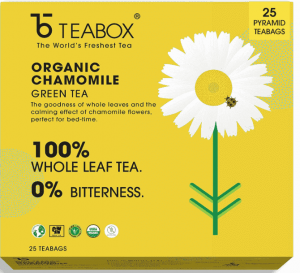 Connect with the world of senses and flavours with Tea Box. This leading tea brand offers fresh teas that are delicious, flavourful, and sublime. All the ingredients are extracted from the deep roots and plant leaves to give you an authentic taste.
The antioxidant properties lower the bad cholesterol and improve gut health. It also has a soothing property that helps to reduce stress and aids good night's sleep. Adding up, the green tea powder is packed in an opaque bag with an aluminium layer to protect them from excess moisture. This Tea Box seems to be affordable. However, you can start using the latest Tea Box promotional offers to get them at a relatively low cost.
Net Quantity: 100 Grams, 25, 27, 52, 100 Pieces
Flavours: Chamomile, Masala, Cardamom
Available Form: Teabags
Eco Valley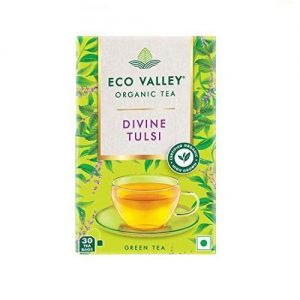 Strengthen your immune system by having a cup of chai from the Eco Valley brand. It features catechin that is high in concentration and beneficial for your overall health. To your surprise, the plant leaves are extracted from Nilgiri Hills and contain no chemicals and artificial flavours. Also, the bags are made using non-bleached filter paper to retain the taste and flavour. Winding up, the Eco Valley green tea leaves and tulsi are infused to soothe your body and maintain a healthy metabolism.
Net Quantity: 30, 50 Pieces
Flavours: Tulsi, Lemon, Whole Leaf, Ginger, and Citrus
Available Form: Powder
Vedaka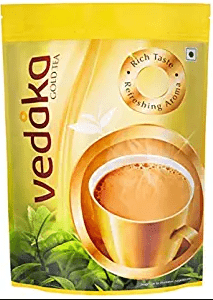 Enjoy the rich flavour of Vedaka Gold Tea infused with a sweet aroma to enhance your mood. This tea is made from high-quality leaves that are extracted from Assam and Darjeeling. They are perfectly blended using state-of-the-art technology to give you a smooth taste to start your morning. And to retain the freshness of tea powder, it comes with a zip-lock mechanism. With this, you can also prepare masala, sulaimani tea, ginger tea, and more.
Net Quantity: 500 Grams, 1 Kg
Flavours: Black Tea, Masala and Ginger
Available Form: Powder
Organic India
This brand is one of the best organic tea powders in India due to the blend of natural ingredients to give you a zesty taste. It makes use of tulsi, ginger, and lemon flavours to enjoy every sip of chai. In addition, it provides phytonutrients and antioxidants that defend against harmful free radicals, thereby improving your overall health. In a nutshell, if you are a fan of green tea and want to explore more options, check out the best green tea brands where you can reduce weight over time.
Net Quantity: 25 Pieces, 100 Grams
Flavours: Lemon, Ginger, and Tulsi
Available Form: Teabags
Blue Tea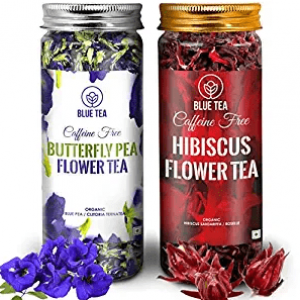 Blue Tea is an emerging tea brand that offers different flavours like chamomile green tea, lavender, hibiscus, and butterfly pea. The dried flowers are rich in flavonoids and antioxidants to offer better taste and colour. To start preparing this delicious tea, infuse 3 to 4 flowers in 150 ml of hot water for a minute to get the best results.
This tea helps in promoting weight loss and its low caffeine nature aids in detoxing and deep cleansing of the body. If you do not wish to consume it directly, you can mix it with lemonade and other cold brews. Once you purchase an item, it will take around 3 working days to process your order. Summing up, these flowers are packed in recyclable and eco-friendly food-grade jars.
Net Quantity: 25 Grams, 50 Grams, 75 Grams, 100 Grams
Flavours: Butterfly Pea, Chamomile, and Egyptian Hibiscus Flower
Available Form: Loose Leaves 
Chaayos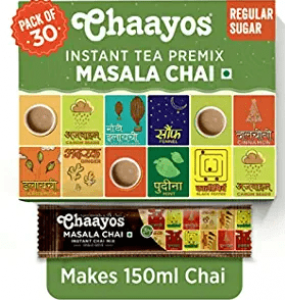 Chaayos offers endless options for tea lovers by creating a unique taste. It has medium caffeine content with a mix of cloves, cinnamon, milk, sugar, ginger, cardamom, and black pepper. To enjoy this tasty chai, empty the sachet into a cup, fill it with hot water, and stir well.
Whether you are at the home, office, or on a vacation trip, Chaayos masala chai will surely be your stress-buster and promotes healthy metabolism. Above all, you can also purchase other varieties like herbal tea and whole leaf green tea at your convenience.
For budget-conscious people, we have something for you. Yes, you heard it right! Visit the GrabOn website and look for Chaayos coupons from the list of available options to purchase your desired flavoured tea and save big.
Net Quantity: 5, 10, 30 Pieces
Flavours: Masala, Kesar, cardamom, Adrak Elaichi, Ginger, Lemon Grass
Available Form: Powder
Teamonk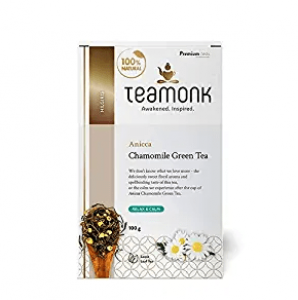 Wonder how the tea from Teamonk is sourced? Well, the leaves are harvested from the bushes of Nilgiris, and then processed by the experienced tea-pluckers. It ensures that there are no artificial flavours and oils, and offers you the purest form and best-in-class experience.
The presence of pain-relieving and antispasmodic properties in chamomile extracts relaxes your nerves and gives you the best sleeping experience. Apart from this, it also helps fight against harmful bacteria and fosters your immune system. Bet us, you will surely enjoy the serenity of this sweet floral aroma tea at inexpensive prices.  
Net Quantity: 25, 50 Pieces, 100 Grams, 150 Grams
Flavours: Chamomile, Orange, Ginger, Lemon Grass, Kashmiri Kahwa, Kimaya White Tea, Cardamom, Jasmine, Hibiscus, Tapas Oolong
Available Form: Powder
Vahdam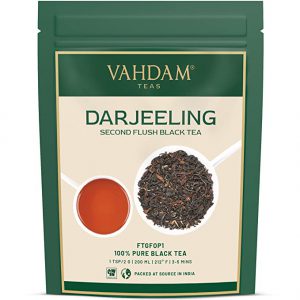 A recent survey revealed that people who drank tea daily had an 8% reduced risk of heart disease and other cardiac attacks.
It is a positive sign that if you have any of these symptoms, you can try having a cup of chai regularly. Considering this, Vahdam Tea serves your purpose. It comes with multiple nuances of extracted leaves with green flakes to offer you the brisk and spiced taste. Having a cup of this black tea removes free radicals, reduces blood pressure, and controls sugar levels.
If you are willing to save on this tea powder, then Vahdam deals and discounts should be your go-to option. This will help you to save up to 35% off on all the orders.
Net Quantity: 50 Grams, 100 Grams, 250 Grams, 15, 25, 50, 60 Pieces
Flavours: Darjeeling Black Tea, Turmeric, Ginger, Hibiscus, Ashwagandha, Lemon, Chamomile, Mint, Citrus, Spiced Black Tea
Available Form: Loose Leaves
Tea Origin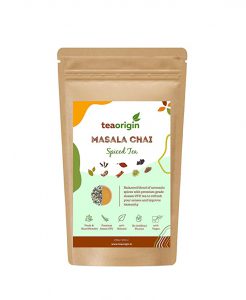 Tea Origin leaves are extracted from Indian tea gardens and then blended to let you enjoy this spiced tea. What makes this brand apart from its competitors is it sources the ingredients in small batches to preserve the freshness and taste of chai. Also, they are 100% free from artificial colours, additives, and artificial flavours.
This spiced tea is prepared using key ingredients like CTC tea, black pepper, ginger, cinnamon, and black cardamom. 24 to 48 hours is the standard shipping time to deliver your order and free shipping for prepaid orders. If you choose the COD option, you will be charged Rs 60/- as the shipping fee.
Net Quantity: 100 Grams, 250 Grams
Flavours: Masala, Chamomile, Jasmine, Kashmiri Saffron
Available Form: Powder
Tea Trunk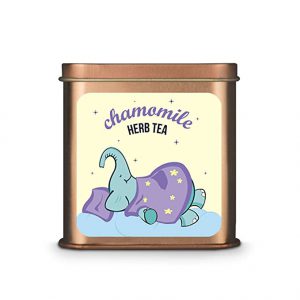 Tea Trunk brand curates the finest teas of India with all-natural ingredients that are flavorful and healthy. It does not make use of any artificial colours, or additives, so you can enjoy it with friends and family members at home.
Simply wrap a cosy blanket around during the chilling winters and have a cup of this chamomile tea. You can also use it as an iced tea as you need to steep it in room temperature water and then add ice. It undergoes several processes of testing and refining to keep your body warm and gives you a refreshing feel.
Do not worry, if the price is your biggest concern. The brand has come up with exclusive offers to serve your purpose. All you have to do is head to the Tea Trunk deals and discounts and look for the best one that suits your budget requirements.
Net Quantity: 25 Pieces, 50 Grams, 100 Grams
Flavours: Tulsi, Sweet Rose, Chamomile Herb, Black Tea, Herb Tea
Available Form: Compressed Tea Powder
The Tea Shelf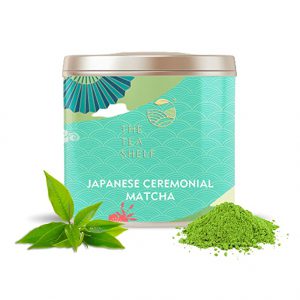 The Tea Shelf store is one of the best tea stores if you are hunting for products online. The brand is committed to providing fresh tea in different flavours and delivers at the doorstep to customers.
You can find all sorts of low caffeine, herbal, black tea, matcha, oolong tea, and white tea at affordable pricing. Each of the teas have a unique flavour profile, and tantalise your taste buds with health benefits too. Besides, you can take a sneak peek into the tea gift boxes that can be grabbed at a cheaper price using The Tea Shelf promo codes and present it to your beloved ones, chai lovers.
Net Quantity: 30 Grams, 50 Grams, 100 Grams
Flavours: Matcha, Rose, Tulsi, Chamomile, Lemongrass, Kashmiri Khawa, Berry Hibiscus
Available Form: Powder
Namhya Tea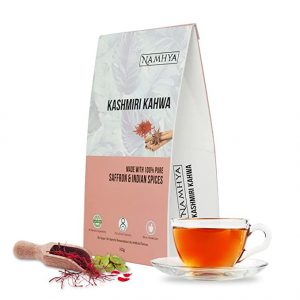 This Kashmiri Kahwa is made from unoxidized leaves, cinnamon, cardamom, cloves, rose petals, almond, and saffron that will leave your taste buds with a pleasant aroma. Improved digestion, immunity, and skin health are some of the reasons to choose Namhya tea by everyone.
To prepare this delicious chai, add 1 tbsp of this powder to 150 ml of boiling water. Now allow it to brew for a couple of minutes, strain, and serve by adding honey, and sugar as per your liking. Wrapping up, Namhya Kashmiri Kahwa tea is striving to bring the golden heritage of Indian foods that perfectly opts for your modern lifestyle.
Net Quantity: 30 Grams, 100 Grams
Flavours: Matcha, Kashmiri Khawa, Rose Petals, Saffron, Cardamom, Cinnamon
Available Form: Powder
Chai Point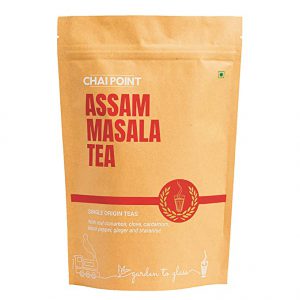 Are you a tea connoisseur and looking for the best tea brands in India? Do check out the Chai Point Assam masala chai. It is prepared from the finest quality leaves, amalgamated with premium spices like nutmeg, cardamom, black pepper, cinnamon, clove, and ginger. They have a separate team to curate and deliver fresh for their customers.
If you are not sure about the brewing process, here is what you need to follow. Firstly, add half a cup of water and 1 tbsp of Assam masala tea powder. Now allow it to boil for a couple of minutes to retain the flavours. You can even add milk and sugar as per your taste preferences.
Sometimes, savings is caring too! Do not spend more on this chai powder while purchasing online as you can choose the latest coupons from Chai Point to get up to 20% off.
Net Quantity: 200 Grams
Flavours: Masala, Cardamom, Ginger, Whole Leaf
Available Form: Powder
Udyan Tea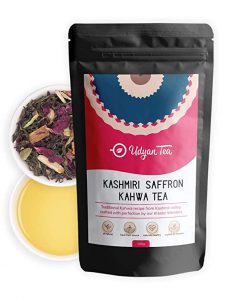 Unlock the different flavoured teas with the Udyan. It aims to bring the highest quality ingredients that are sourced directly from the garden, processed, and made ready for consumption. This Kashmiri kahwa tea is balanced with saffron, almonds, green cardamom, cinnamon, cloves, and rose petals that taste sweet and spicy.
Whatsoever, it is packed in a 3-layer resealable aluminium foil to retain maximum freshness, aroma, and taste. In a nutshell, do make use of the Udyan tea coupons from GrabOn to save your investment while shopping at this store.
Net Quantity: 50 Grams, 60 Grams, 100 Grams, 250 Grams
Flavours: Kashmiri Saffron Kahwa, Tulsi, Ginger, Lemongrass, Kadak Masala, Rose, Moroccan Mint, Oolong, Lavender
Available Form: Loose Leaves
Lipto
Lipton has been in the global market for over a century and is constantly striving to offer the best taste by processing natural ingredients. Having a cup of green tea daily lets you consume zero calories without any sugar and milk. It also keeps your skin hydrated. The added benefit is that it also protects against cardiovascular diseases and boosts metabolic activities due to the presence of medium caffeine content.
All you have to do is take a cup of hot water and place the tea bag in it. Now dip the bag for a couple of minutes and remove it. You can also enjoy different savours like lemon zest, tulsi natura, and mint burst that offer a refreshing taste. This product can be availed using the latest tea coupons from GrabOn to minimise your expenses while purchasing in bulk.
Net Quantity: 25, 50, 100 Pieces
Flavours: Honey and Lemon
Available Form: Teabags
Popular Tea Brands- FAQs
Which is the best tea brand in India?
Tata, Taj Mahal, and Brooke Bond are some of the popular tea brands in India due to the numerous ingredient-rich flavours and also maintaining quality standards.
What tea flavours are widely popular in India?
Chamomile, Ginger, Peppermint, Rose, Orange, Honey, Tulsi, and Masala flavours are widely popular in India.
How long can you store the tea powder?
You can store the tea powder for a maximum of 1 month without placing it in a refrigerator.
What factors should be considered while buying tea powder?
Brand reputation, taste, organic ingredients, chemical-free, cost, and customer feedback are some of the key parameters one must consider while buying a tea powder.
Bottom Line
Wrapping up, many studies have shown that having a cup of tea daily boosts the immune system, refreshes the mind, and fights against inflammation. It's good to use these beverage coupons while buying your desired flavoured tea. If you are looking for a tea that can help improve your mood and well-being, then this article is for you in making the right decision. Further, if you have any questions,  do reach out to us in the comment section given below.