It's not just the health nuts drinking green tea today! Millions of people across the globe have integrated this miraculous drink into their diet because of its plethora of health benefits. Be it weight loss or to slow down ageing, green tea is the holy grail that was missing from your diet. But since you are here to learn about the best green tea for weight loss, here's a list which will help you do that.
18 Best Green Tea For Weight Loss In India
Looking for green tea but not sure which one to go for? Don't worry this list will answer your query about, which is the best green tea for weight loss available in India?
Last update was on: September 25, 2023 3:56 pm
Best Green Tea For Weight Loss
Girnar Detox Green Tea – Desi Kahwa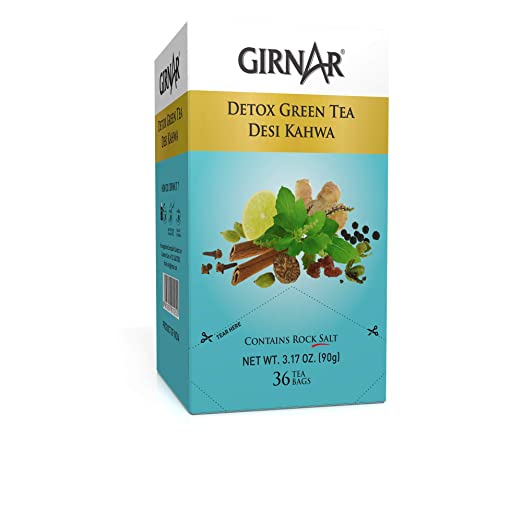 What started as a small operation has today turned into a well established business. Girnar started with a couple of products back in 1978 but today they have managed to produce multiple best selling products and one of those products has made it to the top of this list. The Detox Green Tea from Girnar has proven to be one of the most effective green teas for weight loss and the same is reported by its consumers.
Benefits
Helps slow down ageing
Reduces the risk of Type 2 diabetes
Helps you burn fat
Provides a source of antioxidants
Lipton Honey Lemon Green Tea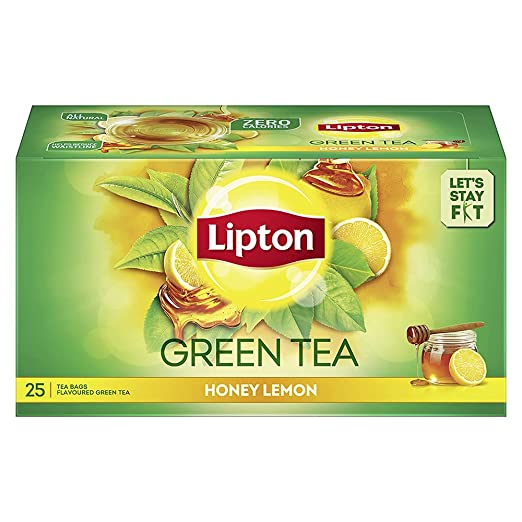 Lipton is one of the first brands that created the buzz about green tea. It is highly trusted by people and comes in various flavours. Try out the honey lemon green tea by Lipton is super refreshing and a great option if you're looking for an organic green tea for weight loss.
Benefits:
Prevents heart diseases
Reduces stress and tension
Rejuvenates mind and body
Good for skin
Treats cold and cough
Helps in rapid fat burning
Tetley Immune Green Tea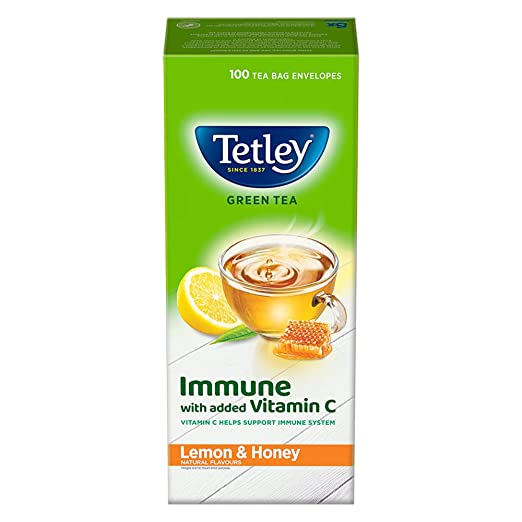 Tetley has been one of the biggest suppliers of tea across several countries for decades and in that time they have perfected the ways of delivering flavour like no other. And the Immune Green Tea from Tetley does the same thing with green tea, it has become the go-to product for everyone looking to lose weight because of the various health benefits it provides.
Benefits:
It has added Vitamin C, Lemon and Honey.
Plastic Free tea Bags
Sustably sourced tea
Boosts your immune system.
Organic India Classic Tulsi Green Tea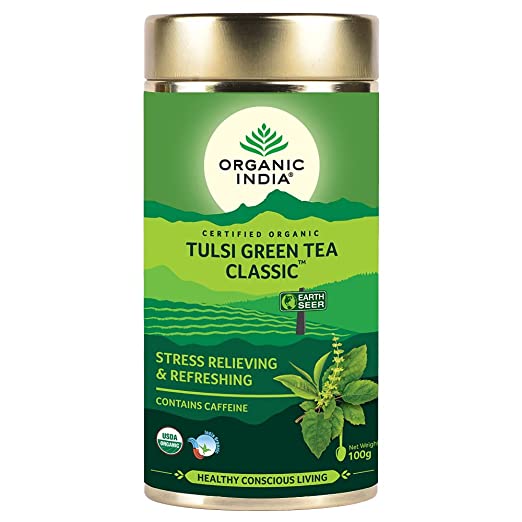 Started by a couple in 1997, Organic India is a multinational corporation which produces ayurvedic products. The Tulsi infused green tea from Organic India is one of the best options for people trying to lose weight. Additionally, the green tea is Halal certified, 100% vegan and NON-GMO project verified. So, grab this green tea with amazing Organic India offers from GrabOn.
Benefits:
Helps your body detox
Promotes healthier skin
A great source for antioxidants and other nutrients
Improves liver enzymes concentration
Exotic Aromas Green Tea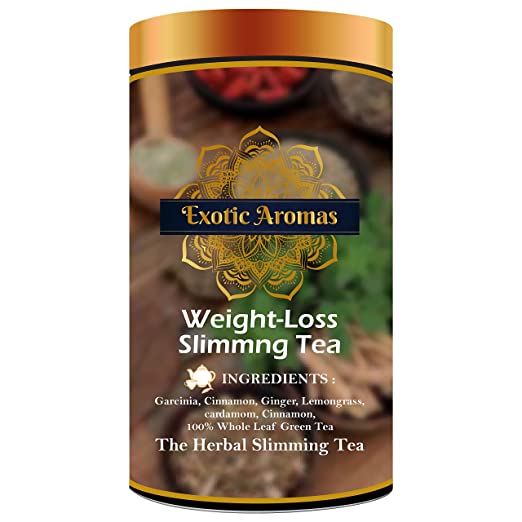 Organic green tea for weight loss is the best approach towards losing those extra pounds and Exotic Aroma helps you do exactly that. It's made in India, 100% organic, decaf free and if that wasn't enough, it's available in various flavours. So, you can be sure that they have something for everyone.
Benefits:
It's a great source of Vitamin C, folic acid and more
Helps with cold and congestion
Leaves a soothing effect on your throat.
Helps you lose weight.
Organic India Tulsi Green Tea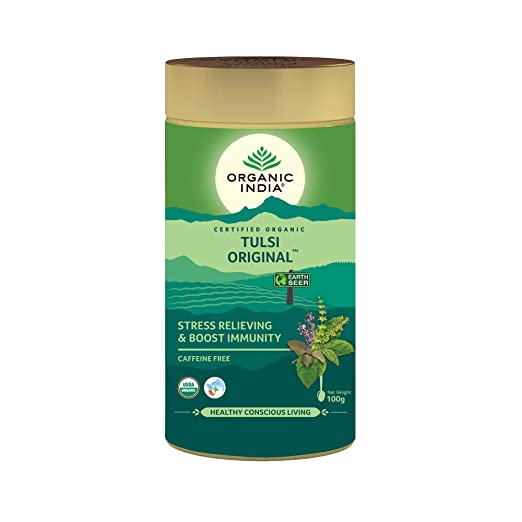 Organic India is a clear winner when it comes to the best tea brands in India. The brand promotes 100% organic green teas and the tea bags are made of biodegradable fibre. These 100% organic teas are a must-have for you and now take your fitness game to the next level by tracking your workouts with the best fitness tracker bands.
Benefits:
Reduces Stress
Improves Exercise Performance
Boosts Stamina
Fights Cold and Cough
Cures Jet Lag
OnlyLeaf 100% Natural Chamomile Green Tea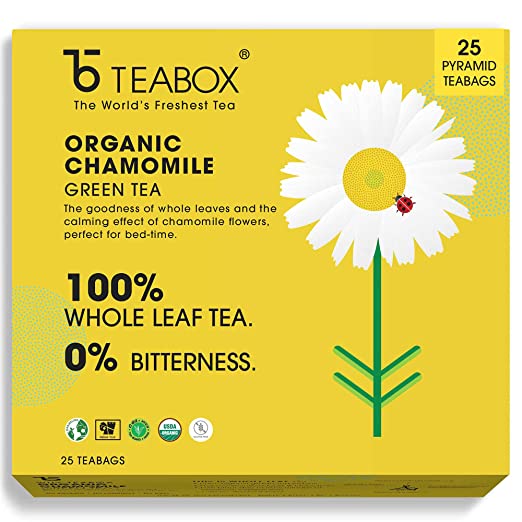 This brand is creating a buzz among the green tea lovers with its quality and variety. Chamomile tea comes with a lot of health and beauty benefits and the one from OnlyLeaf is certainly going to become your favourite.
Benefits:
Immunity Booster
Prevents Insomnia
Treats Periods Pain
Helps in getting rid of Dandruff
Increases skin glow
Treats Gastrointestinal issues
Lipton Pure & Light Loose Green Tea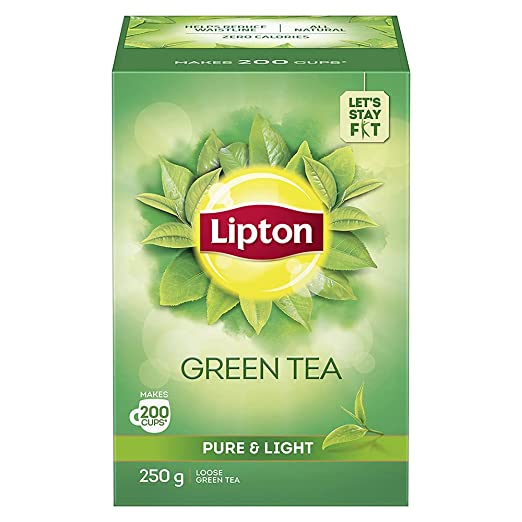 A second entry from Lipton, yes they are that good! The Pure & Loose green tea from Lipton is a concoction created to deliver taste with delicious flavour. Furthermore, Lipton is considered as one of the best green tea brands for weight loss by fitness experts and nutritionists from across the globe.
Benefits:
100% Natural Flavour
Improves Metabolism
It has zero calories
Improves heart health
Amazon Brand – Vedaka Green Tea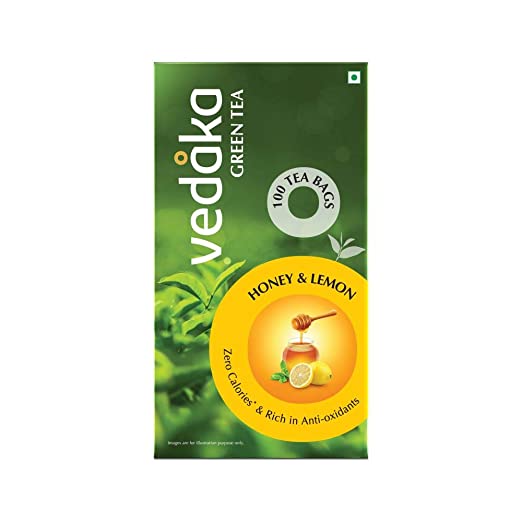 Amazon has started to take over, time and time again they have produced products which are loved by consumers all over. And it's the same with the next product on this list, the Vedaka green tea is infused with lemon and honey to create one of the best tasting green tea in the market. And if you are on the road to weight loss, this is one of the best green tea brands for weight loss.
Benefits:
It contains zero calories
Great source of antioxidants
Aids in weight loss
Promotes healthier gut
TE-A-ME Renew Honey Lemon Green Tea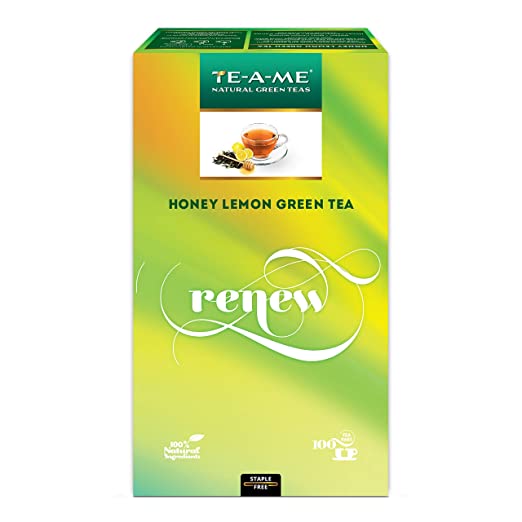 The next one on the list is the Honey Lemon Green Tea from TE-A-ME. And as the tea's name suggests, its infusion of lemon and honey with the original taste of green tea will uplift your spirit and give you the boost you need to start another work-filled day. Furthermore, the ingredients used in this tea are completely organic and help you tackle those extra pounds effectively.
Benefits:
Comes in staple free bags
100% organic
Promotes glowing skin
Aids in digestion
Chaiology Himalayan Green Tea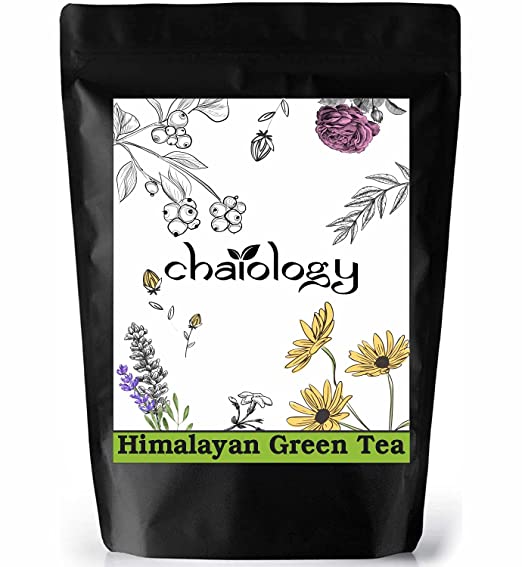 Helping people in establishing a point of view regarding teas, this brand is a great option if you're looking for 100% organic teas. Try the Himalayan Green Tea for amazing health and beauty benefits.
Benefits:
Cures physical and mental fatigue
Strengthens Blood Vessels
Improves digestion
Prevents cardiac problems
Typhoo Lemon Grass Green Tea Bag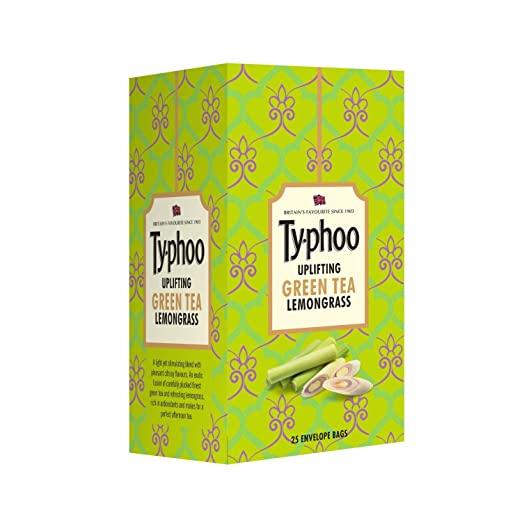 This UK based tea brand is making Indians fall in love with their green tea options along with fruit teas. The rejuvenating fragrance of Typhoo teas can relax your mind instantly.
Benefits:
Uplifts Mood
Cures Bloating
Treats Infections
Contains anti-anxiety benefits
Lowers Cholesterol
Teamonk Global Koen Rose Green Tea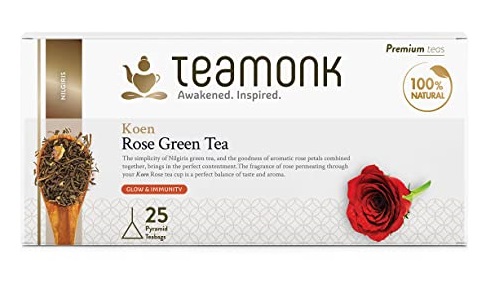 This one is a brand that cares for your wellness and health and constantly provides an array of green teas to help you keep health problems at bay. They provide 100% organic tea.
Benefits:
Great for improving menstrual health
Relieves constipation
Rosa Aromatherapy helps in relieving stress and cures depression
Cures Inflammation
Great for hair growth
TeaSwan Green Tulsi Tea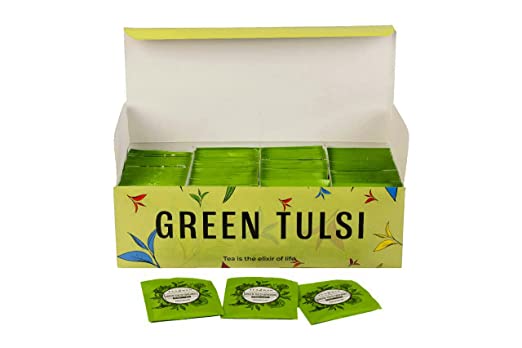 Having a cup of green tea from the TeaSwan brand eliminates the common symptoms like cough, cold, tonsils, and asthma. The tulsi contains anti-aging properties that help to reduce dark spots, and wrinkles. This wonderful pack contains 100-tea bags and all you have to do is put the tulsi tea bag in hot water and infuse it for 3-5 minutes. You can even add sugar in small quantities to enhance the taste.
Benefits:
Best for respiratory system
Reduces pimples
Overcomes stomach upset problems
Boosts immunity and weight loss
GAIA Green Tea Lemon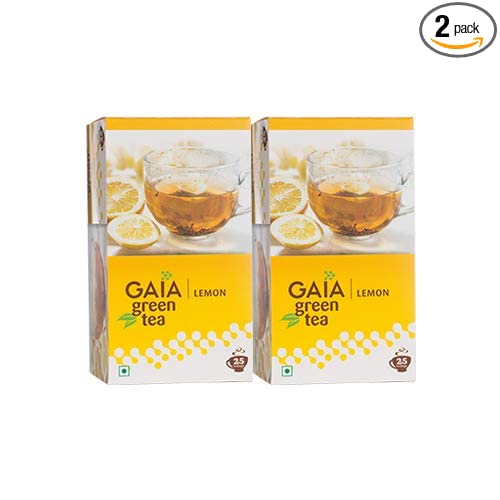 One of the best reasons to have GAIA Lemon Green Tea is that it has weight-management properties that help in keeping a watch on your weight. The properties of this green tea are great for keeping people active and energised.
Benefits:
Source of Vitamin C
Keeps hair and skin healthy
Promotes fat-burning
Natural immunity booster
Keeps body and mind active
Twinings Green Tea Cranberry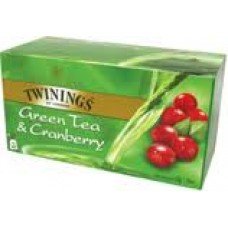 Twinings is making a difference in the world with their extraordinary green teas. Carefully sourced tea leaves are made available to the public for consumption. Twinings are extremely popular in corporate spaces.
Benefits:
Helps in weight loss
Prevents Cancer
Treats sores and oral diseases
Detoxifies body
Treats cardiovascular diseases
Improves Metabolism
Assam Green Adventure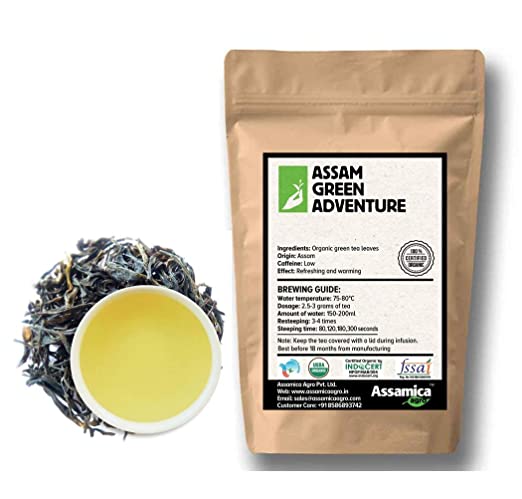 Tea and Assam go together. The team from the Assam farms is aromatic, delicious and a tea lover's dream. And guess what! You don't need to be in Assam to enjoy this exotic tea. Assamica Agro gets you the finest and the safest tea from the Assam farmlands, handcrafted by local farmers, directly to your doorstep. You can get the Organic Assam Masala Chai, Flowery Rose Oolong and many more varieties at affordable prices. Additionally, the website offers 15% off on all teas.
Benefits
Promotes heart health
Regulates high blood pressure
Boosts immunity
Helps with diabetes32
Good for oral health and tooth cavity
Ayurvedic Healing Green Tea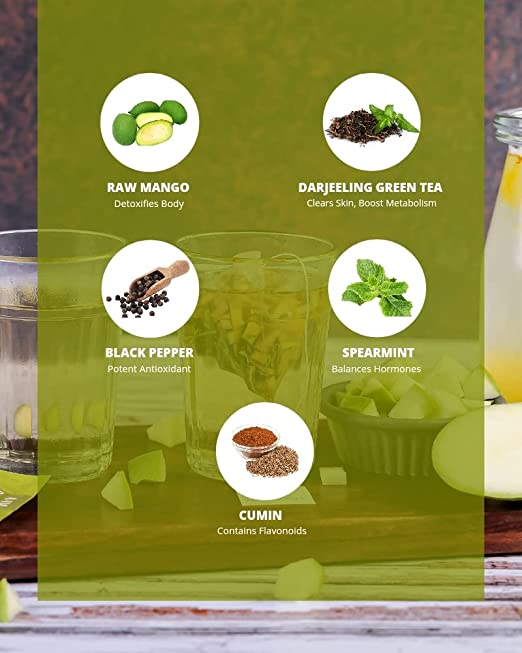 Need the essence of the most exotic places from your home? The Ayurvedic tea from Fernweh Agro, along with providing many health benefits like immunity boosting and healing, will also make you feel the adventure from a distant land.
Benefits
Creates harmony between mind and body
Welds your emotional, spiritual and mental health
Prevents cancer and other diseases
Keeps you healthy
Helps with ageing
Benefits of Green Tea
These 10 benefits of drinking green tea daily can certainly motivate you to switch to this healthy beverage. Consuming this on a regular basis can prove to be highly beneficial not just for your health but also for your skin. Read on to know the best benefits of green tea.
Promotes weight loss
Green tea supplements help in burning body fat naturally
Antioxidants in green tea reduce the risk of cancer and other ailments
It helps in better brain functioning
Lowers the risk of Parkinson's disease and Alzheimer's
It also lowers the risk of Type-2 diabetes
Regular consumption can help in keeping cardiovascular diseases at bay
Adds glow to your skin
Regular consumption of green tea boosts metabolism
Results in healthier hair and immunity
DIY Green Tea Face Packs For Glowing Skin
1. DIY Face Pack For Glowing Skin
Ingredients:
2 Green Tea Bags – You can utilise the used tea bags
2 tbsp Honey
1 tbsp Lemon juice
Mix the ingredients together and apply the paste on your face for 10 mins. Gently massage the paste on your face and then wash it with lukewarm water.
2. DIY Face Pack For Dry Skin
Ingredients:
5 tbsp powdered Orange peel
1 tbsp green tea
1 tbsp Honey
Blend these ingredients with the help of a spoon and apply evenly on your face after cleaning it. Wash it away with cold water for the best results.
3. DIY Face Pack For Anti-Aging
Ingredients:
1 tbsp fresh Yoghourt
1 tbsp Green Tea
Mix the two ingredients and apply them to the face. Wash it gently with lukewarm water.
This was our list of the best green tea brands in India. Consuming this herbal tea daily can help in more ways than one. Try them out, and let us know which one is your favourite.