It's hard to eat healthy when you are surrounded by so many tasty cuisines from around the globe. But here is some good news for all the health nuts. Several companies have introduced their own flavour of Muesli in the market, from choco dips to strawberry rain. But choosing the right one can make a world of difference for your health. So, this article will be talking about the best Muesli products in India.
But choosing the right one can make a world of difference for your health. So, this article will be talking about the best Muesli brands in India, and their respective best-selling products.
Our Top Picks:
| | |
| --- | --- |
| Best Overall | TATA Soulfull |
| Best For Health | Nourish Organics |
| Best Budget | Kellogg's |
| Best Flavors | The Whole Truth |
Top Muesli Brands In India
For a healthier gut and a healthy lifestyle, here is a list of the brands that produce the best Muesli in India.
Last update was on: March 23, 2023 5:56 pm
Best Muesli Brands In India
TATA Soulfull – Crunchy Millet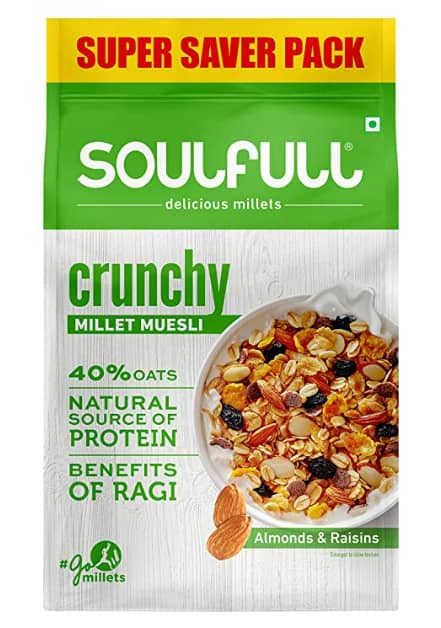 The first one to make the list is Crunchy Millet Muesli from TATA Soulfull and a favourite here at GrabOn. They have put together this amazing breakfast Muesli cereal which is focused on the superfood called millet.
It is said to be way more nutritionally dense than wheat and rice. TATA has done a wonderful job introducing these ancient grains in modern packaging that appeals to today's health-conscious consumers.
Additionally, millets have a high concentration of protein, calcium, and fibre which results in a nutritious, wholesome, crunchy, delicious, and fulfilling breakfast.
Ingredients – TATA Soulfull brings the additional goodness & nutrition of millets along with high-quality ingredients like rolled oats, fruits, nuts to the breakfast table.
Why is this on the list?
Gives you the wholesome nutrition of crunchy Ragi.
Contains 80% whole grains, fruits & nuts.
It is a great source of protein and calcium.
It has a high concentration of fibre.
The Whole Truth – Nuts, Fruits and Seeds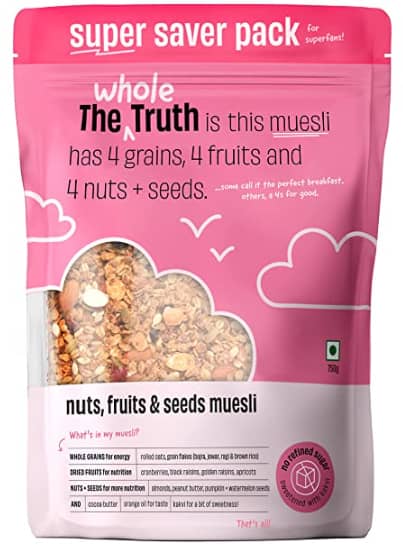 Mr Shashank, now the CEO of The Whole Truth, was fed up with false claims by brands of packaged food. So, he set out on a path to create a product that remains transparent and aids in weight loss.
With "Nuts, Fruits and Seeds" you get what is written in the ingredients list. They make everything in house, from cocoa butter to dark chocolate. So you can be sure of the quality.
What sets them apart from the rest is that all their products are free of added colour, preservatives, artificial sweeteners, added flavour, soy or gluten and most importantly no false claims.
Ingredients – All their products contain whole grains, nuts & seeds, dried fruits, kakvi, and cocoa butter for an uplifting breakfast. Visit our website for The Whole Truth offers & coupons.
Why is this on the list?
They are completely transparent with their ingredients.
Rich in protein, natural fibre & complex carbs.
The product contains zero refined sugar.
All their ingredients are produced in house.
True Elements – No Added Sugar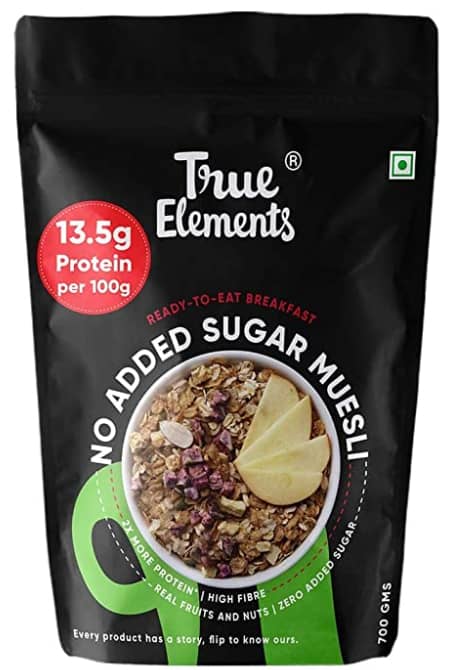 But the most important thing that sets this product apart is that it contains zero sugar. And that is going to help you shed those extra pounds.
With True Elements, you don't just get access to healthy food but you also save money in the process because of their affordable price range. Also, to add a cherry on top here are some True Elements discounts just for you.
Ingredients – Their list of ingredients includes wheat flakes, rolled oats, jawar flakes, bajra flakes, amaranth puff, honey, dry fruits, nuts and seeds. True Elements have helped thousands of people adapt to a healthier lifestyle with their range of products.
Why is this on the list?
The product contains zero sugar.
It's simple yet tasty.
Contains humongous amounts of protein & fibre.
It's a pocket-friendly alternative to junk food.
Yoga Bar – Fruits, Nuts + Seeds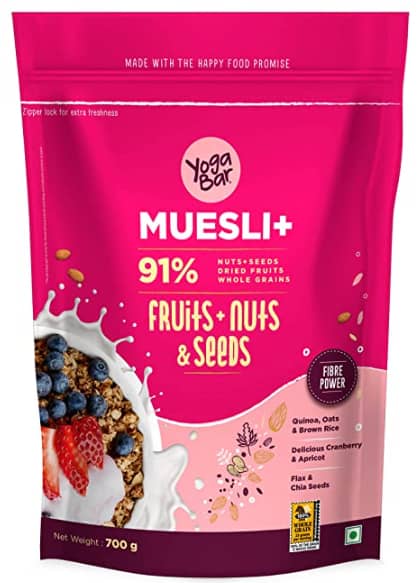 Today more and more people have started to become more health-conscious and are dedicated to staying fit. But with our daily working lifestyle, managing what we eat is very difficult. This is where Yoga Bar comes in, they have come up with a tasty concoction of muesli the Fruits, Nuts + Seeds.
Rich in protein and whole grains this Muesli gives you sufficient boost to last for a while and gets you ready to face the challenges with ease.
Yoga Bar has built a huge community of loyal customers in the last year because of its quality products and great taste. Do you know what will make their Muesli taste even better? Promo codes from Yoga Bar!!
Ingredients – The most common ingredients used are almonds, whole grain, mixed seeds, raisins and a whole lot of love.
Why is this on the list?
They don't add any artificial flavours or preservatives.
Great taste and loaded with nutrients.
High concentration of protein and fibre.
It's great for weight loss.
MuscleBlaze – Dark Chocolate & Cranberry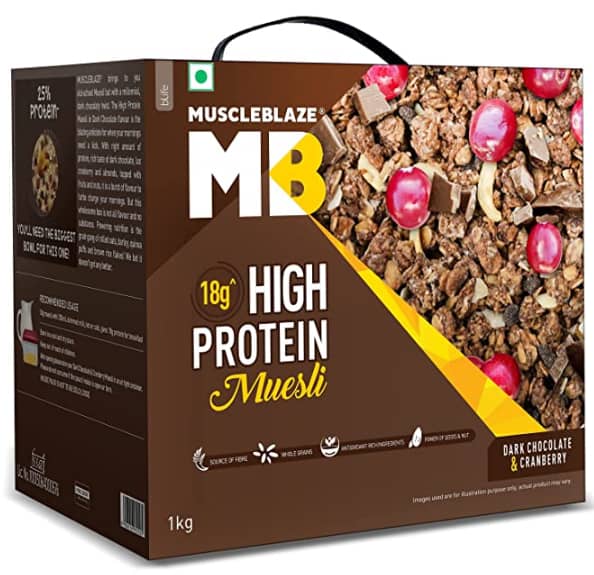 MuscleBlaze is a health supplement manufacturer that has recently expanded into the production of Muesli. As a result, you can expect to get a lot of protein and other nutrients from it.
Despite the fact that it is geared toward athletes, there is no harm in consuming a high protein diet. It will also keep you energised throughout the day.
The fruits and nuts in this product contain antioxidants that help you with better muscle recovery. With MuscleBlaze's Dark Chocolate & Cranberry, you get 25 grams of protein in every 100 grams of serving. Visit our website to save more on products from MuscleBlaze.
Ingredients – The ingredients list includes rolled oats, rolled barley, quinoa puffs & brown rice flakes which are very rich in fibre protein, and minerals.
Why is this on the list?
It contains 25 grams of protein per 100grams.
It is rich in antioxidants and other nutrients.
It contains the sweetness of chocolates and the goodness of fruits.
It's very easy to prepare.
Kellogg's – 21% Fruit, Nut & Seeds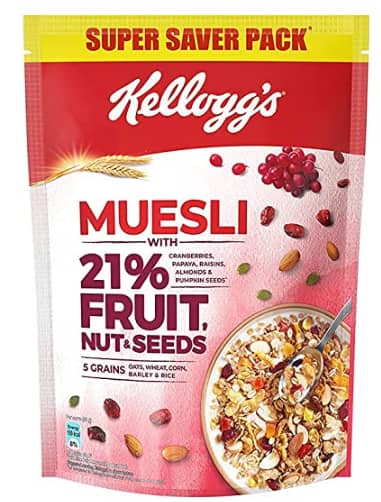 Perhaps this is the most delicious and scrumptious option on the list. Their cranberry flavoured Muesli seems to just melt in the mouth. It's hard to believe that it's healthy and has so many health benefits.
Rich in vitamins – B1, B2, B3 and B6, it helps your body convert food to energy and keeps you functioning on all cylinders.
And it's not all about the B's, it also has a high concentration of vitamin – A, iron, protein and fibre.
But the thing to remember is that it contains some allergens like artificial coconut flavouring, gluten, sulphite and traces of tree nuts.
Ingredients – To make it delicious wheat, corn grits, rice, rolled barley, rolled oats, candied and dried fruits, nuts, seeds, almonds, raisins, sugar cereal extract, wheat bran, iodized salt, vitamins, minerals and antioxidants go into this Muesli.
Why is this on the list?
Crunchy, sweet and a flavourful taste.
It's packed with lots of vitamins.
It is simple to adapt into your own recipe.
It keeps you full for a long time.
Monsoon Harvest – Toasted Millet Muesli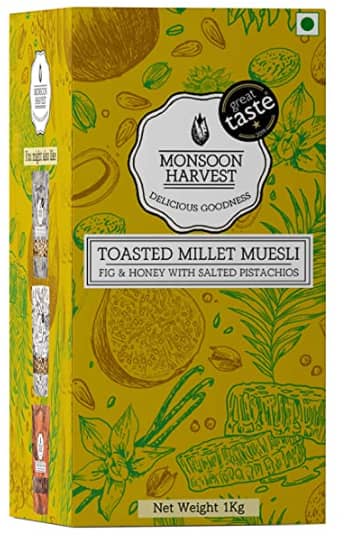 It's a family-run food startup geared toward providing wholesome and sustainable food at affordable prices. Monsoon harvest has taken many traditionally grown Indian ingredients such as millets and amaranth and crafted the perfect blend of Muesli.
Their Toasted Millet Muesli transforms your boring morning breakfast into a nourishing and satisfying meal that helps you stay ahead of the competition.
This product is free of hydrogenated fats, artificial flavours & sugars, synthetic preservatives and sugar. Additionally, this product is made and packaged in an FSSAI approved facility in Coimbatore, India.
Monsoon Harvest sources all its ingredients from the local farmer's market, helping the farmers and the world at the same time.
Ingredients – Most of their products contain rolled oats, palm jaggery, cranberries, almonds, sunflower oil, ragi flakes, jowar flakes, pistachio and much more depending upon the flavour you choose.
Why is this on the list?
A perfect blend of traditionally grown ingredients with modern taste.
Completely natural ingredients.
Fulfilling and nourishing portions.
Affordable prices.
Nourish Organics – Honey Crunch Muesli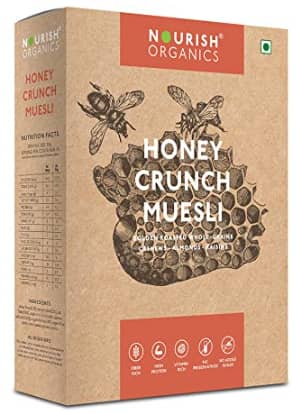 Are you tired of all the processed food flooded in the market? Then I have a great alternative for you. Introducing Nourish Organics, and their Honey Crunch Muesli is exactly what was missing from your breakfast.
The Honey Crunch Muesli is easy to prepare and tastes like heaven. With Nourish Organics, now staying fit is child's play.
Their products are packed with oils, antioxidants and fibre. Apart from a multitude of health benefits, it also helps you control your weight.
Their excellent food quality is backed by their state of the art manufacturing plant.
They are dedicated to providing plant-based nutrition, that's why this product doesn't contain: Added preservatives, refined sugars, added flavours, and trans fat.
Ingredients – Their long list of ingredients includes flax seeds, pumpkin seeds, sunflower seeds, nuts & fruits for better health and healthy living.
Why is this on the list?
Completely organic ingredients.
Nourishing and fulfilling breakfast.
High on protein and vitamins.
It is easy to cook.
Also Read: Best Pure & Organic Honey Brands
GAIA – Crunchy Muesli Fruit and Nut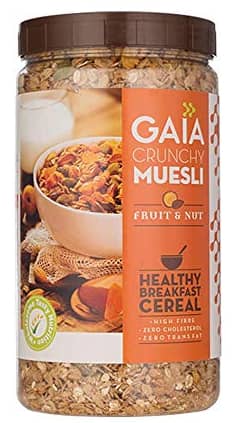 With a lineup of award-winning products GAIA comes in at ninth. GAIA produces Muesli products that are rich in nutrients and promote healthy living.
They are constantly innovating to deliver top quality products which are made with natural ingredients and can become a healthier substitute.
GAIA has taken all the superfoods and incorporated delicious taste with their list of organic, nutritious ingredients into this Muesli.
This product provides you with a source of protein and dietary fibre that has low sugar, zero cholesterol and zero trans fat.
Ingredients – Their list of ingredients includes rolled oats, rice flakes, ragi flakes, cocoa powder, flax seeds, chia seeds, jaggery syrup, date syrup and much more depending upon the flavour.
Why is this on the list?
Rich in protein and dietary fibre.
It has zero cholesterol and zero trans fat.
This product is made of natural ingredients.
It is very affordable and tasty.
Bagrry's – Crunchy Muesli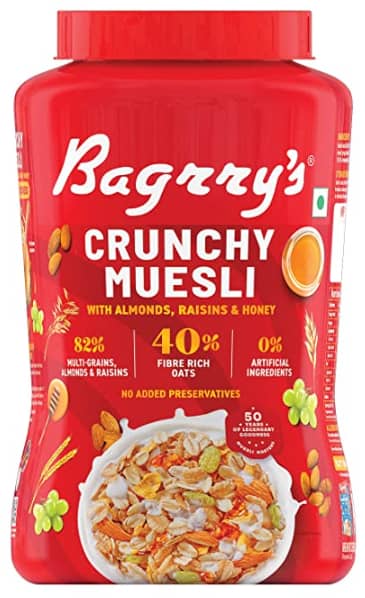 If you ever wished for a one-stop-shop for healthy food, then Bagrry's is the brand for you. They are a brand that takes pride in always putting health first. And this product showcases that.
The Muesli is fibre rich with a balanced amount of sweetness from the honey.
You won't find anything which is not organic in any of their products. And when it comes to Crunchy Muesli, this one makes for the best breakfast option available in the market.
Because of their multiple quality checks, the only thing that enters your stomach is delicious, healthy food.
It doesn't matter if the food is healthy if it does not satisfy your taste buds you won't be happy. That is why Berry's has gone through numerous recipes to provide you with the best one.
Ingredients – Whole oats, whole wheat, almonds, raisins, bran and Himalayan honey are a few of the common ingredients that go into their Muesli.
Why is this on the list?
High in antioxidants that improve your heart health.
It promotes muscle recovery because of high amounts of Protein.
Helps maintain proper weight.
Tasty and crunchy.
So to answer your question, is Muesli good for weight loss? It might be hard to eat healthy every day but these Mueslis will make it a lot easier to lose weight. Hoping that this article serves its purpose of helping you choose the right product, you might like to read about the best fitness tracker bands in India and keep track of your fitness while you eat better.
What is Muesli?
Let's begin with understanding what Muesli is, Muesli is a concoction of several healthy food items that are combined to create a tasty yet fulfilling breakfast. The ingredients that go into it are:
Rolled oats
Seeds
Dry fruits
Nuts
Raisins
Almonds
And much more, depending upon what someone likes. Musli can also be prepaid in several different ways. Some people like to soak it in milk overnight, whereas some people eat it as cereal in the morning. But there is no limit to concocting a new recipe. Regardless of how someone prepares Muesli, it's sure to taste great. Now that you are set for what you are going to eat check out this list of the best health drinks.
Benefits of Muesli
Apart from being insanely tasty, Muesli has a number of health benefits that improve your overall health and lifestyle. Even most renowned doctors and dieticians recommend having Muesli on a regular basis. Or look at it this way: it's easy to prepare and makes your fast-paced life much easier to manage. Additionally, here is the list of major health benefits of having Muesli:
Healthier Alternative
Even though the Indian diet is full of nutrients, it's also high in carbs and unhealthy fats and carbs, which might make you sluggish throughout the day. And the cereals available in the supermarkets are also very high in sugar. Whereas Muesli is a much healthier option.
Jam-Packed with fibre
Fibre is an essential dietary requirement, it has numerous health benefits. From maintaining healthy bowel movements to lowering cholesterol levels. Fibre plays a vital role in the smooth functioning of your overall health.
Aids in weight loss
Obesity is a major concern among the populous today, it causes several diseases and even deaths. Muesli helps you tackle all these issues. It keeps you full for a long time, preventing you from eating often, and results in healthy weight loss.
Improves heart health
Muesli contains unsaturated fats which help you lower your cholesterol levels. And it also contains Omega-3 fatty acids that aid in maintaining proper heart rhythms. Additionally, vitamin E helps you prevent plaque buildup, which is a major contributor to heart attacks.
More nutrients
Because Muesli contains so many healthy ingredients, it's also rich in various nutrients. These nutrients are as follows:
Protein
Fat
Saturated fat
Carbohydrates
Sugar
DIY flexibility
A lot of people prefer to consume Muesli with milk, but that is not its limitation. You can soak it overnight and much more. Your creativity and ideas can make Muesli much tastier.
Diabetes-friendly
As Muesli is low in sugar, it becomes a very good option for people suffering from diabetes. The number of nutrients in it also helps in tackling diabetes and keeping it at bay.
Increases bone strength
According to studies conducted by Friedrich-Alexander University in Germany, Muesli can drastically improve bone strength and prevent osteoporosis and arthritis.