Rice is the staple food of the world and India is no exception. More than half of the world's population and more than 90 percent of Indians like to have rice at least once a day. The ease of availability due to high rice production and affordable price are the contributing factors to this immense craze for rice in India.
This monumental rise in consumption in the country has given rise to many rice brands in India that have the sole aim to make this delicacy available at our dining table without any hassle. Though there are many rice brands, sometimes it becomes confusing to select the best one for yourself. For that very reason, below, we are going to analyze some major rice brands and give you the details that will help you find your perfectly apt rice brands.
Our Top Picks:
| | |
| --- | --- |
| Best Overall | 24 Mantra |
| Best Budget | Amazon Brand – Vedaka |
| Best Nutrition | THINK3 |
| Best For Health | Sugar Watchers |
Top 15 Rice Brands in India
In India, rice is not a food, rather it's an emotion that is equally popular in every nook and corner of this country. This vast popularity and mega consumption of rice in the country has given rise to numerous rice brands. Today, there are all sorts of rice based on texture, variant, nutrient value, and quality available, and each claim to be better than the other. So, to impart the right information, below we have enlisted some of the popular rice brands in the country. Let us begin with the list!
Last update was on: March 28, 2023 3:41 pm
24 Mantra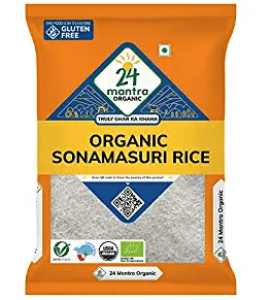 24 Mantra needs no introduction when it comes to rice as the brand is known to deliver high-quality rice that is cultivated solely through natural organic farming without the use of any chemicals. The rice from 24 Mantra contains an adequate amount of protein, antioxidants, poly nutrients, and other essential minerals. It is worth noting that rice of this brand is not only popular in India but is equally in demand among many foreign nationals.
Coming to its one of the most popular rice variants, Organic Sonamasuri Raw Rice. This is premium quality rice that contains iron, phosphorus, small traces of protein, and Vitamins B and is also a good source of energy. Further, as the name suggests this rice aims to bring age-old goodness to your table and give your family a healthy dietary option. In addition, this rice is best to be used for making delicacies like – pulao, kheer, and lemon rice. Also, to cook rice in no time, you can use an electric rapid cooker or can also check out the list of some top kitchen gadgets that can assist you in cooking these delicacies.
Major Highlights Of 24 Mantra Rice:
All its rice variants are 100 percent organic and are grown and processed without the use of any pesticides or harmful chemicals.
All products are cultivated without any use of GMOs (genetically modified organisms).
Has many Gluten-free rice under its belt that have a good amount of protein.
All its rice variants are delivered unadulterated and after 5 levels of organic integrity checks.
Befach 4x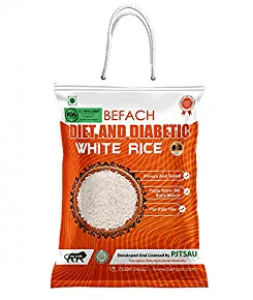 Befach 4x is a popular rice brand that is well-known for delivering top-quality white, fine, silky, and smooth rice. The company claims to grow all the rice grains without the use of any GMOs and pesticides that have a low GI (Glycemic) index. All the rice from this brand comes with a longer shelf life that has a fluffy texture and delicious taste.
Let us talk about its most praised rice variants – Diabetic White Rice. It is the only rice suitable for diabetics that has Indian, European, and US certifications. Further, it is also helpful in reducing heart disease. Though it is very healthy rice, it still comes with a mouth-watering taste and is easily digestible by all.
Major Highlights of Befach 4x Rice:
All rice variants are clinically tested and most are helpful in checking blood sugar levels.
Its rice is a healthy replacement option for regular rice at your home.
Gluten-free grains are the characteristic feature of Befach 4X rice variants that have low fat and are easy to digest.
The taste of this rice is similar to any regular medium-grain white rice.
Consumption of this rice also accelerates the weight loss process.
Amazon Brand – Vedaka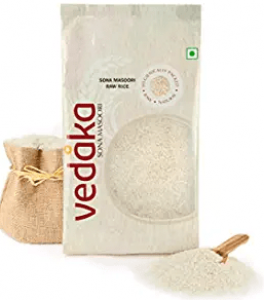 Vedaka is an Indian rice brand that has been launched by the mega e-commerce platform Amazon. This rice is not only a great source of carbohydrates but is also an excellent source of protein, vitamins, iron, and calcium source. All the rice for this brand is grown in the Indo-Gangetic plains Himalayas and hence comes with a unique aroma and taste. Also, the rice is grown without any use of harmful chemicals and pesticides, keeping in mind the health of people.
Considering its one of the most selling products, Vedaka Sona Masoori Raw Rice, which is ideal for making dishes like fluffy plain rice, pulao, idli-dosa batter, etc., and has a consistent quality all year long. This rice comes hygienically packed in a facility meeting all necessary food safety standards that are processed and graded from aged paddy.
Major Highlights of Amazon Brand – Vedaka Rice:
Rice comes with low carbohydrates, fat, and cholesterol.
All rice grains are aged for at least 12 months after being procured from paddy fields to help them get enriched with desired nutrients and flavors.
All rice variants come packed with natural minerals that are beneficial for health.
Stringent quality standards implied to keep Vedaka rice devoid of any bug infestation or any other kind of contamination.
THINK3
Think3 is an Indian rice brand that is based out of Hyderabad and is known for making revolutionary changes through its new rice variety called RNR 15048. All the rice from this brand comes devoid of any chemicals or pesticides and is flavorful and tasty.
THINK3's Diabetic Control White Rice is one rice variant that is very popular among the Indian. It is so because it is perfect for making all veg and nonveg dishes like – pulao, ghee rice, all types of biryanis, curd rice, sambar rice, pudina rice, curd rice, and jeera rice. This rice comes packed in a three-layer safety packing and is processed and milled in the fully automated and latest international technology mills.
Major Highlights of THINK3 Rice:
Its rice variants are also known as Telangana Sona that come with low Gl and are useful for sugar control.
Perfect to be consumed by diabetics and obesity patients.
Its rice tastes like sonamasuri and has long grains.
In comparison to the other regular white rice, THINK3 rice has 50 percent fewer carbohydrates.
MonBangla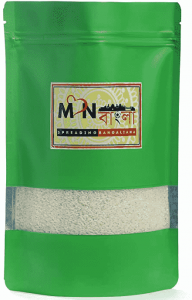 It is a West Bengal-based Indian rice brand that aims to deliver the rich rice of Bengal to every nook and corner of this country. MonBangla rice comes complying with all the FSSAI (Food Safety and Standards Authority of India) norms for taste and safety. Further, all the rice is completely natural and comes without any added preservatives.
Talking about it's one of the best-selling products, Premium Aromatic Govindobhog Rice, this rice has authentic and aromatic Gobindobhog rice, and apart from traditional dishes, it is also used to make Bengali cuisines like – Pujor khichuri or Payesh.
Major Highlights of MonBangla Rice:
This rice brand has variants that come with a sweet buttery flavor to let you cook delicious meals to satiate your taste buds.
All rice variants from this brand are devoid of any preservatives or artificial flavors.
Authentic aromatic mouth-watering taste ensured for your everyday meals.
MonBangla Rice comes unpolished and grains old enough (min. 12 months) to give amazing taste and flavor.
Pasupati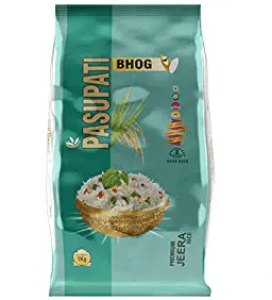 The Pasupati rice brand aims to bring the excellence of premium quality rice with magnificent taste to your table. All its rice comes hygienically packed that has a premium fragrance along with a super delicious taste. Further, the company strives to deliver the best quality Gobind Bhog rice with its sweet aroma, buttery taste, and soft texture.
Taking into consideration Pasupati Gobindo Bhog Rice, which is often in huge demand in the country. It is commonly known as Jeera rice in the southern part of the country and has nutritious short grains. The rice is commonly used in making rituals and religious dishes like – kheer, sweet rice, etc., however, it can also be used for Kichuri and the delicious Biryani.
Major Highlights of Pasupati Rice:
Sweet aroma, buttery flavor, and soft texture ensured with Pasupati Rice variants.
This rice brand has many premium aromatic rice that are highly nutritious as well.
Pasupati rice is locally grown by small farmers in West Bengal in a controlled natural environment.
Its rice variants come with a shelf life of minimum 24 months.
More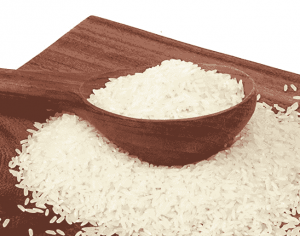 More, an Indian rice brand strives to deliver superior and premium quality loose rice in India that is aromatic as well as flavorful. It is known to put on long and slender rice grains on your plate that pair perfectly well with curries, lentils, and many more dishes.
Talking about its More Superior Jeera Rice, it comes in loose packs that are rich in iron and have delightful flavors. This rice is fit to be consumed by people of all ages and is easy to digest as well.
Major Highlights of More Rice:
This rice from this brand is helpful in weight loss and weight reduction.
This rice brand can also be eaten by diabetic people as it has low GI (Glycemic Index) grains.
Many More rice varieties are rich sources of iron and could be a better choice for anemic persons.
Sugar Watchers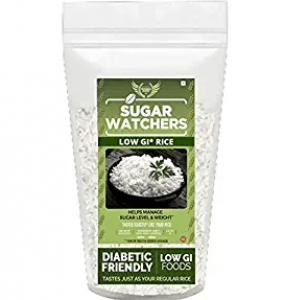 Seeing the rising cases of diabetics in India, due to unhealthy food habits, the Sugar Watchers came up with an idea to develop major food staples like rice with low GI (Glycemic Index). Further, the Sugar Watchers Low GI rice is clinically approved, 100 percent natural, and effective in reducing bad cholesterol.
Coming to its most health-oriented rice variant – Low GI Diabetic Friendly White Rice. It is a diabetic-friendly rice that has a low glycemic index and helps in sugar and weight management. Though this rice comes with a low GI that has been developed after extensive research, on the taste front there has been no compromise and is fit to be consumed by people of all ages.
Also, if you are looking to buy rice or any daily consumer goods online, you can use these verified food coupons, applicable on eCommerce, and food delivery platforms to save some of your hard-earned money.
Major Highlights of Sugar Watchers Rice:
Diabetic Friendly and 100 percent natural rice.
Healthier and lower in GI than Brown rice, but has a taste that is not inferior to any other prominent brown rice brands.
It has non-GMO white rice that can be consumed by the whole family.
Good for general health and also helps in weight management and combating diabetes.
Pro Nature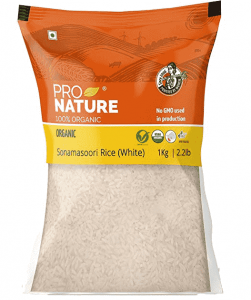 Pro Nature rice brand in India is known for growing gentle rice with the utmost care, which is in line with its tagline 'GentlyGrownFood'. The brand emphasizes that the uneven use of pesticides has depleted the natural nutrients of the soil, so all its rice and other foods are grown using organic farming methods without the use of any chemicals or pesticides. The rice from this brand comes in top-quality that is fat and sodium free.
Let us talk about its 100% Organic Sonamasoori Rice, which is always in huge demand in the market. This rice is known for its low-calorie and long grains that are rich in nutrients and taste. Going by the line of all other products from Pro Nature, it is also 100 percent organic that is conserved for at least three years before making it available in the market.
Major Highlights of Pro Nature Rice:
This brand delivers non-GMO rice, which is very lightweight and aromatic.
FSSAI-approved rice for quality.
Its organic sona masooririce comes devoid of any fat and sodium.
Thanjai Organics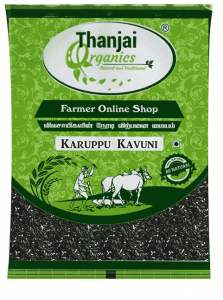 Thanjai Organics is known for growing and delivering organic rice variants for all the traditional rice that are available in the country. It is famous for sourcing grains directly from farms and storing them for at least a year to make them consumable in the best state. Further, all the rice from this brand has non-GMO and is devoid of any chemical use.
Talking about Thanjai Organics' Karuppu Kavuni Rice, it is a black rice that comes packed with many health benefits as it is rich in antioxidants and fiber. It is mostly grown in Tamil Nadu and is used in many delicacies like -Sweet Payasam, Puttu, kanji, etc.
Major Highlights of Thanjai Organics Rice:
This rice brand has grains that are rich in antioxidants and fibers.
Its rice comes with FSSAI approval for use and has a shelf life of 1 year.
Devoid of any chemicals and pesticides.
Made using hand-pounded methods at the farms of Tamil Nadu.
Double Horse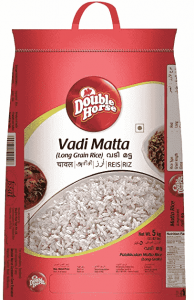 Double Horse is an indigenous Kerala-based Indian food brand that has ISO 9001:2000 certified rice variants under its arm. It is the first-of-its-kind rice brand in India that has introduced sortex rice, stoneless rice, and color grading techniques to develop traditional rice, aligning perfectly to suit today's busy and modern lifestyle. Further, Double Horse delivers its customers the widest variety of adequate food with more than 20 superior types of rice and 250 premium quality food products in different ranges.
Taking into consideration its Jyothi Vadi Matta Rice, it is aged for up to a year before being processed in a state-of-the-art treatment factory, keeping all of its purity and nutritious value intact. This long slender rice provides excellent value for money and can be used in dishes ranging from full lunches to spectacular feasts, including Biryani, Pulao, and Payasam.
Major Highlights of Double Horse Rice:
This rice brand delivers rice that comes complying with all quality tests and all varieties are hygienically packed to maintain the desired quality.
The grains come with high nutritious quality, a rich flavor, and a delightful aroma, all of which contribute to your food being healthy, delicious, and appetizing.
From the nutrition & health perspective, the limit of carbohydrates, minerals (like – magnesium, manganese, calcium, potassium, and zinc), and vitamins B, E, and K, as well as protein content are maintained in all the rice varieties of this brand.
Japanese Choice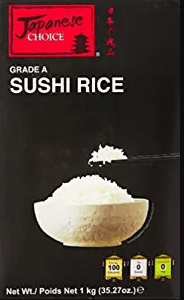 Seeing the void for sushi-specific rice in the country, the Japanese Choice brand was launched to fulfill the growing demand for such rice. This brand aggregates rice from Thailand and then processes it in India to make it compatible with great Japanese cuisine. The brand is known for delivering food products that are at the pinnacle of Japanese food art with a range of the best and most popular products including rice.
Coming to Sushi Rice by Japanese Choice, it was the first rice variant from this brand to be launched in India. It has white, short grains that are very small and round, perfect for making Sushi. Further, when cooked it has greater stickiness and firmer-chewier texture. Its stickier nature is contributed by the greater moisture of this rice.
Major Highlights of Japanese Choice Rice:
All rice from this brand is perfect for making Japanese cuisines like – sushi rolls, onigiri, moichi, and rice balls.
Though this rice brand offers incredible taste, from a health perspective, this brand is not that healthy as its rice is made with sugar and rice vinegar.
Rice variants from this brand lack fat and cholesterol.
Urban Platter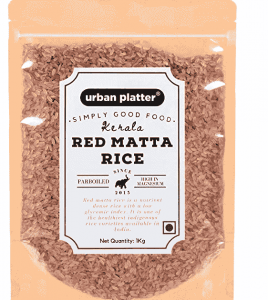 Started in 2015, Urban Platter strives to become a world-class food business to deliver high-quality, origin-centric products which give delight to the people. It has a wide range of products including rice that is not only affordable but also full of nourishment. The company emphasizes on bringing absolutely the best quality, consistent value rice from around the world to your table.
Talking about Kerala Red Matta Rice by Urban Platter, this rice is also known by different names such as – Rosematta rice, Palakkadan Matta rice, Kerala Red rice, or Red Parboiled rice. It has a reddish-brown color that is used in a wide variety of foods like – idlis, appams, and snacks like murukku and kondattam.
Major Highlights of Urban Platter Rice:
Rice from this brand is rich in nutrients and has a low glycemic index.
This rice brand offers high carbohydrates along with this its grains are also gluten-free and consists of decent carbohydrate value.
Rice from this brand comes with high magnesium content that is essential for our bones.
Fine earthy flavor that tastes great with vegetables.
Triple Elephant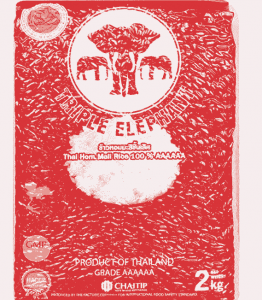 As the name suggests, this is a Thailand-based rice brand that has a presence in India as well and the credit for that goes to its flavorful aromatics Jasmine rice has long and slender grains. In Thailand, Jasmine rice of Triple Elephant brand is very popular in Thailand and one of the most consumed types of rice.
Considering the Triple Elephant Thai Hom Mali Jasmine Rice, it has high calories in a moderate way along with lots of health benefits as well. As stated above, this rice has long grains that come with a magnificent aroma.
Major Highlights of Triple Elephant Rice:
When cooked, this rice brand offers a sticky texture and a slightly sweet taste.
It is a healthy rice brand that has grains providing high carbohydrates, moderate protein, and low fat.
When steamed, its rice is perfect to go with curries and meat.
Small traces of calcium, iron, and some B vitamins, which are vital for our overall health, is ensured from the rice varieties of this brand.
Aeroplane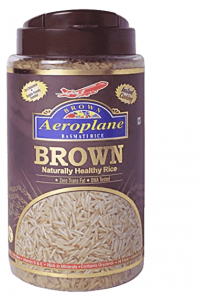 Sustainable growth with a commitment towards quality ensured through innovation is at the core on which the Aeroplane rice brand is built. The same is visible through its rice variants. It was formed in 1972, and today it is one of the largest rice-selling brands not only in India but all across the globe. It has a diverse selection of rice under its belt, aspiring to add delight to your meals, without any compromise on quality and texture. This brand is known for delivering easy-to-cook, long-grained, and fragrant rice all across the globe (precisely 75 countries).
Coming to its Instant Brown Rice, which is one of the best-selling products, has high nutritional value and at the same time very delicious to eat. The taste of this rice gives you the traditional taste of India and it embodies all the characteristics of a true brown rice grain.
Major Highlights of Aeroplane Rice:
Long-grains are major characteristics of this rice brand that are carefully selected before packing to ensure the best quality rice reaches you.
This rice brand offers superb taste and aroma that enriches your meals even more.
The rice grains are nurtured and aged properly to deliver great quality and texture.
Its rice variants have a shelf life of a maximum of two years.
Here, the list of top rice brands in India has come to end but we have some more information for you before we wrap up this article. It's time to discuss the different types of rice that are grown in India.
Types Of Rice in India
It is not hidden that India is a rice-loving nation and the majority of the population prefers eating rice at least once daily. Until now, we all must have understood the reason behind its immense popularity and consumption! Rice is not just easily digestible or grown abundantly in the country, rather it also has very high and sufficient nutrients that not only satiate our taste buds but also take care of our health. So, without any further wait, let's hop on to the types of rice.
This is not just the most popular rice variant in India but is equally popular in all of Asia. Its grains are elongated and carry a specific soothing aroma and hence it is a part of almost every delicacy in Asian countries. Whether it be everyone's favorite biryani or sushi, it is an integral part of every exotic dish. Generally, basmati rice has two different types – white and whole-grain.
This is the most widely used global rice variant that has a fluffy and wet texture and also carries nutrients that are sufficient to provide energy to the human body. It is mostly used with traditional dishes in the country or for daily uses and is best to go with natural basil and spring onions.
This is the most favored rice variant by diet-conscious people that has a nutty taste and carries abundant protein. This rice is only available in whole-grain form and is very soft to eat. Further, it has a low-calorie outcome but has high minerals and vitamin content.
This is easily grown rice and can be found lying around damp and moist places in the Indian subcontinent and also in some parts of the United States. It comes packed with good protein content and has an earthy, buttery flavor.
In India, this rice is grown mostly in Andhra Pradesh and is consumed all over the country. It has the feel of basmati rice and is very easily digestible. Also, it has a low-calorie value, hence helping in weight control.
Black rice was considered a forbidden rice variant as it is very rare and comes very costly. Also, earlier it was consumed mainly by the elite sections of the Chinese monarchy. Nowadays, it is easily available at both online and offline stores in the country.
Its unique name Seeraga originated because of the looks of the grains which are very similar to cumin seeds. This is the local rice of Tamil Nadu and is the eminent and inseparable part of classical local biryanis like – Ambur Biryani and Dindigul Biryani. Though the grains of this rice is of medium size, the contour and aroma are just mesmerizing and captivating and hence sometimes it is used as a substitute for basmati rice by many.
It is also native rice of Tamil Nadu and is a hybrid form that was first created by the Tamil Nadu Agricultural University in the year 1984. This rice is a medium grain variant that is mainly grown alongside the bank of river Kaveri and is used mainly in Khichdi, Biryani, as well as other flavorful rice dishes.
It is an inseparable part of many Asian cuisines and is very rich in antioxidant properties because of anthocyanins. This rice is majorly used in countries like – Thailand, Africa, and some parts of Bhutan. This rice takes more time than other rice to cook and is mainly cooked along with spices and herbs.
This rice comes with very high vitamins and minerals content and is perfect to pair along with non-vegetarian dishes like – lamb, beef, or mutton. It has a unique red color presence that can be removed by separating its barn layers.
This rice is a major component of many Asian delicacies and comes with a gentle and gluey texture. This rice variant is mainly grown in Thailand and it is worth saying that it is widely used in many Caribbean dishes. Jasmine rice is available in white and whole-grain variants.
It is a pearly white-colored rice that has non-sticky characteristics and uses at least twice as much water and doesn't lose its shape even after it's cooked thoroughly. With respect to the other rice variants, it has a higher crust texture and richer flavor.
It is made using bamboo shoots and is a rare form of rice that is very healthy and delicious.
It is a Spanish rice that has a very high starch content and is used in local delicacies like broths, rice pudding, soups, and paella. This rice soaks a lot of water as it has a moist texture.
This is native Asian rice that is very rich in starch and has a spongy surface. Due to these properties, it is very helpful in cardiac health and reducing swelling.
It is the native rice of Italy and is a significant part of many Italian dishes like arancini and minestrone. This rice has a silky and crunchy texture and can dissolve in a lot of water without losing its shape and taste.
Bottom Line:
In the end, I would just like to add that the above list of rice brands in India is very comprehensive and we have tried to include every prominent rice brand. But still, if any brand is at miss from your perspective, then please let us know about that through the comment section. Also, in the meantime, you can read an informative piece about the leading basmati rice brands that are everyone's favorite in the country.
FAQs:
1. What is high-quality rice?
The attributes of good-quality rice are uniformity of length and shape, along with whiteness, long and slender uncooked grains, and round and fat-cooked grains.
2. Which rice is mostly eaten in India?
White rice is the most consumed rice variant in India.
3. Which State rice is best in India?
The top three rice-producing states in India are – West Bengal, Uttar Pradesh, and Punjab. Of all these three, rice grown in West Bengal is of the highest quality.
4. Which rice absorbs the most water?
Long-grain rice absorbs more water than short-grain rice.
5. Which is the best long-grain rice?
Basmati and jasmine are two rice variants that are of top-notch quality when it comes to long-grain rice.