Want to build a website but don't know how to go about it? Struggling to manage your business's web architecture? BigRock will help you with it all. From domain registration to web hosting to personalized email, you can get anything here that your website/business might require.
An ICANN-accredited domain name registrar operates in multiple countries around the world. BigRock has experience of 10 years on its back that helps in devising the right website for the user. Founded in 2010 by Bhavin Turakhia with the vision of a place where websites could be created easily and affordably, BigRock has since risen to be one of India's leading domain names and web hosting providers. Acquired by Endurance International Group in 2014, BigRock has gone on to establish a global presence in the web hosting market.
If you have any web hosting or domain registration requirements, BigRock is the one you want to reach.
Saving tips for BigRock Hosting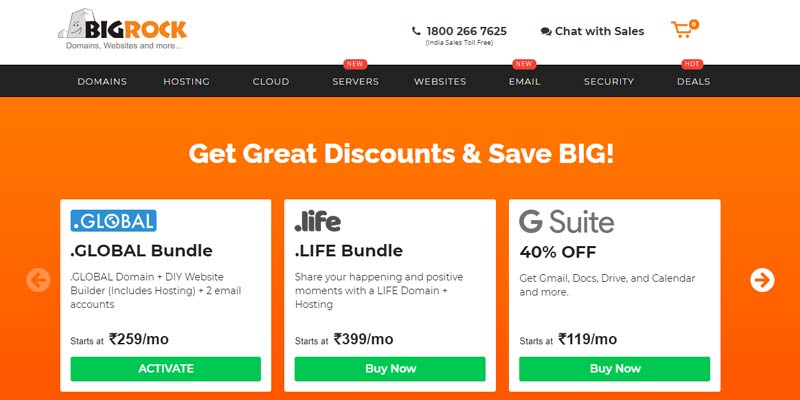 Benefits of picking BigRock for your Hosting needs
You get to pick from a wide range of premium domain names and domain extensions for your website.
In case you want to transfer your domain, you get a 15% discount along with a free extension for 1 year.
There is an option to transfer multiple domains at once.
Irrespective of the hosting plan you choose, you get a .com domain name for free with it. Yet another reason to buy hosting from BigRock.
Top BigRock Promo Codes available at GrabOn
Shared, Cloud Hosting deals and discounts –
| BigRock Offer | Coupons | Offer Details |
| --- | --- | --- |
| Free Google Workspace | BR21GSDMN | Purchase of domain name |
| Up To 50% OFF | 2YRCOMA** | Rs. 449 .Com Startup Bundle |
| 30% OFF on Hosting Plans | HOSTYOURSITE30 | Shared, Cloud Hosting on Reseller Hosting, KVM VPS for 1st month |
| 20% OFF Sitewide | SAVE** | Shared, and WordPress Hosting |
| GSuit Flat 40% OFF | BRCOM**92 | Deals on Gmail, calendar, docs, drive, etc. |
| .IN domain for Rs. 199 | BRCOM3992 | Minimum 2 year purchase |
| Up to 85% OFF On Web Hosting | No code required | Starts at Rs. 119 per month per account |
| Get .co domain names at Rs. 749 | Grab Now | Limited time deal |
Above are some of the deals available for the hosting provider. However, if you want to get a comprehensive list of offers, then you might want to check out our coupon code for BigRock page at GrabOn.
Keep a Tab on BigRock's Social Media
To have the best deals on BigRock's various services, you have to follow them on different social media channels and stay updated with the many offers that come up. Make sure you follow them on Facebook and Twitter where they are very active. Especially during festival seasons, BigRock rolls out many offers that users can take advantage of and get their website managed at affordable rates. Do follow their Facebook page which is very active.
About BigRock
Comparing BigRock's Hosting Plans
As a website owner, you should always compare the different plans offered by a hosting provider before picking one. There can be multiple parameters in this choice. First and foremost, you need to understand your website's requirements and see if any plan covers that. Then, you can see which of these plans fall within your budget and choose the cheapest one. This way, you get what you need and don't have to spend a lot of money.
There are three hosting plans available at BigRock for you to choose from. One is basic, another is advanced, and then there is the plan for businesses. While advanced is the most popular hosting plan here, if you're a small-scale business with a newly-built website, you should opt for the basic plan.
What all Services does BigRock offer?
When it comes to web hosting, BigRock provides a wide array of services from which you can pick. You can pick a subscription plan depending on what services you need from BigRock.
Domain Registration with BigRock
If you are building your website, you will need to approach someone to have your website's domain name registered. Various web-hosting providers can do this, but none do it better than BigRock. Domain registration is cheaper and quicker with BigRock.
Here, you not only get to pick a domain name of your choice for your website and check if it's available to use, but you also can get it registered and transferred, if necessary. Not just that, you also have a team of BigRock technicians at your disposal who can look after you and assist you in anything.
Domain Extension
Besides domain registration, while creating a website, you also have to choose an appropriate domain extension. While at other websites, you only get limited options from which you have to pick the domain extension, at BigRock, there are many more alternatives to .com like .biz, .info, .net, .org, .global, etc. Remember that picking the right domain extension is important for it says how your website should be categorized.
If you stick to the limited budget and do not want to spend more on buying domains along with its extensions, have a glance at the GoDaddy domain registration platform. All you have to do is login with your personal details and start using the GoDaddy coupons while making the payment, which further helps you to save more.
Web Hosting at BigRock
When you approach BigRock for web hosting, you put your website in the hands of hosting experts with years of website management experience. You also get to choose the hosting plan that you think is the best for your website. There is a wide range of services that you can opt for at this hosting provider, like Linux hosting, Windows hosting, WordPress hosting, Reseller hosting, etc. You can take from a variety of servers here, such as dedicated servers and VPS.
Depending on your budget and your website's requirements, BigRock recommends a hosting plan for you that doesn't strain your business's finances in any manner.
Email Hosting
Gone are the days when Gmail was used for business-related conversations. Now, businesses require something more secure, some network that is off their own. BigRock gets you your own personalized email service, along with anti-virus and anti-spam setup. You get a high-volume storage facility of 2 GB. This service is usually opted for by large-scale businesses in need of a secure, well-connected email chain.
Build your own website with BigRock's DIY Website Builder
Despite an extensive level of expertise being on-hand, BigRock prefers to let the users envision their website and create it in their own way. Such a scenario provides you with the necessary tools and base to build a powerful and resourceful website with essential and attractive features. Now, you can have the website you want the way you want it.
Security Services offered by BigRock
BigRock understands the need for sufficient security mechanisms on every website. Hence, it provides an array of services that protect your website's credibility. You can get three different kinds of SSL certificates for your website here. You can also have a SiteLock which will protect your website from bots and malware. Last but not least, there's CodeGuard which backs up your website and prevents any data loss.
FAQs
1. Who owns BigRock?
BigRock is owned by US-based Endurance International Group, an IT services conglomerate that specializes in web hosting. It was established in 1997 and acquired BigRock in 2014. Endurance International Group also owns other popular web hosting platforms like Bluehost, Hostgator, and domain name registrars like Domain.com, PublicDomainRegistry. It is one of the largest web hosting providers in the world.
2. Is BigRock a good domain name registrar?
Yes, BigRock is an excellent choice when it comes to domain name registration. Here, you can see if your desired domain name is available, and in case if you want your domain to be transferred, that can be done easily. You can also get a premium domain name to give a head start to your website.
3. Is BigRock reliable?
Indeed, BigRock is one of the most reliable web hosting providers out there. It has several security services like SiteLock and CodeGuard to protect your website. Other than this, they also provide a dedicated team of technicians to assist you anytime you need help and resolve any issues.