Sunglasses are an important part of your outfit. It not only protects you from the glaring rays of the sun, but also adds edginess and style to your outfit. A pair of shades that matches what you wear can make an iconic look. Not just in the car, but also on the beach, on your way to the dinner, or simply while shopping – the occasions to rock a pair of stylish shades are endless.
But did you know how many types of sunglasses are there? And that different ones will be suitable for the different face shapes! If you didn't, worry not as this is the best place to learn everything about all types of sunglasses.
1. Aviator
The aviator sunglasses are lightweight usually with tinted glass.
The sunglasses were developed in the 1930s by pilots so they could protect their eyes while flying. Thus the name Aviator, (also called pilot sunglasses) came about.
The sunglasses have a lightweight metal frame that also makes it good for use by almost anyone. The perfect face shapes for aviator sunglasses is an oval face as it perfectly balances the round edges of the face and enhances your features. Aviators also go with square face shapes.
Face shape suited: Square/ Ova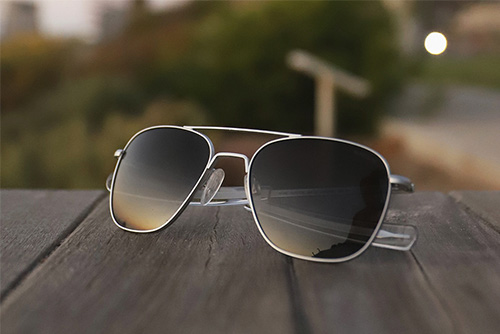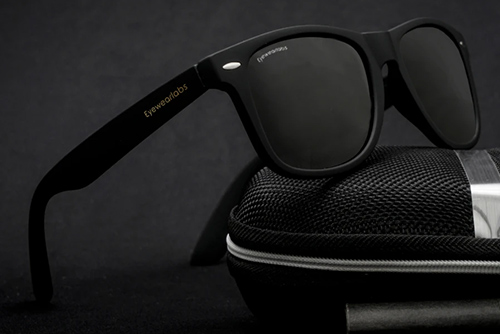 2. Wayfarers
Wayfarer sunglasses were developed in the 1950s by Ray-Ban. With the sturdy frames that are also thick, the sunglasses give a stylish look to anyone who wears them. They are mostly preferred by men and boys. However, they can add a sense of appeal on any round shape face. The popular ones you can get are the ones produced by Ray-Ban. However, you can get them from plenty of other brands too at Amazon.
Face shape suited:Round
3. Butterfly Sunglasses
Butterflies don't just look great on flowers, but also on your oval face. They can add an amazing personality to your appearance.
Butterfly sunglasses are the perfect choice for a peppy look and basically can steal the show anywhere. The main characteristic of these glasses is that they are smaller on the inside edge and wider on the outside edge where the glasses meet the arms. Mostly they are oversized and also come in printed frames or colours that can make them stand out.
Some butterfly glasses actually have an indent in the centre of the outer edges so as to create a look of butterfly's upper and the lower wings. Butterfly sunglasses have been in use back since the early 1900s.
Face shape suited:Oval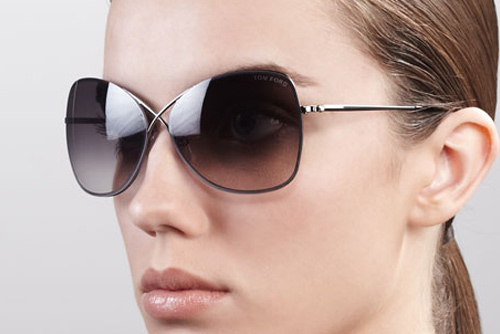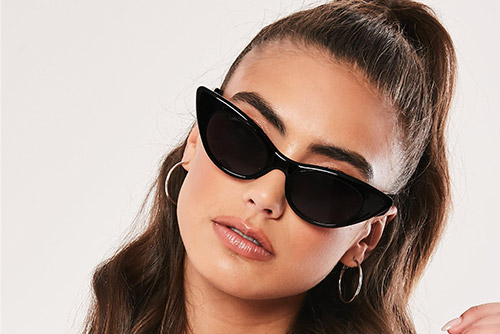 4. Cat Eye
You may get a cat eye done to your actual eyes, or may simply throw cat-eye sunglasses to get a fierce and strong look. Stretched out tips on the top side is what makes the cat eye sunglasses what they are. They look great on face shapes that are wider at the bottom like Oval or Square.
If you thought that cat eye glasses were only women's pick, think again as there are tons of varieties for men's cat eyes that can become the exquisite entree in your collection of accessories.
Face shape suited:Oval/ Square
5. Flip-Up
Get ready for a modern and a crisp look with flip-up eyewear. They have seen the light of the day only recently and it's amazing how many men and women have braced their accessories cabinets with flip-up sunglasses. They're simply like their name!
In flip-up sunglasses, the top part of the glass is connected to the frame and the rest is detachable so you can flip the glass upwards. These mostly have round rectangular shaped frames, but other shapes are available too which decides which face shape will they suit best.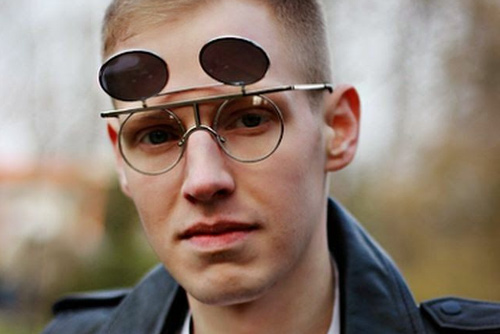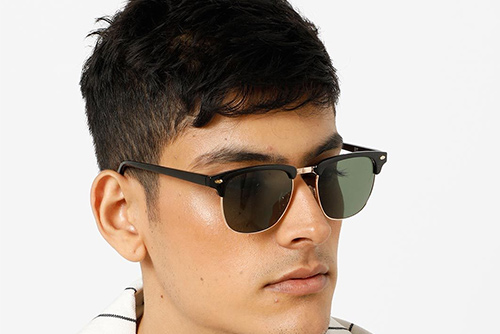 6. Clubmaster
Clubmaster sunglasses have thicker brows and the rest of the frame is much thinner that holds the lens. This type of sunglasses suit oblong face structure as the wider brows help to make the face shape look wider or more like square, thus balancing the features. You can buy Clubmaster sunglasses in India from RayBan, Lenskart, Myntra or more.
Face shape suited:Oval/ Oblong
7. Shield
Shield sunglasses are one piece of lens that goes all the way from the left end to the right. They add a unique style and glamour to your look. The multi-coloured ones from Flying Machine, or the black ones from Fastrack, you can save on all of them by using GrabOn coupons.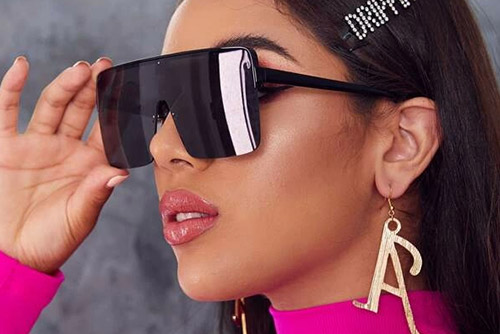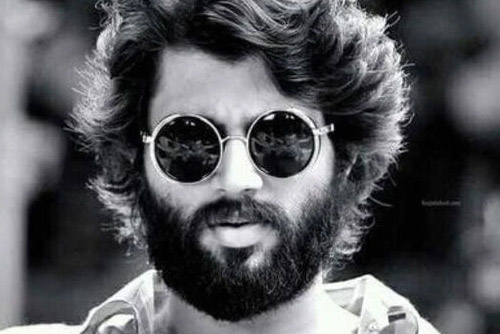 8. Round
If you have a square face shape or strong jawlines, round sunglasses will suit you. The roundness of the frame balances the striking features of the face enhancing your look. These glasses mostly have a circular frame that surrounds circular lenses. There can be in different types of frames like metallic, plastic, or even like the Clubmaster style. A pair of round blue shades is just the perfect beach look.
Face shape suited:Square
9. Heart
Seen heart eye emojis, now it's time you make a heart eye emoji with your face. Wondering how? Heart sunglasses are just what you need. It can simply complement your face when chosen in the right colour. You can find these in almost every colour out there.
The heart eye sunglasses are best for face shapes that are wider at the bottom like square or triangle as that shape would then move in the opposite direction of the shape of the glass frame thus balancing the way the face looks. Similarly, it wouldn't be the best pick for diamond-shaped faces too.
Face shape suited:Square, Triangle
Tip: if you want to know how we have found out the best face shapes for your sunglasses, read about the technique at the bottom of the article and then you too would too be able to decide the best type of sunglasses for you as per your face shape.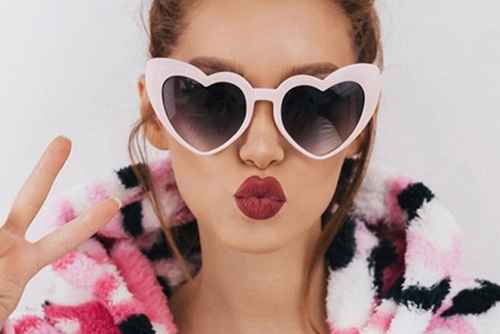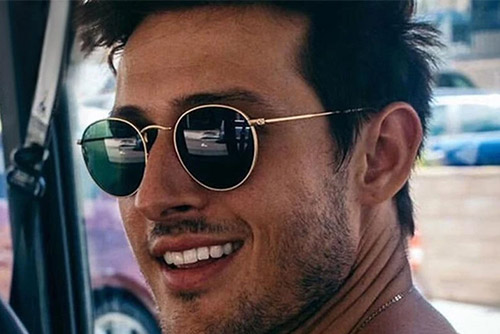 10. Oval
Oval Sunglasses mostly have metal frames that you can get in different colours like golden, silver and more. The sunglasses have very less height as compared to their length (oval shape). Thus they cover only the eye portion and can look great on face shapes that are oval or oblong. As the oval structure in the face shape is vertical and those in the glasses are horizontal, they perfectly complement each other.
Face shape suited:Oval/ Oblong
11. Rectangle
The best face shape for rectangular sunglasses is the round shape. You can find rectangular shades in various sizes, moreover, also in different thickness of the frames. It is stylish to have the rectangular glasses that have less height supported on the nose bone. These are also called tiny sunglasses which are covered later in this article. Some of the coolest rectangular sunglasses are available on Lenskart, Forever21, or even Ray-ban which you bag by simply using Amazon coupons from Amazon.
Face shape suited: round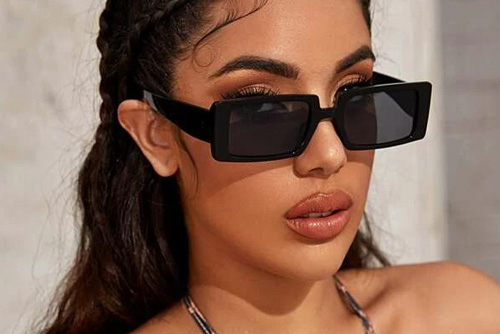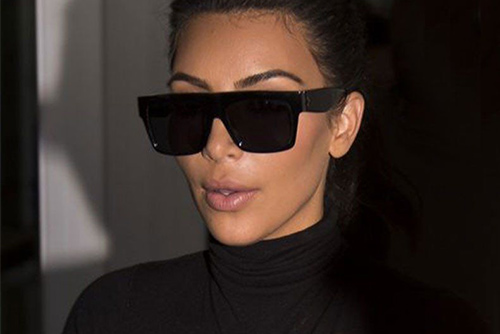 12. Square
A round face is the best companion of square-shaped sunglasses too. You can bag either the ones with sharp corners or the ones with curves. The glasses can also help accentuate a narrow jawline. These are available in usually over-sizes but also in smaller versions for the daredevil in you.
Face shape suited:Round
13. Gradient
This has mostly to do with the colour of the lenses. Why marry one colour, when you can have lots of them! A gradient pair of shades is the perfect example of such. It adds a cool quotient to your personality. Especially when colour coordinated with the rest of the outfit or accessories, the gradient shades definitely stand out. You could pick literally any frame shape and size when they have a gradient glass.
Face shape suited: Depends on the frame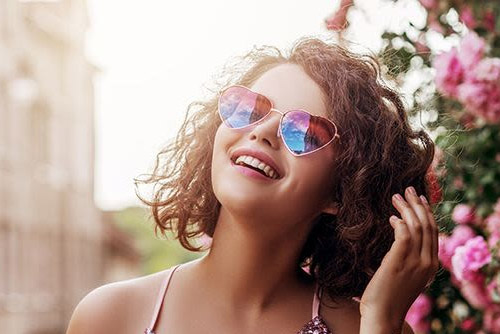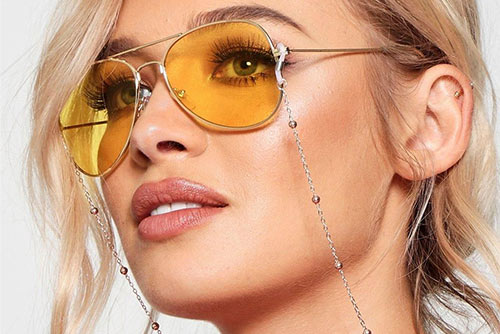 14. Coloured lens
Black is not the only colour we can buy a pair of shades these days. There's everything from yellows, to the blues, and even reds available for you to try. Different colours serve different purposes, for example, yellow lenses are preferred for better night vision. Whereas reds and oranges are simply meant for fashion.
15. White
Frames of the sunglasses come in all colours. However ratios aeon white is nothing less than a statement look. They may have a clear lens or a black one, it is sure to add to that ultra glamorous look that you were going for. You can find many of these types in online stores and eCommerce websites in which you can save when you use coupons from GrabOn – your saving destination.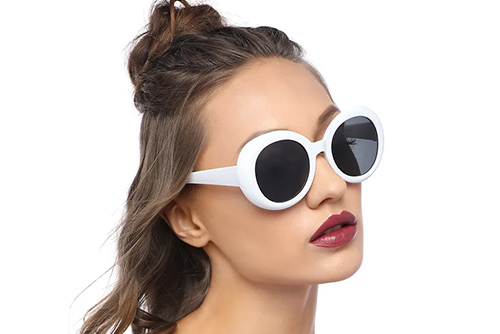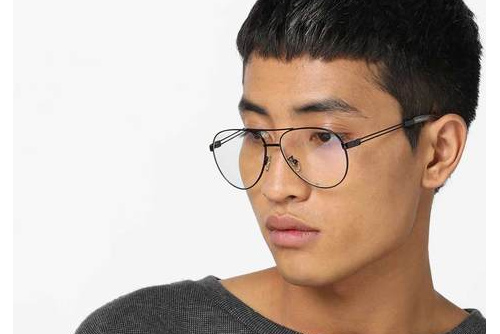 16. Clear
Lenses have always been clear. And we've also seen clear frames. But both of them together certainly make a pretty choice of shades. It's not been until recently when the clear sunglasses have suddenly been in every online store and on faces of many fashion influencers. It is because of one simple reason, it's new and edgy. SO if you want to create a trendy look with clear glass for yourself, now is the time. Your Insta feed deserves it.
17. Sporty
We all have worn a sporty pair of sunglasses once in our lifetime. The striking edges of the frame and the pitch-black colour in most cases will enhance the look with a biker jacket. The sporty sunglasses are sturdy and strongly built so they wouldn't damage while the players are on the field. The drawback of these glasses is that they do not suit every occasion. But if you are in a biker or athletic costume, then nothing better than it!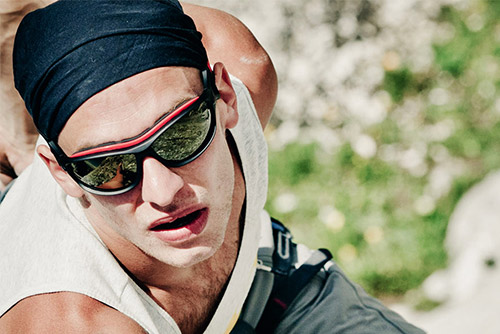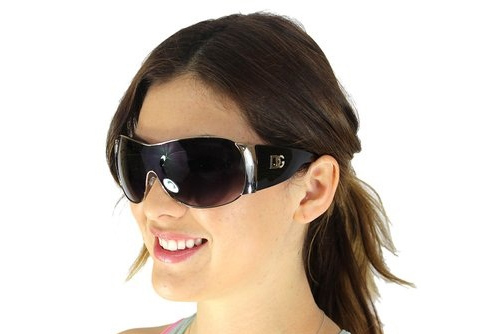 18. Wrap Around
Wrap-around sunglasses are slip-proof as they wrap around the head. The wider glasses also provide a better vision and mostly could provide better vision while driving on high roads. They are slip-proof as they have a better grip over the head. Wrap-around sunglasses could be either made as a shielded glass or conventional sunglasses with 2 pieces. Either ways, you can bag some really cool ones from Fastrack, Flying machine or more.
Face shape suited: Oblong/ Oval
19. Oversized
Oversized glasses simply mean the glasses with big lenses that cover not just the eyes but also beyond. Some great examples of oversized sunglasses are the ones worn by Badshah or Jennifer Lopez.
Face shape suited: All shapes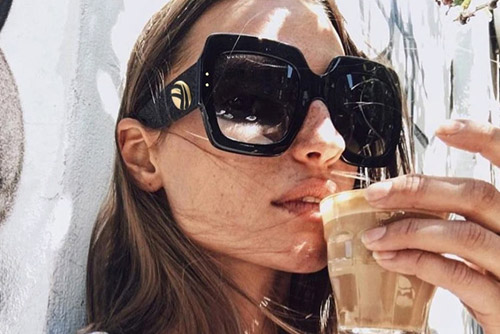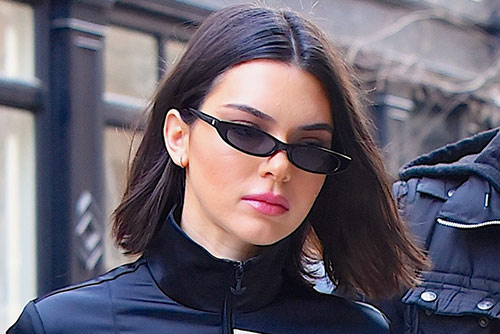 20. Tiny
Ever seen sunglasses and wondered where's the upper half of it? Well, that may have been a pair of tiny sunglasses that basically looks like the glass was cut horizontally from the middle. These are high fashion accessories and look amazing when teamed up with anything high fashion. The Kardashians have been spotted wearing many styles of tiny glasses among other celebrities like Haily Bieber and Rihanna.
Face shape suited:Round/ Oval
21. Side-shield sunglasses
These are the newest talk of the town. Many Instagram models and influencers can be seen donning the side-shield glasses in their recent posts. These sunglasses have a really big covering on either side of the lens along the arms. They come in various designs and material. The leather one is a must-have if you love fashion accessories. However, one drawback with them is that they practically cover your side vision while wearing the glasses.
Face shape suited: Square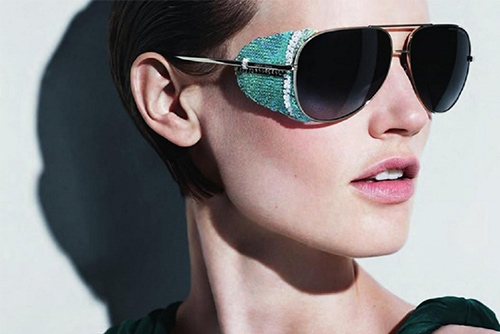 How to Choose Sunglasses for Your Style
Give yourself a sassy and confident look on outfits with the Sunglasses. They have become a life-saver option when you travel outdoors to protect you from harmful chemicals, debris, and UV radiation. The perks of sunglasses are countless. However, when you plan to buy online, you should know the following parameters for a trouble-free shopping experience. Have a glimpse:
Know Your Face Shape
Who doesn't like to don a pair of sunglasses and add that sense of statement to your personality? But if the sunglasses don't go well with your face shape, it can simply lead to a disastrous look instead of enhancing it. Before choosing your sunglasses, it is essential to know what sunglasses would be best for your face shape. Here is how you can determine the best sunglasses for your face shape.
First, you have to know which face shape you have. The common face shapes are
Oval
Oblong
Square
Round
Heart shapes
Triangle
Oval and round shapes have round corners. The oblong face shape is longer vertically rather than being wide. Square shapes are mostly as wide as they long, but have sharp edges and stronger bone structure. The heart shaped face looks like the name itself which is wider from the top and pointed at the bottom.
In order to choose the best sunglasses for your face shape, you must choose the frame that is opposite to your face shape. For example, if you have square face shape, go for rounded sunglasses or those which have curves like the aviators. The striking straight lines of your face shape contradicts the roundness of the glasses, adding towards the standards of an ideal face shape.
Similarly, if you have an oval or round face, then square-shaped sunglasses are going to make your face closer to that considered as ideal.
Know Different Parts of Sunglasses
You might have been using sunglasses from childhood. Do you know the different parts of sunglasses? Well, there are several small components that are joined together to make a complete look and fit your face shape. Here is the list:
Top Bar
Bridge
Hinge
Joint
Nosepads
Frame Rim
Temple Tip
Frame Size
There is a myth that smaller frames should be used for small faces and larger frames for big faces. It is untrue, and the frame size should be independent of the lens and person's face shape. To be more specific, you need to consider the dimensions when you look at the glasses; they should protect and cover the eyes conveniently. Have a look at the 3-parameters associated with the frame material:
Bridge Size: Distance between two lenses is often referred to as a bridge.
Eye Size: Measuring outer edge to inner edge of a lens horizontally.
Temple Size: The length of the arm piece is known as temple size and is also called arm size.
Frame Materials
The comfort and durability depend on the type of materials used for the frame. If you are not aware of the materials used for crafting glasses, scroll down to choose from the wide range of options like Plastic, Metal, Polycarbonate, Nylon, Acetate, etc.
Metal: Metal frames are made of aluminum, titanium, and stainless steel materials. They come in limited styles and designs, making them a less priority for fashion-lovers. Moreover, due to their metallic nature, they are highly prone to allergies.
Plastic: Plastic frames are available in different colors and patterns to meet the requirements of customers. They are made using Nylon and Polycarbonate materials. Also, they are lightweight in nature and cannot be deformed. Once you try to bend the frame, it can break easily.
Type of Lens
Lens colors, i.e., from blue to subtle brown, add tremendous value and make them look posh. Apart from that, the lens material should be chosen carefully to prevent damaging the eye vision. The Optical glass, Polycarbonate, Acrylic, and NXT Polyurethane are the most commonly used lens materials globally. So, you can pick the lens type depending on your comfort and budget options.
Final Verdict
In a nutshell, the eyes are the most sensitive parts and must require proper care and protection. With the different types of sunglasses available online, it's a daunting task to pick the suitable model, from classic aviators to square models, to fit your style. It is vital to consider lens type, frame material & size, face shape, and budget options.
Hope that was helpful for you to figure out what type of sunglasses should you select as per your face shape. If you have doubts, feel free to comment below.