WhiteHat Jr Coupons & Offers | January 2021 - GrabOn
| WhiteHat Jr Coupons | WhiteHat Jr Promo Code |
| --- | --- |
| WhiteHat Jr Coupons | Advanced Coding: Flat Rs 10000 OFF |
| WhiteHat Jr Offers | Flat Rs 5000 OFF On Orders Above Rs 29,999 |
| WhiteHat Jr Promo Codes | App Developer Certification: Flat Rs 2000 OFF |
| WhiteHat Jr Coding Deals | Introduction To Coding: Flat Rs 600 OFF |
| WhiteHat Jr Coupon Code | Sign Up to Avail Free Trail Classes |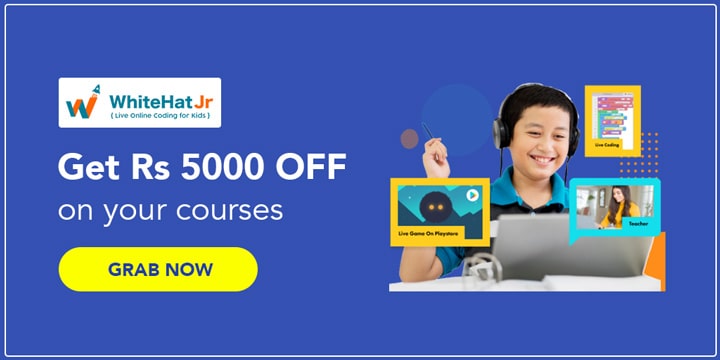 Know More About WhiteHat Jr:
WhiteHat Jr is an online learning platform providing paid online services founded in the year 2018 in India. It is a perfect fusion of education and technology that centralizes the aim of teaching young kids the art of coding. This impactful E-education system engages expert facilitators who teach the tech-curriculum comprising- essentials of coding such as Logic, Structure and Sequence; Programming language; Artificial Intelligence; App Development and everything in between. It encourages young kids into the tech world and makes them ready for the upcoming industry by making them problem solvers. Students can learn coding, programming, web and app development and a lot more about technology by subscribing to the online paid classes on various learning levels.
Why Whitehat Jr:
Easy - It is extremely easy to for the users and children to use the portal Convenient – One can conveniently select the dates and time slots depending on the need. Innovative – The concept and idea of the website is competitive and innovative Certified – All the courses are certified and genuine.
Know The Curriculum:
At WhiteHat Jr, one can find a gradual teaching process. The courses are divided based on the grade of the student ranging from beginner, intermediate, advanced, professional and applied tech. The curriculum is divided into 3 major certificates based on number of classes:
Introduction to Coding (8 Classes)- Sequence, Fundamentals Coding Blocks, Loops App Developer Certificate (48 Classes) -Events / UI,Conditionals, Complex Loop, Logic Structures, Turtle Coding (+first module) Advanced Coding with Space Tech (144 Classes) - Extended UI/UX, Rich GUI app, Space Tech simulation in Space Lab / Game Lab, Professional Game Design (+first two modules)
Privacy and Policy:
The platform is primarily for the children aged below 18 years and requires parental consent.Any information collected is used to manage accounts, marketing and promotional services.Holds the right to review edit and update any information provided by the users.Provides third-party services and does not stand responsible for the policy of such services.
Fulfilment And Refund Policy:
Fulfilment: As soon as the customer purchases the plan, fulfillment happens online and classes/credits are allotted.
Refund: As soon as the customer reaches out for refund, refunds are processed immediately for unutilized credits on a pro-rata basis.
Courses have lifetime validity and can be cancelled anytime
Know the Saving Tips:
What's better than getting your child future-ready through this premium portal while also saving a deal on your pocket? Avail great discounts on courses at WhiteHat Jr through GrabOn and earn big benefits on your child's leaning. To grab amazing offers and discounts stay tuned to GrabOn.in.