List of Rapido Coupon Code, Offers & Promo Codes For Aug 2020 - GrabOn
| Rapido Promo Code Category | Rapido Coupon Code & Offers |
| --- | --- |
| Rapido Coupon Code For First Ride | New Users - Flat 50% Off |
| Rapido Coupons | Select Users - Flat 100% Off On 2 Rides |
| Rapido Offers | Visa Card - Flat 75% Off |
| Rapido Referral Code | Refer & Earn A FREE Bike Ride |
| Promo Code For Rapido | Amazon Pay - Get Flat 25% Cashback |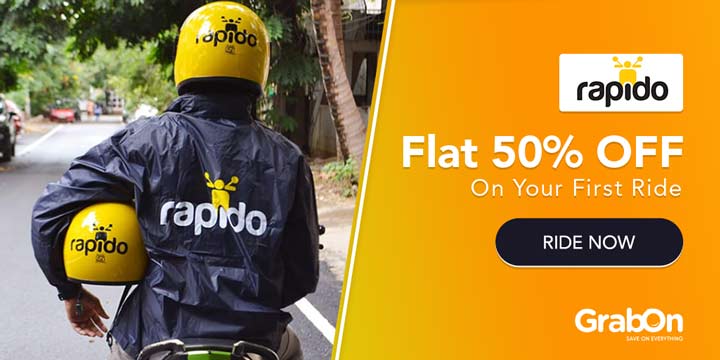 Rapido Coupon Codes with GrabOn
While Mobile taxis cut on costs largely, and Rapido only charges it's customers the lowest possible prices, if there a way to save more, wouldn't that be amazing? And what if you're told you could do precisely that! Grabon finds, and verifies all the Rapido promo codes and deals and gathers the best of them for you on one single page. Explore the coupons, find the one that could help you save the most, and is suitable for your purchase and save on every Rapido ride from here on!
More about Rapido
Rapido Bike Taxi has been working towards making life easier for people. Solving the ever-growing intra-city commute problem in the most economical way, Rapido is an easy solution to your traffic problem. The menace of traffic and the lack of efficient transport choices in most Indian cities is a regular problem now. With a vision to provide affordable and fast transport options for the people, the founders discovered bikes are far more advantageous while trying to navigate in the city traffic. Luckily, bikes involve fewer and lower fixed and variable costs too. Founded in 2015, Rapido Bike Taxi is now operational in more than ten cities across India like Bangalore, Hyderabad, Gurgaon, and Mysore.
What is Rapido?
Rapido Bike Taxi is a platform where people can book a bike ride by downloading the Rapido mobile app. Making a booking to and from the destination of their choice. It also provides an opportunity for people with a two-wheeler to become a 'Captain' on the platform to offer rides on their bikes and make some extra cash in their spare time. Helping both the ride and the rider.
Why Rapido
While we've already established that Rapido is India's largest Bike Taxi that makes tour daily travel easier and affordable, there are more reasons Rapido is the number one transport choice to make for everybody.
Rapido has definitely brought about new trend in the way people commute by introducing the concept of bike taxi. Similarly, if you want to take a cab instead of a bike taxi, you can avail some outstanding Ola offers and deals. And, for the days when you just want to rent a car and self-drive it, you can make use of the amazing coupons of Drivezy.
Easy Booking
Book a ride with just two taps on your phone. Once you have the Rapido app downloaded and your details saved, all you have to do is enter your pickup and destination. Save your frequent destinations and get ready to go! Don't waste your time waiting for a pickup vehicle that is miles away, knowing that there is every possibility of cancellation charges without prior knowledge. Opt for a reliable and easy to reach option instead and save plenty on your precious time.
Helmets & Shower Caps
A question that commonly pops in one's head while considering a motorcycle taxi is - Is it safe? Rapido has ensured all the riders have proper documentation including Driving License, Vehicle Registration, and Insurance. They ensure that the riders joining the community do not have a criminal background - particularly cases of sexual offenses, crimes, felonies or substance abuse. They also provide and helmets for safety. While a lot of their customers are satisfied with the answer, they take an extra step ahead and also offer customers with shower caps, so you never have to feel like you're using somebody else's helmet. They provide what is needed, and some more, on all your rides ensuring your safety and hygiene when riding with Rapido.
Insured Rides
Rapido takes customer feedback very seriously. Frequent feedback from multiple customers and well-wishers are about their concern for safety with two-wheelers. While they do prefer, and for as far as possible ensure that safety precautions are taken in every possible way, they are also prepared for the off chance that a ride could go wrong due to unforeseeable and uncontrollable accidents. No more worrying about safety when riding on a two-wheeler. All Rapido captains are verified professionals, and Rapido provides insurance on all your rides.
Economical
Rapido is the most affordable last-mile commute option in your city. The fares are transparent and suit your pocket. The price chart is neither complicated nor twisted and is available for the customers for easy access. The structure is simple - all it costs you to make a booking for a bike taxi with Rapido is Rs.10! Instead of paying any excessive costs for incomprehensible reasons, only pay for the KMs you've ridden, which is as low (the lowest in the industry, possibly) as Rs.5 per KM.
Latest Rapido News
Rapido To Embark 200Cr In Marketing For 2020
Bringing in the full-fledged concept of bike taxi, Rapido recently announced that the brand wants to leverage the potential of the marketing space to grow their business. Rapido wants to spend Rs 200Cr on the brand's marketing efforts in the year 2020 to rapidly grow its presence and traffic. Not just this, they also want to tap the potential customers and increase the App downloads in India.
Rapido raised Rs 390 crores to expand in over 100 cities
The bike taxi startup based out of Bengaluru, Rapido raised a funding of Rs 390 crore by Westbridge Capital. The startup aims at starting bike taxi services in over 100 cities and target 1M rides per day. co-founder of Rapido, Mr Arvind Sanka said that the company is going to invest in technology to make transportation easy for 200 million users.