Latest Rapido Coupons, Offers & Promo Codes For Jan 2021
| Rapido Coupons & Offers | Offer Details |
| --- | --- |
| Exclusive Offer (New Users) | Flat 50% OFF On First Ride |
| Exclusive Offer (All Users) | Flat 20% OFF |
| Rapido Local | Flat 50% OFF |
| Rapido New User Offer | Flat 50% OFF On Your First 3 Rides |
| Rapido Power Pass | Flat 40-50% OFF On All Rides |
| LazyPay Offer | Flat Rs 20 Cashback |
| Rapido Referral Offer | Earn Up To Rs 50 |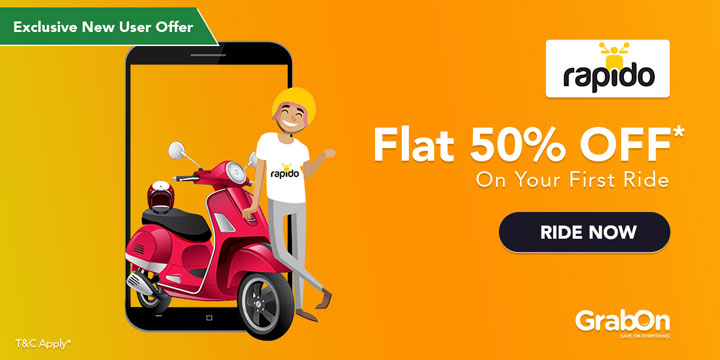 How to Save While Booking a Ride-on Rapido?
To save on your Rapido ride, all you have to do is open this GrabOn page and look for a promo code. As coupon partners of the company, GrabOn provides a number of discounts and offers to Rapido users on their rides. Use our coupons today. From first-user discounts to existing-user discounts and referral codes, we will always have something for you.
What is Rapido?
Founded in 2015, Rapido is a taxi on two wheels. The first-ever bike-taxi in India, Rapido lets you book a bike ride to commute locally. Whether you want to make a trip to the grocery store, or a daily commute to the office, you can book a Rapido bike and have it at your doorstep within minutes. It is quick, it is cheap, and it is super convenient. The base fare of a ride is Rs.15, with Rs.3 added for every additional kilometer. No surge pricing, no rush-hour charges.
Why Rapido?
While we've already established that Rapido is India's largest Bike Taxi that makes tour daily travel easier and affordable, there are more reasons this brand is the number one transport choice to make for everybody.
Easy Booking
Book a ride with just two taps on your phone. Once you have the Rapido app downloaded and your details saved, all you have to do is enter your pickup and destination. Save your frequent destinations and get ready to go! Don't waste your time waiting for a pickup vehicle that is miles away, knowing that there is every possibility of cancellation charges without prior knowledge. Opt for a reliable and easy to reach option instead and save plenty on your precious time.
Helmets & Shower Caps
A question that commonly pops in one's head while considering a motorcycle taxi is - Is it safe? Rapido has ensured all the riders have proper documentation including Driving License, Vehicle Registration, and Insurance. They ensure that the riders joining the community do not have a criminal background - particularly cases of sexual offenses, crimes, felonies, or substance abuse. They also provide and helmets for safety. While a lot of their customers are satisfied with the answer, they take an extra step ahead and also offer customers with shower caps, so you never have to feel like you're using somebody else's helmet. They provide what is needed, and some more, on all your rides ensuring your safety and hygiene when riding with the brand.
Insured Rides
Rapido takes customer feedback very seriously. Frequent feedback from multiple customers and well-wishers are about their concern for safety with two-wheelers. While they do prefer, and for as far as possible ensure that safety precautions are taken in every possible way, they are also prepared for the off chance that a ride could go wrong due to unforeseeable and uncontrollable accidents. No more worrying about safety when riding on a two-wheeler. All captains are verified professionals, and the company provides insurance on all your rides.
Economical
Rapido is the most affordable last-mile commute option in your city. The fares are transparent and suit your pocket. The price chart is neither complicated nor twisted and is available for the customers for easy access. The structure is simple - all it costs you to make a booking for a bike taxi with Rapido is Rs.10! Instead of paying any excessive costs for incomprehensible reasons, only pay for the KMs you've ridden, which is as low (the lowest in the industry, possibly) as Rs.5 per KM.
What is Rapido app?
Rapido app can be downloaded on Play Store (for androids) and on App Store (for iOS). The app lets you book rides with the touch of finger. All you have to do is select the pickup and drop locations, and you will be assigned a rider (called a Rapido Captain) within minutes.
Apart from the Rapido app, you can also use Facebook Messenger and Paytm to book your Rapido ride. However, the Rapido app has some special features that you do not wanna miss out on. For one, the app is GPS enabled and tracks your location as soon as you open it, so you do not have to enter it manually. Secondly, the app has an SOS button for emergency situations, and it links directly to the police control room. Thirdly, the app is available in multiple languages including English, Hindi, Tamil, Telugu, and Kannada.
How Does Rapido Work?
Rapido has over 1 million driver-partners who provide their services across 100+ cities. These cities include big cities like Hyderabad, Bangalore, Chennai, Kolkata, Delhi, and Delhi NCR, as well as smaller cities like Guntur, Jaipur, Vijayawada, Trichy, Madurai, Bhopal, Indore, Mumbai, and Vizag.
Across these cities, the company enjoys a user base of more than 10 million, and has already provided 50+ million rides over just a handful of years! Users love it for its quick delivery, affordable charges, and user-friendly service. In comparison to bike rentals, Rapido offers the convenience of riding a pillion, which makes the option even more attractive. The app works like this:
The user books a ride by selecting his pickup location, drop location, and payment method
A nearby Captain is assigned within minutes
The user gets an OTP, which he has to share with the Captain before the trip starts
At completion of the trip, both the Captain and the user get the fare total on the app
The user makes his payment via cash, or wallets like Paytm, Google Pay, PhonePe, and Rapido Wallet
How to Join Rapido?
To join Rapido as a driver, all you have to do is go to the Rapido website, and click on 'Sign-up as Driver'. You will be shown a pop-up window, asking for your name, phone number, and location. After you have answered these questions, you will be contacted via phone regarding further information about your bike, license, etc. The onboarding process is quick and smooth, and you can get on the road with the yellow helmet within a few days.
How Much Does a Rapido Captain Earn?
Depending on whether he works full-time or part-time, a Rapido driver can earn up to Rs.18,000 a month. The salary depends on the number of rides the Captain takes. Working with Rapido comes with a number of benefits including:
Flexible working hours: The captain can decide when to go on a ride according to his convenience. He can take up as few or as many rides as he wishes and can plan them without hampering with his daily activities.
Easy Payouts: The Captain can withdraw his earnings anytime by simply transferring them from Rapido wallet to his bank account.
Insured rides: All Rapido rides are by-default insured. This covers accidental coverage and medical benefits up to Rs.5 lakh for the Captain and his family.
In which cities of India Rapido is currently operational?
Rapido is currently operational in 100+ cities across India. Some of the top cities are as mentioned below -
Bengaluru
Chandigarh
Chennai
Delhi
Guwahati
Hyderabad
Indore
Jaipur
Kolkata
Lucknow
NCR
Patna
Ranchi
Surat
Tiruchirappalli (Trichy)
Vijayawada
Vishakhapatnam
Rapido Customer Care Number
You can reach out to Rapido on their Customer Helpline number: 040 4757 5585
You can also contact them via mail at shoutout@rapido.bike