Verified Testbook Coupons, Offers & Promo Codes For Jan 2021
| Testbook Coupon Codes | Testbook Coupons & Offers |
| --- | --- |
| Testbook Bhim UPI Offer | Flat 65% Off on Test Pass |
| Testbook Promo Code | FREE Courses at Testbook |
| Testbook Signup Offer | Flat 10% Instant Discount |
| Testbook Offer Code | Practice Best Questions for FREE |
| Testbook Bank Test Series | Up to 12 FREE Tests |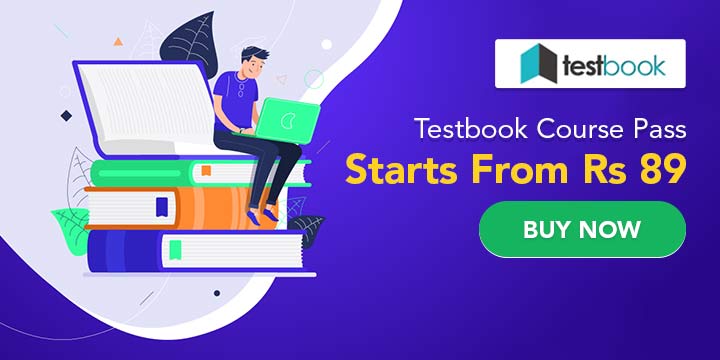 How to get Best Discounts using Testbook Coupons from GrabOn?
Testbook is the go-to site for all your exam preparation needs. Any competitive exam you're preparing for, Testbook has a range of courses and test series to pick from. Using GrabOn's discount & cashback coupons, you can get any of these courses and test series at affordable rates.
All you need to do is go to GrabOn website, type "Testbook" in the search bar. A plethora of coupons and deals related to Testbook will appear for you to choose from. Then, you just have to pick the best coupon for you and click on it. The coupon will get copied and you will be redirected to Testbook website automatically.
Prepare for Competitive Exams using Testbook Coupon Code
Preparing for competitive exams online was never this easy. Now people from remote places too can prepare for these exams. To get the best deals on different packages, you could check out the GrabOn Page. We tabulate verified and working Testbook coupons and offers for you using which you could avail the best discounts.
The Courses And Plans
Testbook have numerous courses suited to the needs of the aspirants. Starting from Bank PO, Bank SO, CIL, GATE, RBI, BSNL TTA, Bank Clerk, SSC, SSC JE, Insurance, Aptitude, GK and Current Affairs to Railways, they have it all. And for those who are preparing for CIL, they have CIL CE and CIL ME. For SSC, they have SSC JE CE, EE, and ME. In the case of GATE, they have GATE CE, CS, ME, EE, and EC. SO, whichever level you are in, you can expect to get help for every level. The plans differ from one course to the other, and they also offer huge discounts and exciting deals on every plan. For example, for Banking and Insurance, which comes in a 12-month subscription plan, you can get a discount code that will help you save as huge as Rs. 15,334. What are you waiting for? Go through their pages and decide on the course that is best suited for you. Grab the deals before they are gone.
If you didn't find the course you were looking for, try Udemy. One of the largest online learning platforms, Udemy is brimming with courses on Professional Courses like Marketing, Finance, and Machine Learning and self-development courses like Painting, Photography, and Yoga. If you're a student and are looking for courses related to your curriculum, you can open Byju's., where you'll find class 4-12 Math & Science lessons, as well as preparatory courses for JEE.
What do Testbook offer?
esides the courses and plans, Testbook also has Discuss, which is an effective platform for discussion. Here, you can discuss any topics about the exam you will be appearing for and get answers from others competing for the equivalent or other examinations. They also have the practice section, which allows you to practice for the exams on test papers created by Testbook. They have it for Bank PO, Aptitude, SSC, GATE ME, GATE EE, and Gate EC and for Bank Clerk. You can practice as much as you want to improve your clarity and timings. It will also help improve your skills, which may eventually help you clear the exam.
What are the Bank Offers valid on Testbook Pass?
State Bank of India (SBI), in collaboration with Testbook, has launched a special offer for all Testbook users. Students preparing for exams at Testbook can avail a flat 20% discount on select products at the website. This requires them to register at the SBI Yono app. Other than that, Testbook users can also get 60% off on Testbook pass, along with an additional 15% discount, when paying through Visa card. If you're paying with a Rupay card, you can get 65% off instantly.
What is the Best Testbook Coupon Code for New Users?
If you're a new user signing up to Testbook, there is a flat 10% discount on any course or test series you purchase. The discount is instant and applicable site/app-wide.
What is Yearly Pass Offer in Testbook?
With the Yearly Pass offer at Testbook, you get test series access to 100+ exams & 2500+ tests at a hot deal of Rs. 267/month. Under this pass, you can access a range of test series such as SBI PO 2020 Test Series, SSC CGL 2019 Mock Test, SSC CHSL 2020 Mock Test, IBPS PO 2019 Mock Test and so on.
In another offer called the Flash Sale, you get the Yearly Pass with 3 free months of Gaana Plus subscription, all at Rs. 299. This is a limited offer, only for the day.
What is Testbook Referral Offer?
Once you get Testbook for yourself, why not share it with others? Refer Testbook to your friends and family and earn 40% instant cashback on any purchase on the app, along with an assured access to Testbook pass. The friend you refer Testbook to also gets 10% instant discount when they purchase a Testbook pass using your referral code.
Other interesting additions
The extras that Testbook provides are the Apps, which come in the form of App and Current Affairs App. The Current Affairs app is a must for those who are trying to improve their grasp of current affairs and also general knowledge. And for those who are preparing for all other kinds of examinations, they can download the App, which is perfect for SSC, CPO, GATE, IBPS PO, and much more. Use Paytm offers to make your savings bigger than ever!
Latest Headlines
Testbook has a new feature on the website for their users. One is Testbook Select which is a special coaching program for students. Here, students can attend interactive live coaching classes online from experts, participate in doubt sessions, solve practice questions and refer to PDF study material. In this program, each student also has a personal Testbook coach who monitors course progress and guides through selection.