Apollo Pharmacy Coupons, Offers & Promo Codes on Online Orders
| Apollo Pharmacy Coupon Codes | Apollo Pharmacy Online Offer Details |
| --- | --- |
| Apollo Pharmacy Promo Code | Up to 50% OFF on Health Products |
| Apollo Pharmacy Coupon Code on Medicines | Up to 15% OFF On Medicines & Health Devices |
| Apollo Discount Code on Brands | Up to 40% Off On Brands like Apollo Life, Pampers, etc |
| Apollo Pharmacy Online Offer | Extra Bonus for Healing Card Members |
| Apollo Pharmacy Mom & Baby Offer | Up to 29% OFF On Daipers & Wipes |
About Apollo Pharmacy
Apollo pharmacy is a pharmaceutical store by Asia's largest healthcare group Apollo Hospitals. The Apollo pharmacy stores are located across the country and have over 3000 plus outlets. The store offers medicine supply round the clock, through their 24x7 pharmacies. They have a dedicated customer care base, and you can reach out to them at any time of the day. The company more than 5000 product offerings from varied categories. These include vitamins and supplements, personal care products, health food and much more.
Why Them?
Wouldn't it is wonderful to buy medicines or health supplements in a single click? Being able to order them online saves a lot of time. Times when you forget to purchase your medication while coming back home or when it is late at night, Apollo pharmacy online store comes in handy. Your last minute medicine needs are sorted. Apollo Pharmacy is a trusted brand for medicines and other health needs.
The company has been in the industry for quite some time now and has gained recognition. The Apollo pharmacy offers a wide range of products, and they have almost every medicine you would need. The Apollo pharmacy online medicine store also provides you great discounts on your purchase. They also have a dedicated blog focusing on health needs and fitness, and you can give it a read sometime. Just take a glimpse at their website and get to know what products they have in store for you.
For your healthcare needs, you can also check PharmEasy. The app lets you book diagnostic tests, order medicines, and get healthcare products at your doorstep. You can also order your medicines from Medlife and get it delivered within 24-48 hours! With its outlets in 4000+ cities across 29 states, Medlife will almost always have what you're looking for, and wouldn't delay in reaching it to you.
USP - Healing Card
Apollo pharmacy healing cards are more or less like any other gift card. You can credit in a certain amount and give it to your close ones. So how can one use it? It can be used during health check-ups, medicines, treatment, diagnostics, and more. The user can get a 15% discount on their Apollo health check-ups by using this card. This card can be redeemed only at selected Apollo hospitals and pharmacies. If you are planning on getting the medicines delivered to your place, you can use this card. And you can use the healing card on every Apollo pharmacy online purchase you make.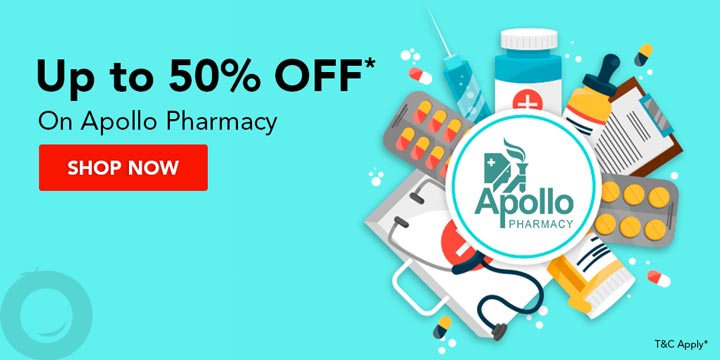 Save More With GrabOn
Purchasing medicines can be expensive. But that doesn't mean people shouldn't be able to buy it. It would help one if there were offers on medicines. To help you, this page has handpicked deals and offers just for you. With the Apollo pharmacy online offers, buying medicines has become easy. You can grab special offers that are already present on this site. Apollo pharmacy gives away coupons to help you save better. Apart from the current offers, it would help if you watched out for the Apollo pharmacy cashback offers. This can come handy when you have to buy a lot of products from the store. Get to buy medicines online with discount and save more. You can also download their app to order your things from anywhere, anytime. Be sure to come back to this page for further updates. Order away your items at discounted rates. Happy saving.
Latest Headlines
Apollo Pharmacy to demerge with Apollo Hospitals - Apollo Pharmacy will demerge with Apollo Hospitals, and form a separate entity called Apollo Pharmacy Ltd. Currently, Apollo Hospitals holds 100% equity of Apollo Pharmacy. However, once the scheme of arrangement is implemented, Apollo Hospitals' share will be diluted to 25.5%. The rest of the stake will be with investors such as Jhelum Investment Fund, Hemendra Kothari, and Enam Securities. Proceeds from the demerging will help the corporate hospital chain in the enhancement of other existing businesses. The demerging will also help Apollo Pharmacy in acquiring ready-to-use assets, reducing time to market, and enhancing private business label.